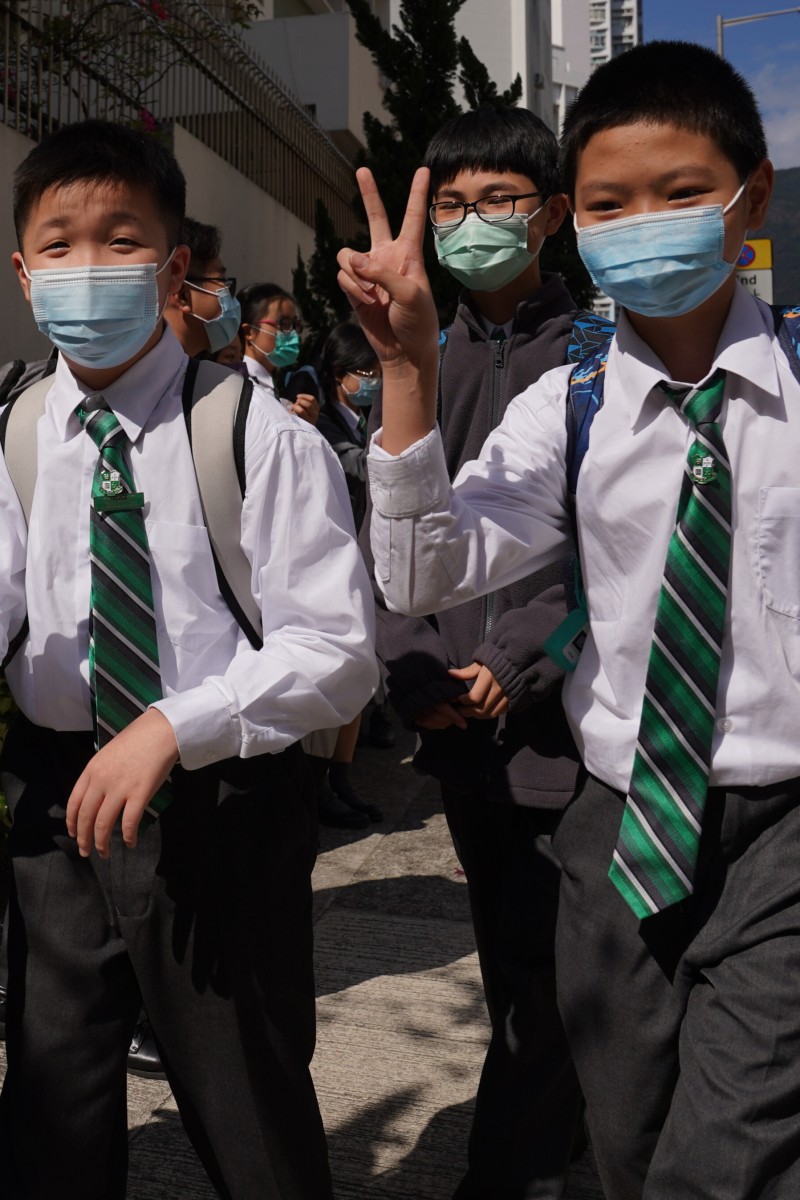 Students will stagger return, higher forms will be first to be back on campuses from April 19 for half-day classes

Full-day classes unlikely for primary schools and kindergartens so soon, says Secretary for Education Kevin Yeung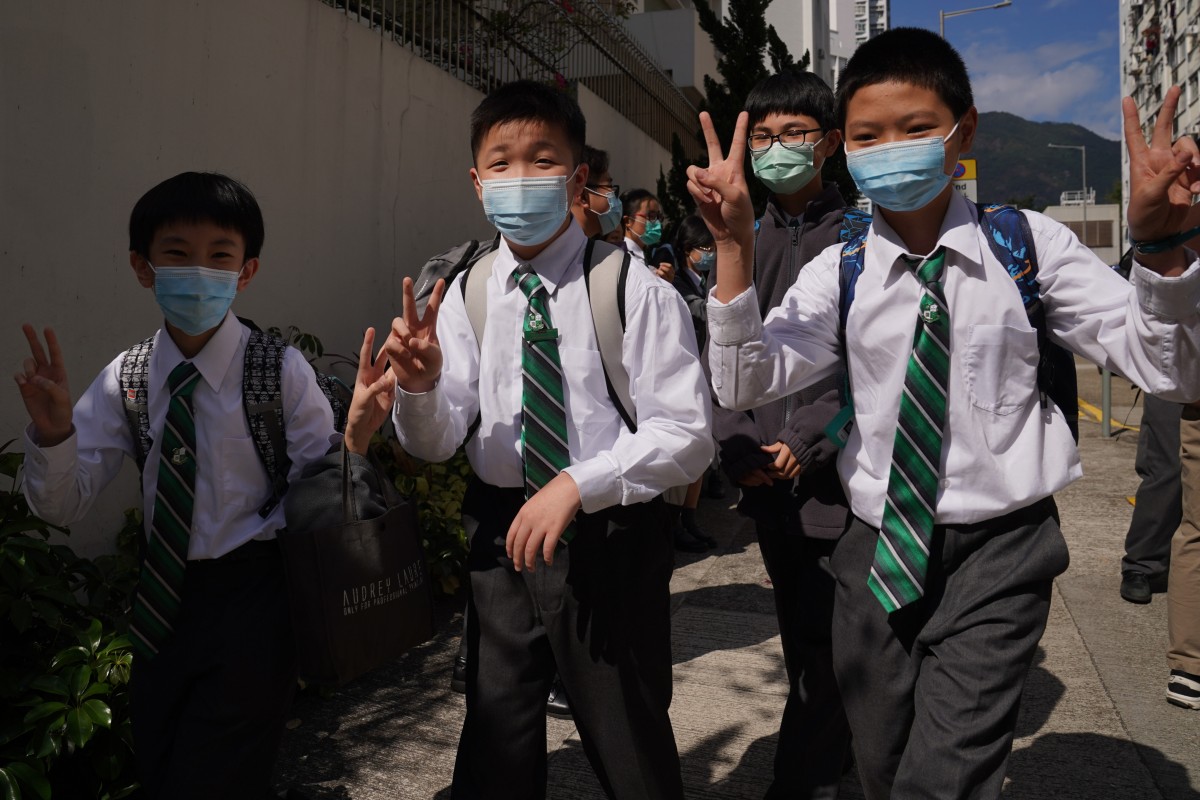 In-person classes from kindergartens to secondary schools will resume in stages. Photo: Sam Tsang
Kindergartens to secondary schools in Hong Kong will resume half-day, in-person classes in stages until mid-May, with students of higher forms the first to return to campuses, the education chief has said.
Chief Executive Carrie Lam Cheng Yuet-ngor announced last month that face-to-face classes would return from April 19 at the earliest, beginning with primary and international schools as well as kindergartens, but no further details were revealed.
Secretary for Education Kevin Yeung Yun-hung on Thursday spelled out a revised plan that allowed half-day in-person classes to resume, adding that full-day classes would not likely take place in primary schools and kindergartens so soon, given the vaccination rate.
Top 10: What do you wish you could've done during this early summer holiday, but did not?
"It [a gradual resumption] could allow more time for the schools to get used to it … we still need to discuss with school councils," Yeung told lawmakers at an education panel in the Legislative Council on Thursday.
Under the new plan, senior grades of primary schools will be the first batch of students to attend in-person classes on April 19, while the junior grades will return to campuses two weeks later on May 3.
Secondary schools will restart face-to-face classes after core subject assessments of a university entrance exam begin on April 22. The higher forms will do so on May 3, while lower forms will be back to school on May 10.
Under the revised plan, students who were fully vaccinated would be allowed to participate in another half-day of non-academic activities at their schools. Photo: Nora Tam
At kindergartens, the highest grade, K3, will resume in-person classes on May 3; those in K2 will go back on May 10; K1 will be the last batch of students to return to school on May 16.
The Post has approached the Education Bureau for comments on whether the revised plan will apply to international schools.
The timetable came after a survey conducted by the Hong Kong Federation of Education Workers found last week that more than 70 per cent of the city's teachers were opposed to resuming in-person classes as early as April 19, due to concerns about infection risks in schools.
Face Off: Is Hong Kong's "early summer break" a good move for students?
Health authorities confirmed 2,644 Covid-19 infections on Thursday, the second day the number of fresh cases dipped below 3,000, while 97 deaths were reported.
Students who were fully vaccinated would be allowed to participate in another half-day of non-academic activities at their schools, Secretary for Education Yeung said.
He added that in future, if new infections were found in a school, staff and students would be required to undergo rapid antigen tests, but in-person classes would not need to be suspended immediately.
If the suspension of classes was really warranted, the arrangement would be standardised, while the current arrangement and the duration depended on health authorities and the seriousness of the cases.
Ricky Ng Wing-hung, principal of Buddhist Lim Kim Tian Memorial Primary School, welcomed the gradual resumption of face-to-face classes since the daily caseload of the highly transmissible Omicron variant remained high.
"It could help teachers adapt to the environment, since it is different from the previous waves," he said.
Hong Kong students and teachers say bringing forward summer holidays will disrupt their learning and add to workload
Nancy Lam Chui-ling, kindergarten principal and vice-chairwoman of the federation expressed worry about the pandemic's current situation in the city.
"The vaccination rate among the kids is really low and it takes 14 days after inoculation to develop antibodies, so letting kindergartens resume classes on May 3 and higher forms be first to go back to campuses is suitable," Lam said.
Meanwhile, a survey by the Hong Kong Federation of Youth Groups found that 63.7 per cent of secondary school students polled said the early summer break had affected their learning progress, and 56.3 per cent also said they felt more stressed from being cooped up at home for most of the time.
Educators create online platform with more than 100 free classes for students during Hong Kong's early summer break
The summer break was brought forward by the government to prepare school venues as centres for a now-postponed compulsory universal test.
The survey interviewed 995 secondary students between March 21 and 31 to gauge the impact that the suspension of in-person classes had on their lives and studies.
On the resumption of classes, the same poll found that 37.4 per cent of respondents supported starting with half-day classes, be it online or face-to-face. Another 34.4 per cent preferred full-day face-to-face class, while 10.6 per cent hoped to continue online learning.
Project Stay Home: check out these fun ways to beat the early summer holiday blues
The organisation's hotline received over 11,000 calls from students asking for assistance in the first three months of the year amid the fifth wave of infections. This marked a rise of 7 per cent from the same period last year, of which about 60 per cent were calls regarding stress or emotional issues.
The federation urged schools to step up support services when students returned to campuses. It suggested organising more group activities to make up for the loss of social and campus life during the class suspension.
Sign up for the YP Teachers Newsletter
Get updates for teachers sent directly to your inbox
Sign up for YP Weekly
Get updates sent directly to your inbox