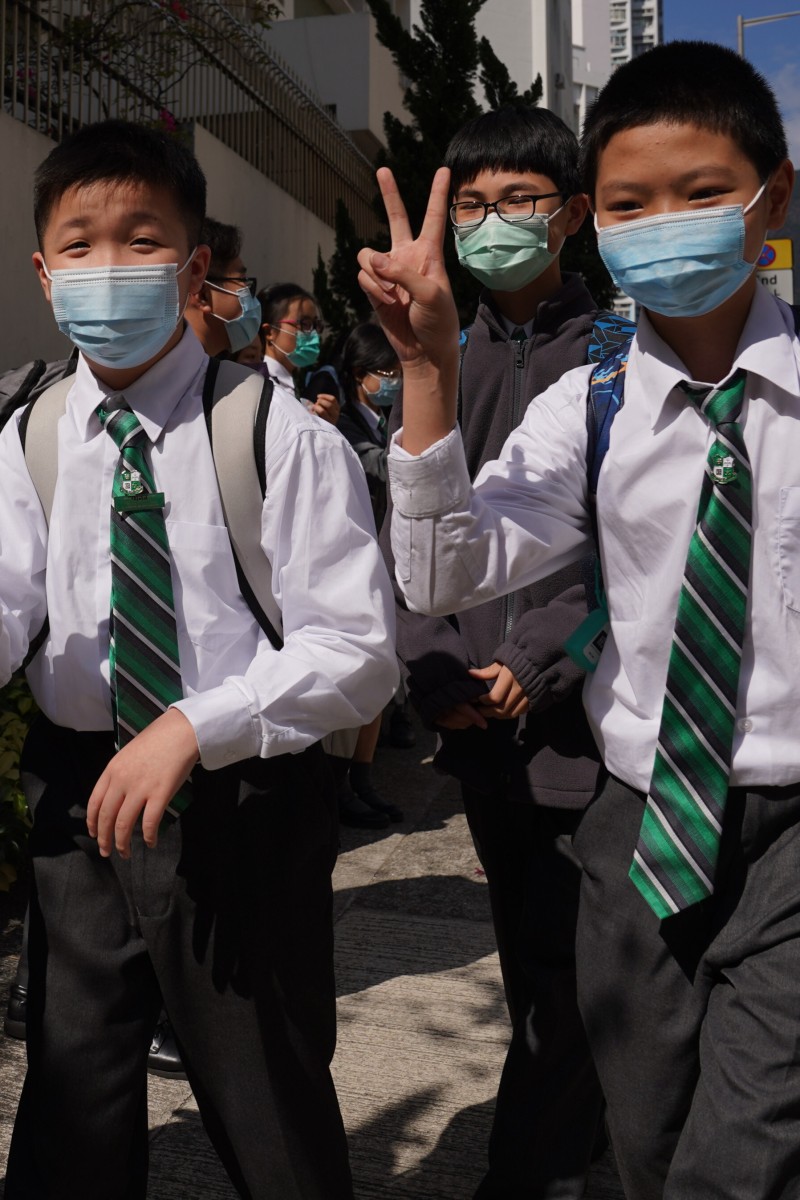 Primary school students first to return to half-day classes on April 19, with secondary students and kindergartens following later

Students and teachers are required to conduct rapid tests every day, and only those who have tested negative will be allowed on campus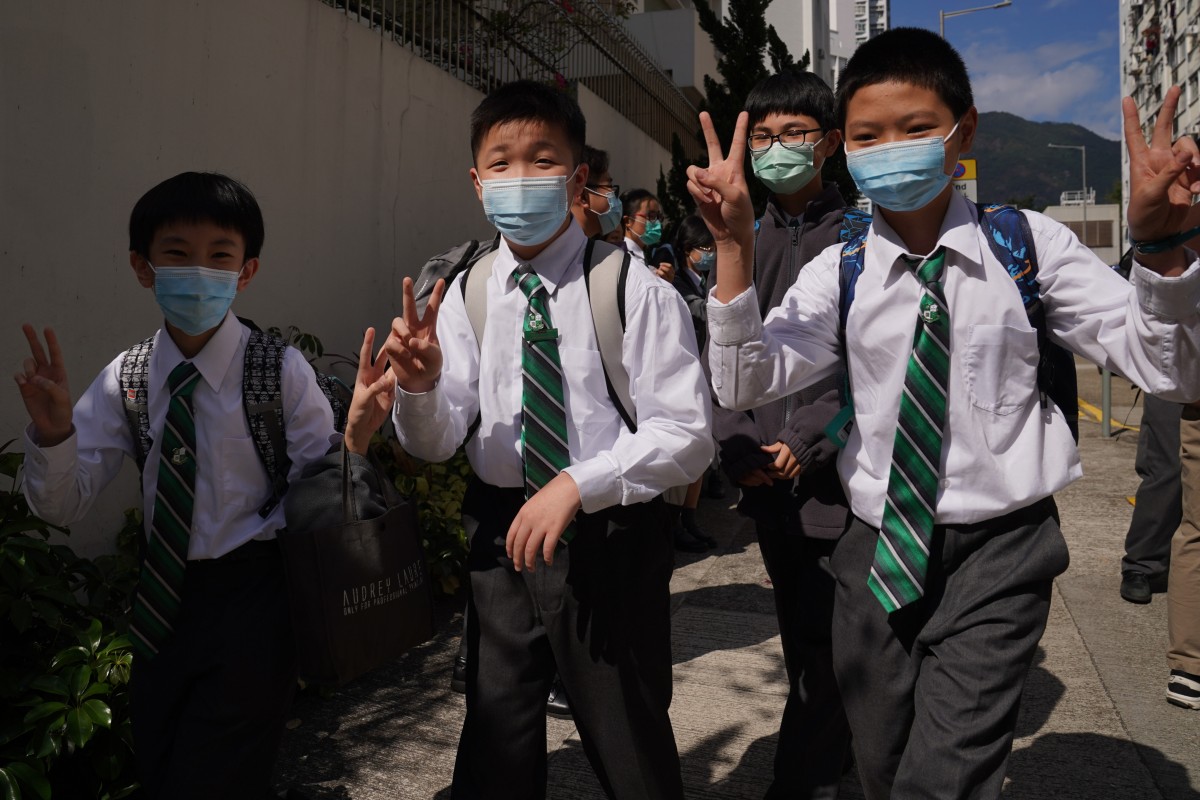 Students will head back to school in stages after the Easter holiday. Photo: Sam Tsang
In-person lessons in Hong Kong, which have been suspended for nearly three months during the fifth wave of coronavirus, will resume after the Easter holiday.
New rules have been imposed for the gradual resumption of in-person classes, including a requirement that all students and teachers take daily rapid antigen tests (RAT). Only half-day lessons will be allowed unless 90 per cent of a school's student population or individual class is fully inoculated – meaning they have at least two doses of the Covid-19 vaccine.
Here are a few details about the arrangements.
Here's the announcement about students heading back to campus
How will face-to-face classes resume?
Dates will vary according to different school grades. Online learning will take place if in-person classes have not restarted.
Face-to-face classes in primary schools are expected to resume on April 19 at the earliest and May 3 at the latest.
Secondary schools, meanwhile, will begin resuming face-to-face classes on May 3, after the core subject assessments in the Diploma of Secondary Education exams, with all grades expected to be back by May 10.
Classes for secondary students will resume after the core subject assessments of the Diploma of Secondary Education exam. Photo: Jonathan Wong
One-third of kindergarten students will be allowed back to class on May 3, another one-third will return on May 10 and the last batch will go back to school on May 16.
School and kindergarten operators may decide the resumption order of the various grades.
While secondary schools can resume full-day classes if 90 per cent of their students are fully vaccinated, a circular from the Education Bureau on Monday said primary schools and kindergartens would not have full-day face-to-face lessons for now due to students' low inoculation rates and their weaker self-care abilities.
Covid has made our plastic pollution problem worse
According to government data, 97 per cent of 12- to 19-year-olds have had at least one dose of a coronavirus vaccine, and 79 per cent have had two. However, only 63 per cent of three- to 11-year-olds have received their first jab and 30 per cent their second.
Many primary school and kindergarten principals said they did not expect full-day in-person classes to resume before August.
The bureau said international or private schools offering non-local curriculum, with bigger campuses and different teaching schedules, would have the flexibility to arrange full-day classes if they can fulfil the requirements.
Will fully vaccinated students and those who aren't be treated differently?
All students who test negative are allowed to attend half-day in-person classes, but are required to wear masks on campus, even during physical education lessons.
Only fully vaccinated students can take part in non-academic activities, such as sports and music programmes after school, and practise wind instruments without masks.
School principals said they believed that being able to join these activities was an incentive for students to get vaccinated.
But unmasked activities will be banned at kindergartens due to the students' weaker self-care abilities, and after-school extracurriculars would not be advised unless students were in need of day care services, the Bureau said.
Children receive free Covid-19 jabs during a vaccination event at Lam Tin (East) Community Hall. Photo: Felix Wong
What should be done if students test positive before going to school?
Students and teachers are required to conduct rapid tests every day and only those with negative results are allowed on campus.
Those who test positive must immediately report their results to the Centre for Health Protection and their schools, which will be asked to submit the records to a new platform every morning. Some school heads have expressed concern that this would add to their administrative workload.
Previously, class would be suspended if there was a confirmed Covid case. But under the new rules, the threshold will be relaxed and classes will not be suspended until after health authorities have completed an investigation.
Hongkongers are tired of Covid restrictions
Director of Health Ronald Lam Man-kin said authorities would launch an investigation if 5 per cent or more of students and staff from a particular school tested positive, if 10 per cent or more of the same class had been confirmed infected, or if a patient died or was admitted to intensive care.
He said the 5 per cent line was drawn after considering the 20 per cent threshold for the flu, the fact that the Omicron variant was more transmissible, and that about 4.2 per cent of children aged nine or below had already contracted the virus.
Vu Im-fan, a principal and chairwoman of the Subsidised Primary Schools Council, said RAT could be done once or twice a week if there were just a few confirmed or severe cases found in schools in the future.
How you can help others during the pandemic
How to prevent cheating on the RAT tests?
Vu said it would be hard to verify every result and they could only trust students and parents. She suggested asking them to note down and sign their testing records in a book.
"A signature means you have a responsibility to ensure it is correct," she said, adding that spot checks could be conducted at schools or get students who looked unwell to undergo testing.
Nancy Lam Chui-ling, a kindergarten principal and vice-chairwoman of the Federation of Education Workers, suggested schools require students to hand in their test results.
The bureau's circular on Monday said schools could conduct spot checks on students.
Will the government supply test kits?
The government said it would hand out 10 million RAT kits to schools for free, and about 300,000 students in need would get them for free in the coming month.
Vu said she was confident there would be enough test kits, as schools would also buy them or receive donated kits from other organisations.
Are there concerns about the need to conduct daily rapid antigen tests?
Lam said the requirement could become a headache for teachers and parents, as some children do not like to having their noses swabbed.
She called on the government to let children undergo RAT the night before so that parents would have enough time to help with the test.
Sign up for the YP Teachers Newsletter
Get updates for teachers sent directly to your inbox
Sign up for YP Weekly
Get updates sent directly to your inbox