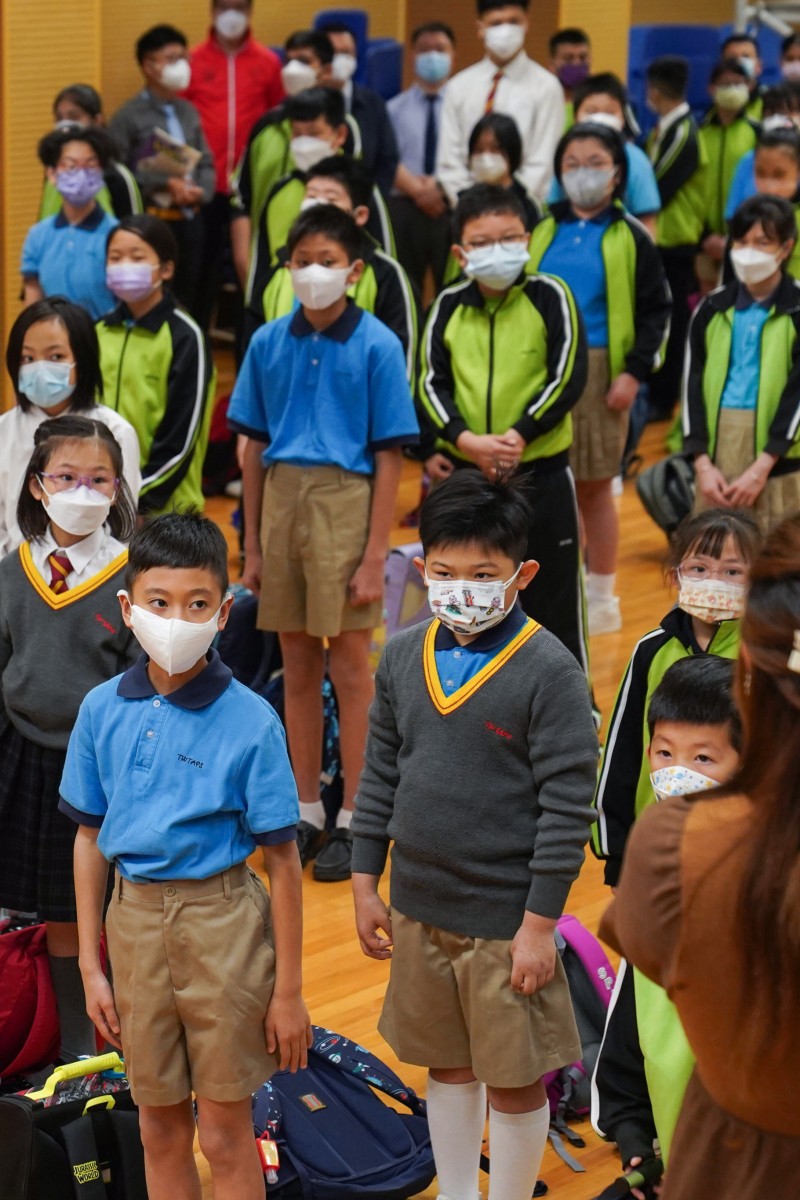 Students from more than 110 schools among first in city to finally head back to campus

Under new arrangements, local schools or individual classes can hold full-day lessons if 90 per cent of students have received two doses of vaccine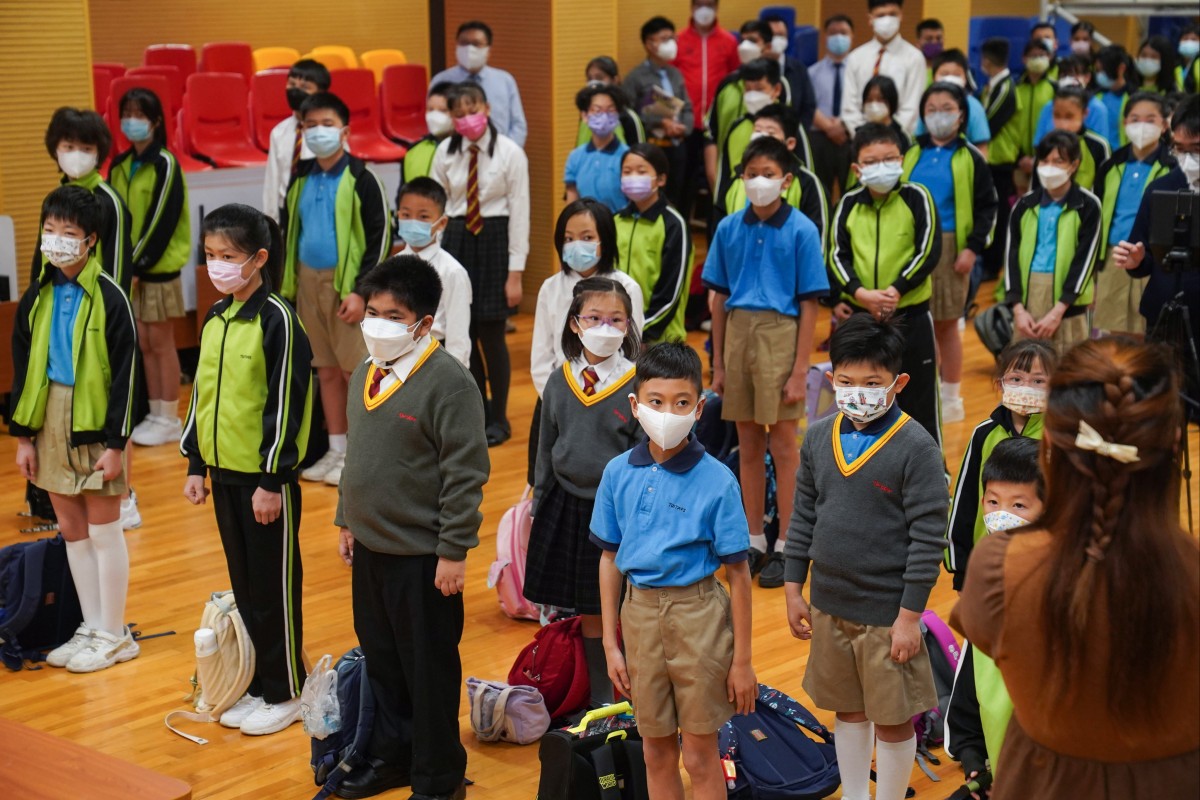 Primary and international schools in Hong Kong finally opened their doors to students on Tuesday morning after a three-month suspension. Photo: Sam Tsang
Fourteen students and one teacher could not return to school after they tested positive for Covid-19 when in-person classes resumed for some grades in Hong Kong on Tuesday following a three-month suspension sparked by the fifth wave of infections.
Students from 65 international schools and 52 local primary schools returned to campus in the morning, many bubbling with excitement, and principals reported that the first day back went largely smoothly, apart from a few instances where some students forgot to carry out mandatory rapid antigen tests (RAT).
But two pupils from two primary schools and 12 students from an international one returned positive results, according to the Centre for Health Protection (CHP). One teacher from an international school also tested positive and could not return to work. They were among 600 infections reported on Tuesday, the fifth straight day where cases were below the 1,000 mark, along with 17 Covid-19 related deaths.
Hong Kong to relax some Covid restrictions, allowing gyms, cinemas and sports venues to reopen on April 21
CHP controller Dr Edwin Tsui Lok-kin said authorities believed the students were infected either in the community or at home because they tested positive before returning to school.
"If there is indeed a school outbreak, we will look at the source of infection, what can be improved, such as ventilation, and how to strengthen infection control," he said. "If there is a major outbreak, then some classes may need to be suspended but it will be assessed on a case-by-case situation."
Among the roughly 100 primary students who returned to half-day classes at Tsuen Wan Trade Association Primary School, 10 failed to submit their negative test results proof with their parents' signatures, while two others needed to undergo screening at the campus because they did not do it at home, according to principal Chow Kim-ho.
"I did not know that I needed to undergo a daily test," one student told the media. "I think there was a reminder [from school], but I didn't check it."
Primary school pupils return to classes at Fung Kai Liu Yun Sum Memorial School in Fanling. Photo: Jelly Tse
Primary schools have been given flexibility to decide when to resume classes for different grades, but all students are expected to return to campuses by May 3 at the latest. Under the new arrangements, local schools or individual classes can hold full-day lessons if 90 per cent of students have received two doses of a vaccine against Covid-19. Otherwise, they are limited to half-day lessons. International schools are exempted from the requirement.
To welcome students back at Hong Kong International School (HKIS) in Tai Tam, one principal dressed as the campus mascot, while counsellors dressed as unicorns high-fived teens as they got off the bus.
A total of 1,400 students at the HKIS campus in Tai Tam and another 1,600 of their primary school peers at its Repulse Bay branch resumed in-person classes on Tuesday. Students said they were excited to be back on campus but felt sad because they had missed out on a lot of school activities.
Explainer: How will Hong Kong's in-person class resumptions work, and what are the requirements?
"It's really different because at least 40 per cent of our classmates are not in Hong Kong any more," Olive Padarin, a grade eight student, said. Many of her peers have either left the city for good or were attending online classes while overseas, such as in Thailand.
"It's a bit sad because we never had a chance to do a full year in middle school yet," said student Gabi Hart. "After-school activities have been on and off throughout the pandemic, and most sports competitions between different schools were cancelled."
Gabby Kim, also in grade eight, said: "Online classes were challenging because it was sometimes difficult to concentrate. But they had their own perks since I could get up a bit later than normal."
Students at the Hong Kong International School in Tai Tam are greeted by a mascot. Photo: Dickson Lee
International schools offering non-local curriculum, with bigger campuses and different teaching schedules, can run full-day sessions, provided all teachers and students undergo RAT and remain masked throughout the school day.
Those who test positive must report their infection to the CHP and their schools, which must then send the results to a government online platform every morning. Ron Roukema, head of school at HKIS, said there were multiple layers of safety measures in place for students.
Every morning, HKIS students record their RAT results and temperatures in a booklet, along with a signature from their parents stating that the pupil has no Covid-19 symptoms and has not taken related medication in the last 24 hours. The booklet will be checked each morning by staff on the bus, and teachers at school will review the information again.
How to resume your routine once Hong Kong relaxes Covid social-distancing restrictions
Campuses have other measures in place, such as thermometers to monitor students' temperatures and nightly sterilisation.
"It's an additional administrative cost, but it's worth it if it keeps students safe," Roukema said.
All HKIS staff are fully vaccinated, while 84 per cent of its primary school students and 95 per cent of its secondary school ones have received at least one shot.
"The government instruction was clear this time around. We had an audience with the chief executive and also an opportunity to have a dialogue with the department in the Education Bureau that handles international schools," Roukema said.
Asked whether the school had any plans to implement measures preventing people from submitting false RAT results, he said he believed parents would be honest, and individuals would be contacted if necessary.
Local secondary schools will also resume in-person learning under similar arrangements on May 3, while a third of kindergarten pupils will be allowed back to class the same day, with another third returning on May 10, and the rest following on May 16.
The bureau earlier said that only fully vaccinated students could take part in non-academic activities such as sports and music programmes after school, practise wind instruments or play contact sports like basketball and football without wearing masks.
Despite widespread calls for free RAT kits to be distributed to all students, the government decided to hand out 10 million test kits only to 300,000 pupils in need, saying families not facing financial difficulties should buy the kits themselves.
The city's tally of infections since the pandemic began stood at 1,199,038 cases, with 9,176 related fatalities.
Sign up for the YP Teachers Newsletter
Get updates for teachers sent directly to your inbox
Sign up for YP Weekly
Get updates sent directly to your inbox