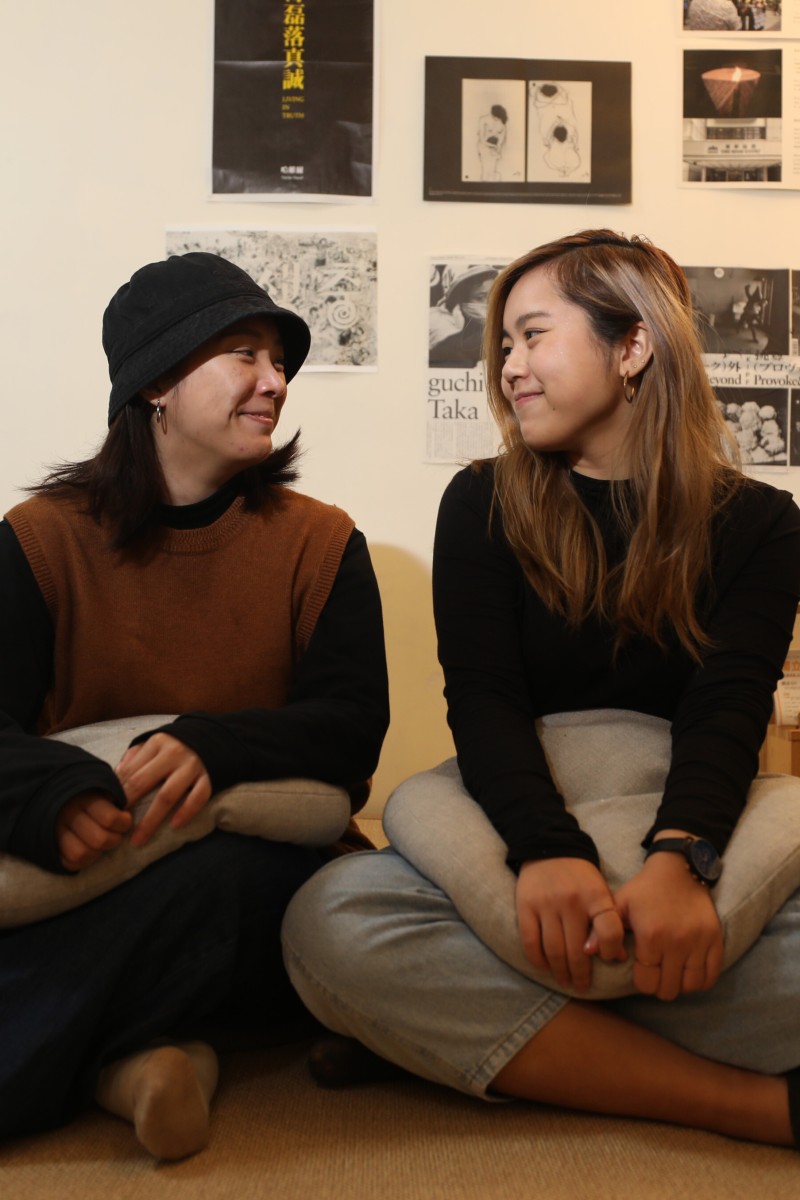 Opened last October and shutting down in late May, the store in Kwun Tong has already made an impact through its resources on emotions, sexuality and more

Every week, Talking Points gives you a worksheet to practise your reading comprehension with questions and exercises about the story we've written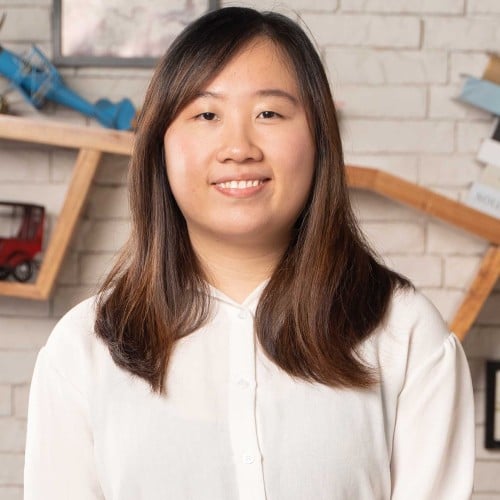 Sue joined the Post in 2021. She graduated from the University of Hong Kong with a double major in journalism and counselling.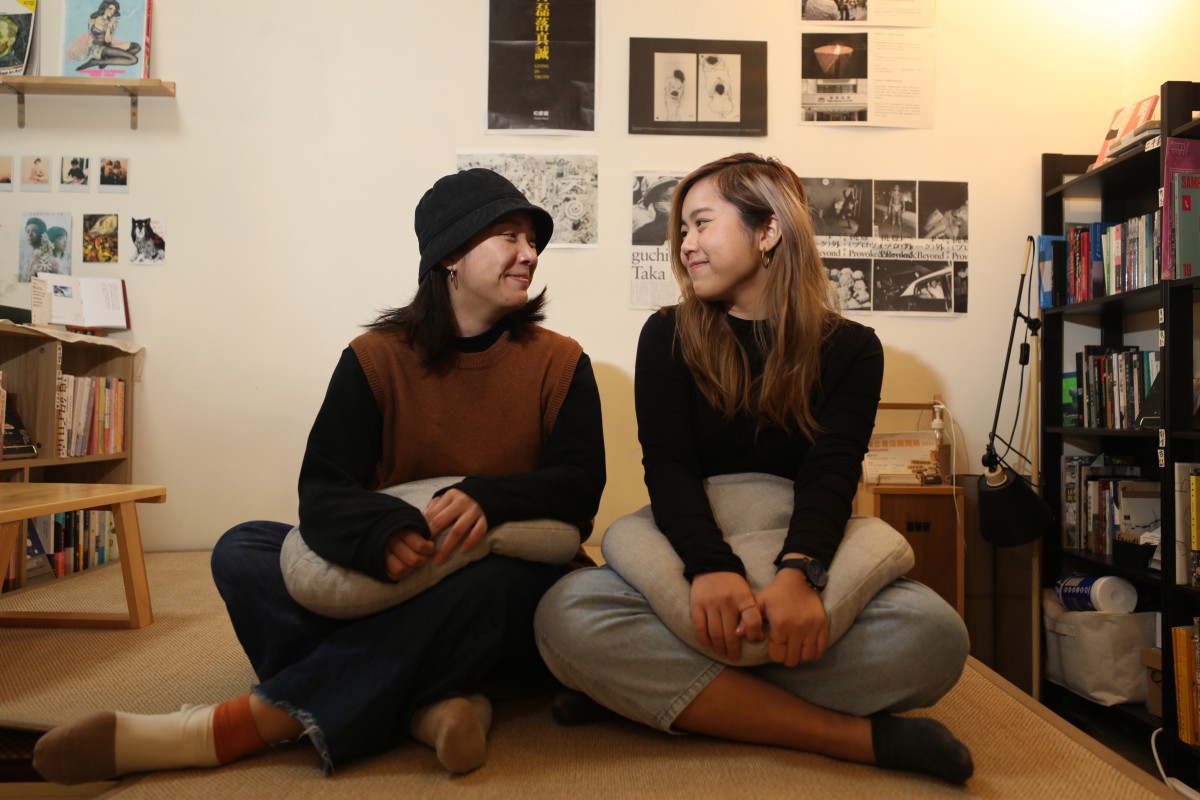 Onebookhalf's founders, including Louise Lau (left) and Janice Wong, hope Hong Kong can be a place where LGBTQ+ people can live as their true selves. Photo: Xiaomei Chen
Even a shop with only 150 sq ft of space and open for less than a year can make an impact in Hong Kong.
Founded last October and closing in late May, Onebookhalf in Kwun Tong was crafted to spark open discussions about gender and sexuality – woefully needed in a city that does not recognise same-sex marriage and where most trans students are not allowed to wear school uniforms that match their gender.
The "experimental project", as its founders call it, inherited its Chinese name 一坪半 from a song by Taiwanese singer Crowd Lu, 一坪半 4.95m2 Dream, about pursuing dreams even in small spaces. The shop name was meant to reflect how "small" the space in Hong Kong was for discussing and expressing gender, said Louise Lau Yee-tak, one of the store's founders.
"As the song suggests, despite the tiny space, [our shop] can inspire many imaginations and possibilities for gender," said Lau and Janice Wong Kwan-ting, who both created the space with their friend Erica*.
Why Hong Kong's trans teens need support from groups like Quarks
At Onebookhalf, visitors can book a time slot of one to two hours, which can accommodate up to four guests at prices ranging from HK$100 to HK$200.
Customers can relax on the shop's traditional Japanese tatami floors while perusing the posters and books about gender, sexuality, art and society. Often, patrons will strike up conversations with the owners and with each other, sharing stories in a welcoming environment.
"Our goal is to connect more people and offer them, especially the LGBTQ+ community, a safe space to express themselves," said the three co-founders.
The acronym, LGBTQ+, includes those who are lesbian, gay, bisexual, trans and queer.
The founders shared how a trans woman, whose assigned sex at birth was male, could be her true self at the shop.
"She wears a dress here and enjoys her time as she feels comfortable to be herself," they said.
Some years ago, Wong and Erica, now 25 and 28, respectively, met as members of a university group called Action Q, which advocates for the rights of LGBTQ+ people. After graduating, Erica met Lau, now 30, and they connected over their passion for issues surrounding gender and sexuality.
Hong Kong teen shares how she opened her own used book store
The trio first rented the shop for their own gatherings and work, but decided to open it to the public as Onebookhalf to address Hongkongers' lack of awareness about the LGBTQ+ community.
While their customers are usually women aged 18 to 30, the founders also want to engage everyone in the community since they see gender as something that affects everyone.
"Gender is not just about two sexes or one's sexuality. Issues like family, women's rights, and marriage are also included," they noted.
Onebookhalf's owners have created a space where people can express their gender and be their true self. Graphic: Shutterstock
For example, the trio knows how outdated the city's sex education is, so they offer resources about healthy relationships and safe sex, such as talks and reading groups.
"Students nowadays ... can gather information from the internet," said the founders. "[But] it can be dangerous for them to learn about these topics by themselves."
"We don't have to avoid talking about sex with them ... We should be more open-minded, teaching them about things like how to navigate romantic relationships."
My friends are starting to date, but I think it's silly when you're a teenager
Beyond education and discussions, Onebookhalf also provides a listening ear for visitors to share their feelings.
"All too often, we find that our customers come to us with unresolved emotions," said the shop's founders. "They feel speechless. There are also some with negative emotions triggered by their families, intimate relationships or work."
Thus, the shop has a set of cards called Feel In Your Blank, which customers can use to decipher and process their innermost thoughts.
Psychologist explains why emotions should be a school subject
The trio said they had listened to many stories from visitors, some involving trauma as LGBTQ+ people often face discrimination and abuse for who they are.
But they also emphasised the importance of hopeful narratives – for example, when a lesbian couple came to the shop and shared a touching story about their marriage and wedding ceremony.
"This made us realise that positive stories are critical when we talk about gender. It is more powerful than just focusing on discrimination and trauma," said Erica.
As the space is closing soon at the end of May, the three founders' only regret is that the space could not connect with more people from different generations.
"We want to meet the parents of LGBTQ+ children because ... it is not easy for them to find someone to talk to and share their emotions with," Wong explained.
As a self-funded space, it is tough to survive in a city known for expensive rent, but the trio still has plans to keep up the spirit of Onebookhalf.
Why an independent bookstore continues even if it doesn't make profit
"Although there might not be a physical space in the future, we will continue to use multimedia platforms to encourage discussions about gender, like podcasts and videos," they said.
"Maybe one day, the power generated from this space can change the city ... and more people can live as their true selves."
*Full name withheld at interviewee's request.
Click here to download a printable worksheet with questions and exercises about this story. Answers are on the second page of the document.
Sign up for the YP Teachers Newsletter
Get updates for teachers sent directly to your inbox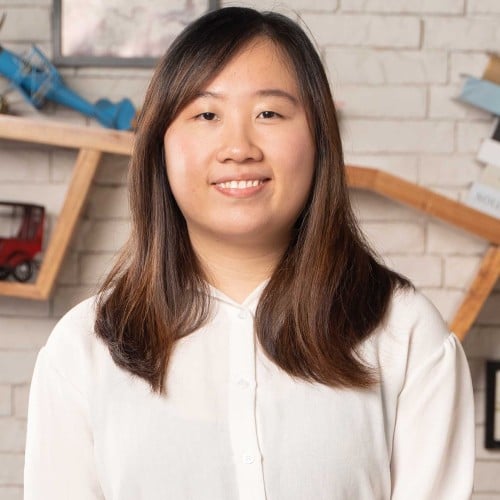 Sue joined the Post in 2021. She graduated from the University of Hong Kong with a double major in journalism and counselling.
Sign up for YP Weekly
Get updates sent directly to your inbox