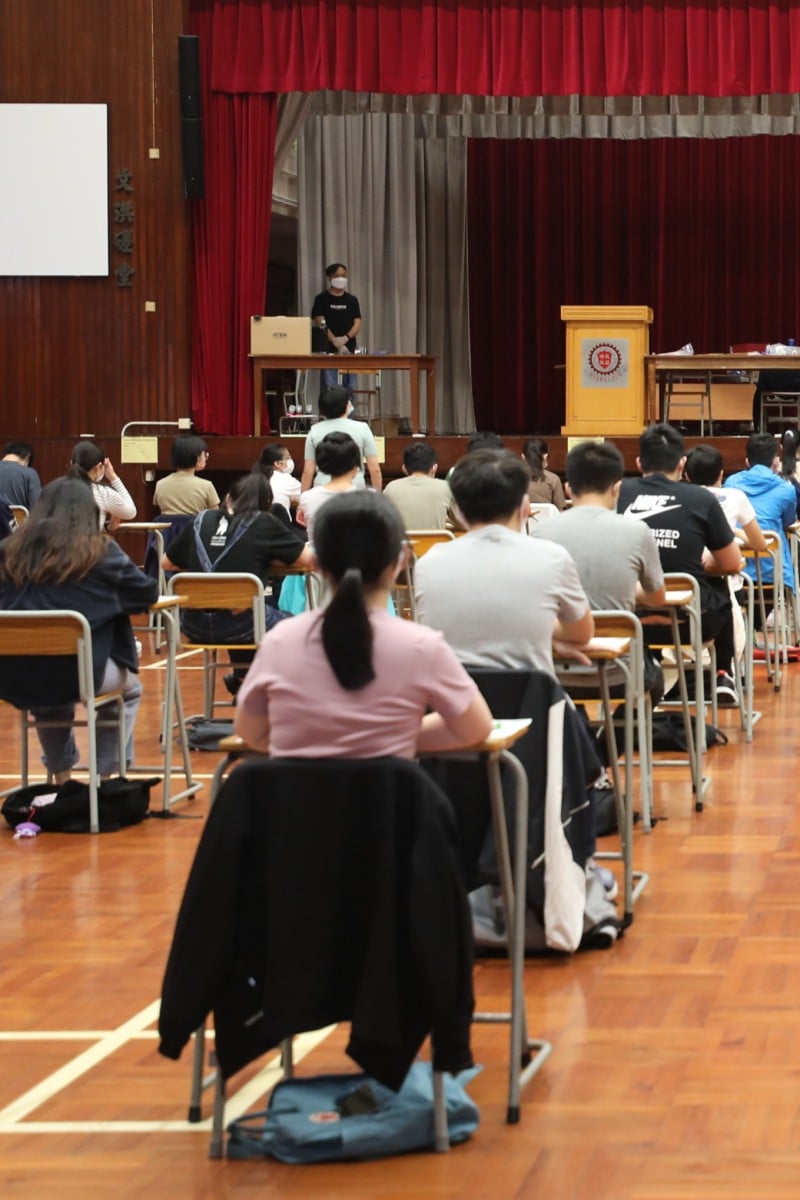 Beacon College's Andy Yeung says Paper 1's multiple-choice questions were easy, and Paper 2 was predictable as it mostly dealt with topics not covered last year

Two Diploma of Secondary Education candidates from Good Hope School note the subject was pretty close to what they had expected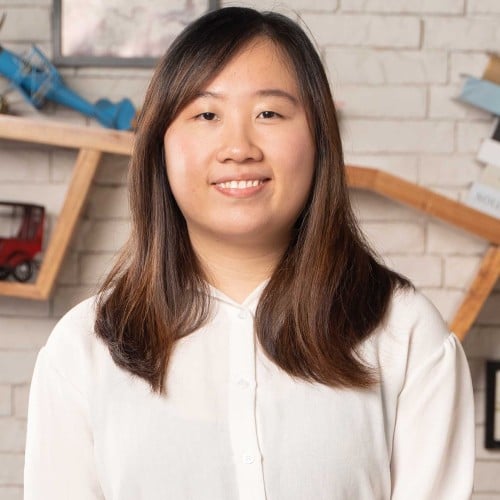 Sue joined the Post in 2021. She graduated from the University of Hong Kong with a double major in journalism and counselling.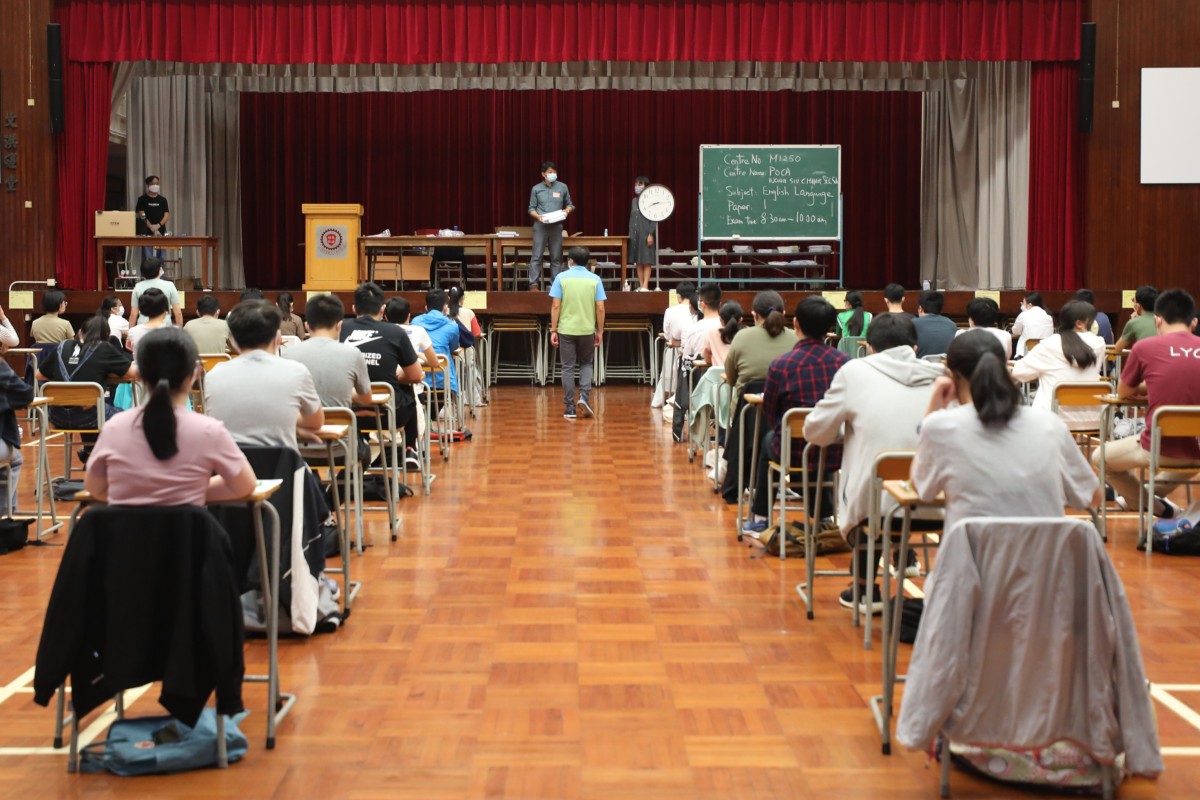 On Thursday, about 9,390 students sat the Business, Accounting and Financial Studies exam. Photo: Xiaomei Chen
A tutor said the Business, Accounting and Financial Studies (BAFS) exam for this year's Diploma of Secondary Education was relatively straightforward as it had no questions about topics outside the syllabus, while two candidates said they were confident in achieving Level 5 or above in the subject.
On Thursday, about 9,390 students sat the exam, which was adjusted as it was last year because of the pandemic, with some questions in Paper 2A and 2B made optional to give students more time.
Andy Yeung, a star tutor from Beacon College, said Paper 1's multiple-choice questions were easier than they were last year, and Paper 2's questions were predictable as they mostly dealt with topics that last year's exam did not cover.
Liberal studies exam touches on Covid and plant-based diets
Straightforward multiple-choice questions on Paper 1
On Paper 1, candidates were required to answer 30 multiple-choice questions and four out of five short-answer questions. Yeung said this section of the exam usually asked difficult questions that even teachers might get wrong, but that was not the case this year.
"Last year, the multiple-choice questions were a bit challenging, and the average score was 16 out of 30, while this year I believe the mean could increase to 18," he said.
The tutor singled out one question as being relatively tricky – Question 10 which asked about accounts payable. "Students might mix up the term with 'trade payable' and thus choose the wrong option," he explained.
Some of Paper 1's short-answer questions asked students to use words instead of calculations to explain their answers. Photo: Shutterstock
As for the short-answer questions in Paper 1, Yeung said some were asked in a format that candidates might not have been familiar with. For example, Question 1, which dealt with ratios, did not require students to do calculations but to use words to explain the advantages of partnership and comment on profitability.
"This type of question was last tested in 2012 or 2013. So it might be challenging to some students who might not be familiar with using words to answer a ratio question," the tutor noted.
According to Yeung, Question 3, which covered risk management and SMART goals, was designed well: "It is a typical question in business management and is relatively easy. But it was also the first time risk management appeared in the short-answer questions."
The tutor said it would not be easy to get full marks on Paper 1 because of the surprises in the short-answer questions.
Chinese reading and writing papers overall more difficult than last year
This year's candidates were better prepared for Paper 2
On Paper 2, students could choose from the 2A Accounting Strand and the 2B Business Management Strand. Yeung said most students would attempt Paper 2A, which is his specialisation.
For the Accounting Strand, the tutor observed that students were better prepared for the new exam format and started with Section B to maximise their time.
"Last year, students were not familiar with the revised exam format, so they didn't know how to answer the paper strategically which caused them to run out of time," Yeung shared. "But this year, many students told me they had enough time to answer all the questions."
Tutor Andy Yeung says this year's students had enough time to answer all the required questions on Paper 2 of the BAFS exam. Photo: Shutterstock
Some of Paper 2's questions covered basic BAFS topics taught in Secondary Four, such as depreciation and book of original entry, which were on Question 1, said Yeung.
"Many students told me Question 1 was very simple, but some said they didn't study those easy topics as they didn't think they would appear in the exam," he added.
In Section B, the tutor said most students chose to answer Questions 4 and 6, which were not difficult. As for Section C, he said Question 7 dealt with correction of error, making it an easier choice than Question 8, which was about incomplete records.
Number of students taking DSE drops to record low
BAFS exam 'pretty easy' and 'manageable', students say
Hayden Cheung, a student from Good Hope School in Wong Tai Sin, agreed with Yeung that the BAFS exam was close to what she had expected.
She said both papers were "pretty easy" as most questions covered topics she studied, except for Paper 1's Question 28, which asked about the features of the Closer Economic Partnership Arrangement (CEPA).
"That question was a bit challenging as I didn't study the topic in detail, so I just randomly guessed an answer," said the 17-year-old who sat the exam in a school in Kwun Tong.
Overall, Hayden said she had enough time to complete the exam. After finishing both papers, she still had more than 10 minutes to check her answers. "I think I might reach Level 5 or 5*," she said.
The Closer Economic Partnership Arrangement (CEPA) is a free trade agreement between mainland China and Hong Kong. Photo: ISD
Evanna Chung, a student from the same school, also said this year's exam was "manageable".
The 18-year-old said she was confident in scoring a Level 5** in the subject because the difficulty of this year's exam was similar to previous years and all the question types had been seen before.
"The exam time was sufficient, and there was nothing unexpected," said the candidate who took the exam in a school in Kwai Tsing.
Sign up for the YP Teachers Newsletter
Get updates for teachers sent directly to your inbox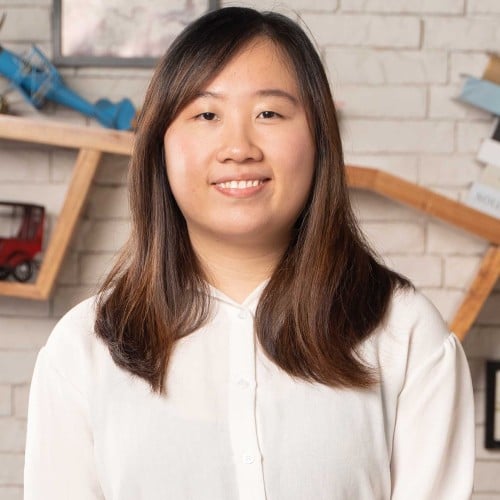 Sue joined the Post in 2021. She graduated from the University of Hong Kong with a double major in journalism and counselling.
Sign up for YP Weekly
Get updates sent directly to your inbox