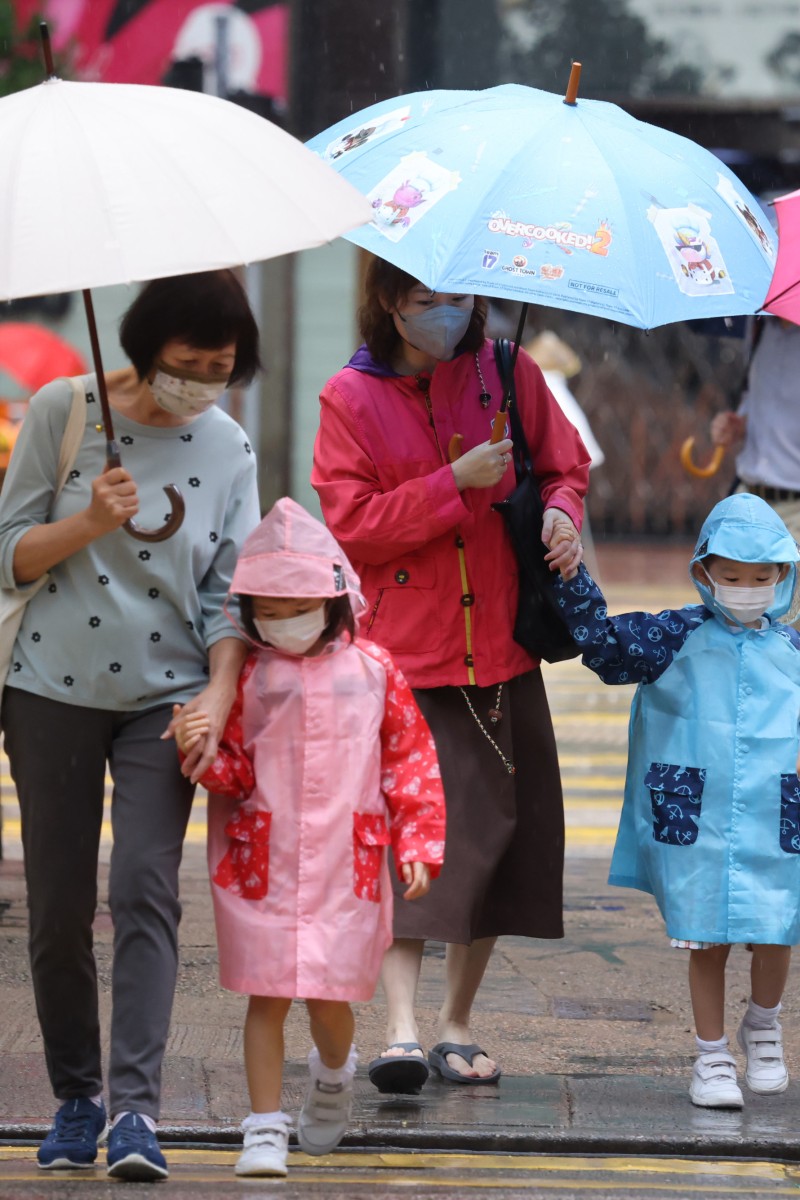 Having missed out on months of classroom time during the fifth wave of Covid, students would rather deal with rain than online learning

Expect heavy showers and thunderstorms this week as the city experiences record-high rainfall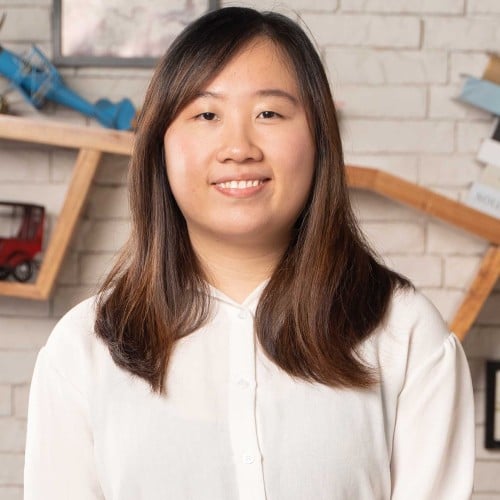 Sue joined the Post in 2021. She graduated from the University of Hong Kong with a double major in journalism and counselling.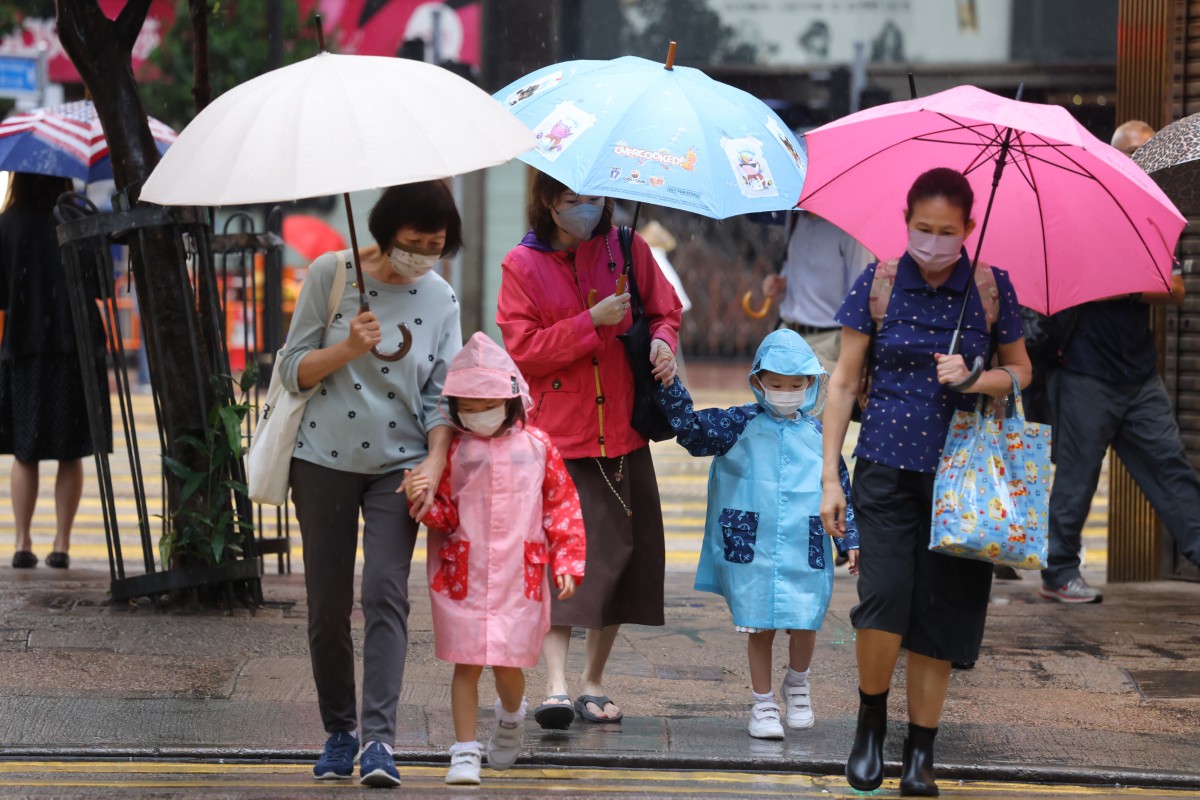 In spite of the heavy rain, many students say they would prefer to attend school in person, since they lost so much class time during the fifth wave of Covid-19. Photo: Nora Tam
Hong Kong students said that while they were annoyed by the inconvenience of going to school during heavy showers on Wednesday, they still preferred the Education Bureau (EDB) not call off class, even though the Hong Kong Observatory forecast the rough weather would continue for the rest of the week.
On Wednesday, the city recorded an average daily rainfall of 40mm, with some areas reaching 70mm to 100mm, said the Observatory. It also extended the existing thunderstorm warning, first issued at 11pm on Tuesday.
"The rough weather is expected to continue for the entire week, with especially heavy rain and thunderstorms on Thursday and Friday," senior scientific officer Cheung Ping said, adding that the weather will still be unstable over the weekend.
20 weather idioms that will put you on cloud nine
In Guangdong, more than 50 cities and towns have issued severe storm warnings, seven of them red – the highest in China's four-tier emergency alarm system, after meteorologists warned of the year's "strongest, most extensive and longest" rainstorm hitting this week. Many cities in the region, including Guangzhou, Zhuhai, and Foshan, called off classes today.
Communist Party cadres in Guangdong have been told they would be held responsible for any mishaps or disasters after a senior party leaders meeting on Tuesday.
The meeting, chaired by the provincial party chief Li Xi, called on officials at all levels to adopt the highest levels of vigilance, ensuring adequate food supply and disaster aid while also keeping close tabs on Covid-19 prevention.
Bring your umbrella – it's going to be a rough few days! Photo: Nora Tam
In Hong Kong, however, students were simply advised to "take note of the latest weather information".
The precipitation can be tied to a trough – a long area with low air pressure, over which wind can change direction – spanning thousands of kilometres that had formed over the northern area of south China on Tuesday, the Observatory said.
Cheung explained that Hong Kong didn't see the need to suspend school because the rainfall did not reach tropical cyclone or rainstorm warning levels.
11 things you didn't know about rain
"There is a huge uncertainty in the weather, since we don't know when or where heavy rain will occur, so it's hard to predict whether we should call off classes the next day," he said.
Agreeing with the forecaster, students in Hong Kong said there was no need to suspend lessons, despite the inconvenience caused by the rough weather.
Clarisse Poon, a student from St Paul's Co-educational College in Mid-Levels, said the heavy rain caused her some trouble on her way to school.
"The staircase connecting McDonnell Road and Kennedy Road flooded and turned into an outdoor waterfall, and I had to walk up against the flood," she recalled.
Cantonese slang all about Hong Kong summer weather
But the 12-year-old thinks it was fine not to suspend class, as the intensity of the rain changes throughout the day and differs depending on the district.
"To me, it was just another morning during the rainy season in Hong Kong. [The prolonged school suspension under the pandemic] has already hindered our academic progress, and with the DSE exam still ongoing, I think it was wise that the EDB did not follow in Macau's footsteps."
Cristy Hu, a student from Cheung Chuk Shan College in North Point, said the rain only became heavy when she left school at 1:30pm.
"It may cause trouble for younger students, like kindergarten and junior primary school pupils, or someone with an injury, but it is fine for those who live near school or travel by MTR or bus," she explained.
People brave the rain during morning rush hour as Hong Kong is hit by showers and squally thunderstorms. Photo: Nora Tam
Valerie Chiu Wing-yee, a student from Holy Angels Canossian School in Hung Hom, also said she was "merely wet" when she returned home from school.
"School resumed less than a month ago, and we should treasure the days we have face-to-face classes. Not all students have difficulty attending school, and it wouldn't be fair for all students if they had to stay at home and be bored due to the heavy rain," the 12-year-old said, suggesting schools could offer students the choice stay home and do online lessons on rainy days.
Hong Kong recently experienced severely fluctuating weather, with temperatures swinging from highs in late April to the coldest day in May recorded in more than a century.
The city also saw a much drier and sunnier than usual April this year, which the Observatory attributed to a dry northeast monsoon and less moisture supplied to the south China coast.
Sign up for the YP Teachers Newsletter
Get updates for teachers sent directly to your inbox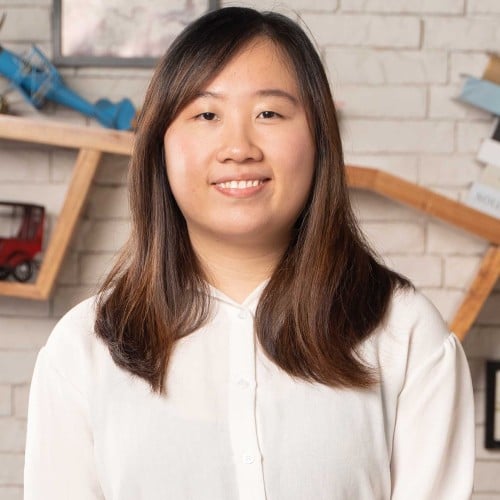 Sue joined the Post in 2021. She graduated from the University of Hong Kong with a double major in journalism and counselling.
Sign up for YP Weekly
Get updates sent directly to your inbox