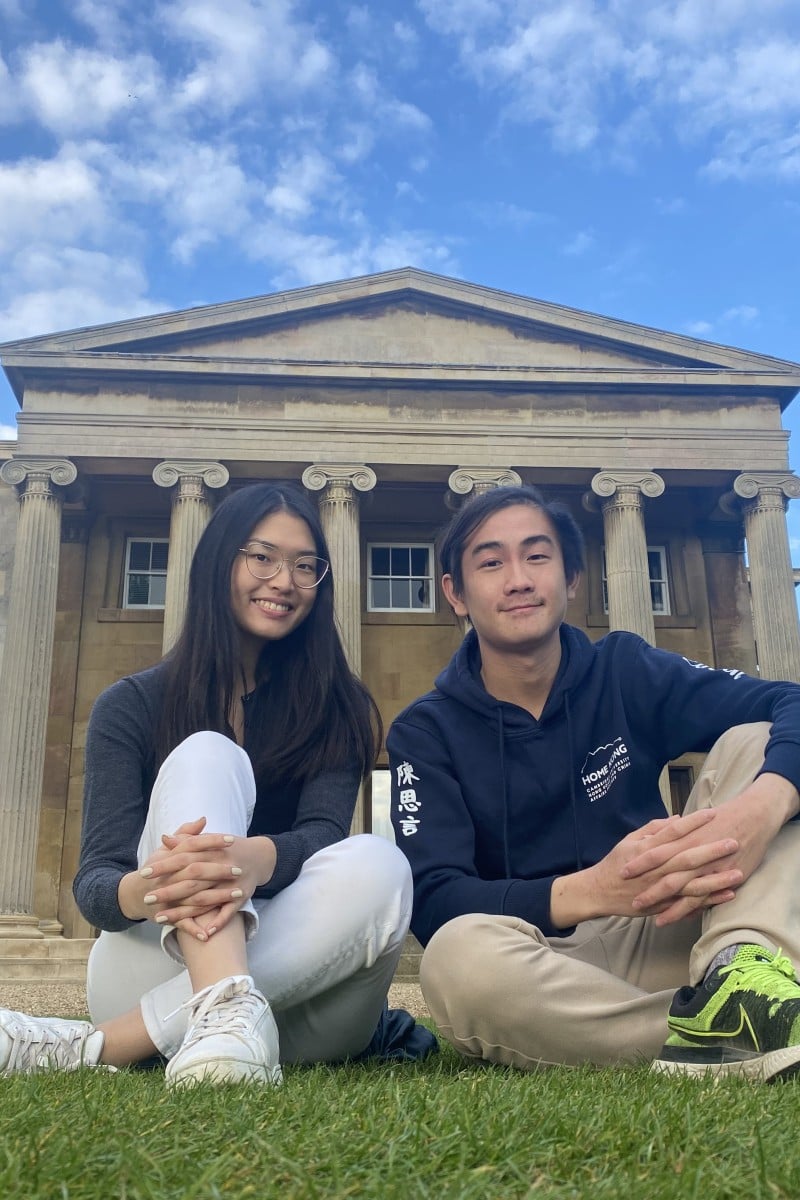 Founded in 2016, Access Abroad Hong Kong's volunteers last year helped 62 of its mentees gain entrance to elite UK schools such as Cambridge University

Every week, Talking Points gives you a worksheet to practise your reading comprehension with questions and exercises about the story we've written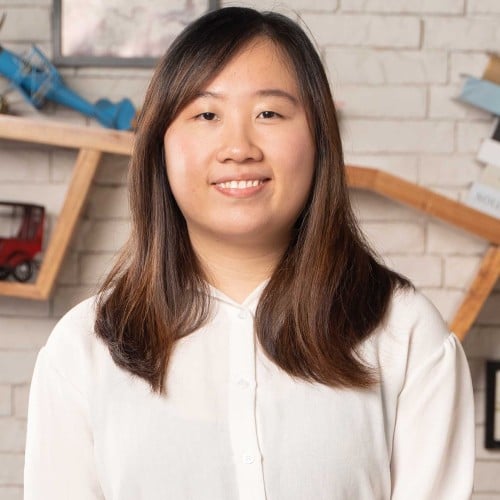 Sue joined the Post in 2021. She graduated from the University of Hong Kong with a double major in journalism and counselling.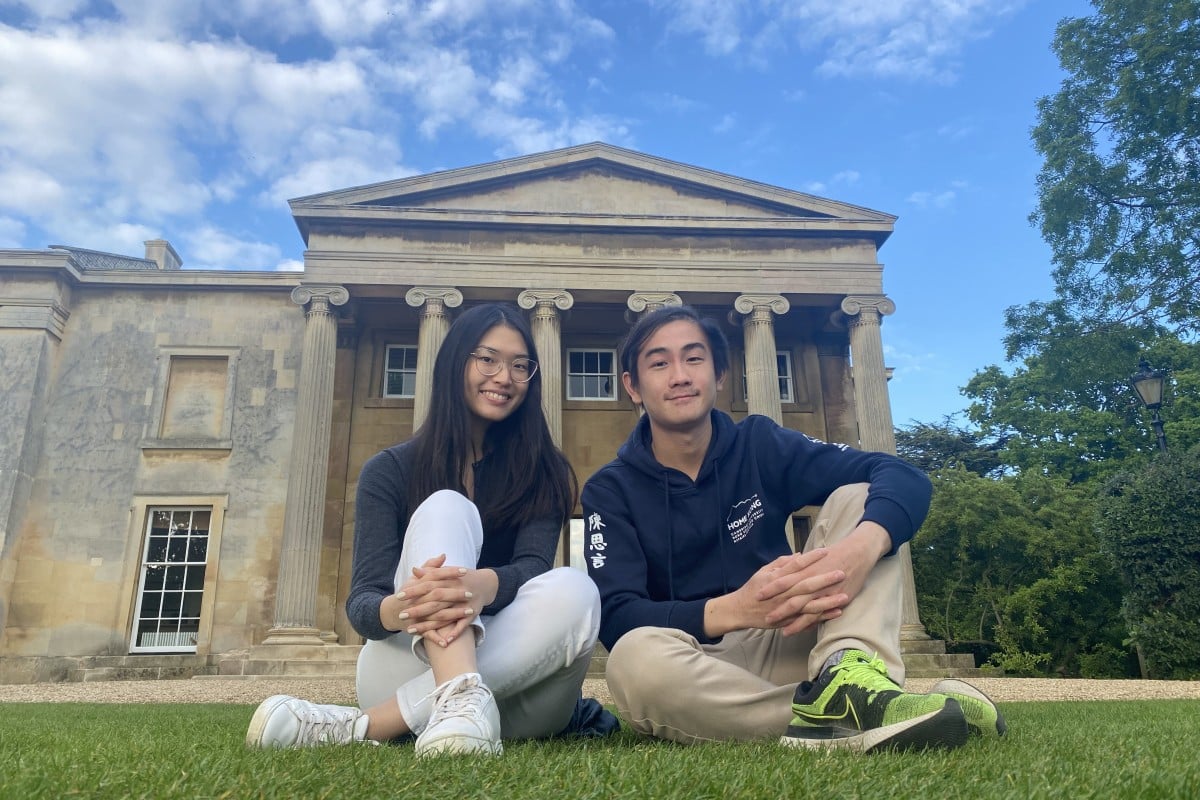 The co-directors of Access Abroad Hong Kong, Ingrid Ma (left) and Ethan Chan are in their second year at the University of Cambridge. Photo: Ethan Chan
For the tens of thousands of secondary school students who sit Hong Kong's university entrance exams every April, studying at a prestigious overseas university usually seems out of reach.
Little do they know that amid the city's sea of expensive overseas university consultants, there is a free mentorship programme to guide young Hongkongers in applying to elite institutions in the United Kingdom.
Founded in 2016, Access Abroad Hong Kong (AAHK) recruits its mentors from current students at 12 British schools, including Oxford University, Cambridge University, Imperial College London and the London School of Economics and Political Science.
The organisation aims to bridge the many cultural, informational and financial barriers that keep Hong Kong pupils from attending these schools.
"It's a distant option for us since we don't know how to apply," said Ingrid Ma, who is a graduate of St Mary's Canossian College and current co-director of AAHK.
Two Hongkongers discuss their journeys to Oxford University
The 20-year-old Cambridge University student said she had never imagined studying abroad until Form Four when she became interested in psychology.
"Since this subject is not as well-developed in Hong Kong as it is in the West, I decided to pursue my passion overseas and challenge myself to apply to Cambridge," explained Ma, who is now in her second year of studying psychological and behavioural sciences.
Resonating with Ma's experience, Ethan Chan recalled that it was his passion for sociology that drove him to apply to Cambridge University.
"I have always been interested in Hong Kong's social and political issues ... I thought studying sociology might allow me to find a solution for these deep-rooted problems," said Chan, a co-director of AAHK and graduate of Tsuen Wan Government Secondary School.
"There are many subjects the Diploma of Secondary Education syllabus doesn't cover, such as sociology and psychology," the 20-year-old pointed out, adding that studying humanities and social sciences at an elite UK school could offer better job security in Hong Kong.
With not much support from their schools, Ma and Chan said they were lucky to have joined AAHK, which guided them through the university application process.
At the time, Chan was the only one among his friends applying to Oxford or Cambridge. He studied on his own for the SAT and Advanced Placement exams, which are recognised in many English-speaking countries.
For Hongkongers abroad, clothing brand's Cantonese slang is taste of home
"I still remember how anxious I was on the day Cambridge sent out the offer letter," he recalled.
"I was sitting in front of my computer and refreshing my email for two to three hours ... When I finally received the offer email, it was a huge relief," said the now Year Two student of human, social and political sciences.
Both Ma and Chan discussed the cultural differences they noticed upon arriving in Britain.
"Those experiences were eye-opening ... People there really enjoy intellectual discussion, which is something that rarely appears in daily conversation in Hong Kong," Ma shared. "For example, a philosophy student would chat with someone studying theology. At first, I couldn't join their conversations, though I found them interesting."
Ingrid Ma (top right) says it took time for her to adjust to university life at Cambridge. Photo: Handout
Despite living more than 9,000km away from Hong Kong, the two students said distance had made their hearts grow fonder.
"Only once you leave the city will you realise how much you love this place ... And we wanted to help students [in Hong Kong] who are less fortunate than we were," said the pair who joined AAHK as committee members in 2020.
Targeting Form Five students, programme mentors guide applicants with personal statements, mock interviews, scholarships and assessments.
At the moment, the team has about 70 mentors from different majors. The mentorship programme accepted 62 mentees last year, with 17 of them accepted to UK universities.
Blind Malaysian student at Cambridge University on why she studies law
The programme deadline this year is on June 12.
AAHK also hosts free events for Form One to Six students to explore the options of overseas study through talks from alumni, and a summer series of mini-courses to simulate the academic rigours of university life.
When screening applications, Chan said he saw many touching stories that revealed inequalities in Hong Kong's education system.
"Hong Kong has many talented students, but some of their family financial situations cannot support their dreams," he noted, adding the city needed to expand the scholarships it offered.
Cambridge student from Hong Kong is youngest ever winner of National Poetry Competition
"Even if some students are accepted by the top universities, if they can't get the scholarship, they give up the offer ... I hope there can be more scholarships available to aid underprivileged students hoping to study overseas."
The pair said attending these elite British institutions could open many more doors for students' futures.
"It is always better to start planning your path earlier to give yourself more options. Be brave – try new things," Ma said. "If you don't try, you will never know."
Click here to download a printable worksheet with questions and exercises about this story. Answers are on the second page of the document.
Sign up for the YP Teachers Newsletter
Get updates for teachers sent directly to your inbox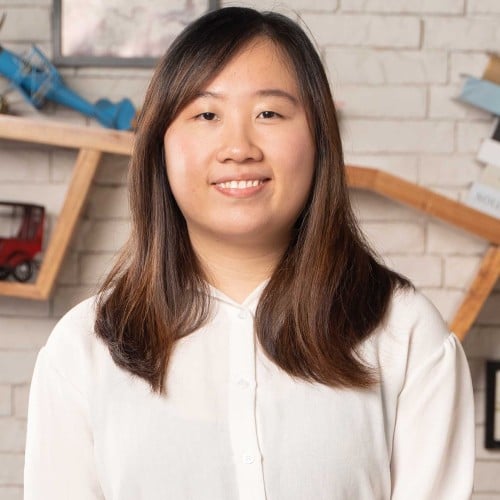 Sue joined the Post in 2021. She graduated from the University of Hong Kong with a double major in journalism and counselling.
Sign up for YP Weekly
Get updates sent directly to your inbox