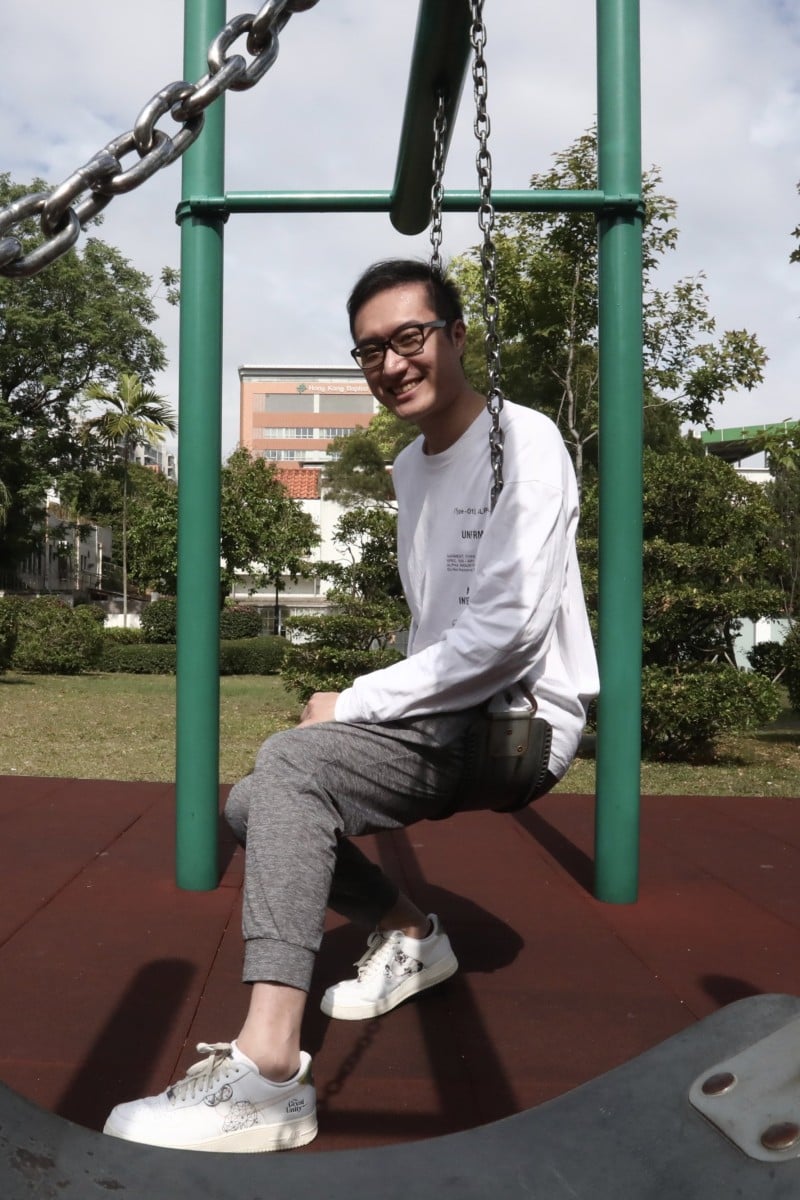 When the 28-year-old struggled to find updated information about the city's play structures, he started working on a Google Map which now features 186 swings

Every week, Talking Points gives you a worksheet to practise your reading comprehension with questions and exercises about the story we've written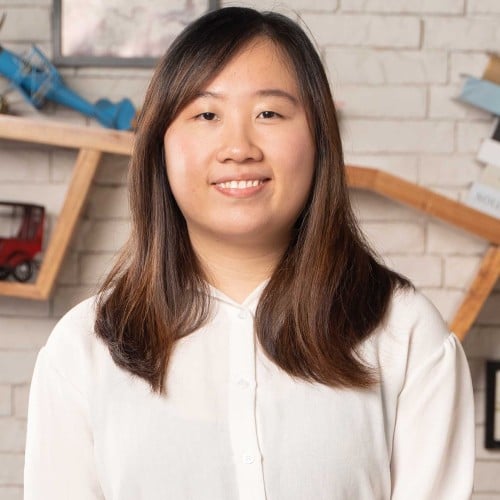 Sue joined the Post in 2021. She graduated from the University of Hong Kong with a double major in journalism and counselling.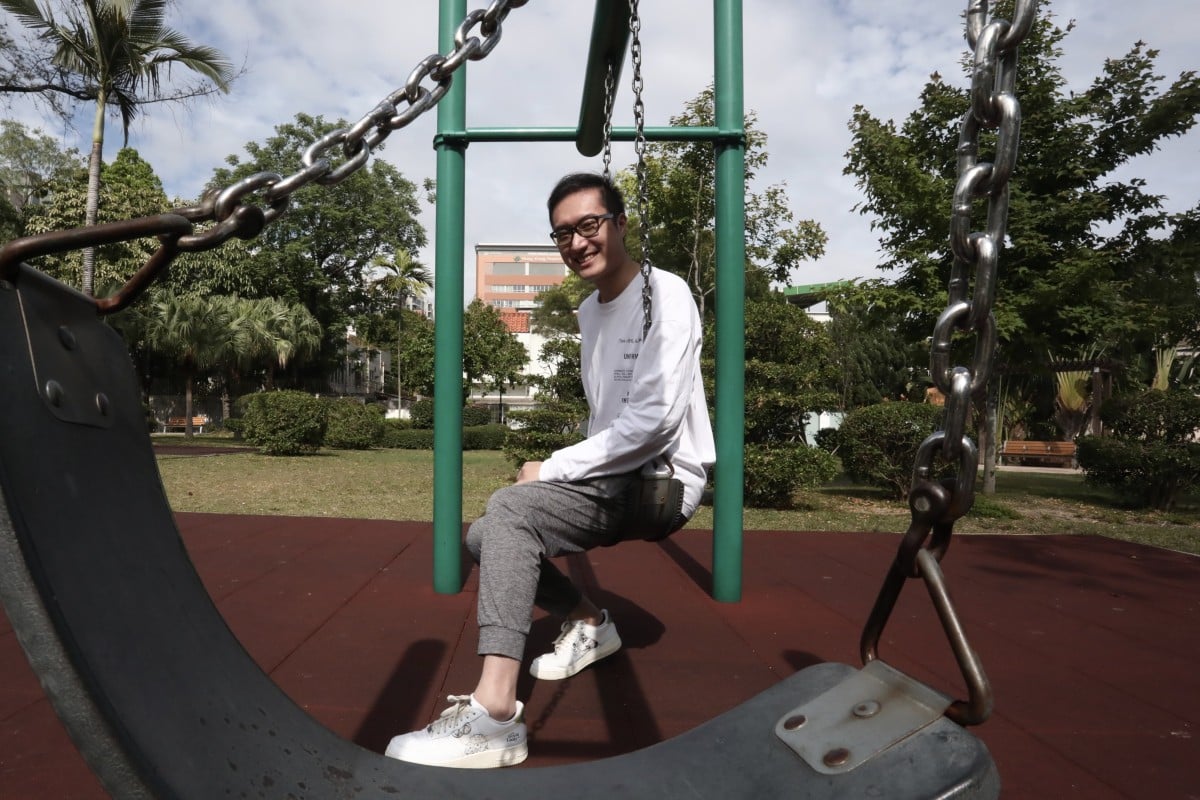 Mr Swing uses a Google Map to record the locations of Hong Kong's swings and posts more details about them on social media. Photo: Jonathan Wong
When was the last time you sat on a swing in Hong Kong? Few other playground structures can match the thrill of pumping one's legs to soar through the air.
While this experience can be tough to find in a city known for being a concrete jungle, there is a Google Map that can help.
Seven years ago, a man who goes by Mr Swing on social media started recording Hong Kong's swings on a Google Map that now has more than 370,000 visits.
The 28-year-old recalled the day he happened upon a playground with swings near his home in Tuen Mun: "I suddenly realised that it had been a long time since I last saw a swing in the city."
Swinging from past to future – the evolution of Hong Kong play areas
"I have many fond childhood memories of swinging ... But I have seen fewer swings on the playgrounds [lately]," said the swing enthusiast who asked to be identified by his nickname only.
Out of curiosity, he went on the internet to see if he could find locations for other swings in Hong Kong, but struggled to find up-to-date details on the city's playgrounds, let alone its swings.
So he decided to go out on a quest to find them. Starting with his own neighbourhood, Mr Swing's first stop was a playground tucked away in Siu Hong Court. He jotted down the spot on a whiteboard and added the location to a Google Map, before sharing more details on social media.
At present, he has recorded 186 swings in the city. His Facebook page has more than 4,400 followers, and his Instagram has about 3,400.
"People would say to me that they didn't know there were still so many swings in the city or that there was a swing in their neighbourhood," he shared.
He observed that Hong Kong's swings were usually located in public estate playgrounds which are regulated by the Leisure and Cultural Services Department.
As of last December, there were 670 leisure venues in Hong Kong that provided children's play facilities, and 143 of them had swings installed, the department told Young Post.
Hong Kong's 1st female street workout coach says the sport is for all
Aside from these supplied by the government, there are also handmade swings that can be found in the countryside or on outlying islands, as well as ones specially designed for art exhibitions.
"Those swings hidden in remote areas are harder to find. I remember once I spent 1½ hours hiking only to find that the information online was wrong," recalled Mr Swing, though he added that the designs of these swings were typically more compelling than those in urban areas.
While other places typically have a wider variety, Mr Swing pointed out that Hong Kong mainly had four types of swings: sling belt swings, bucket swings for toddlers, tyre swings, and handmade wooden swings.
A bright pink oasis in Hong Kong's busiest neighbourhood
Though the city's playgrounds have long been criticised for being monotonous in design, the enthusiast said there were actually some innovative and unique swings, but some of them had been demolished.
In his opinion, the most special one was in Ching Leung Nunnery in Tuen Mun which he visited in 2019 and recorded as the 150th swing on his list. Designed as a combination of a see-saw and swing, the wooden structure held up a long plank with one swing in the centre and another two on each end.
"It was very innovative as it had a balanced design which allowed three people to play," he noted, adding that the structure was made for an exhibition and was demolished soon after his visit.
The swing at Ching Leung Nunnery in Tuen Mun only existed for a short-lived exhibition. Photo: Mr Swing
While this distinctive play area no longer exists, Mr Swing said he was excited to see the government refurbish the city's playgrounds and introduce different types of swings.
For example, the barrier-free play space in Tuen Mun Park, which opened in 2018, features a nest swing and a parent-child swing.
"It gives more options for people to play," said Mr Swing, who added that he hoped the city's businesses and government would continue introducing more swings.
The barrier-free play space in Tuen Mun Park has three types of special swings. Photo: Mr Swing
But these play structures can hold more meaning for Hongkongers beyond their role in entertaining children.
"Swings are more than just a plaything for kids," Mr Swing pointed out, adding that it could carry different meanings for kids and adults.
"For children, they are riding it purely for fun, while for us, it is a way to relax and relive our carefree childhood days," he noted.
Website preserves one of Hong Kong's oldest public housing estates
And as the enthusiast visits more playgrounds, the swings have also deepened his bond with the city.
"Ever since I started my journey visiting [the city's] swings, I have been able to explore Hong Kong and create more memories with this place," he explained.
Looking forward, the swing buff said he aimed to reach his goal of documenting 200 swings in the city and in the future to visit even more across the globe.
"Swinging is a common childhood pastime. And I want to show people that there are not so few of them in the city as they might think," he said. "I hope more people can treasure and pay attention to the swings around us."
Click here to download a printable worksheet with questions and exercises about this story. Answers are on the second page of the document.
Sign up for the YP Teachers Newsletter
Get updates for teachers sent directly to your inbox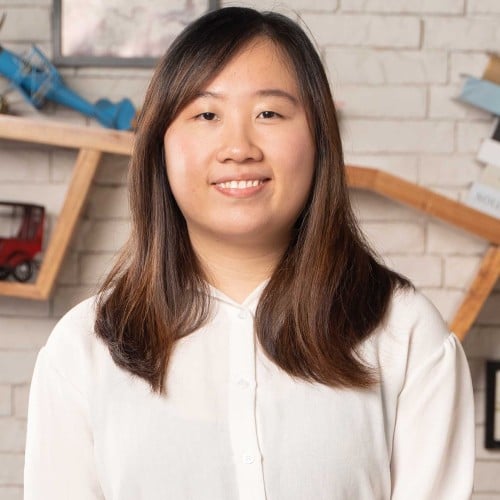 Sue joined the Post in 2021. She graduated from the University of Hong Kong with a double major in journalism and counselling.
Sign up for YP Weekly
Get updates sent directly to your inbox