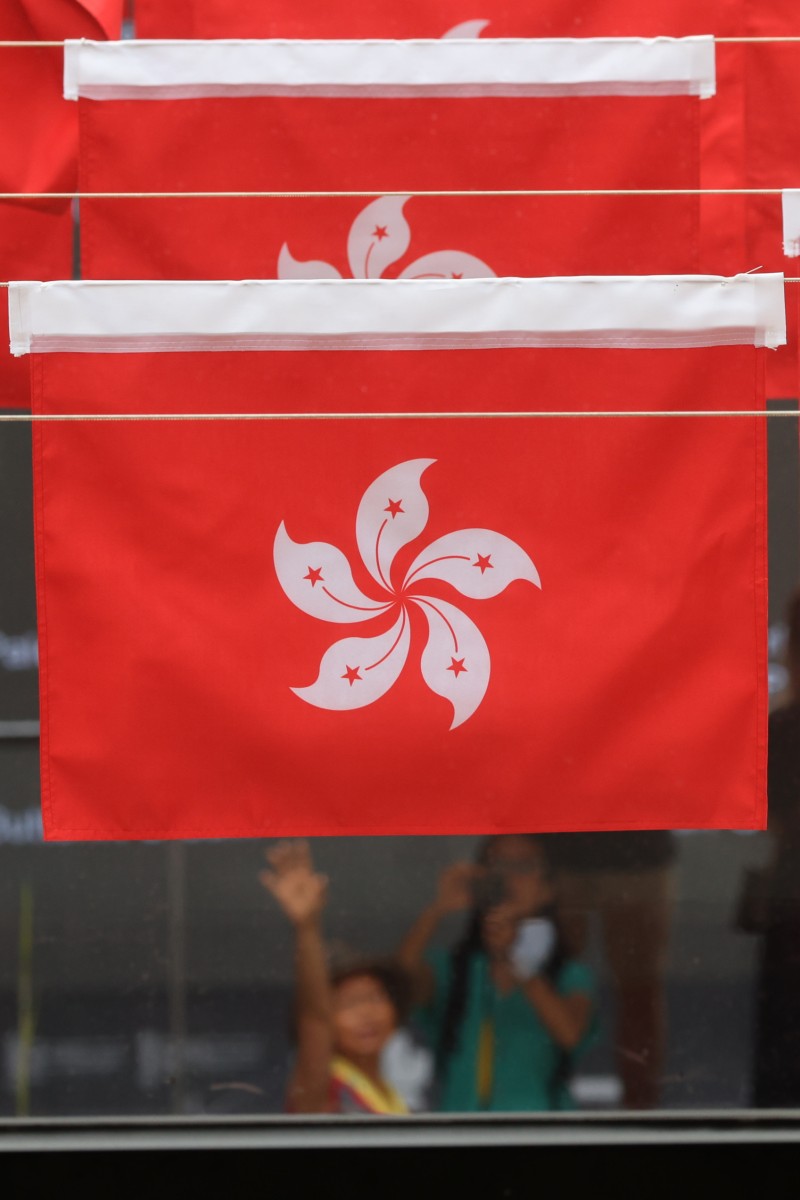 Souvenir pack to include vacuum mug, pen and paper fan according to source

To mark handover anniversary, residents will not need to pay to use various public sports and recreation facilities on July 1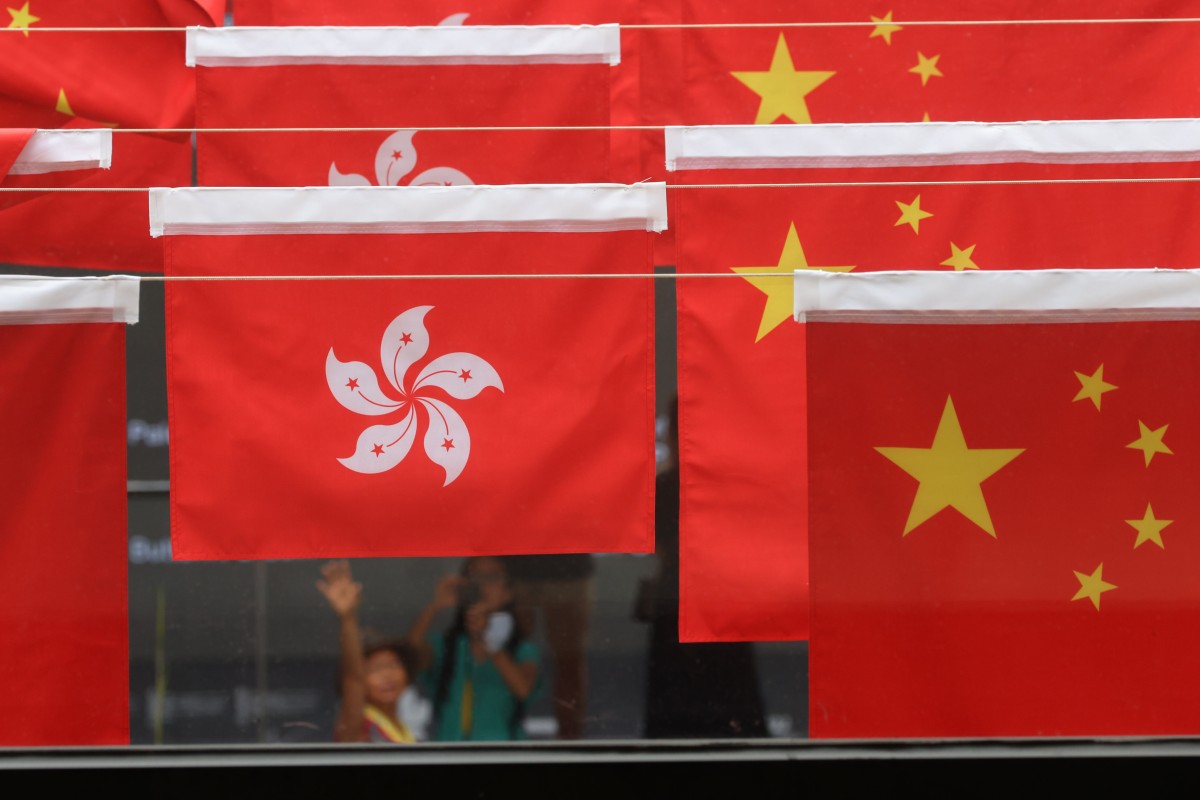 Residents will receive a goodie bag to mark the 25th anniversary of the city's return to Chinese rule. Photo: Dickson Lee
Hong Kong residents are set to receive a "fortune bag" in June containing small gifts marking the 25th anniversary of the city's return to Chinese rule, the Post has learned.
A source familiar with the matter said authorities planned to distribute millions of the souvenir packs in mid-June, with the Home Affairs Department taking the lead.
"The pack will contain souvenirs, including a vacuum mug, a pen and a paper fan," the source said. "The logistic arrangements of distributing the packs will be similar to those for handing out anti-epidemic packs earlier."
Housing memories: as one of Hong Kong's oldest public estates is redeveloped, website preserves its history, community
Another source added the government was still finalising decisions on whether the fortune packs should be delivered to each household or through distribution points. More details would be announced in due course, the source added.
In early April, authorities for the first time distributed anti-epidemic service packs – each containing 20 rapid tests, 20 KN95 masks as well as two boxes of proprietary traditional Chinese medicine and a pamphlet – to all 3 million households citywide over seven days.
With the Home Affairs Department coordinating the initiative, the Housing Department was responsible for handing the kits out to residents of public estates, while owners' corporations and property management companies oversaw distribution at private estates. As part of that exercise, 18 district offices also set up about 90 distribution points for collection of the packs for residents who failed to receive their items.
Residents collect anti-epidemic service bags from a centre in Sham Shui Po. Photo: Xiaomei Chen
The source said the mammoth project of service bags distribution in April enabled departments to gain hands-on experience in establishing a mechanism to mobilise members of the community, laying the foundation for cooperation on large district-based drives in the future.
The insider added that the souvenir packs were funded by the Hong Kong Jockey Club, which announced in December that it had an approved donation of up to HK$630 million to support a series of government initiatives to mark the 25th anniversary of the city's handover.
The funding supports around 60 initiatives covering five key areas including arts and culture, sports, support for the underprivileged, sustainability and international conferences. Some of the events, however, were delayed or cancelled due to the fifth Covid-19 wave.
The history behind Hong Kong's military green shops and dai pai dong
The city's 20th handover anniversary five years ago was marked by a gift distribution exercise on a smaller scale, with only some 300,000 households with elderly people and families in need receiving free fortune bags from the government and NGOs.
With the improvement of the pandemic situation in the city, Chief Executive Carrie Lam Cheng Yuet-ngor earlier said a series of events would be held in the coming month to commemorate the handover anniversary.
Lam also said she had nothing to reveal on the possibility of a state leader visiting Hong Kong next month amid the July 1 celebrations, adding any plans could also be affected by the coronavirus situation.
City leader Carrie Lam has said a series of events will be held to commemorate the handover anniversary. Photo: Dickson Lee
As part of the events, a group of singers have recorded an official song, titled Heading Forward, created by lyricist Keith Chan Siu-kei and composer Alan Cheung Ka-shing. The tune will be broadcast on television, radio, online and multimedia platforms from this week.
Residents will not need to pay to use various public sports and recreation facilities on July 1, while authorities will spend about HK$300 million on a series of leisure activities to celebrate the occasion throughout the year, according to earlier announcements.
Most sports facilities, except sports grounds, turf pitches and holiday camps, will be free to use on that day. Other land and aquatic facilities including swimming pools will also be free.
The 200 year history of pawn shops, one of Hong Kong's oldest businesses
Free tickets on a first-come-first-served basis would be offered via the Leisure and Cultural Services Department's online booking platform or at the counters of leisure venues from 7am on June 25.
The Hong Kong Museum of Art and Hong Kong Heritage Museum will also hold a series of exhibitions, some of which will showcase Chinese landscape paintings and stories of the Dunhuang caves, while eight dinosaur fossil specimens will be displayed at the Hong Kong Science Museum.
Outdoor interactive arts installations and large-screen digital projections combining arts, science and technology will be showcased at Victoria Harbour from June onwards.
Sign up for the YP Teachers Newsletter
Get updates for teachers sent directly to your inbox
Sign up for YP Weekly
Get updates sent directly to your inbox