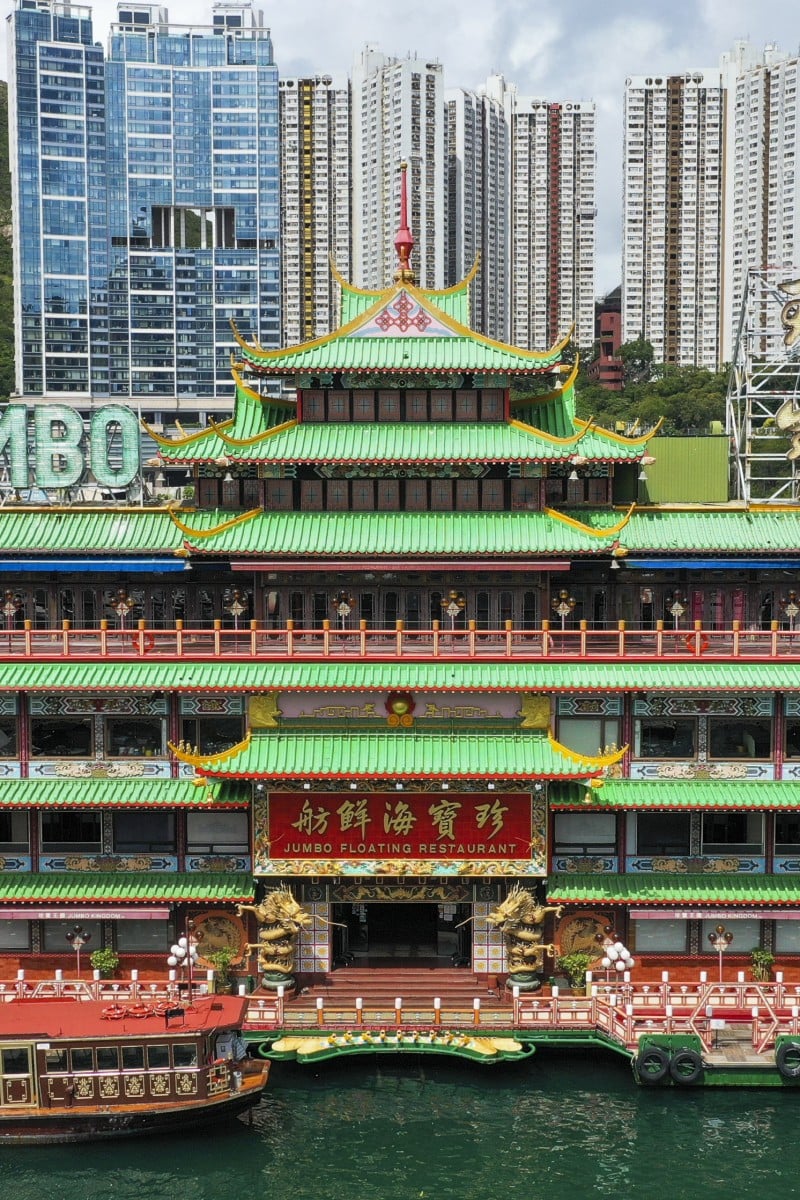 The famed tourist attraction, closed since 2020, is set to exit the city this month as its parent company cannot afford the operating and maintenance costs

Some argue the government should help the struggling business, though Chief Executive Carrie Lam Cheng Yuet-ngor has rejected these calls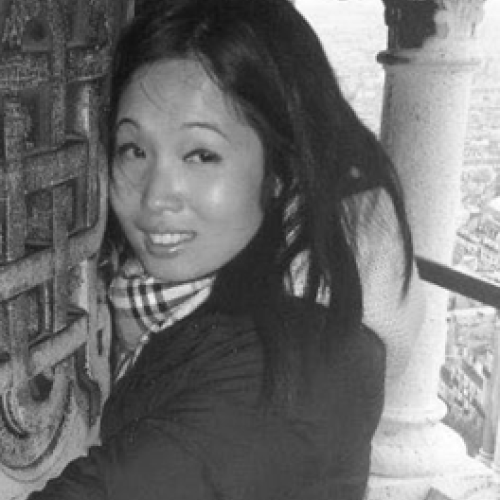 Doris worked in educational publishing, including the BBC and Cengage prior to joining the Post in 2018. She specialises in creating graphics and digital learning content, and has a particular interest in issues related to mental health and wellness.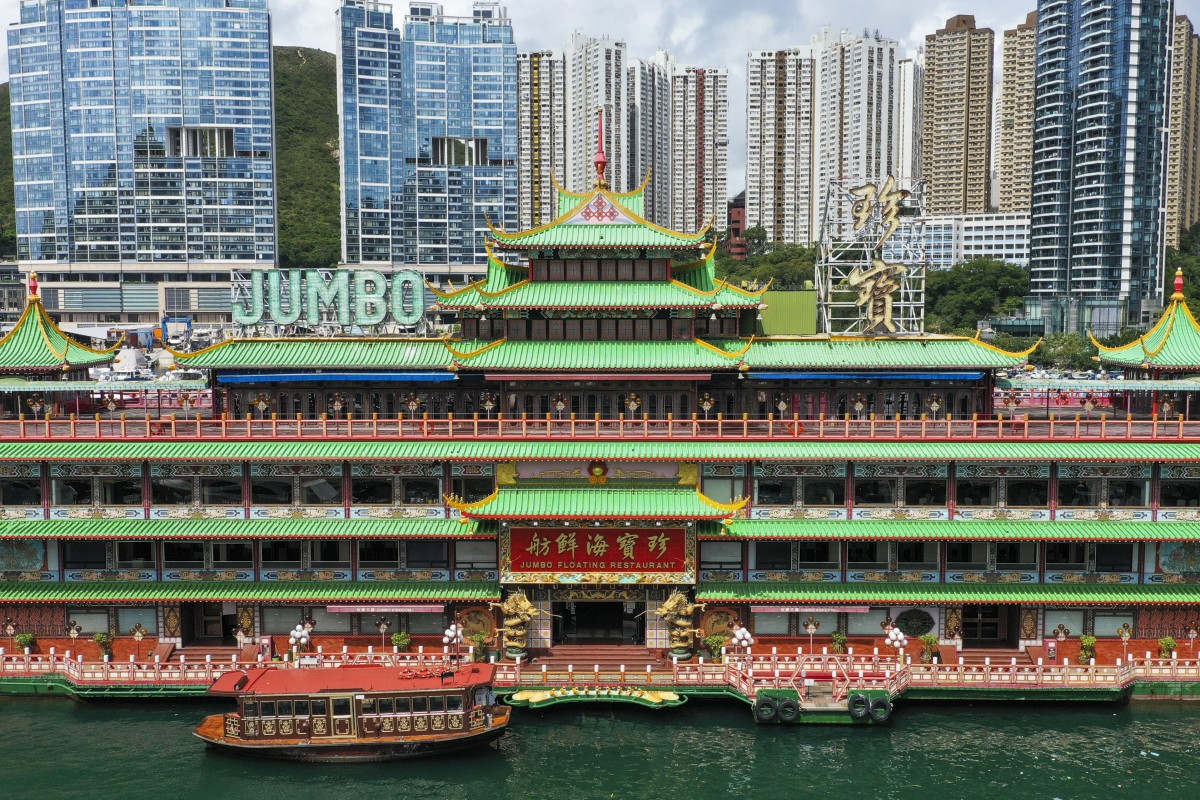 Aberdeen Harbour's famed Jumbo Floating Restaurant is sinking under growing losses and is set to leave the city. Photo: Sam Tsang
Hot Topics takes an issue being discussed in the news and allows you to analyse different articles and views on the subject. Our questions encourage you to examine the topic in-depth – you can use them on your own or with a friend.
Context: Struggling Jumbo Floating Restaurant set to exit Hong Kong
Hong Kong is in danger of permanently losing a famed landmark, the Jumbo Floating Restaurant.
The tourist attraction has been a fixture in Hong Kong's Aberdeen Harbour for 46 years. The red, gold and green structure is embellished with dragons and pagodas – the design inspired by a Chinese imperial palace.
It has attracted millions of tourists, including Queen Elizabeth, former US president Jimmy Carter and film stars Tom Cruise, Gong Li and Elizabeth Taylor. It was featured in numerous films, television shows and video games.
The world's largest floating restaurant has been closed since 2020. Its owner reported an accumulated loss of more than HK$100 million after the Covid-19 outbreak devastated the tourism and catering industries that were already under strain since the social unrest in 2019.
Queen Elizabeth and Prince Philip (sixth and fifth from right) watch a water pageant in Aberdeen from the Tai Pak Floating Restaurant in 1975. Photo: P.Y. Tang
Parent company Aberdeen Restaurant Enterprises announced last month it could not afford the operating and maintenance costs. It would move the facility out of Hong Kong for repairs and storage after its licence expired in June, while waiting for a new operator to take over.
"Over the past year, [the company] has had discussions with more than a dozen companies and organisations regarding its unconditional offer to donate the Jumbo Floating Restaurant," it said. "However, there was no taker, with all parties citing high operating costs."
The company said it had to spend, on average, millions of Hong Kong dollars annually on inspections, repairs and maintenance, which was "a heavy financial burden" in the current economic environment.
"Given the heavy toll that the fifth wave of the pandemic has taken on the economy, we do not foresee that [Jumbo] can resume business in the immediate future," it added.
Your voice: Jumbo Floating Restaurant is a Hong Kong landmark
Ocean Park originally had plans to take over the restaurant as proposed by the Invigorating Island South initiative in Chief Executive Carrie Lam Cheng Yuet-ngor's 2020 policy address. At the time, the government said it would facilitate collaboration between Ocean Park and NGOs to revamp the restaurant on a non-profit basis and turn it into a cultural heritage and tourist attraction.
But after failed talks between operators on continuing the struggling business as part of Ocean Park, a spokeswoman for the park said there should be no additional financial burden on the park for accepting the restaurant according to the original proposal.
"Hence, there has been no progress in the discussion between the two parties," she said.
Staff writers
Question prompts:
List THREE reasons the Jumbo Floating Restaurant is a famed landmark in Hong Kong.

What factors have led to the restaurant's closing? Why is it leaving the city?
Hot Topics: Why are green groups wary of MTR's Northern Link line?
News: Hong Kong leader rejects calls for financial aid for Jumbo Floating Restaurant
Chief Executive Carrie Lam Cheng Yuet-ngor has dismissed any possibility of using taxpayers' money to bail out the famed Jumbo Floating Restaurant. The tourist attraction is set to leave the city this month after operators were unsuccessful in their discussions on sustaining the struggling business as part of Ocean Park.
At a press briefing on May 30, Hong Kong's leader insisted the government would not inject money into the attraction, saying there was nothing the administration could do if the parties had failed to reach an agreement.
"We have clearly indicated that the government has no plans to invest money in the operation of the restaurant as we are not good at running such premises," she said.
"We won't force through an unfeasible proposal or one that requires a large amount of public money for implementation simply because it has been raised in the policy address."
Ocean Park is a conservation-themed amusement park in Aberdeen. Photo: Winson Wong
However, critics said the loss of the floating landmark would make a mockery of the government's ambitious plan to invigorate the Southern district, of which the restaurant formed a key element.
Lo Kin-hei, of the opposition Democratic Party and former chairman of the Southern district council, expressed "extreme regret" over the restaurant's exit.
"Jumbo is a collective memory of Hong Kong people, and it also witnessed the development of Aberdeen," he said, urging the government to pay the restaurant's maintenance costs or exempt it from licensing requirements for now.
"The chief executive has said in her [2020] policy address that the floating restaurant would be revitalised," he said. "One can't help asking why it can end up like this."
Farewell to Hong Kong's last 12-car train and its 40 years of history
Southern district councillor Jonathan Leung Chun, of the Liberal Party, urged the government to intervene.
"I cannot see another immediate way out, except that the government is willing to subsidise the maintenance of Jumbo," Leung said. "The government should also explain to the public how it is going to proceed with its Invigorating Island South campaign or if it is that Jumbo is no longer part of the project."
Staff writers
Question prompts:
"The government's decision to not interfere in the Jumbo Floating Restaurant's fate jeopardises plans announced in the chief executive's 2020 policy address to improve Ocean Park and the Southern district." Using Context, News and Glossary, explain ONE argument for and ONE against this statement.

In your opinion, who should be responsible for bailing out the restaurant: the Hong Kong government, the restaurant's parent company, Ocean Park, or an NGO? Explain.
Hot Topics: What is Uber's vision for modernising Hong Kong transport?
Question prompts:
What is the red attraction that is depicted in this illustration? Where is it headed?

What is the watering pot meant to imply about the government's initial attitude towards the attraction? How has this changed? Use Context and News to explain.
Hot Topics: No easy fix for Hong Kong housing crisis
Issue: Lawmakers in call to help struggling Jumbo Floating Restaurant as capsizing of kitchen barge adds to woes
A kitchen barge connected to Hong Kong's famed Jumbo Floating Restaurant capsized on June 1 – triggering calls from a group of lawmakers for the government to do more to help the struggling business before it leaves the city.
Peter Koon Ho-ming said he and six other lawmakers – Judy Chan Kapui, Perry Yiu Pak-leung, Michael Lee Chun-keung, Benson Luk Hon-man, Kenneth Fok Kai-kong and Stephen Wong Yuen-shan – were planning to issue a joint letter to the government, urging it not to give up on the floating restaurant.
"There are many ways to preserve the vessel, which is a collective memory of Hong Kong people. We also understand that public money should be used prudently, but this vessel is more than 40 years old, and we should keep it," Koon said.
He also said collaborating with the Jockey Club, which had been involved with several heritage and revitalisation projects, should be considered as one of the solutions.
Jumbo Floating Restaurant's 30-metre kitchen barge suddenly capsized in the early hours of June 1, but no one was injured. Photo: Felix Wong
Chan, a New People's Party lawmaker, called for an exemption on licence fees, adding that the government could offer policy support.
"The government seems to be treating the facility as just a barge, but it actually carries a lot of cultural and tourism values," she said on a radio show.
Chan added that the next government would set up a new Culture, Sports and Tourism Bureau which could explore the revitalisation of the restaurant and promote the city's fishing culture. She suggested the government collaborate with the Jockey Club to revitalise the restaurant as it did for Tai Kwun, the former Central Police Station.
Website preserves one of Hong Kong's oldest public housing estates
But business sector lawmaker Jeffrey Lam Kin-fung poured cold water on the idea.
"We cannot ask the club to take over a project like that. The organisation needs an overall plan on who will operate the project and how much it will cost. Charities have the money, but their money should be used on projects that are worthy," Lam said.
Engineering sector lawmaker Lo Wai-kwok agreed, saying the restaurant lacked business opportunities.
"It's a pity. It's not something that can be revived by pumping money into it or giving pressure to the government," he added.
Staff writers
Question prompts:
Issue presents several suggestions for how the government could help the Jumbo Floating Restaurant. Which of these do you think is the best solution? Explain using Context, News, Issue and your own knowledge.

To what extent do you agree with Jeffrey Lam Kin-fung and Lo Wai-kwok's opinions about the government's role in supporting the restaurant, and why?
Get the word out
Invigorating Island South initiative :
announced in Chief Executive Carrie Lam Cheng Yuet-ngor's 2020 policy address. The most recent conceptual master plan released in March said the Southern district would be developed to enhance connectivity and walkability, promote a green urban environment, facilitate land redevelopment, and revitalise attractions. Examples of the plan's proposals include creating cultural and leisure facilities in Wong Chuk Hang and Aberdeen, with old buildings revitalised for use by emerging industries and the arts sector. Under the first conceptual master plan from February 2021, Ocean Park's future strategy included revitalising the Jumbo Floating Restaurant as a cultural heritage and tourist attraction.
Jumbo Floating Restaurant :
attraction in Aberdeen South Typhoon Shelter within Aberdeen Harbour. Construction began in 1971 before it was sold to Macau casino tycoon Stanley Ho Hung-sun, who built the 45,000-sq-ft, three-level, 76-metre-long restaurant, which opened in 1976. The nearby Tai Pak Floating Restaurant was acquired in 1987, with the two locations known as Jumbo Kingdom. It is run under Hong Kong-listed owner Melco International Development's subsidiary Aberdeen Restaurant Enterprises.
Licensing requirements (for restaurants) :
refers to permits that grant an owner the right to start and run a particular type of business in a city. In Hong Kong, restaurants with a floor area of more than 500 square metres (5,381 sq ft) have to pay an annual licence fee of HK$13,860 to HK$258,870.
Tai Kwun :
historic site of the former Central Police Station compound built in 1841. It underwent a heritage conservation and revitalisation facelift led by the Jockey Club in partnership with the government. It reopened in May 2018 and was officially renamed Tai Kwun – Centre for Heritage and Arts.
Sign up for the YP Teachers Newsletter
Get updates for teachers sent directly to your inbox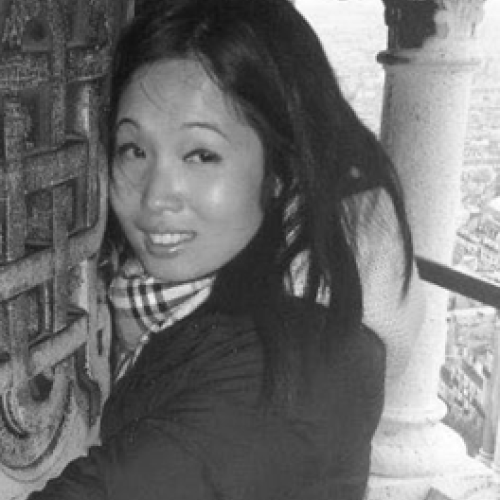 Doris worked in educational publishing, including the BBC and Cengage prior to joining the Post in 2018. She specialises in creating graphics and digital learning content, and has a particular interest in issues related to mental health and wellness.
Sign up for YP Weekly
Get updates sent directly to your inbox