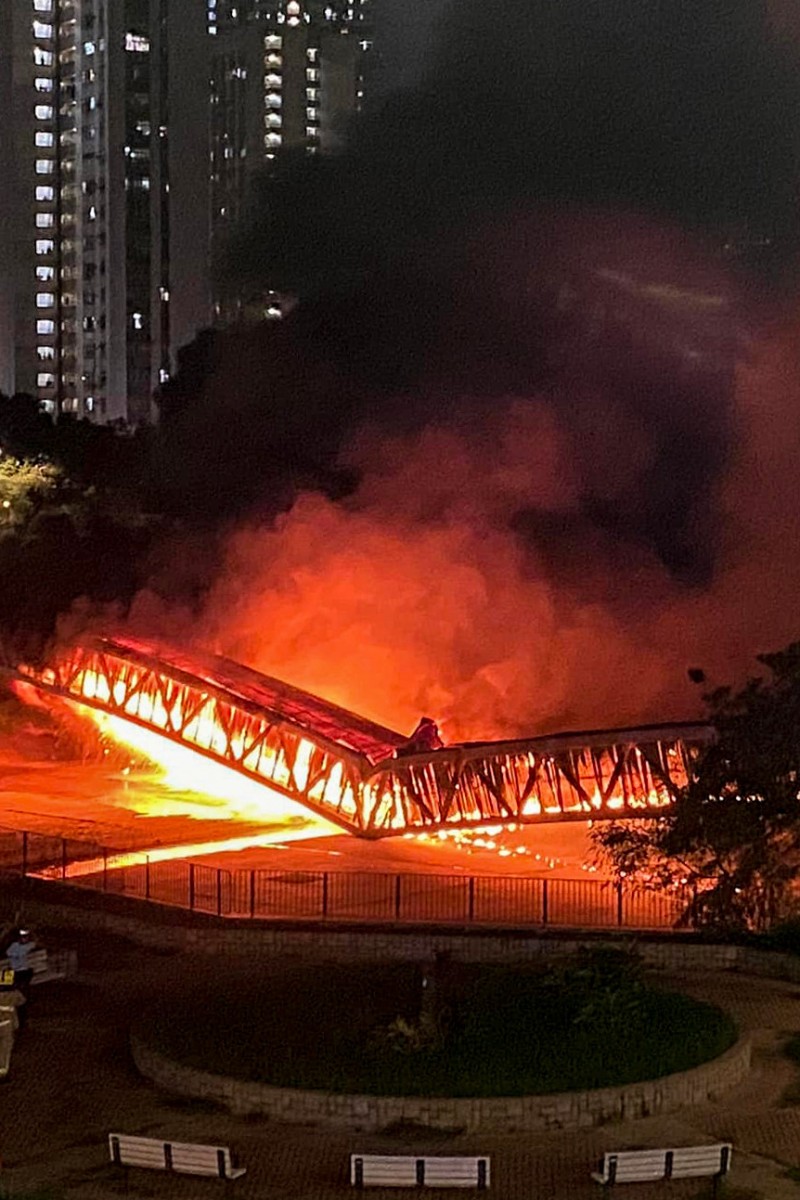 Tuesday night's blaze centred on cable bridge along Kwong Yip Street, no injuries reported; government demands report on incident from electricity supplier CLP Power

Classes at 14 schools in Tin Shui Wai suspended on Wednesday morning because of power cut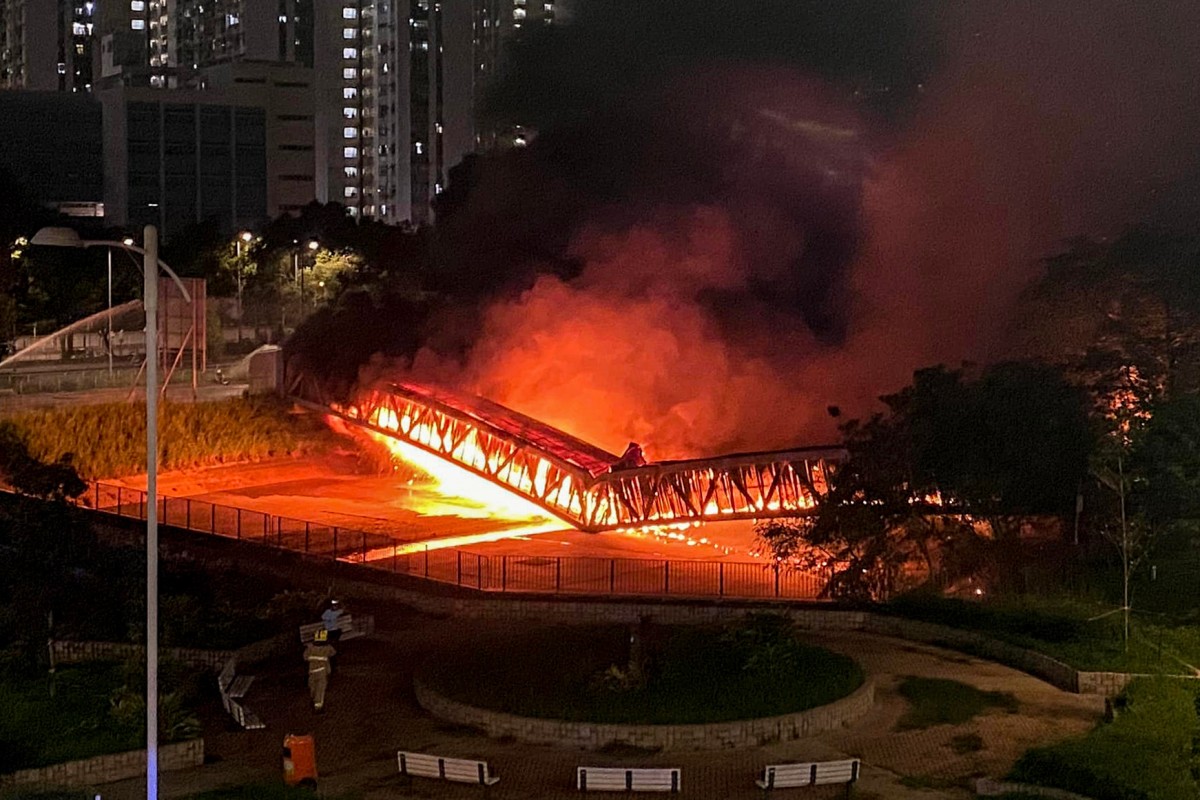 A power cable bridge located near Long Ping, Yuen Long is seen on fire on Tuesday, June 21, 2022. The event triggered a massive power outage and suspension of rail services in two other districts in Hong Kong. Photo: Facebook
Classes at 14 schools were put on hold and about 20,000 households in Hong Kong will be left without power for two days after a fire from high-voltage cables in Yuen Long triggered outages, caused railway operations to be suspended, and disrupted hospital services across three districts.
Hours after the fire that started at around 7pm on Tuesday night, CLP Power, one of two Hong Kong electricity companies, said its supply for 140,000 households had gradually resumed, but it needed two days to complete repairs for another 20,000 households in Tin Shui Wai.
On Wednesday morning, classes at 14 schools in Tin Shui Wai, covering kindergarten children, as well as primary and secondary pupils, were suspended because of the power cut. The Education Bureau appealed to schools to make flexible arrangements for students who had already arrived on campus.
Hong Kong's iconic Jumbo Floating Restaurant sinks in South China Sea
In a statement at 01.49am on Wednesday, the government said it was "very concerned" about the outage and had activated its emergency monitoring and support centre to work with relevant departments to maintain law and order, as well as medical and other emergency services, and help residents in need.
It said the government would ask CLP Power to investigate the incident and submit a report to prevent similar incidents from happening again.
"We understand that the power outage incident in this very hot weather has greatly affected the public, and we are deeply sorry for this," a government spokesman said.
People sit outside during a power outage in Yuen Long. Photo: KY Cheng
"We appeal to the affected residents to be patient. CLP Power is making every effort to repair, with a view to restoring the power supply as soon as possible."
He added that it was an isolated incident and the power supply situation in Hong Kong remained normal.
The fire centred on a cable bridge along Kwong Yip Street near The Spectra residential estate. No injuries were reported. Two water jets and breathing apparatus teams were deployed, with online footage showing the bridge over Shan Pui River collapsing as firefighters tried to contain the blaze.
Hong Kong proposes banning CBD
Rail operator MTR Corporation said train services between Tsuen Wan West Station and Tuen Mun Station on the Tuen Ma line were suspended at 7.20pm because of a power supply disruption at its distribution station in Tin Shui Wai.
At 8.20pm, power supply on the line resumed, according to the MTR announcement. Normal train services gradually restarted after staff deployed an emergency plan to provide electricity to the affected line from its Kwai Fong powerhouse.
The Hospital Authority said power supply to Tuen Mun, Pok Oi and Tin Shui Wai hospitals was unstable since about 7pm and backup sources were activated. Three respective emergency units, related equipment in wards and isolation wards with Covid-19 patients maintained normal operations.
Some areas could be without power for up to two days. Photo: KY Cheng
But some emergency services at Tuen Mun Hospital were affected, with a patient requiring urgent surgery transferred to Pok Oi Hospital. Some lifts, lighting facilities and air-conditioning systems at medical facilities in the area concerned were also affected.
In a press release at about 9.20pm, CLP Power apologised to affected customers, adding it was conducting repairs while the power supply for emergency services such as hospitals and railways would be prioritised.
Reports about the blackout from residents in Yuen Long and Tin Shui Wai flooded social media after 7pm, with one user saying "there is a large-scale outage in Yuen Long, the power is out in many places I have been to".
The Fire Services Department also received more than 10 reports of people stranded in lifts in Yuen Long, Tin Shui Wai and Lau Fau Shan in just 15 minutes from 8pm onwards, with similar calls coming in later in the night.
Reports about the blackout from residents in Yuen Long and Tin Shui Wai flooded social media. Photo: KY Cheng
Lawmaker Gary Zhang Xinyu, a civil engineer by training, said Tin Shui Wai was the worst hit as the "whole area" including the northern and southern parts as well as the Kingswood Villas estate had blacked out.
As of 10.30pm, power had been restored at most affected homes and facilities in the district's south, but only about two estates in the northern section had electricity. The situation at Yuen Long was relatively less serious, and power in most of the region returned before 10.30pm, Zhang said.
He added that the cables in question were of high voltage and he had never heard of fires involving such lines in the city before. He said he believed that authorities would investigate the cause of fire.
Nearly 1 in 4 young Hongkongers from low-income families 'lying flat', while some feel hopeless about future
A Lam Tei resident said on Commercial Radio that there was a widespread blackout in her area. "The electricity was suddenly gone and we were all in the dark. I went up to the rooftop to have a look and saw that the whole area as far as Hung Shui Kiu was all dark," she said.
Cherry Lam, a resident of Tin Yiu Estate in Tin Shui Wai, said: "We were having supper at home and at 7.15pm all the lights went out. We thought there was a problem with the circuit breaker but quickly found that it was not the case.
"There was no light outside at all. The neighbouring blocks were also in the dark and we saw some residents using flashlights at home.
Volunteer group provides free after-death services for Hong Kong's stray animals
"I rang some of my relatives in Tin Shui Wai and they all said there was no electricity. At one point, even mobile phones did not work because there was no network," she said.
"Electricity in the common areas of the block has been OK because there is backup supply so we can use the lift and there is lighting in the corridors.
"People are staying calm, there is no panic. But outside, there is no light. The shopping centre nearby is also in the dark, there is no air-conditioning, and shops are all closed."
She said electricity had resumed since 8.30pm at some blocks, but by 9.15pm, there was still no electricity in her home.
Sign up for the YP Teachers Newsletter
Get updates for teachers sent directly to your inbox
Sign up for YP Weekly
Get updates sent directly to your inbox