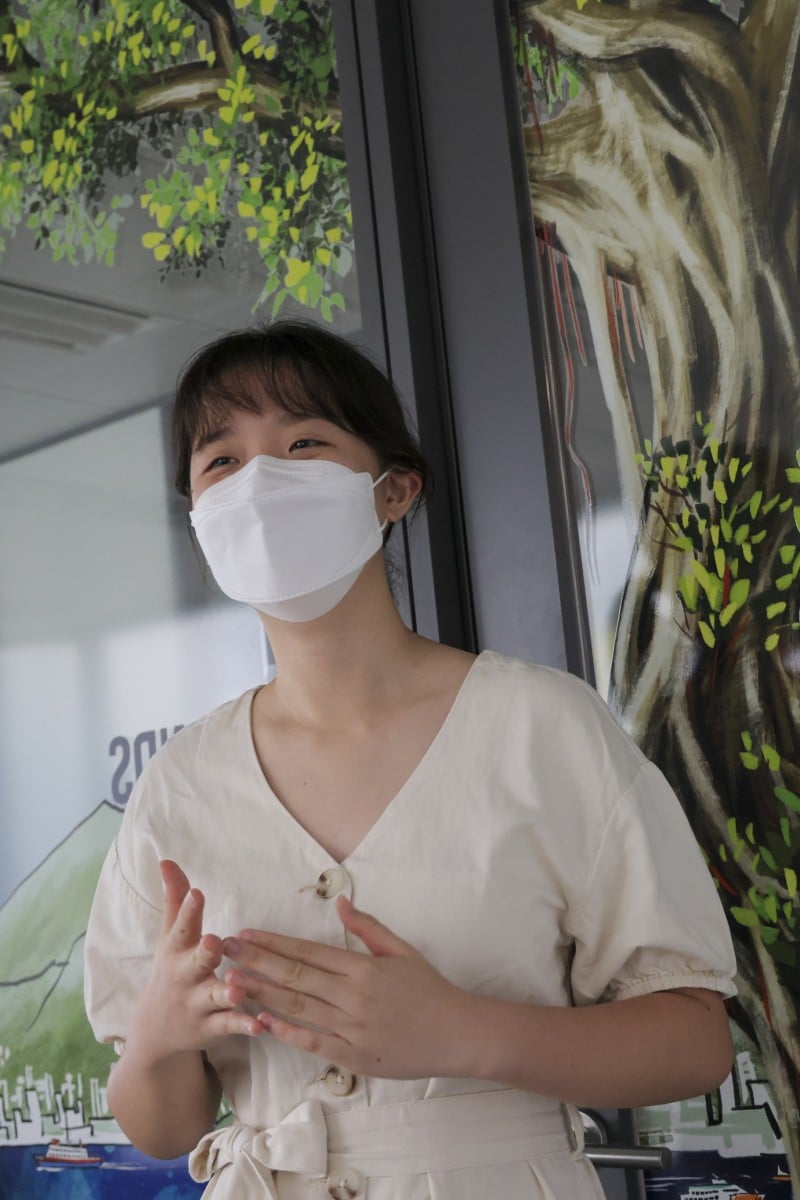 Leave Your Worries: Hong Kong teen's podcast offers support and company from a friend for life's tough times
Starting when in-person classes were suspended during the city's fifth wave of Covid-19, a 16-year-old student has been making episodes about common issues she and her peers face

Every week, Talking Points gives you a worksheet to practise your reading comprehension with questions and exercises about the story we've written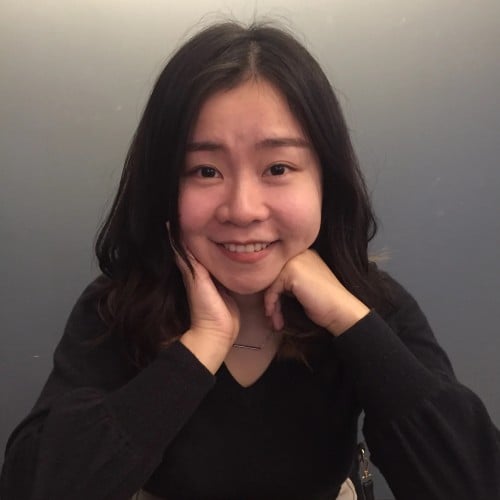 Kelly is a journalist from Hong Kong. She joined the Post in 2018, where she writes about Hong Kong's arts and culture, social welfare and the environment. She has a master's degree in Journalism from the University of Hong Kong.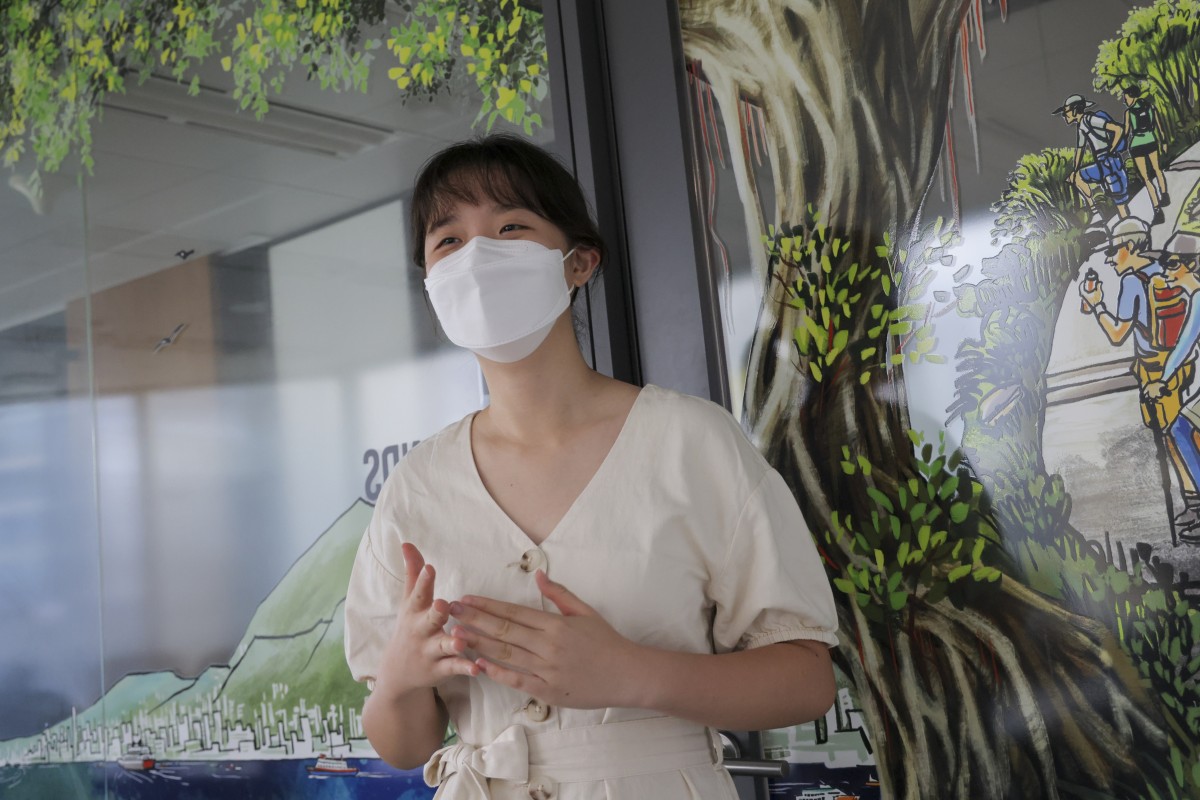 Ling* is a 16-year-old podcaster who gives advice to listeners who share their problems anonymously with her. Photo: Jelly Tse
"When stress and emotions hit, it can make life [feel] fruitless," said Ling*, a Form Five student in Hong Kong.
As in-person classes were suspended under the city's fifth wave of Covid-19, the 16-year-old noticed how many despondent social media posts – in white text over a black background – were flooding her feed. Her peers were sharing how helpless they felt.
"My friends around me often have a lot of troubling thoughts, and I have always been a listener," she said. "I found that many of them had similar issues, and I did too. So I thought: why not make a podcast? ... And we can comfort each other."
In February, the teen started "Leave Your Worries" to talk about the common problems she and her peers were facing: friendships drifting apart as families emigrate from Hong Kong, the struggle between pursuing a career for stability or passion, and a general sense of apathy towards life.
Experts call for mental health support for students as they return to schools
She added that the podcast's name was inspired by Keigo Higashino's The Miracles of the Namiya General Store, a heartwarming novel featuring a store known for its owner who offers thoughtful advice to those who drop letters through the shop's shutter.
For the past few months, Ling has been reading anonymous messages she receives and responding through her episodes, which she records and edits in her bedroom after school. Every week, Ling also shares on Instagram a song she finds comforting.
"I'm like one of those [characters] ... in the store who gives advice after hearing stories people submit," she said. "We [both] offer advice, not as professionals or someone famous, but [as someone who] genuinely wants to make a difference in others' lives."
The podcaster recalled giving advice to someone who felt defeated after doing poorly on an exam in a subject that used to be easy for the student.
"I find it comforting when someone shares a problem that I've also experienced," Ling shared.
Through her podcast, the teen hopes to help her audience feel less alone in their problems.
"I've read some self-help books such as Chicken Soup for the Soul. Though these books gave me practical advice and solutions, they could not give me the emotional support I needed," Ling said. "I wanted my podcast to feel like a friend keeping you company ... It's not meant to teach anything but just to give each other some warmth."
Psychology education that is up to date, down to earth for Hongkongers
Of the podcast's seven full-length episodes so far, "Reignite the Love for Life", released in early March, is its most popular, with more than 6,000 streams across multiple platforms.
This instalment, inspired by her own experience coping with emotional upheaval, is meant to warmly embrace listeners and encourage them not to succumb to indifference.
"It came out at the beginning of the fifth wave ... A lot of people were feeling really low, including my friends who felt that the world was nearing an end," she recalled. "And life seemed meaningless – like nothing could make us happy again."
The episode was prompted by a time when Ling was struggling with her emotional well-being.
"Though I have many friends and I always have people with me, the sense of emptiness lingers," she said. "One time, I felt upset and was crying alone. I wanted to talk to someone, but I could not think of anyone to call."
Ling shared that these feelings hit her at the end of a basketball game she organised last year – a time many school events were cancelled because of the pandemic.
"It felt like my secondary school life was coming to an end ... it's hard to let go," she said.
Many Hongkongers show signs of PTSD from Covid-19 pandemic, study finds
"I saw a social worker once, and I found out that quite a number of my classmates were also seeing one," she explained, adding that the fear of contracting the coronavirus and the lack of social interaction had caused many students to feel helpless.
While her words offer comfort to teens in similar situations, Ling also creates content that has attracted an audience beyond her peers.
In May, she prepared a Mother's Day special in which she interviewed her mum about the challenges of raising children.
"I only know a fraction of her story, but the podcast was a chance to get the whole picture," the teen said.
In the episode, Ling's mother opened up about experiencing postnatal depression and struggling to care for her children on her own. During that time, she would leave home with Ling's little brother to cry where no one else would see her.
"At first, I thought no one would really listen to it, but some people have messaged me saying it has been their favourite episode," the podcaster said.
Mothers struggling with mental health wrote to Ling, some saying they wished their daughters would talk as openly and honestly as she did with her mum.
"One of the advantages of doing this podcast is that ... it has widened my perspective," the teen said.
Seeing how many Hongkongers suffer from emotional issues, Ling has realised the importance of accessible mental health services and education.
Psychologist explains why emotions should be a school subject
In university, she wants to study psychology, with the goal of making therapy affordable for young people in need.
"Growing up, we never learn what to do when we are upset or worried about something," she said, adding that her school's Life Education courses only gave a brief introduction to mental health as it was only offered once or twice a semester.
"Some of my friends are quite pessimistic ... But lately, I've been thinking – as long as you don't give up on yourself, there is always a way out," she said.
"Though the sadness may linger for a while, I find some happy moments are also happening at the same time ... the little specks of joy in life make me want to see more of the world and the surprises and happiness that await me."
*Full name withheld at interviewee's request.
Click here to download a printable worksheet with questions and exercises about this story. Answers are on the second page of the document.
Sign up for the YP Teachers Newsletter
Get updates for teachers sent directly to your inbox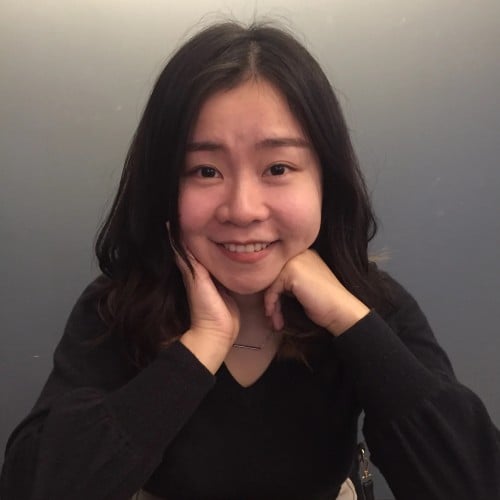 Kelly is a journalist from Hong Kong. She joined the Post in 2018, where she writes about Hong Kong's arts and culture, social welfare and the environment. She has a master's degree in Journalism from the University of Hong Kong.
Sign up for YP Weekly
Get updates sent directly to your inbox