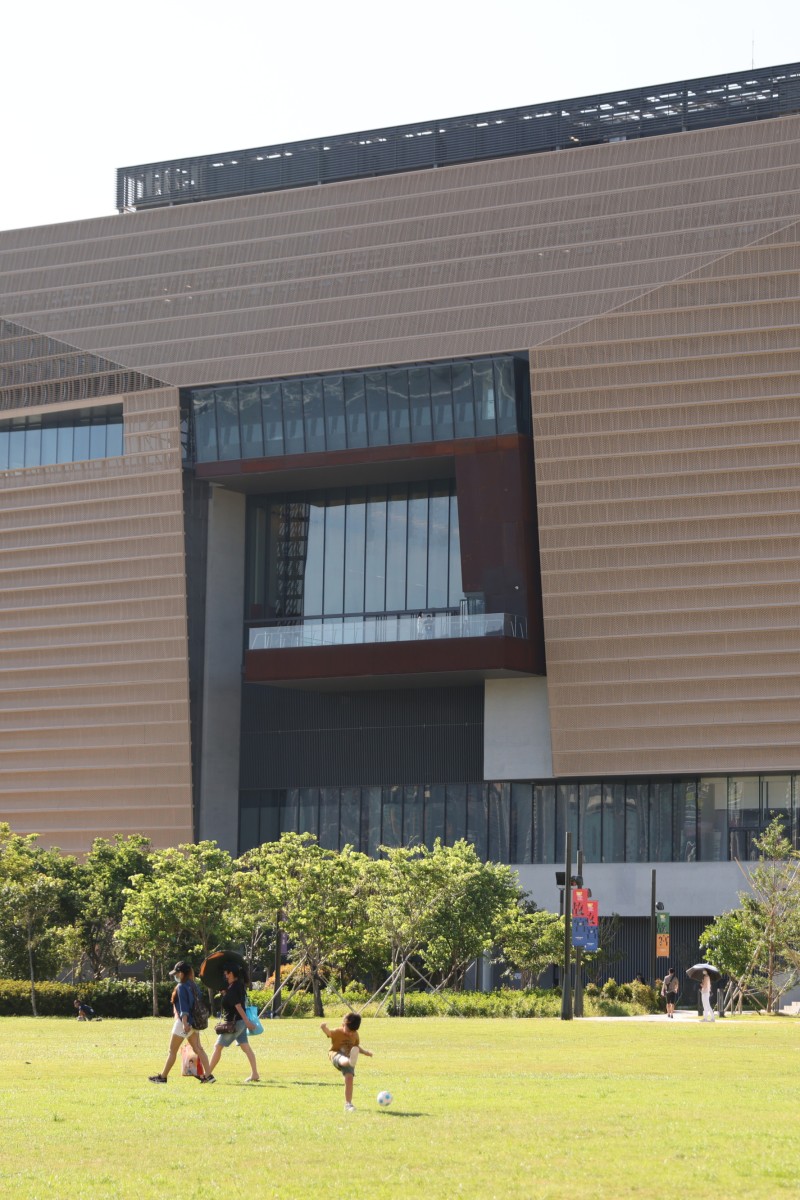 After a one-day delay caused by Typhoon Chaba, the museum opened its doors on Sunday to enthusiasts who had been waiting from 8am

Visitors of all ages were excited to see the collection, which includes ink paintings, calligraphy, ceramics and other relics dating as far back as the 10th century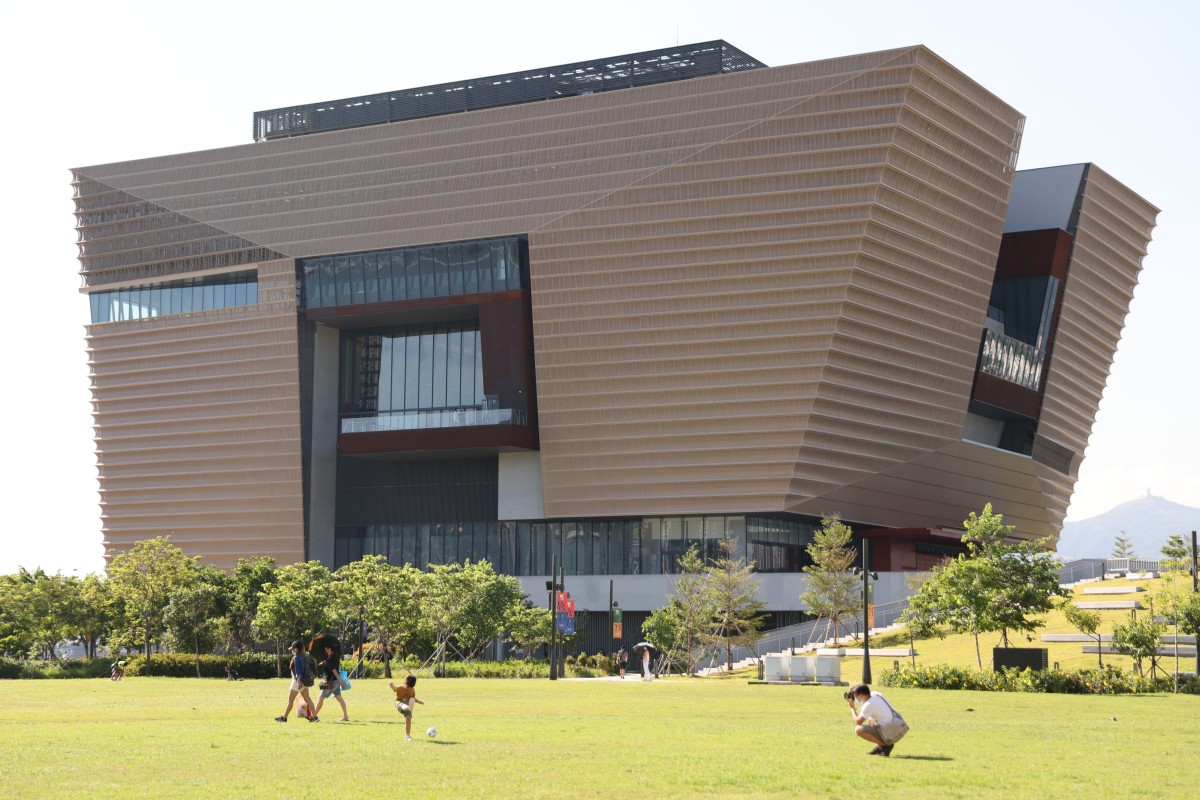 The Hong Kong Palace Museum, located in the West Kowloon Cultural District, received about 6,500 visitors on its opening day. Photo: Nora Tam
Thousands of art enthusiasts thronged the newly opened Hong Kong Palace Museum on Sunday for a glimpse of about 900 precious relics and national treasures on loan from Beijing.
The museum was set to open on Saturday after the 25th anniversary of Hong Kong's July 1 return to Chinese rule, but it was postponed as Typhoon Chaba battered the city and a No 8 warning signal remained in place.
A lion dance performance on Sunday at 8.50am at a platform to the museum's main entrance marked its 9am launch, with more than 100 visitors already in line to enter the venue.
5 fun works of art you must see, touch and hear at new M+ museum
Many enthusiasts arrived as early as 8am. The first in the queue was Rheneas Choi, 25, who works in information technology. Choi said he left his Mong Kok home at about 7am, as he could not wait to see the relics on display.
"I have waited for the opening of the museum since its construction started. I'm so excited to be able to finally take a look at these national treasures," Choi said.
He said he could not travel to the Beijing Palace Museum during the Covid-19 pandemic, so he scrambled for a day ticket for the Hong Kong version as soon as bookings opened to the public.
"This is a rare opportunity with the central government loaning such artefacts to us," he said, adding he was particularly interested in paintings and ceramics.
A lavish robe with motifs of dragons, clouds and bats woven into its design, on display at the Hong Kong Palace Museum. Photo: Sam Tsang
Visitors on Sunday comprised a mix of the young and elderly, including families with children, as well as mainland Chinese and foreigners.
Doris Kan, a primary school teacher in her forties, was there with her two young children, husband and parents. "Our whole family is interested in Chinese history and culture," she said.
She added that she once visited the Palace Museum in Beijing, which amazed her, but she did not have the chance to take her 10 year-old son and eight-year-old daughter there. She said her son was interested in Chinese history and eager to see ancient ceramics and the clothing of emperors.
"I took them here to let them learn about our Chinese history," she said, adding she would take them to visit the Beijing version once the border reopened.
Photo exhibition shows how Hong Kong ethnic minority youth picture belonging
There were also some visitors who came in hanfu outfits, traditional clothing of the Han Chinese, adding a special touch to the atmosphere.
Clad in navy blue with her hair done up in a traditional Chinese coiffure, Lily Lu, a 28-year-old English teacher, said she was particularly interested in the clothing relics which could give her inspiration in hanfu design.
Lu, who also heads a hanfu group made up of more than 250 members, said she was amazed by the splendour of the Beijing Palace Museum which she visited previously, but felt the Hong Kong counterpart had its own uniqueness.
"Unlike the Beijing Palace Museum which gives a sense of history and culture, I'm surprised at the strong clash and crossover of Western and Chinese culture here," she said.
Lily Lu, clad in traditional hanfu, visited the Hong Kong Palace Museum on opening day. Photo: Fiona Sun
Officials, including newly appointed Secretary for Culture, Sports and Tourism Kevin Yeung Yun-hung, museum board chairman Bernard Chan and director Louis Ng Chi-wa were on site to welcome the first batch of visitors.
Yeung said the new museum provided opportunities for Hong Kong residents to appreciate the precious national artefacts from Beijing and learn about Chinese culture without having to travel to the capital.
"I believe that in the future, the Hong Kong Palace Museum can show that under 'one country, two systems', Hong Kong can make use of its cultural advantages to better tell Chinese stories and become a milestone for arts and cultural exchanges between China and the rest of the world," Yeung added.
Local artist's mural of 216 Hongkongers to symbolise love, inclusivity
The museum, the city's latest arts and cultural landmark located in the West Kowloon Cultural District, features nine galleries spanning 13,000 square metres of space across five floors. Among its collection are ink paintings, calligraphy, ceramics and other relics dating as far back as the 10th century.
A total of 914 artefacts came from the Palace Museum in Beijing, with 166 classified as grade one national treasures, marking the largest loan the museum has ever provided to another cultural institution outside the mainland. Most of the pieces are appearing in Hong Kong for the first time.
The museum received a total of about 6,500 visitors on Sunday. According to the Hong Kong museum, about 115,000 out of a total of some 140,000 tickets for July had been sold by Saturday since bookings opened on June 14. Tickets for August and later will be available on a weekly basis starting from July 12.
The museum will also give away 1,000 units of commemorative non-fungible token (NFT) with a specially designed ticket image to visitors.
Sign up for the YP Teachers Newsletter
Get updates for teachers sent directly to your inbox
Sign up for YP Weekly
Get updates sent directly to your inbox