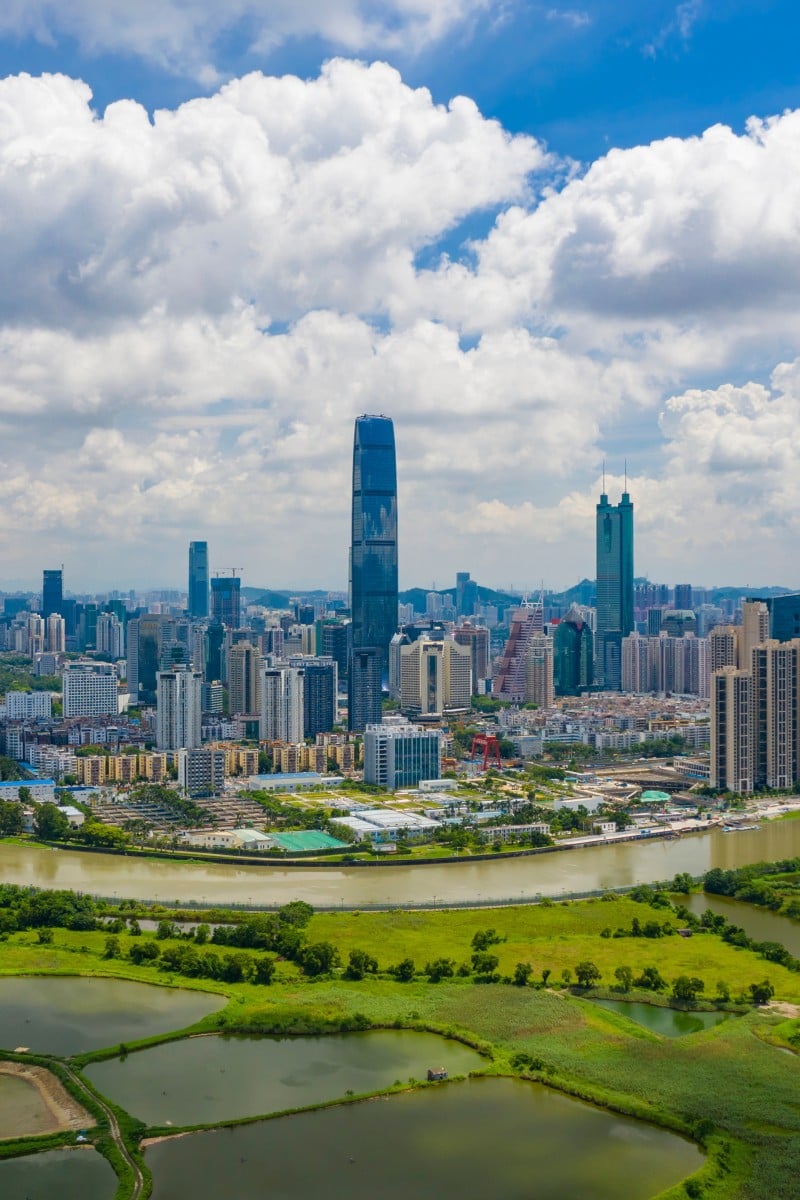 Hong Kong's Education Bureau releases itineraries for mandatory Citizenship and Social Development trip to mainland China
The arrangement is part of the revamped liberal studies curriculum, which places an emphasis on developing a 'sense of national identity' and appreciation of Chinese culture

Some students believe the trips will be a waste of time, saying they would prefer to be in the classroom after losing so much in-person time during coronavirus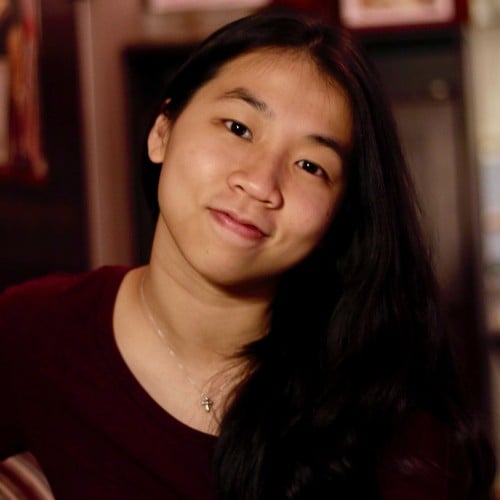 Yanni joined the Post in 2021. She has a bachelor's degree in communication and majored in international journalism. Previously, she worked at Reuters covering Hong Kong political news including the enactment of the national security law.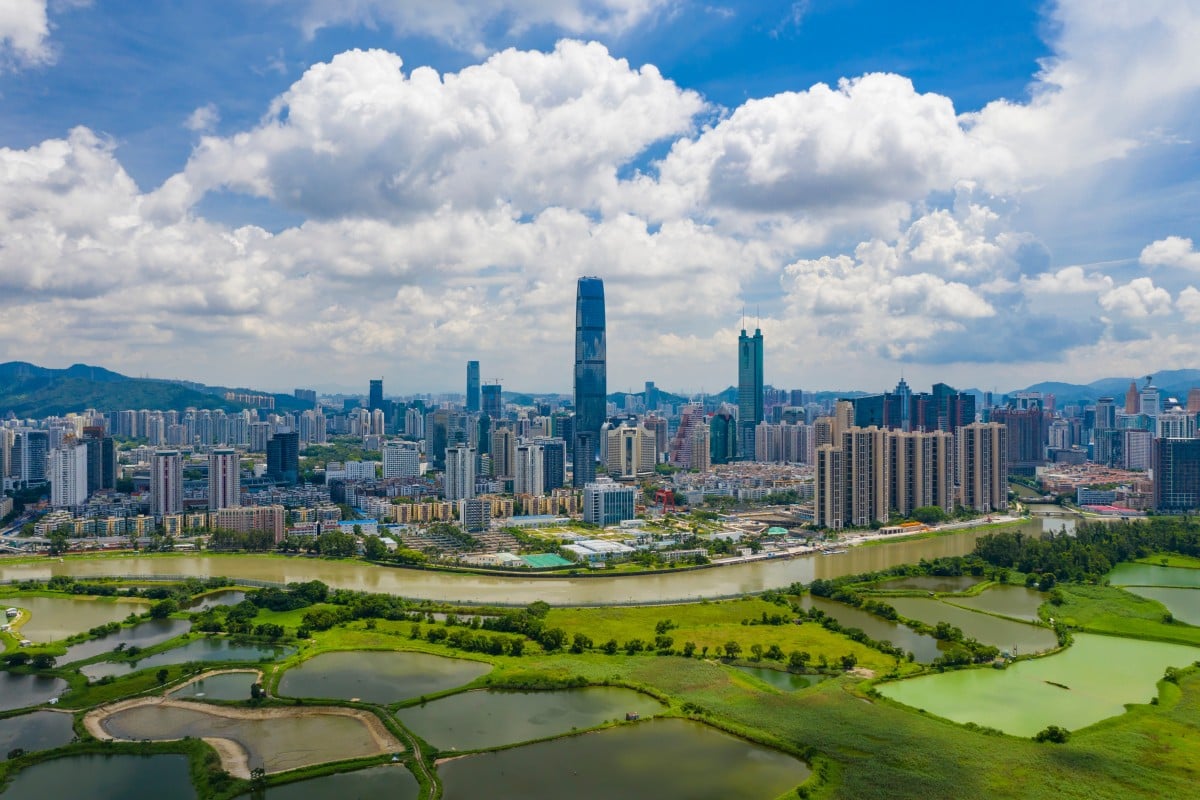 An aerial view of Shenzhen Central Business District. Schools can choose to focus on the Greater Bay Area during the new mandatory trip to mainland China for all local secondary students. Photo: Shutterstock
Hong Kong's Education Bureau (EDB) has released itineraries schools must use to plan new mandatory mainland study tours as part of the overhauled liberal studies subject.
In a circular issued last Thursday, the EDB provided 21 routes through mainland China – including Guangzhou, Foshan and Hunan provinces – for Form Four to Form Six students.
The arrangement is part of the curriculum for the Citizenship and Social Development (CS) subject, which replaced liberal studies at the start of the academic year. The subject places a stronger emphasis on appreciating Chinese culture and developing students' "sense of national identity".
Textbooks for revamped liberal studies say Hong Kong was not a British colony
Wong Ching-yung, principal of Scientia Secondary School, applauded the new component, calling it a chance for students to enjoy themselves after being stuck in Hong Kong during the pandemic.
"It is better to travel 10 thousand miles than to read 10 thousand books. Through first-hand experience, our students will be able to build a closer and more solid knowledge of our motherland and its culture … this is the core value of CS, " he said.
These mandatory trips would be different from the usual study trips that the school previously organised, he said, because there is a clear goal and a learning objective, as well as a comprehensive itinerary.
The cover page for a new Citizenship and Social Development textbook. Photo: Handout
Though Raymond Tam Kwok-wai, principal of G.T. (Ellen Yeung) College, agrees that these trips would widen students' horizons, he thinks they could use a few incentives to get students to truly commit and learn on these journeys.
"If you organise a trip for the whole form, it is a very meaningful thing. If you say it's part of a school-based assessment or an external assessment, students commit more, rather than treating it like a school event."
These trips will be fully subsidised by the EDB. Schools are required to submit their proposed plans by the end of July, including their preferred time and date, and trip itineraries for the next two academic years.
Teachers are avoiding "sensitive topics" in the revamped liberal studies
The 21 trip options range from two to five days. Wong said he is most interested in the longer ones that take students out of Guangdong province.
"We have arranged for our students to visit places within the province before. Our teachers think that with the subsidy, we can go further and stay longer so that our students can have a deeper understanding of their motherland," he said.
Tam has a different approach, taking the needs of incoming Form Five students into account.
The new face of liberal studies
"We prefer letting students go in Form Four, because they will have more time and less exam stress. But since the first batch of students has already finished Form Four, this will be a special case," he said.
He added that for this cohort, a three-day trip would be ideal. But he would not opt for the two-day itineraries because they are "impractical".
"You only have two days, including travelling time. How much can you really see?"
While the response from schools has mostly been positive, students studying the new subject think differently.
Senior secondary students will be required to take a trip to the mainland under the new Citizenship and Social Development curriculum. Photo: Dickson Lee
Melody Ma Jing-mao, one of the first students taking the revamped subject, thinks the trips will be a bit of a waste of time and disrupt her learning.
"Due to the pandemic, the teaching hours at school have already been greatly reduced … It is usual practice for our school to have make-up lessons, even during summer holidays and Saturdays, to catch up on the public exam syllabus. I don't think it is really flexible to have tours in our tightly-scheduled Form Five life," said the 16-year-old.
The Carmel Pak U Secondary School student also cited her worries about the internet firewall in China, which bans social media platforms like WhatsApp, Instagram and Facebook.
Liberal studies textbook with soldiers Mickey Mouse and Ronald McDonald sparks controversy
"We'd need to download and register apps that are allowed on the mainland, like WeChat, to keep in touch with our parents," she said.
Ma believes that a study tour to a foreign country would be more enticing.
"I am Chinese and I know a lot about Chinese culture from textbooks, family and friends. However, I'm not as familiar with other countries' cultures."
Hong Kong schools will be required to infuse civic and moral values into all subjects
The itineraries lay out different learning objectives, including studying the Greater Bay Area, the technological components of smart cities, the importance of national security and the preservation of agriculture.
"Since so many students are taking CS, the EDB has to liaise with mainland provincial and municipal parties for detailed arrangements in advance so that CS mainland study tours can start as soon as possible, when the epidemic situation eases and quarantine-free travel resumes," the circular read.
Sign up for the YP Teachers Newsletter
Get updates for teachers sent directly to your inbox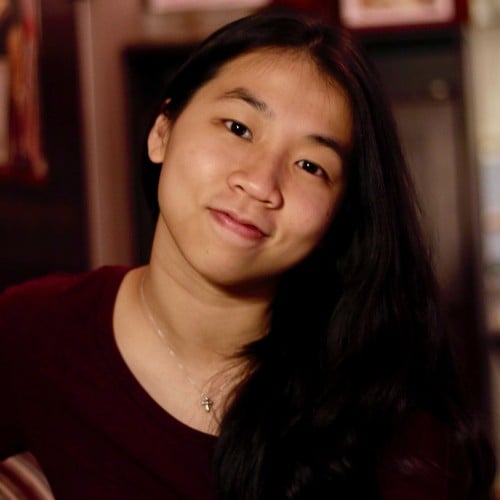 Yanni joined the Post in 2021. She has a bachelor's degree in communication and majored in international journalism. Previously, she worked at Reuters covering Hong Kong political news including the enactment of the national security law.
Sign up for YP Weekly
Get updates sent directly to your inbox