The Education Bureau had been moving some schools from the three districts to new development areas such as Kai Tak and Anderson Road in Kwun Tong, where there were large-scale residential projects

Secretary for Education Christine Choi says she will not let schools with insufficient student numbers survive for sake of ensuring student had enough choices in terms of elective subjects when they reached senior forms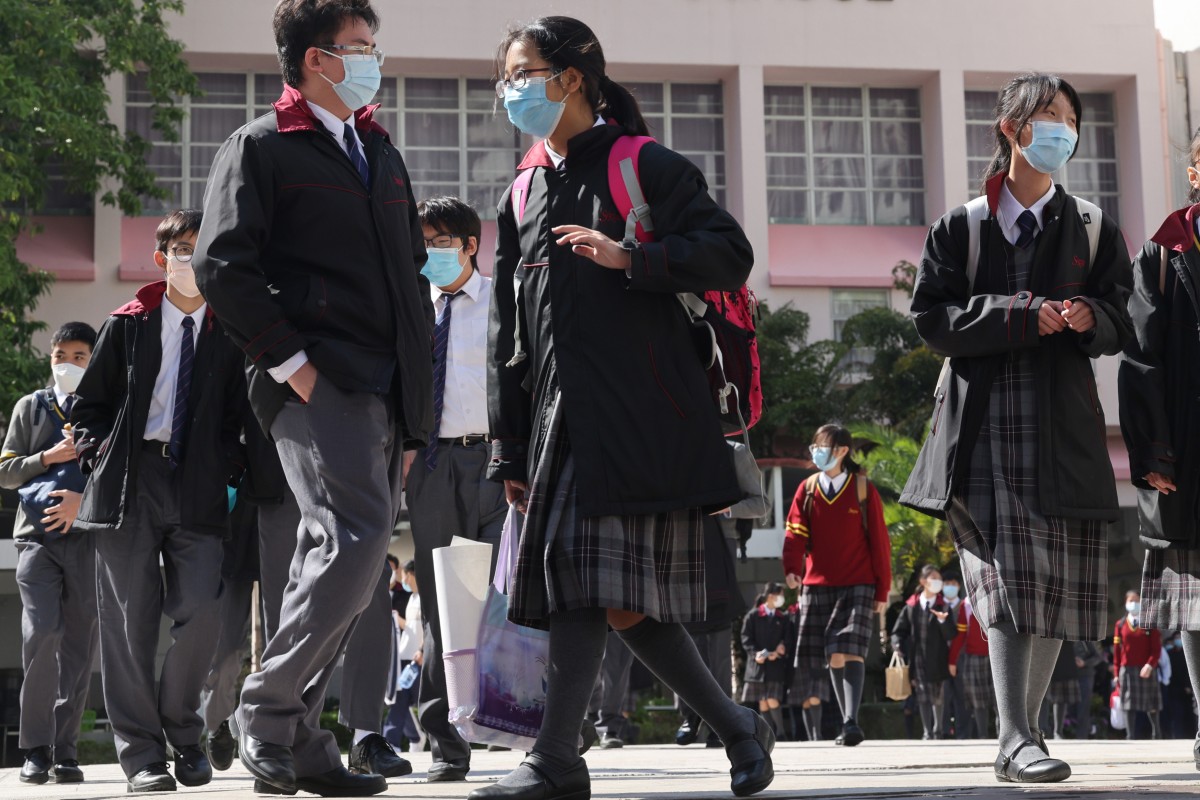 Hong Kong's new education minister has said the city's shrinking student population is a now 'structural' issue. Photo: May Tse
Relocating schools situated in districts with shrinking student populations to new development areas is one of the remedies available for combating the effects of Hong Kong's declining number of youngsters, the city's new education minister has said.
Christine Choi Yuk-lin, who was promoted to head the Education Bureau after serving as its undersecretary over the past five years, also said it was acceptable for Hong Kong students to study a speech made by Chinese President Xi Jinping during his visit to the city on July 1, adding that teachers should also be familiar with it.
Choi, a former vice-chairwoman of the pro-Beijing Hong Kong Federation of Education Workers, told a media briefing on Wednesday that her first task after assuming office was to ensure young people learned about mainland China and strengthened their sense of national identity.
Hong Kong's Education Bureau releases itineraries for mandatory Citizenship and Social Development trip to mainland China
"I hope their aspiration will also contain the concept of the country. I hope they have the heart to love the country, love their family, love themselves and others," she said.
Talking about the coming challenges, Choi said the decline in the city's student population was indisputable, attributing the drop to the low birth rate, the absence of cross-border students and South Asian immigrants as a result of the coronavirus pandemic and recent emigration waves.
The Education Bureau had earlier revealed that the number of six-year-old pupils in Primary One would fall by 14.5 per cent – from 58,500 to 50,000 – between 2022 and 2029. It also said the number of 12-year-old pupils in Form One would drop by about 5 per cent, from 63,100 to 60,100, over the same period.
Hong Kong education secretary Christine Choi says a decline in the student population is inevitable. Photo: Nora Tam
The Post also previously reported that more than 30,000 students withdrew from schools in Hong Kong between October 2020 and last September.
According to Choi, Eastern and Southern districts on Hong Kong Island, and Wong Tai Sin in Kowloon were among areas that had reported a low number of students.
The education minister said the bureau had been moving some schools from the three districts to new development areas such as Kai Tak and Anderson Road in Kwun Tong, where there were large-scale residential projects, to solve the problem of shrinking student numbers.
Two Hong Kong public schools to merge amid decline in student population
The bureau had earlier announced that it would relocate Baptist Rainbow Primary School in Wong Tai Sin to Kai Tak in 2024 and move Shau Kei Wan East Government Secondary School in Eastern district to Kwun Tong by 2026.
Additional campuses in the new development areas would also be created to help schools located in districts with smaller student numbers, Choi said.
But she added that the bureau would not let secondary schools with "just more than a dozen students" survive for the sake of ensuring teenagers had enough choices in terms of elective subjects when they reached senior forms.
"If the secondary schools have fewer than two [Form One] classes, it is difficult for the schools to provide quality and a broad choice of subjects for students," she explained.
Lung Cheung Government Secondary School in Wong Tai Sin has stopped offering Forms One to Four and will cease operations entirely in the 2024-25 school year. It will merge with Kowloon Technical School. Photo: Xiaomei Chen
In the current academic year, two secondary schools in Eastern district were told to submit proposals to the government to determine whether they could still enrol students.
Previously, as a leader of the federation, Choi had advocated for freezing the number of Form One classes to ensure schools' survival, but now said this was an "old suggestion" that could not address the "new problem".
"The decline of the student population is now structural, while the previous drop was transient," she said. "We cannot use the old method to tackle the new problem."
Dozens of Hong Kong schools face 'inevitable' closures as 40,000 families leave city, population shrinks
She also dismissed the idea of implementing small-class teaching in secondary schools to address the problem of the shrinking student population.
"We want to improve the teaching quality, such as increasing the teacher-to-class ratio and reducing the number of students in each class," she said. "But we should not turn our goal into measures to solve the problem of excessive school places … that would be putting the cart before the horse."
Choi said that schools that mostly enrolled students from middle-class backgrounds were bearing the brunt of the effects of the new BN(O) pathway to citizenship offered by the British government, which had made it easier for more families to emigrate to the United Kingdom.
"In fact, they may not be very familiar with the education system [in the UK], and they may not necessarily be dissatisfied with the education system in Hong Kong," Choi said.
More than 8,500 Hong Kong students have applied for school places in Britain since September via BN(O) scheme
Apart from student losses, Choi said schools were also dealing with the challenges of teachers departing and the difficulties of hiring new educators.
Requiring teachers in aided schools to declare their allegiance to Hong Kong like their counterparts in government ones was no longer a priority for authorities, she said.
"We do not have a plan for it," the minister said, noting that all newly appointed teachers in public-sector schools were already required to pass a test on the Basic Law.
Interest in studying in Australia spikes among Hongkongers after country opens pathway to permanent residency
Official statistics showed the turnover rate for teachers at primary and secondary schools reached 7.1 per cent and 7.8 per cent, respectively, during the current academic year, rising from 4.2 per cent and 4.6 per cent the year before.
But Choi argued that the teachers who had left Hong Kong might not necessarily have done so because they disagreed with the city's education policies.
She said many teachers had left because they hoped their children would have more overseas exposure, adding she would liaise with relevant institutions to train more educators, especially in hard-hit subjects such as English and home economics.
Emigration's drain on Hong Kong's schools
Choi also echoed remarks by Chief Executive John Lee Ka-chiu, who had earlier said Hong Kong had no need for teachers who refused to dedicate themselves to national education.
Educators who disagreed with Hong Kong's values should not teach students, Choi said, adding they were required to instruct students on the concepts of "one country, two systems" and the nation.
She also said President Xi's speech during his visit to Hong Kong on the 25th anniversary of the city's return to Chinese rule was very important because it referred to the future, which involved students' prospects after graduation.
"The speech touches on the development of Hong Kong under one country, two systems. I think it is very normal for students to learn it," Choi said. "This can be combined with other courses and learning goals. If teachers feel that it fits their subject, this is very good learning material."
Sign up for the YP Teachers Newsletter
Get updates for teachers sent directly to your inbox
Sign up for YP Weekly
Get updates sent directly to your inbox