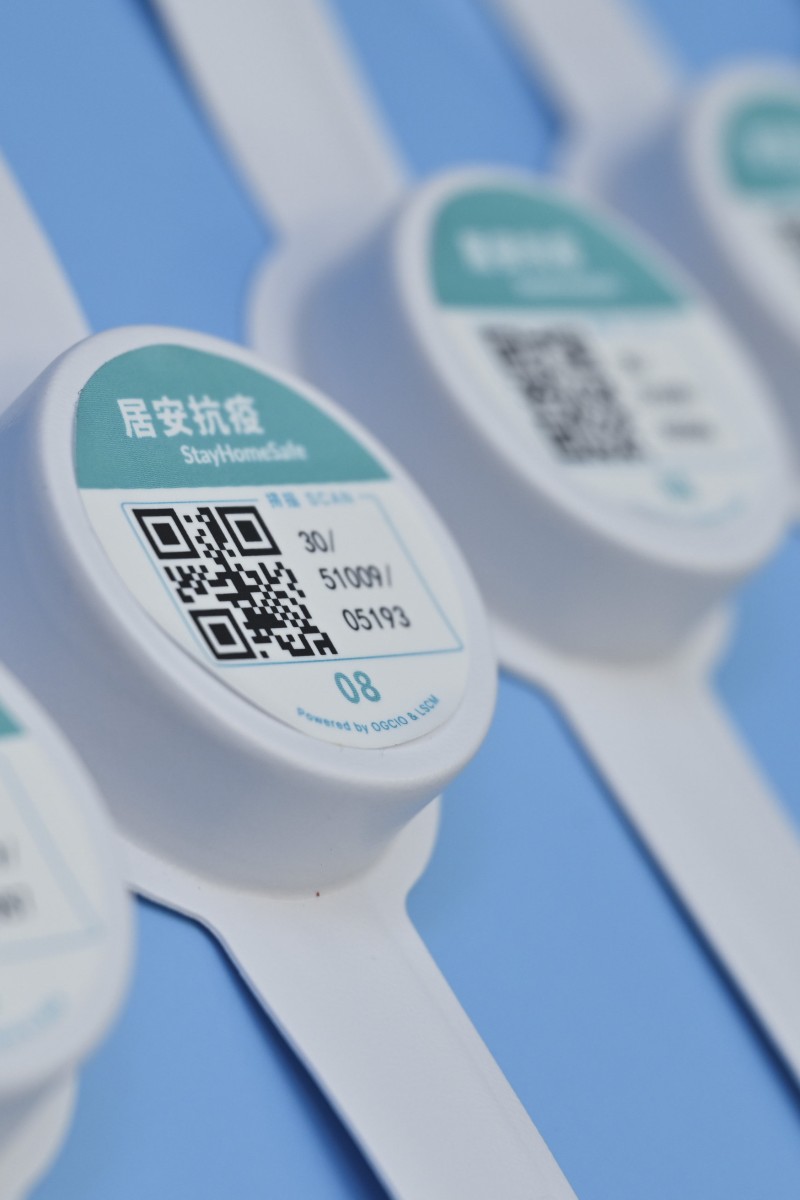 People under home quarantine will need to wear electronic wristbands while those who test positive at mainland border will be sent to isolation centres right away

Health chief Lo Chung-mau says he will approach pandemic with targeted measures to prevent repeat of fifth wave of infections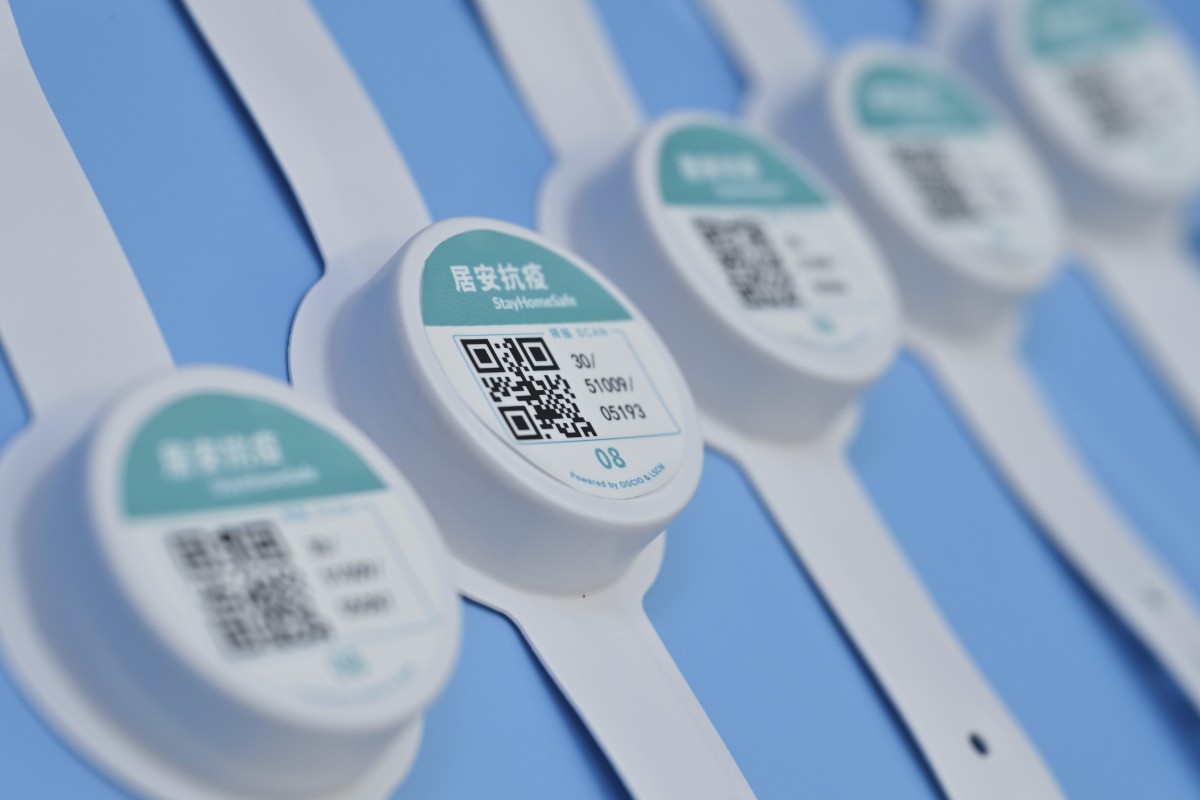 From Friday, those with positive Covid-19 test and are required to undergo home quarantine will need to wear an electronic wristband. Photo: SCMP
Hong Kong has introduced measures to step up monitoring of Covid-19 patients on two fronts, requiring those under home quarantine to wear electronic wristbands and outbound travellers who test positive at the border with mainland China to be sent to isolation centres right away.
Secretary for Health Lo Chung-mau has said he will approach the pandemic with targeted measures to prevent a repeat of the fifth and deadliest wave of infections, rather than return to tightened social-distancing rules.
Here's what you need to know about the two latest moves, as well as plans in the pipeline.
Hong Kong could have own Covid-19 policies without copying mainland, quarantine-free travel by November
1. Who will get an electronic wristband, and how?
From Friday, people who report their positive Covid-19 test results to the authorities and are required to undergo home quarantine will need to wear an electronic wristband.
Health authorities will hand out the wristband along with a parcel of quarantine necessities, including masks and self-test kits, after the patient signs up for home isolation.
Staff from the Office of the Government Chief Information Officer will help the patient and confirm the wristband's activation. Patients must not leave their household area.
Secretary for Health Lo Chung-mau. Photo: Nora Tam
A photo provided by the Innovation, Technology and Industry Bureau shows a QR code printed on the watch-like plastic wristband. Words and terms including "Stay Home Safe" and "scan" are written above the code.
Patients deemed suitable for home quarantine are usually required to undergo a two-week isolation period. Those with at least two doses of Covid-19 vaccine will be allowed to leave after testing negative consecutively on the sixth and seventh day.
Secretary for Health Lo Chung-mau has said the measure is necessary, noting that around 60 per cent of recent infections per day were subjected to home quarantine.
Hong Kong suspends flight ban, government cites 'peak season' for returning overseas students
2. How does the wristband work?
The wristband works in the same way as a previous version that overseas arrivals were required to wear earlier in the pandemic, using geofencing technology.
Users will have to install the "Stay Home Safe" mobile app to scan the QR code on the wristband.
They will then have to activate the wristbands by "walking slowly" around their home as instructed, including the living room, dining room, bedrooms, washroom and kitchen, for one minute.
The watch-like wristbands must not be removed during the quarantine period. Photo: SCMP
During quarantine, the app will detect and analyse environmental communication signals, such as Bluetooth, Wi-fi and GPS, in the neighbourhood and their respective strengths.
You should make sure the app is running constantly, as it may at any time ask you to confirm your presence at home by scanning the QR code on your wristband.
Upon expiry of the quarantine period, you may uninstall the app, cut off and dispose of the bracelet.
Hong Kong shifting from pandemic to endemic, says government health adviser
3. What will happen if I take it off and leave home?
If a change in signals is detected and the individual is found to have left home, law enforcers may conduct spot checks, make an arrest or issue a warrant.
Breaching a compulsory quarantine order is a criminal offence and offenders are subject to a maximum fine of HK$25,000 and imprisonment for six months.
Francis Fong Po-kiu, honorary president of the Hong Kong Information Technology Federation, says the wristband will have a deterrent effect for individuals serving home quarantine.
But if infection numbers grow exponentially as occurred during the peak of the city's fifth wave of cases earlier this year, wristband manufacturing capacity and logistics will be in doubt again, he says.
4. What's going on at the border with Shenzhen?
Shenzhen Bay Port, one of two land crossings in operation between Hong Kong and mainland China, has recently been packed with crowds. That is because Shenzhen boosted the number of quarantine hotel rooms by 700 to 2,000 daily, anticipating more people will cross the border from Hong Kong, including students returning from overseas for the summer holiday.
With the room quota increased, hundreds of travellers have been stuck in long queues at the port for PCR tests, with some waiting for hours to get their results.
A loophole has been uncovered, where people issued with a red wristband – meaning they tested positive – were asked to go home by their own means without restrictions on their movements or immediate issuance of an isolation order. Some were seen removing the wristband and getting into a taxi.
The practice at Hong Kong International Airport is different as all arrivals are sent to quarantine hotels in shuttle buses.
A man with a red wristband – meaning a positive Covid-19 test result – leaves the control point. Photo: K.Y. Cheng
5. What's being done to address the overcrowding and lax controls over infected people at the crossing?
The Hong Kong government this week launched a booking system for PCR screening at the crossing so that from Friday onwards, only those with proof of a reservation will be allowed to undergo testing at the port.
Travellers who have secured places at isolation facilities in Shenzhen can log on to book time slots for tests over the next seven days by providing their name, identification document number and reservation number of the quarantine hotels.
Before the compulsory screening at the control point, travellers must also undergo a self-paid PCR test provided by a firm recognised by the Hong Kong government.
BioNTech can provide Covid-19 vaccine targeting Omicron to Hong Kong as early as autumn if approved
To combat the scalping of hotel rooms, Shenzhen authorities last week also replaced the first come, first served basis for booking quarantine spots with the drawing of lots.
In response to the loopholes, the government announced on Thursday it would immediately quarantine passengers bound for the mainland and Macau in community facilities if they tested positive at border checkpoints. They will be sent by shuttle service.
The three crossings are Shenzhen Bay Port, the airport and the Hong Kong-Zhuhai-Macau Bridge.
6. What other anti-pandemic plans are in the pipeline?
The government has said it will introduce "as soon as possible" a dual-coloured health code system in the "Leave Home Safe" risk-exposure app to better identify infected individuals in the community.
Under the plan, people who are infected and under home quarantine will be issued with a red code barring them from entering high-risk places such as care homes or taking part in maskless activities. Arrivals from overseas will receive a yellow code and also be prohibited from high-risk places and mask-off activities.
The proposed new function had triggered public concern that authorities may take advantage of the smartphone app to track people's everyday movements and collect data about their digital footprint, a claim city leader John Lee Ka-chiu has denied. Another possible policy change is the shortening of hotel quarantine for overseas arrivals.
Hong Kong mulls easing quarantine rules to 5 days, with 2 more in home isolation, amid China's shift in Covid-19 policy
Lo, the health chief, earlier told the Post the government had been considering shortening the seven-day hotel quarantine, and requiring a health surveillance period at home for the remaining days.
These could entail moving to a "5+2", "3+4", or even "0+7" regime, with the numbers denoting days of hotel and home isolation respectively, depending on data on infection rates among arrivals during their hotel stay.
He further hinted that by November, when a global bankers' summit is to be held, the word "quarantine" could carry a much different meaning – one that would perhaps include PCR screenings, medical surveillance, and a ban from high-risk activities such as bar gatherings.
Sign up for the YP Teachers Newsletter
Get updates for teachers sent directly to your inbox
Sign up for YP Weekly
Get updates sent directly to your inbox