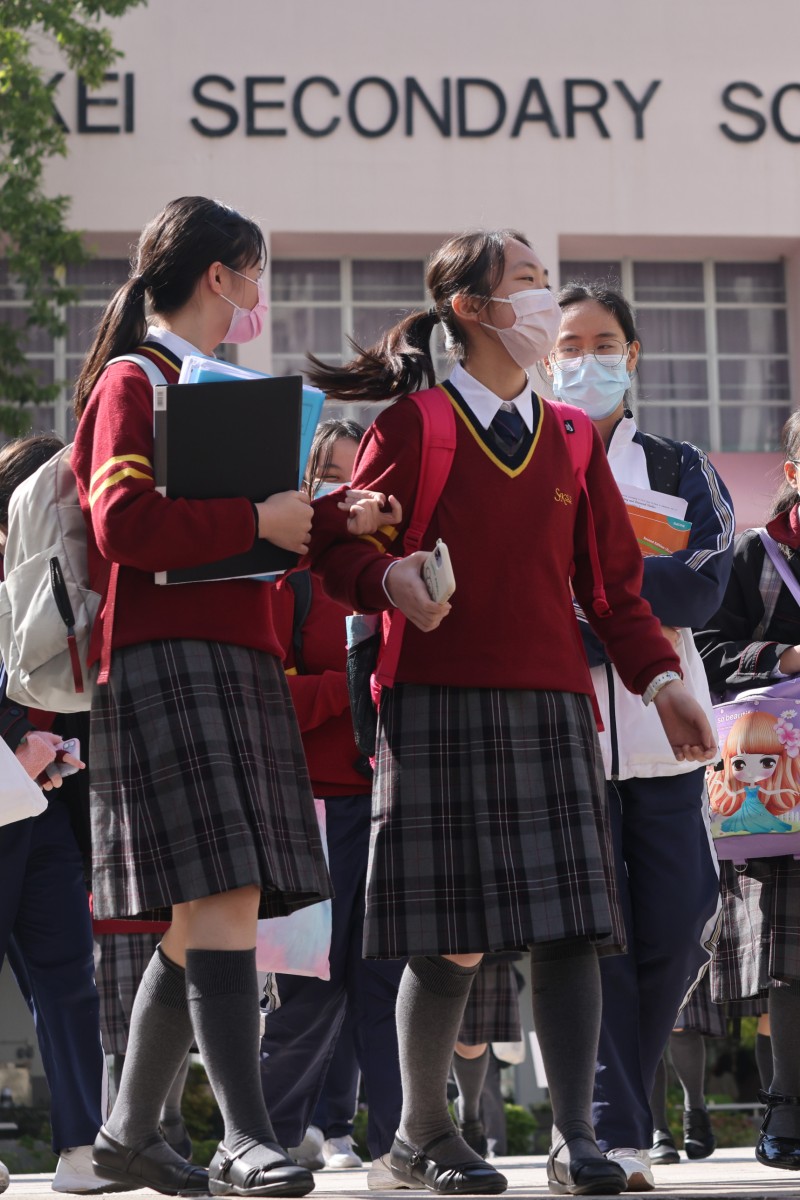 Semi-private schools' enrolment rate sinks to record low, with more than 12,000 spots available

International schools maintain enrolments by easing entry requirements, taking in local students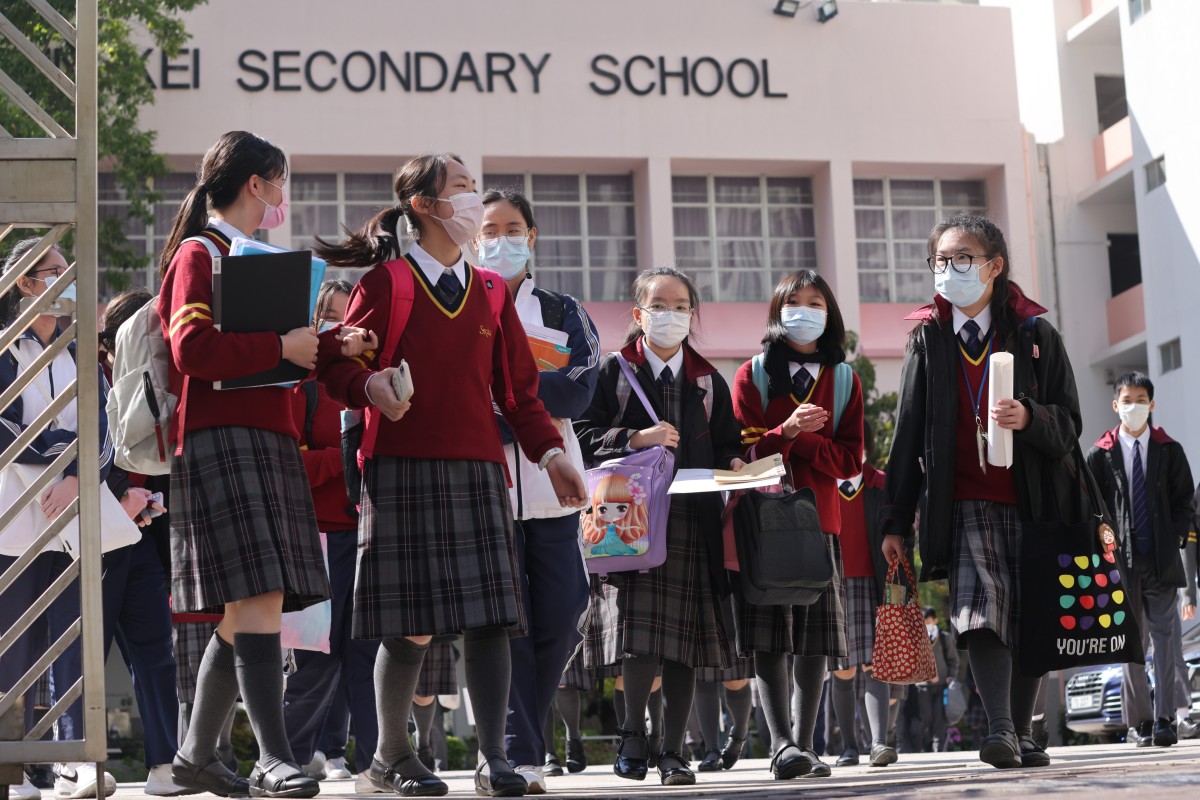 59 DSS secondary schools, which have more freedom than others to set their curriculum, fees and entrance criteria, saw the total number of students enrolled fall below 45,000 last year. Photo: May Tse
Enrolment at Hong Kong's direct subsidy scheme (DSS) secondary schools has slumped to a record low following a wave of emigration that began last year.
The 59 secondary schools, which have more freedom than others to set their curriculum, fees and entrance criteria, saw the total number of students enrolled fall below 45,000 last year.
They had room for up to 57,000 students, meaning there were 12,300 vacancies in these schools.
Surge in Hong Kong teachers quitting leads to hiring difficulties
The latest official report on student enrolment in different types of schools indicated that DSS secondary schools bore the brunt of student departures since last year.
Their enrolment rate of 78 per cent not only fell below 80 per cent for the first time, but was also the lowest among all types of schools.
The DSS secondary schools account for 14 per cent of almost 326,000 secondary students in Hong Kong.
One reason for the drop in enrolment is that many families have left Hong Kong in the last few years. Photo: Xiaomei Chen
The majority attend 390 government and aided schools, which saw enrolment rates decline to 83 and 85 per cent respectively, from nearly 90 per cent in 2020.
The Post reported earlier that more than 30,000 students withdrew from schools in Hong Kong during the current academic year, which began last September.
Schools in high-income districts such as Central and Wan Chai were hit hardest, with their total enrolment sliding from about 810,000 in 2020 to 780,000 last year.
Hong Kong parents say competition is waning for school places due to emigration wave
Dion Chen, chairman of the Hong Kong DSS Schools Council, said the secondary student numbers were "not ideal" and revealed that most of the students who withdrew said they were leaving Hong Kong.
Chen said they left at all levels, and the number of student losses was higher than at aided and government schools. One reason the students left was that their parents wanted them to take the opportunity to have them study overseas, he added.
"For students in DSS schools, their parents may be more interested in high-quality education," he said.
Dion Chen, chairman of the Hong Kong DSS Schools Council. Photo: Edmond So
After Beijing imposed a national security law on the city in 2020, Britain, Canada and Australia eased their immigration policies to allow Hong Kong residents to move there to study or work. That sparked a wave of emigration last year.
Chen, who is the principal of a DSS school, said the latest enrolment data was gathered 10 months ago and most schools said more students were leaving this year.
But he expected the pace of departures to slow down after this year as many who planned to emigrate would already have done so.
The latest data showed that all types of primary schools recorded enrolment rates of more than 90 per cent as of September last year.
Emigration's drain on Hong Kong's schools
Vacancies in the 456 government and aided primary schools rose by nearly 150 per cent from 7,200 in 2020 to 18,000 last year, the highest increase among different types of schools.
This was in contrast to the situation in 2016 and 2017, when these schools were oversubscribed, with more children trying to enrol than there were places.
Vacancies at DSS primary schools rose from 585 in 2020 to 824 last year.
Among all types of schools, only the 33 international secondary schools saw their enrolment rate rise to nearly 90 per cent across the board.
A woman walks past a banner advertising the National Security Law on Albany Road in Central. Felix Wong
At secondary level, their vacancies fell from about 2,700 in 2002 to 2,400 last year, while primary level vacancies rose from around 1,900 in 2020 to 2,200 last year.
However, a veteran international school consultant said some international schools were also struggling and had lowered the entry requirements to admit students from local schools.
Ruth Benny, founder of international schools consultancy Top Schools HK, said that while the figures for international schools were positive, they also felt the effects of emigration.
Hong Kong teachers avoiding 'sensitive topics' in revamped liberal studies
The past year saw some expatriate families leave Hong Kong because of the city's ongoing travel and quarantine restrictions, resulting in departures from international schools.
Benny said local parents seized the opportunity to place their children in international schools, some of which had lowered their entry requirements.
"Many schools have lost lots of students and are struggling to replace them with students of similar calibre," she said.
Sign up for the YP Teachers Newsletter
Get updates for teachers sent directly to your inbox
Sign up for YP Weekly
Get updates sent directly to your inbox