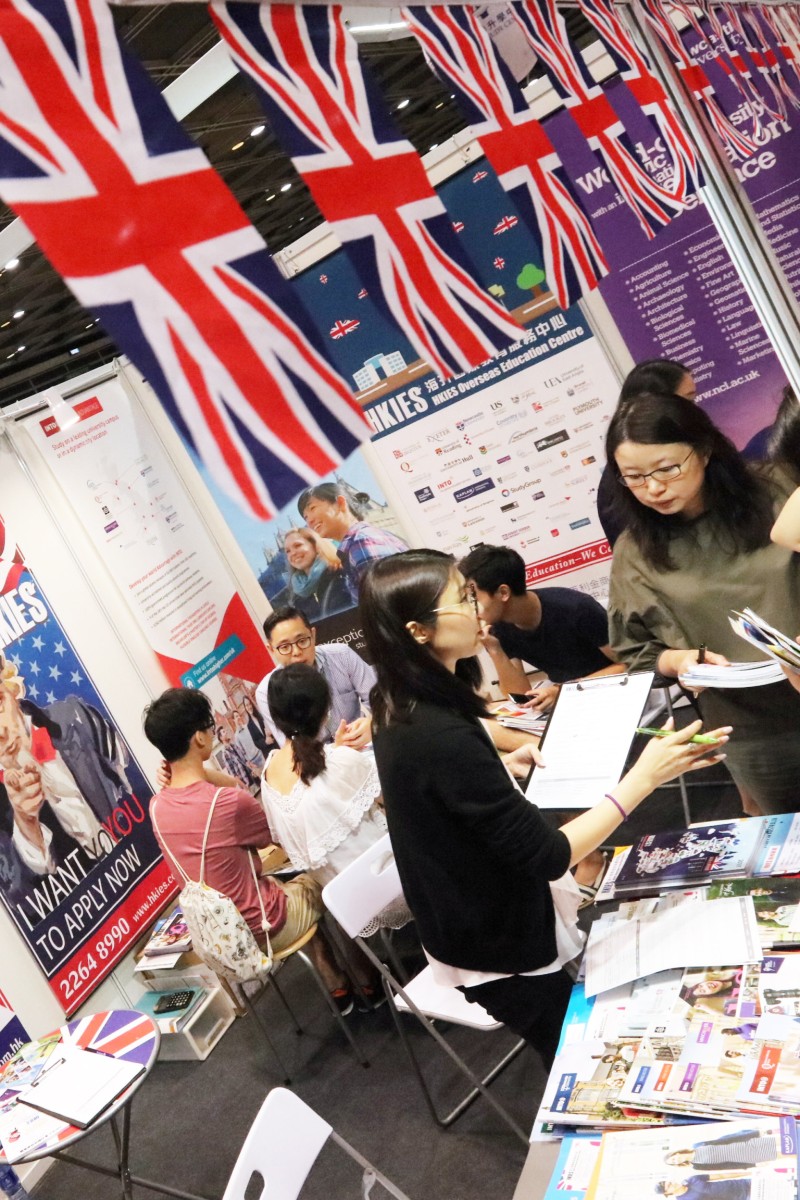 DSE results out this week, but many applied for popular courses earlier as pound kept sliding

Some students taking advantage of BN(O) visa scheme and choosing Britain with an eye to migration after they graduate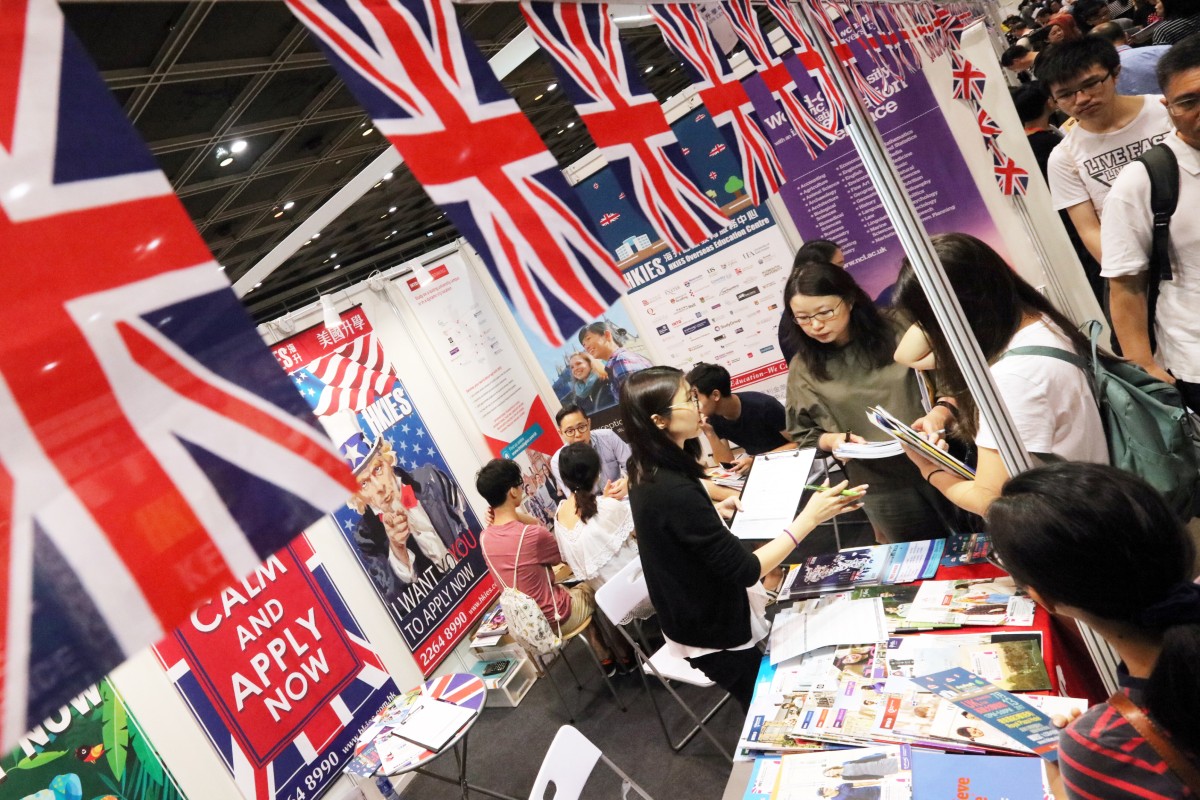 Britain is already a favourite destination for Hong Kong students heading overseas. Photo: Felix Wong
More secondary school graduates are considering studying in Britain now that the pound has sunk to a 40-year low against the Hong Kong dollar, according to veteran education consultants.
About 50,000 candidates sat for the Diploma of Secondary Education (DSE) exams this year, of whom 43,000 were school candidates.
The overall and individual results of the university entrance exams will be announced on Tuesday and Wednesday respectively. The majority of students are expected to continue their education in the city.
More than 8,500 Hong Kong students have applied for school places in Britain since September via BN(O) scheme
Britain, already a favourite destination for those heading overseas, became more attractive this year with the exchange rate sinking to a new low at around HK$9.30 (US$1.18) to a pound, a level last seen in 1985. It was HK$10.60 in July 2020 and HK$9.70 the year before.
According to the British Council, international students could expect to pay between £10,000 and £26,000 annually, and typically an undergraduate degree course would last for three years.
Angus Tang Chi-wing, director of Hkies Overseas Education & Study Tours, said inquiries about overseas studies had risen by more than 20 per cent, partly because of the exchange rate.
About 50,000 candidates sat for the Diploma of Secondary Education exams this year. Photo: Pool
He estimated that the lower pound meant students would spend 30 per cent less in tuition fees compared with 2014. He recalled that the exchange rate in 2007 was HK$16 to a pound.
While the UK value-added tax (VAT) had sat at 20 per cent since 2011, all Western countries that Hong Kong students preferred charged this tax, and parents would factor in this cost when choosing Britain as a study destination, Tang said.
He also noted that schools fees and students' rent were also exempted from VAT.
London ranked world's best city for studying abroad, while Hong Kong climbs 3 spots to 12th place in annual QS report
Willy Kwong, general manager of AAS Education Consultancy, said that with the pound weakening from the start of the year, many students decided earlier than usual to go to Britain.
He said places for most of the popular bachelor's degree programmes were already taken up by students not only from Hong Kong, but also from around the world, also noting that the number of inquiries about overseas education had increased by 20 per cent.
Both consultants said professional healthcare subjects which promised jobs soon after graduation, such as physiotherapy and occupational therapy, had become more popular among Hong Kong students.
Britain became more attractive this year with the fall in the exchange rate. Photo: Shutterstock
This was partly because some wanted to take advantage of Britain's emigration pathway for Hongkongers through the British National (Overseas) visa scheme launched last year.
"As they intend to settle down in the UK, they want a degree which will offer them a job," Kwong said.
He added that those who had not yet applied for these courses would find it hard to get in this year if they only decided now to study in Britain.
Explainer: What is Britain's citizenship offer for Hong Kong residents?
Noting how student choices had changed over the years, Tang said: "Students preferred accounting and finance when I entered this field around 20 years ago, then they shifted to pharmacy and information technology. Now they opt for physiotherapy, which will allow them to secure a job more easily, even if they return to Hong Kong."
With Britain's new migration scheme, Tang said students whose exam results were not strong were now signing up for UK foundation courses which prepared candidates for university.
"Now that they are able to stay a long time in Britain, they prefer doing the foundation courses in popular places like Bristol and Manchester," he said.
According to the Universities and Colleges Admissions Service, about 6,000 Hong Kong students applied to study at universities in Britain this September, but the figure did not include the number who applied after June 30.
Canada, which also eased its migration rules for Hongkongers, had become the second most popular destination for the city's school-leavers, followed by Australia and the United States, he said.
In the first five months of this year, 2,320 Hongkongers were granted student visas by Canada, four times more than in 2020 when there was no such scheme, and twice more than last year, after it was announced.
Graduates of Hong Kong's top two universities eligible to work in Britain through new visa scheme
Samuel Chan Sze-ming, founder of Hong Kong-based Britannia StudyLink, said exam grade inflation during the pandemic led UK institutions to admit more students than before, and they were expected to tighten the number of international students taken in from this year.
Meanwhile, a poll of more than 500 school-leavers, released on Wednesday by the Hong Kong Federation of Youth Groups, found that almost a third would further their studies overseas if they were not admitted to their preferred local institutions.
Face Off: Is studying in Hong Kong better than studying overseas?
This was a higher proportion than last year, when just over a quarter of respondents said they would go overseas, and 2019, when under a fifth said they would do so.
Ken Hui Keung-mau, who runs the federation's helpline, Youthline 2777 8899, said the rising interest in studying overseas reflected the ongoing wave of emigration and perceived limitations in studying locally.
"They want to go abroad to broaden their horizons, they don't want to just stay in Hong Kong. Some also choose to study in mainland China," Hui said.
Canada surpasses Australia, US for No 2 study abroad spot for Hong Kong students drawn to easy permanent residency path
Student guidance consultant Ng Po-shing of the youth-focused NGO Hok Yau Club, said its hotline received more inquiries from students this year asking about studying overseas, on the mainland and in Taiwan.
"Students feel there are many problems studying in Hong Kong, which may be related to the tight pandemic measures and previous social movements," he said. "Some students and parents also worry that Hong Kong's economy may not be good in the future." Ng also reminded students pursuing studies in Hong Kong to be more aggressive when choosing their preferred programmes even as more chose to study abroad.
"It is estimated that the threshold for admission to universities this year will be lower than previous years and students' overall selection of subjects can be more aggressive," he wrote in the club's press release on Sunday.
Sign up for the YP Teachers Newsletter
Get updates for teachers sent directly to your inbox
Sign up for YP Weekly
Get updates sent directly to your inbox