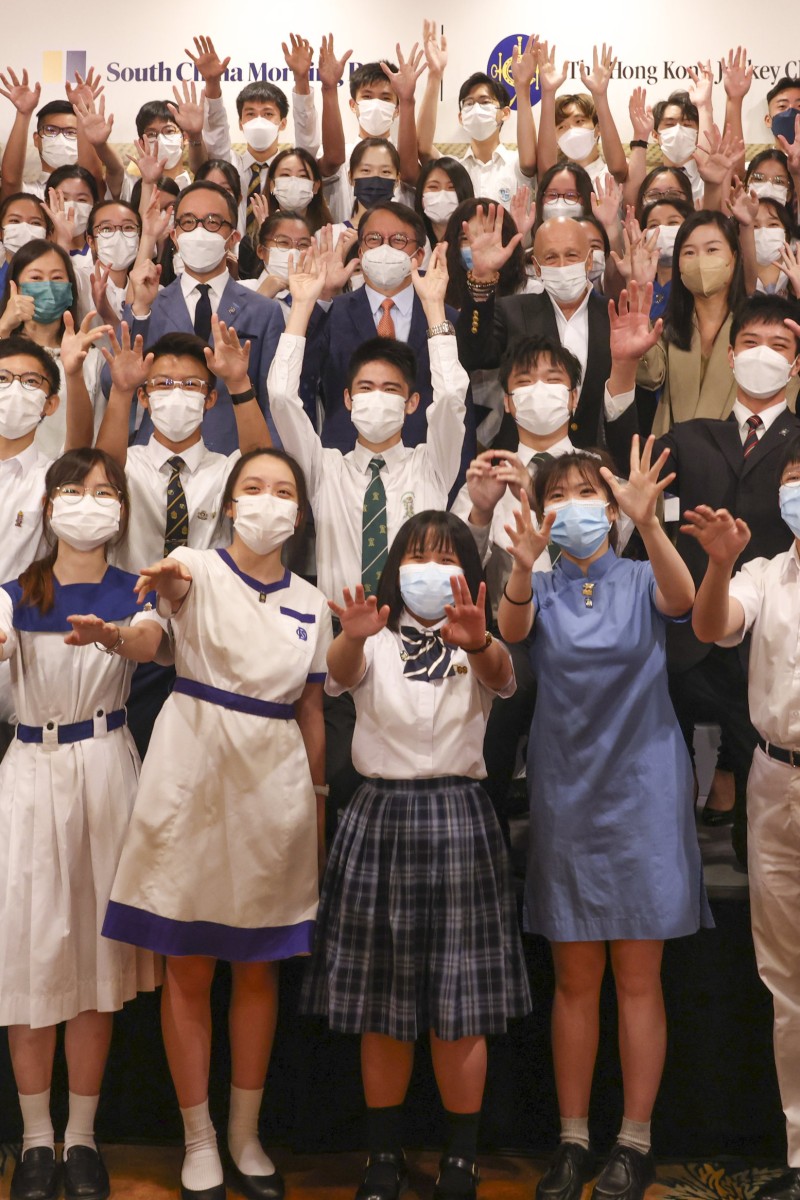 The annual awards celebrate secondary school pupils who have shown academic excellence, outstanding commitment to community service

Nathan Ng of St Paul's Co-Educational College takes home the grand prize and one for science while teen tennis sensation Coleman Wong wins sportsperson award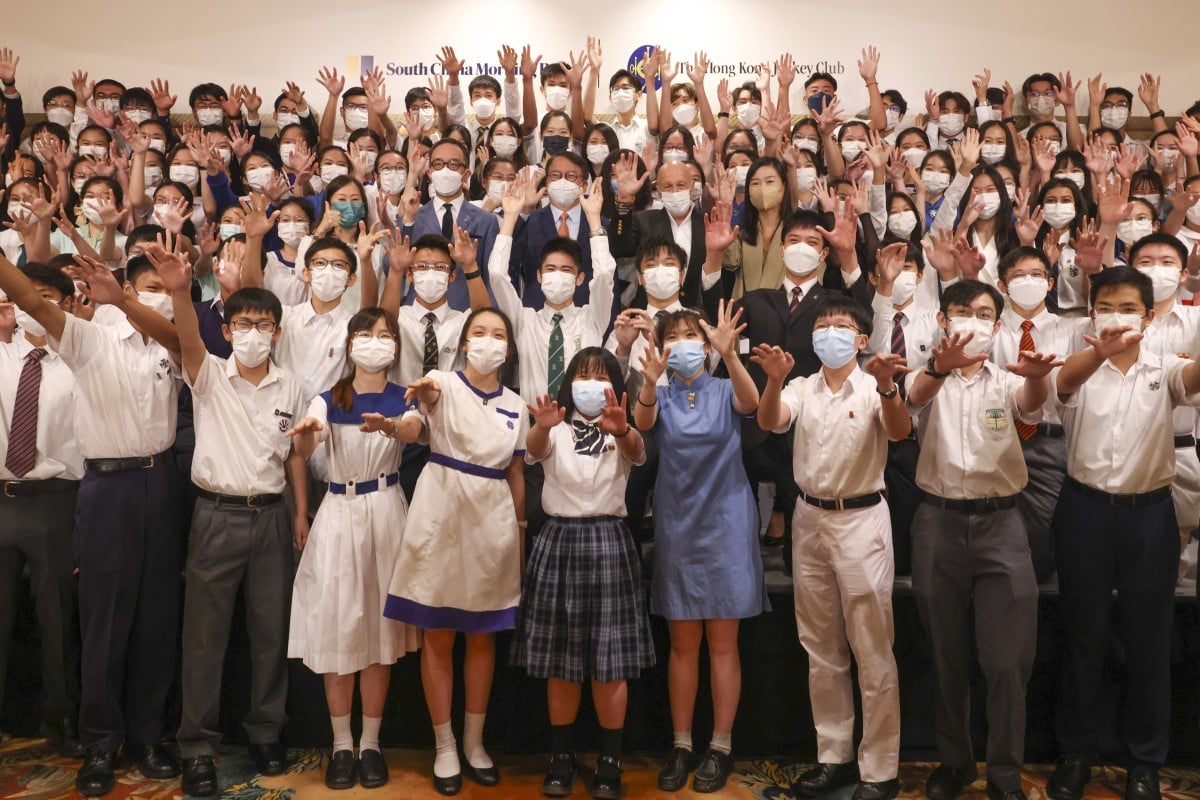 The Student of the Year Awards ceremony was held at the Kowloon Shangri-la hotel on Saturday. Photo: Dickson Lee
Two Hong Kong teenagers who have excelled at science and sports are among 37 winners of the Student of the Year Awards.
The awards ceremony for the annual event, featuring the theme "Together we grow and achieve", was held at the Kowloon Shangri-La hotel in Tsim Sha Tsui on Saturday following a year of challenges brought on by the coronavirus pandemic.
Organised by the South China Morning Post, the awards celebrate secondary school students who have shown academic excellence and outstanding commitment to community service. The awards are solely sponsored by the Hong Kong Jockey Club with support from the Education Bureau.
SOTY 2021: How this year's Grand Prize winner gave back during Covid-19
During the ceremony, the city's No 2 official, Eric Chan Kwok-ki, praised the award recipients, saying they had demonstrated resilience and determination in their education and life.
He said the new administration was formulating a comprehensive blueprint for youth development at full steam based on Chinese President Xi Jinping's address on July 1.
In his speech to mark the 25th anniversary of the city's return to Chinese rule, Xi said Hong Kong's future depended on its young people and he called on the new government to help them overcome difficulties in education, employment, entrepreneurship and homebuying.
Student of the year Grand Prize winner Nathan Ng Leong-hang, 17, speaks via videoconferencing. Photo: Dickson Lee
Chan, the chief secretary, said: "Our objective is to nurture Hong Kong young people to become citizens who are patriotic and with a positive outlook in life, a commitment to society, love for Hong Kong and global perspectives.
"With a can-do spirit, I have every confidence that our young people will bring Hong Kong to scale new heights in the years to come."
Gabriel Leung, the Jockey Club's executive director of charities and community (designate), said it was gratifying to see what the winners had achieved despite coronavirus-related lockdowns and virtual learning since 2020.
"Despite adversity, despite the worst circumstances, we will overcome, and there is only one way and that is up, you will grow," he said.
SOTY 2021: How one winner helped seniors stay connected amid Covid-19
Newly appointed Post CEO Catherine So said education was a key part of society's growth and progress and the company would continue to offer different opportunities to students to unleash their potential.
There would be new challenges and goals to meet as schools reopened.
"It is important for students to remember that they are always part of something bigger -others have stood where they are now, and in the future, there will come a new generation that will look to them for support and inspiration," she said.
The performing artist award went to Enoch Li Yui-ching of Diocesan Boys' School. Photo: Dickson Lee
The awards, entering their 41st year, reward Form Four to Six students for their achievements in nine categories ranging from language and performing arts, to science and sports. This year, a record 646 applications from 133 schools were received.
Nathan Ng Leong-hang, 17, a student at St Paul's Co-educational College, took home the grand prize and also the one for scientist and mathematician. Ng, who accepted his two awards virtually as he is currently taking a summer course at MIT in the United States, said he had devoted himself to science and the city's education had helped him a lot.
He led his school team to an "outstanding" award at the 2021 International Mathematical Modelling Challenge Greater China Regional Contest by building a preparedness evaluation model to analyse health security of a state.
SOTY 2021: Performing arts winner finds joy in spreading music to the community
During the height of the pandemic, he interned with Professor Benjamin Cowling's research team at the University of Hong Kong's School of Public Health, with his findings included in a white paper on local Covid-19 control strategies submitted to the chief executive.
Ng has been granted an unconditional early entry offer by the University of Cambridge to study natural sciences and awarded a full scholarship for four years of study.
He said he aspired to use his abilities to benefit patients with health problems and hoped to return to the city after studying abroad.
"I actually think that Hong Kong has been quite underrated when it comes to research because I feel like Hong Kong has a lot of advantages that people are unaware of … I believe we will be able to be another Silicon Valley as we have our talents match with our resources," he said.
Tennis player Coleman Wong was the winner of the sportsperson award. Photo: Dickson Lee
Teenage tennis sensation Coleman Wong Chak-lam, meanwhile, took the sportsperson award. After notching up two junior grand slam titles in the boy's doubles, 18-year-old Wong became the first Hongkonger to appear in the quarter-finals of the boys' singles at Wimbledon in July.
He said he was surprised and delighted to see support from the public flooding in, adding that he would remain humble and hardworking in training. "I wasn't in Hong Kong last year, but I miss Hong Kong a lot," said Wong, who is currently on a one-month summer break in town.
Wong said he was in preparation for representing Hong Kong at the 2024 Paris Olympics and hoped to reach a career-high ranking of 350 or above in the singles.
SOTY 2021: How one winner hopes to raise awareness of eating disorders through film
"Every time I get a prize in a competition, I would think people may encourage their children to play this sport because they saw my experience and performance. I hope tennis will be more popular in Hong Kong," he said.
Meanwhile, Ceon Yan Tsz-soen, who returned to school after chemotherapy and overcoming depression and anxiety, was among the five winners in the best improvement category.
Among other winners in the category were Heison Cheung Ka-hei, a Form Six student who transformed from a troublesome pupil to become part of his school's volunteer team, and 18-year-old Areeba Afrah, who was left stranded in Bangladesh by the pandemic and made up for lost study time by helping with community projects.
Sign up for the YP Teachers Newsletter
Get updates for teachers sent directly to your inbox
Sign up for YP Weekly
Get updates sent directly to your inbox