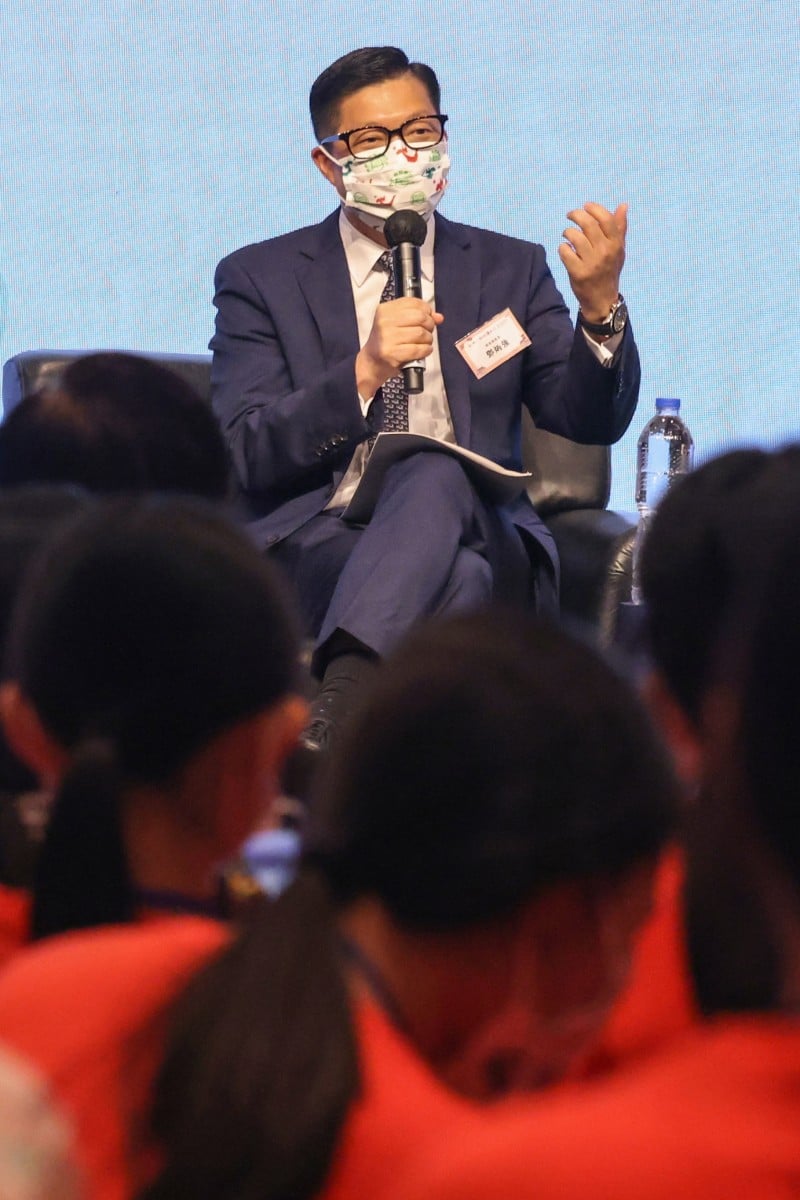 Secretary for Security Chris Tang says many young people had wrong ideas about country and city government during 2019 social unrest and had to 'bear the legal consequences'

Tang urges students to learn about national security, country's history and development to avoid being divided by foreign forces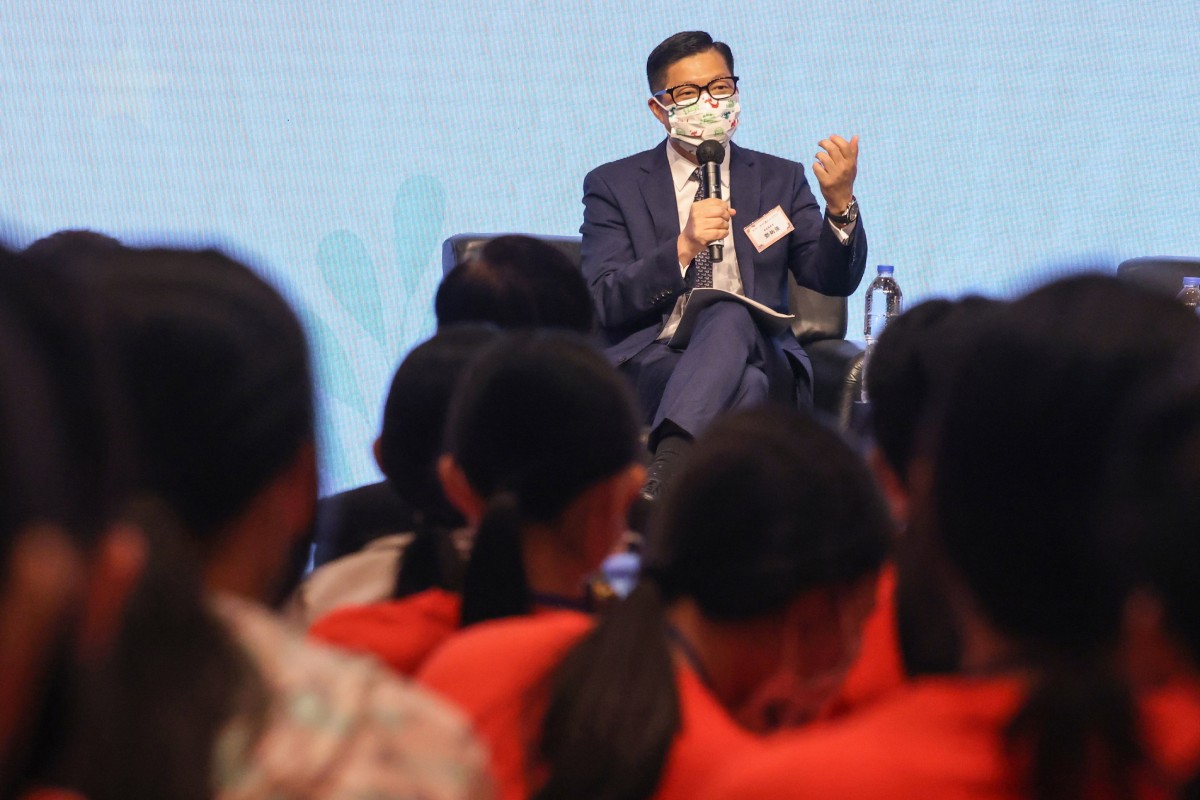 Secretary for Security Chris Tang during an event for secondary school students at the Hong Kong Book Fair 2022 on Sunday. Photo: Nora Tam
Young Hongkongers should learn about China's history and development to cultivate their national identity and avoid being divided by foreign forces trying to suppress the country, the security chief has said.
Secretary for Security Chris Tang Ping-keung, who was at a sharing session with about 250 secondary school students at the Hong Kong Book Fair on Sunday, said many young people had wrong ideas about the country and city government during the 2019 unrest, and had been encouraged to resort to violence and commit crimes.
"Foreign forces, to maintain their dominance, worked together to affect China's peaceful development and carried out the colour revolution in Hong Kong to affect our country's stability," he said. "The entire society suffered as a result. Many of our young people had to bear the legal consequences and face years of imprisonment."
Why Hong Kong's new textbooks for secondary schools have stopped calling the city a British colony
Tang said Western countries made use of geopolitics to play their zero-sum game and Hong Kong must stay prepared against being used by them to threaten national security.
Students from 19 secondary schools took part in the event named "Fun Reading Day" on Sunday. It was organised by the pro-establishment Hong Kong Chinese Importers' and Exporters' Association and the Hong Kong Federation of Education Workers.
The theme of this year's event was "Hong Kong stories", aimed at letting students learn more about – and contribute – to the city and the country. It was co-organised by the book fair, which lasts until Tuesday.
The security chief has urged students to learn about China's history and development. Photo: Nora Tam
Tang urged the students to recognise the nature of foreign forces and their "colour revolution", which used excuses including democracy to topple governments that refused to play along with them for their own interests.
The key to avoiding social division was for students to learn about China's history and development, Tang said, so that they could cultivate national identity and be proud of being Chinese.
"Students should learn about national security and avoid being divided by foreign forces," he said. "They can express different opinions, but must be law-abiding and cannot resort to violence or break laws."
Hong Kong police, think tank publish teaching guides to boost national identity
Tang said there were various ways to achieve democracy, and people should not be constrained by a single perspective of it.
"If Hong Kong people resort to violent revolutions to achieve the so-called democracy, to destroy our economic and social stability, it will only end with the city's loss, with democracy far beyond reach," he said.
One child of a member of the fair organisers who was not part of the audience asked Tang how primary school pupils could help maintain national security. The minister said they should avoid being divided, and "be of one mind in wanting Hong Kong and the country to prosper".
Secondary school students at the sharing session at the Hong Kong Book Fair on Sunday. Photo: Nora Tam
A Scientia Secondary School student asked in Mandarin how young people could contribute to the country. Tang said it was important to understand more about China through education and learn from Confucianism to better themselves and "not invade others".
After the event, Tang visited the booths of the disciplined services, including the fire services, immigration, customs and excise, correctional services and police at the book fair, and talked to staff and visitors.
He bought eight books at the fair, including five either written by Chinese President Xi Jinping or centred on his speeches and thoughts, such as Xi Jinping: The Governance of China IV.
Hong Kong leader points to teachers for youth 'failing to grasp' mini-constitution
Yau Tsim Mong district councillor Leo Chu Tsz-lok, the Democratic Party's spokesman on education policies, said Tang's version of the events in 2019 was one-sided and lacked evidence.
Chu said his party did not oppose national education, but trying to force it upon students would only lead to resistance. History should be objectively taught, with teachers free of political pressure, he said.
Sign up for the YP Teachers Newsletter
Get updates for teachers sent directly to your inbox
Sign up for YP Weekly
Get updates sent directly to your inbox