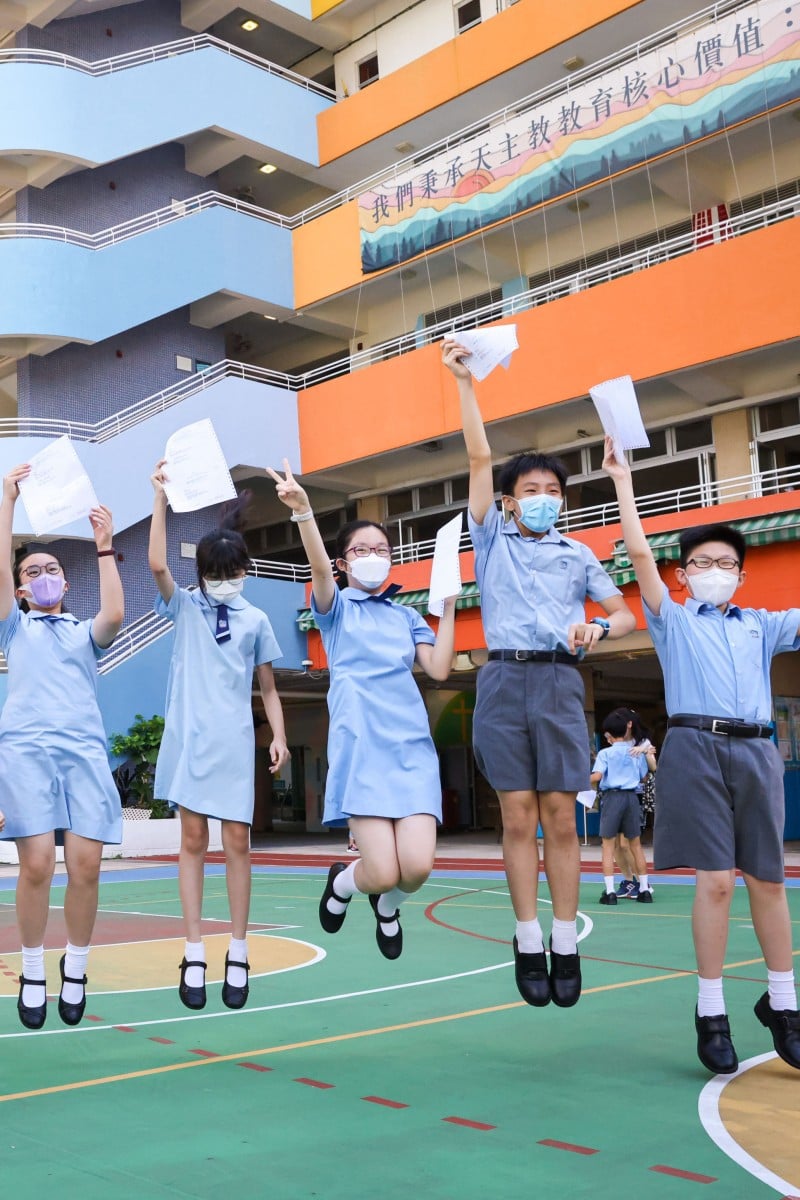 More than 41,000 Hong Kong pupils have been allocated their first choice of secondary school by centralised system

Registration period takes place this Thursday and Friday and students must report to their allocated schools within these two days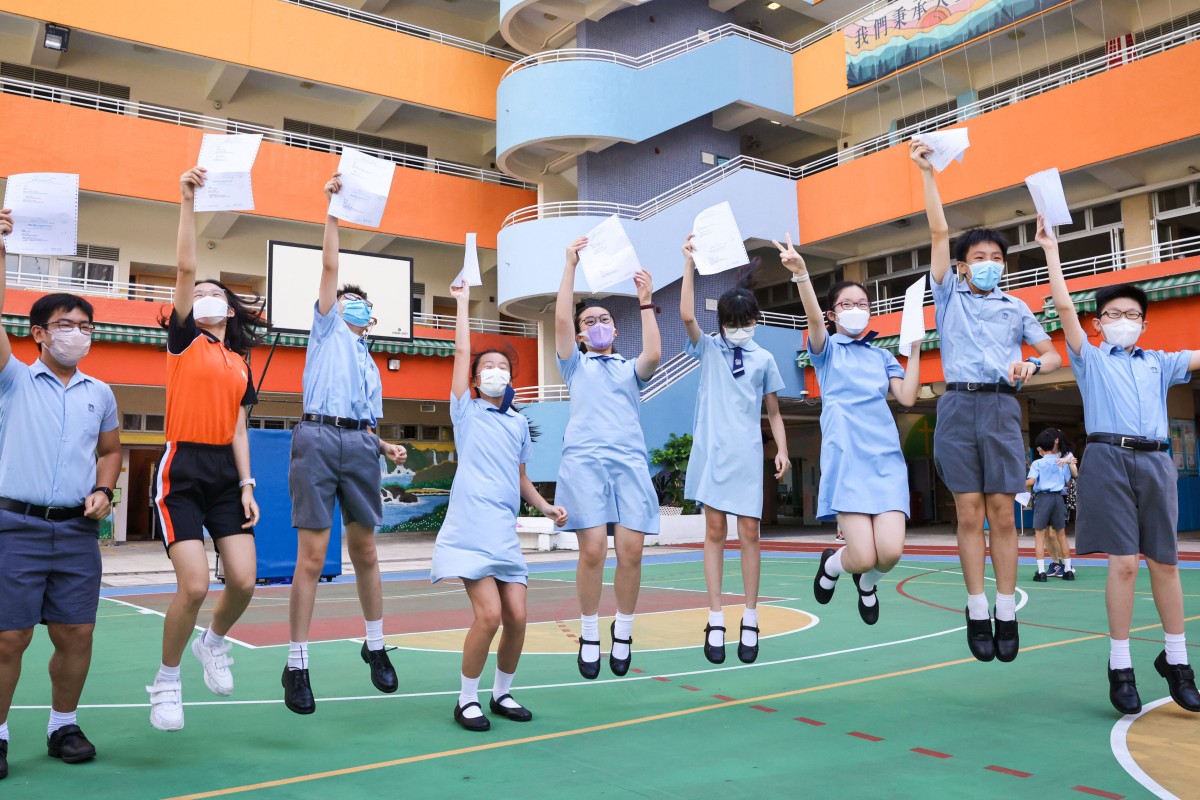 Students at Yaumati Catholic Primary School (Hoi Wang Road) jump for joy after collecting the allocation results. Photo: K. Y. Cheng
Nicholas Yeung Chin-wang and his classmates shouted for joy when they learned they got into their secondary schools of choice in Hong Kong on Tuesday morning, saying their hard work had paid off after months of switching between campus and remote learning because of the Covid-19 pandemic.
The 12-year-old pupil at Yaumati Catholic Primary School (Hoi Wang Road) said he could not sleep on Monday night.
"When I was taking the lift back to my classroom [on Tuesday morning], I started getting nervous. All my hard work paid off," he said, adding that he spent two months to prepare for each exam.
Percentage of Hong Kong pupils getting into secondary school from their first 3 choices hits record high
His mother said she was "very thrilled" about his son's result. "There are quite a lot of uncertainties due to the pandemic, so I am very happy that he got into the first choice school," she said.
Nicholas was among the 83 per cent, or more than 41,000 Hong Kong pupils, allocated their first choice school, up 2 percentage points from last year. Ninety-four per cent of pupils were allocated one of their top three choices for secondary schools.
At his school, Clara Pang Hong-ching, 11, also got her first choice and was happy with the result. She had visited the book fair the previous day to relax. "Self-discipline was very important when studying during the pandemic," she said.
Most pupils are happy with the allocation results. Photo: K.Y. Chen
Her mother, Katherine Poon Yat-yu, 40, said Clara and her friends had organised study groups to help each other during class suspensions due to the pandemic.
The Education Bureau on Monday said 49,448 eligible Primary Six children joined the secondary school places allocation system for the 2022-23 academic year.
This year's satisfaction rate was the highest since the system was revamped in 2007, with the school sector generally attributing the high figure to a shrinking student population and an emigration wave leading to less keen competition.
"This year's result is undoubtedly better than last year," said Polly Chan Shuk-yee, principal of Nicholas and Clara's school. Chan said the current emigration wave was one of the factors leading to the good results, adding that about 10 Primary Six pupils left in this school year.
Secondary schools in Hong Kong appeal for reduction in class sizes amid fall in student numbers
More secondary school places also became available as many mainland Chinese students were unable to come to Hong Kong to study due to restrictions at the border, she added.
The school recorded a new high in the allocation results, with 94 per cent of its 138 pupils getting into one of their top three choices, compared with 89 per cent of roughly 150 pupils last year.
"I think the results in the coming two or three years will be similar, but whether we can have a higher number [of students entering one of their top three choices], so far we can't see any strong factors that can cause such results," Chan said.
Enrolment slumps at Hong Kong's direct subsidy scheme secondary schools
Yuki Wong from Fong Shu Chuen Primary School was among the 6 per cent of pupils who did not get into any of her top three choices. The 13-year-old got her ninth or 10th choice – she could not say exactly which as she was in a rush looking for a better alternative.
Her disappointed mother, Kwok Ping-ping, 36, said she had "no idea" why Yuki did not get any of her top three choices as she was ranked as a top 10 student in school.
"Maybe we are not lucky enough," Kwok said. Yuki had attended walk-in interviews in two schools in the morning and would go to another on Wednesday.
Hong Kong parents say competition is waning for school places due to emigration wave
Ng Wing-hung, principal of Buddhist Lim Kim Tian Memorial Primary School, noted that the 17 per cent of students, or about 8,400, who did not get their first choice this year could still look for their "most preferred school". Most schools will have vacancies every month because of emigration or students withdrawing to go to other ones.
"I think the 'musical chairs' will last longer than before, even throughout the year," he said.
Pupils were allocated places at local secondary schools in two stages. In the first phase, students were granted school places based on factors such as their academic and interview performance, and those results were released in May. The rest, about 70 per cent of the students, had to take part in the computer-based central allocation.
Emigration's drain on Hong Kong schools
In that stage, children could apply to three schools outside their "school nets" and choose up to 30 within their catchment areas. Students will approach schools directly in search of alternatives.
Primary Six students taking part in the system must return to their schools on Tuesday to collect allocation and admission slips.
The bureau said the registration period would take place on Thursday and Friday this week and students must report to their allocated schools within these two days.
Sign up for the YP Teachers Newsletter
Get updates for teachers sent directly to your inbox
Sign up for YP Weekly
Get updates sent directly to your inbox