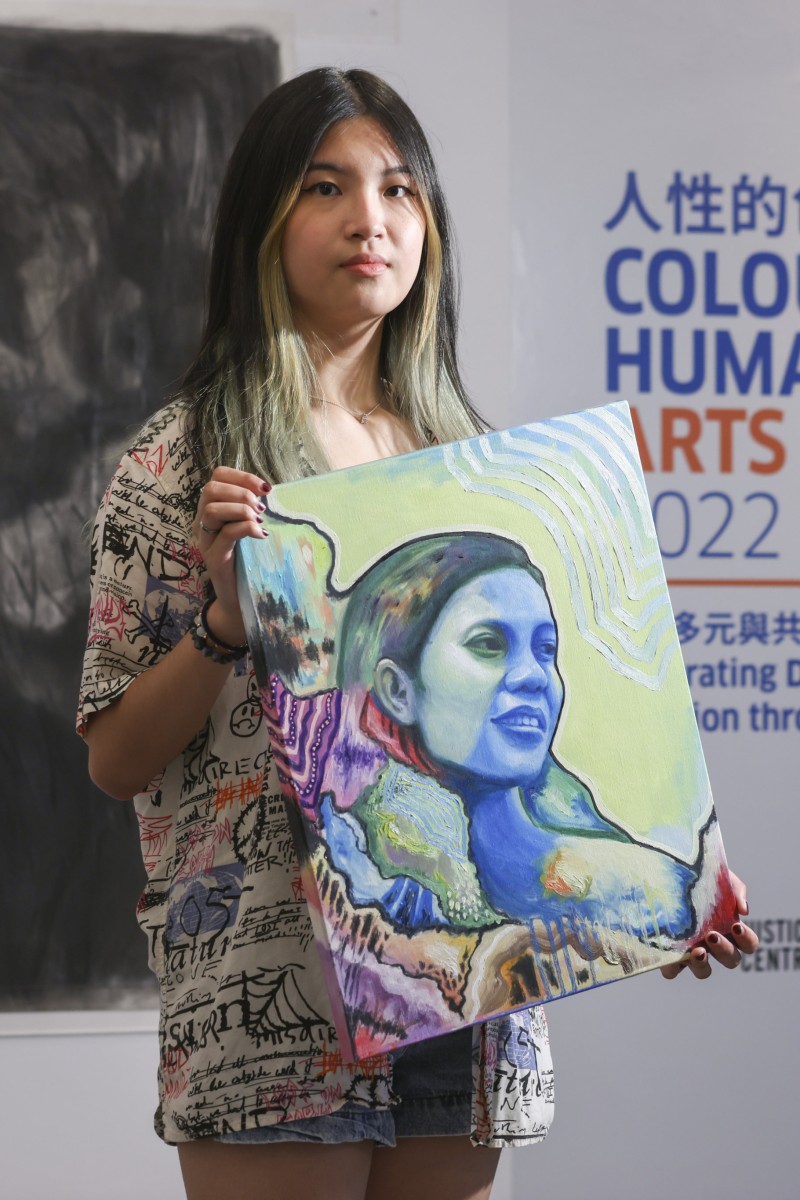 Teen wins award in Justice Centre Hong Kong's Arts Prize for portrait of Contrinx, a domestic worker and YouTuber
Cheryl Lai, 18, is the winner of the Youth Award category in this year's Colours of Humanity Arts Prize, and she explains why she paints about social issues

Every week, Talking Points gives you a worksheet to practise your reading comprehension with questions and exercises about the story we've written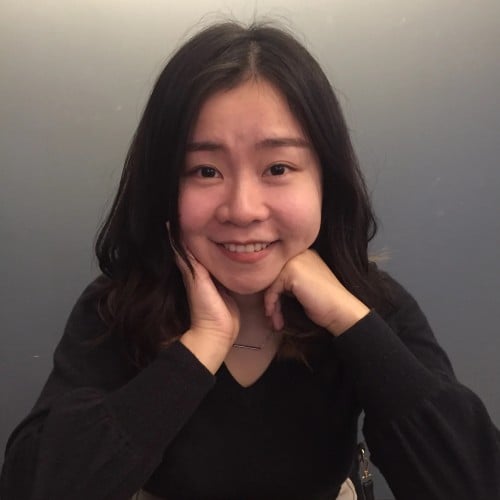 Kelly is a journalist from Hong Kong. She joined the Post in 2018, where she writes about Hong Kong's arts and culture, social welfare and the environment. She has a master's degree in Journalism from the University of Hong Kong.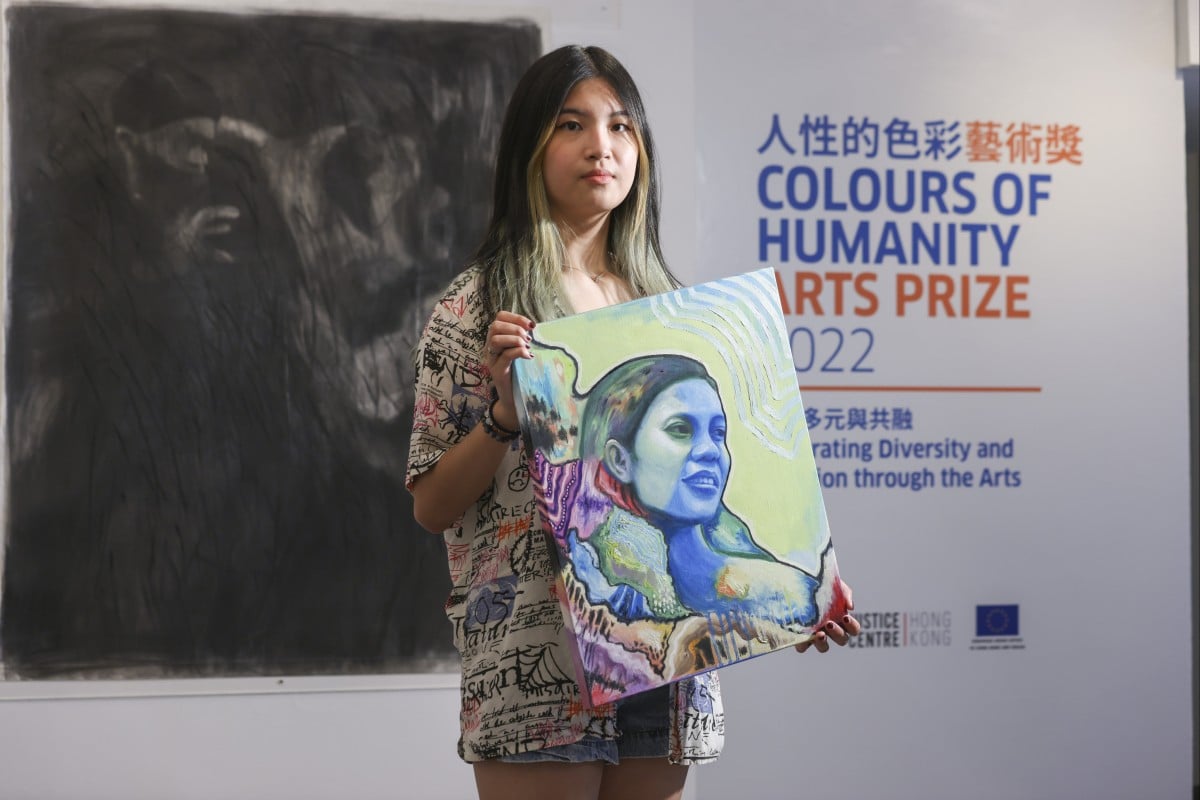 Cheryl Lai holds her painting of Contrinx, who made viral videos reprimanding Hong Kong employers for exploiting domestic workers like herself. Photo: Dickson Lee
During Hong Kong's fifth wave of coronavirus cases, student artist Cheryl Lai came across videos in which Contrinx, a migrant domestic worker in the city, reprimands employers for exploiting their domestic workers. Spurred to action, the 18-year-old artist decided to use her paintbrush to speak up about this issue.
In March, Cheryl crafted a portrait of Contrinx, paying tribute to the Indonesian YouTuber who spoke up about the oppression her community was facing. In June, the teen artist won the Youth Award category in this year's Colours of Humanity Arts Prize.
For the student from Li Po Chun United World College of Hong Kong, art is more than just visually aesthetic paintings – it has the power to create social change.
"I want to show that domestic workers ... have emotions, just like any of us. So because they're from a community that is different from us does not mean that they deserve to be treated differently," Cheryl explained.
Photo exhibition shows how Hong Kong ethnic minority youth picture belonging
"And I also want to tell ... domestic workers that there are people like us who support them, who recognise their struggles and do admire them."
Before she started her painting, Cheryl reached out to Contrinx on social media and asked her about the challenges the city's domestic workers faced under the pandemic and how little help they received from the government.
"I really admire her ... because in Hong Kong, very few domestic workers have the chance or the guts to talk about their own opinions," Cheryl said, adding that Contrinx not only filmed videos for YouTube, but also gave advice and solace to other domestic workers.
During their phone conversation, Cheryl asked if she could paint a portrait of Contrinx, who gave her consent to be featured in the teen's art.
The vibrant portrait, titled Contrinx, is imbued with colours that show the artist's message. Cheryl explained that the blue paint on Contrinx's face symbolised inspiration and wisdom, while the green was meant to invoke a call to action.
"We're not perfect, and that is the beauty of being human ... I use that as the rationale of the splatter paints," said the young artist who plans to study illustration abroad after taking her International Baccalaureate exams next year.
The student artist is one of six winners in this year's Colours of Humanity Arts Prize, which emphasises the celebration of diversity and inclusion through arts. This competition was established in 2013 by Justice Centre Hong Kong, an NGO which helps refugees and vulnerable migrants in the city.
In the description for Contrinx, Cheryl writes: "As we live in a society where the workers are regarded as the inferior community, not many people [in Hong Kong] are aware of what domestic workers are going through."
No home away from home for domestic workers fired after contracting Covid
Preston Cheung, Senior Advocacy and Communications Officer at Justice Centre Hong Kong, highlighted that the words used to address migrant workers affected how people thought of them.
"Foreign domestic helper" is the term widely adopted by Hong Kong's Labour Department and Immigration Department to describe this group of some 400,000 workers. But Cheung disagreed with this terminology.
"The word 'foreign' carries the meaning of 'alien', which rejects this community as part of our society ... and 'helper' suggests 'free or voluntary help'," he explained, adding that the organisation would use "domestic worker" instead.
"The word 'worker' would suggest that they are entitled to workers' rights as much as we [are] ... That is why we use this term in our communications – to propagate a message that they are not foreign, first of all, and they definitely deserve the treatment of ordinary workers."
Cheryl Lai says the colours used in her painting reflect her message about domestic workers in Hong Kong. Photo: Courtesy of Colours of Humanity Arts Prize 2022
This message about equality is something Cheryl hopes others can see in her work, as she believes art allows for a more empathetic understanding of social issues.
"The good thing about art is that ... you do not need to learn a certain language to understand art," she said.
"That is why I like representing social issues within my painting because you can convey whatever messages you want with visual elements."
Your Voice: Domestic workers deserve pay rise (short letters)
The teen artist said one of her goals was to depict the vulnerable sides of humanity. Her desire to create art about social issues stems from struggles she has faced.
"When I hit a low point and my mental health wasn't the best ... this period of time gave me a new perspective in seeing things and inspired me to create art about the different sides to humanity," she shared.
"I started becoming more aware of issues surrounding mental health first because that was what I had exposure and experience with, and then slowly I became aware of other issues that ... could be addressed in my pieces."
How this 13-year-old artist translates her emotions onto the canvas
Cheryl's next artwork will be about how the coronavirus pandemic affected young people.
"As a teenager, I do feel like the pandemic has taken away a lot of my youth. So I want to talk about how it felt like it was stolen from us, especially because we weren't allowed to do almost everything," she said.
Asked if she has any words for aspiring artists in the city, she responded: "Do not be afraid to try."
"You will not know whether you'll be good at it or whether you like something if you do not try."
Click here to download a printable worksheet with questions and exercises about this story. Answers are on the second page of the document.
Sign up for the YP Teachers Newsletter
Get updates for teachers sent directly to your inbox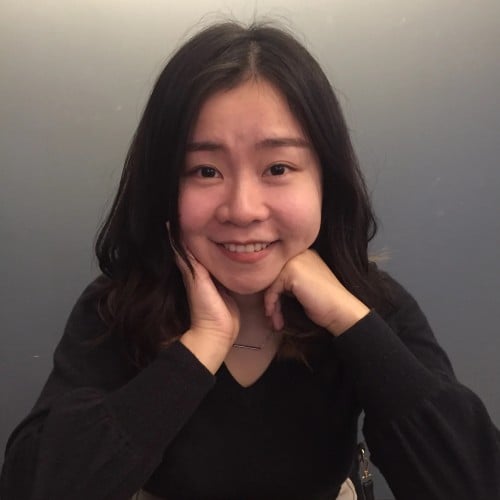 Kelly is a journalist from Hong Kong. She joined the Post in 2018, where she writes about Hong Kong's arts and culture, social welfare and the environment. She has a master's degree in Journalism from the University of Hong Kong.
Sign up for YP Weekly
Get updates sent directly to your inbox