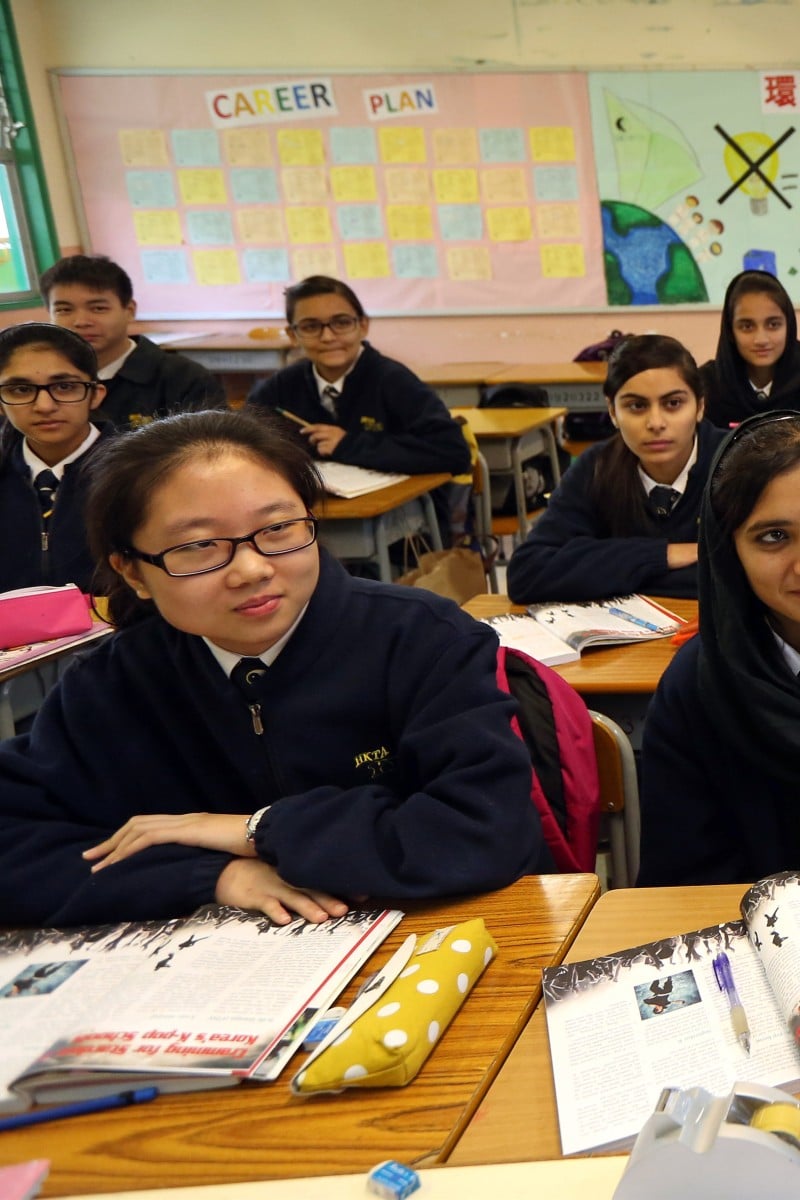 Students say lessons are at such a basic level, they have neither confidence nor ability to aim higher

Hard to teach such a wide mix of students, say teachers, calling for clearer direction, incentives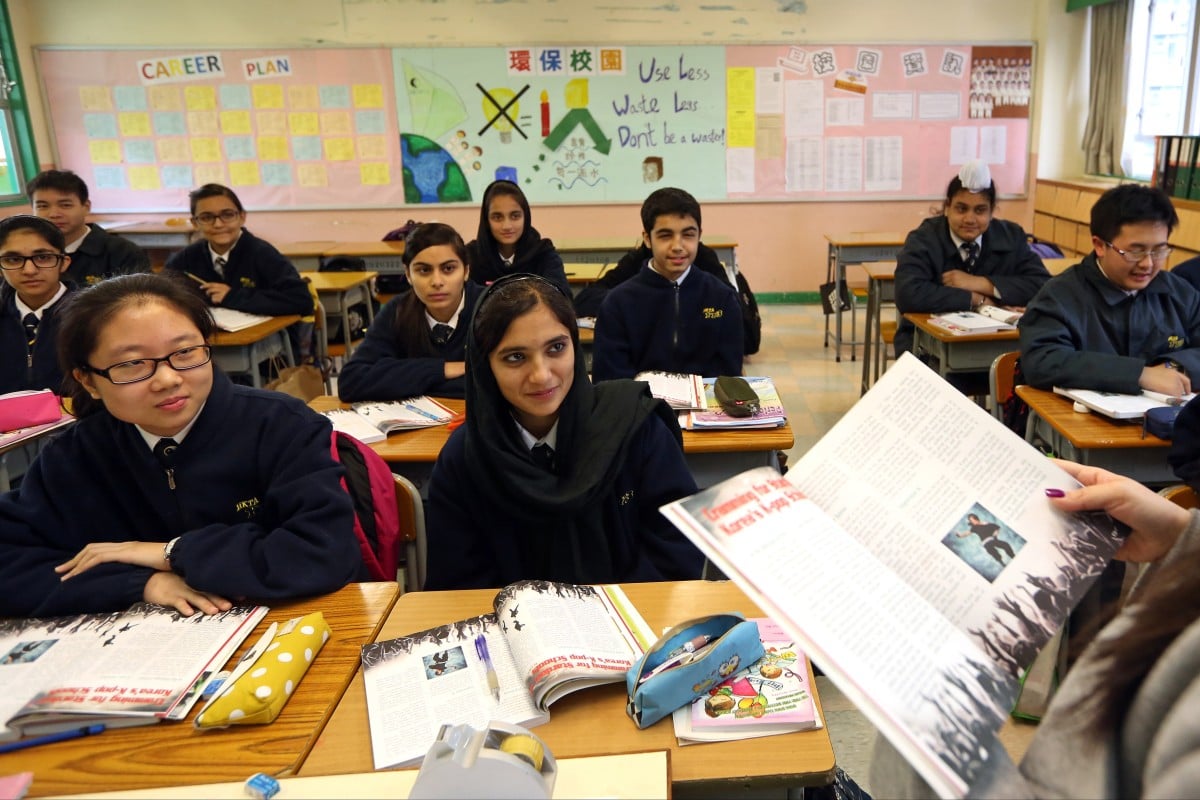 Teachers and students say obstacles in Hong Kong's education system have slowed down ethnic minority pupils in their learning of Chinese. Photo: SCMP
Jerusha Bal, 21, attended Chinese lessons throughout primary and secondary school in Hong Kong, but admits that she is neither proficient nor confident in speaking the language.
She recalled lessons conducted at only a basic level throughout her school days, and although she passed the IGCSE exam, she has only a limited command of Chinese.
"Our foundation was so poor that our teachers never thought we could do the DSE Chinese exam," she said, referring to the higher level Diploma of Secondary Education examinations.
Children of asylum seekers struggle with Chinese lessons during Covid-19
Now an English language tutor, Bal is Indian and came to Hong Kong with her parents when she was a toddler.
Like her, most ethnic minority pupils – referred to as non-Chinese speaking (NCS) students by the Education Bureau – struggle with Chinese and manage to sit only the lower level IGCSE exam or give up along the way.
In the mix are pupils from Pakistan, Nepal, India, the Philippines and other countries, and their number rose from 31,414 in 2015-16 to 33,063 in 2021-22, or nearly 4 per cent of all students.
Jerusha Bal received her primary and secondary education in Hong Kong. Photo: K.Y. Cheng
Teachers interviewed by the Post said it was especially challenging to teach Chinese to this group, whose multiple ethnic backgrounds demanded more creativity and attention.
Chinese teacher Lee Yin-fong of ECF Saint Too Canaan College in Kwun Tong, which started admitting NCS students five years ago, said the biggest challenges were the lack of suitable teaching materials and a comprehensive curriculum.
The Education Bureau provided only a learning framework, setting teaching objectives and expected outcomes for NCS students. In a report released in March last year, the government's Audit Commission flagged difficulties faced by students and teachers and said more could be done to teach Chinese more effectively to this group.
Pakistan-born student aims to add dash of diversity to Hong Kong's financial world as she earns place at HKU
Although funds were available for NCS education, it said schools were slow to apply for funding and not sufficiently encouraged to do so. It also found not enough supervisory visits to check on teaching in schools, and a lack of professional development for the teachers involved.
It suggested closer supervision and monitoring of schools' use of available funds, more training for Chinese language teachers and more support programmes for NCS students.
NCS students used to attend 31 designated schools – 20 primary and 10 secondary – until that practice was stopped in 2013 after being criticised as "segregationist". Since then, the bureau has encouraged all schools to take in ethnic minority students, providing them funding and the learning framework for Chinese lessons.
ECF Saint Too Canaan College teachers Lee Yin-fong (left) and Sun Ka-wa. Photo: Xiaomei Chen
When Salesians of Don Bosco Ng Siu Mui Secondary School in Kwai Chung was a designated school, ethnic minority students made up 25 to 30 per cent of its enrolment.
Ng Ka-yan, who runs the school's Chinese department, said NCS funding enabled it to hire more teachers who produced materials to meet the aims of the learning framework.
She said the current framework appeared vague, but it was hard to develop a curriculum for such a mixed group. "We tried very hard, but no man can develop a comprehensive curriculum to cover so many different groups," she said, adding that the problems of NCS education were deep-rooted and needed time to be solved.
Vague guidelines blamed for Hong Kong schools' failure to develop ethnic minority students' Chinese language skills
Urging Hong Kong's new administration to "listen more" to frontline teachers, she said: "The authorities can help establish systematic ways for us to share our experiences. Many schools have built up great materials for NCS education, but we don't have a platform to share."
Chinese teacher Sun Ka-wa of ECF Saint Too Canaan College said educators needed more incentives to attend training in NCS education. "Most won't go for NCS teaching training unless being the coordinator of NCS education in schools is valued, and they receive a wage increase or something similar," he said.
John Tse Wing-ling, executive director of Hong Kong Unison, an NGO focused on ethnic minority communities, told the Post the lack of an overall policy direction for NCS education remained an obstacle, likening the situation to "a puzzle without instructions".
ECF Saint Too Canaan College faculty teachers. Educators have said a lack of suitable teaching materials and a comprehensive curriculum are the main challenges in teaching Chinese to ethnic minority students
He said a learning framework was not the same as having a proper policy with a clear direction, planning and allocation of resources.
The group released a study last December, noting that Canada, Finland and Germany had policies to ensure students from ethnic minority backgrounds received sufficient language instruction to help them integrate fully into society.
Unison communication officer Pete Cheng Juk-hei said he hoped officials would do more to evaluate NCS teaching, including tracking the progress of students, their proficiency in the language and how many were able to sit the DSE Chinese exam.
Ethnic minority students on challenges of Hong Kong's university entrance exam, how they work towards their dreams
Responding to queries from the Post, the Education Bureau said it had solicited teachers' views to refine the learning framework and it would take time for the changes to take root.
"It is therefore neither possible nor appropriate to assess the effectiveness of the measures solely based on the improvement in the Chinese proficiency of NCS students," a bureau spokesman said.
University student Abdul Rahman Fahd Wavoo, 21, said he wished he had done better in Chinese while in school. He passed the IGCSE Chinese exam, but said he had only a limited vocabulary and was not fluent in the language.
Recognising the importance of Chinese in a city such as Hong Kong, he said: "It can be the differentiating factor in whether someone lands a job. Communicating well in daily life is a big factor in connecting Hong Kong as a whole."
Sign up for the YP Teachers Newsletter
Get updates for teachers sent directly to your inbox
Sign up for YP Weekly
Get updates sent directly to your inbox