Studies show reinfection in recovered patients may increase risk of death, admission to hospital and complications in different organs

According to city's vaccination guidelines, adults aged 18 to 59 with higher risk and who have received two doses of vaccine before catching the virus, may choose to receive their third shot six months after infection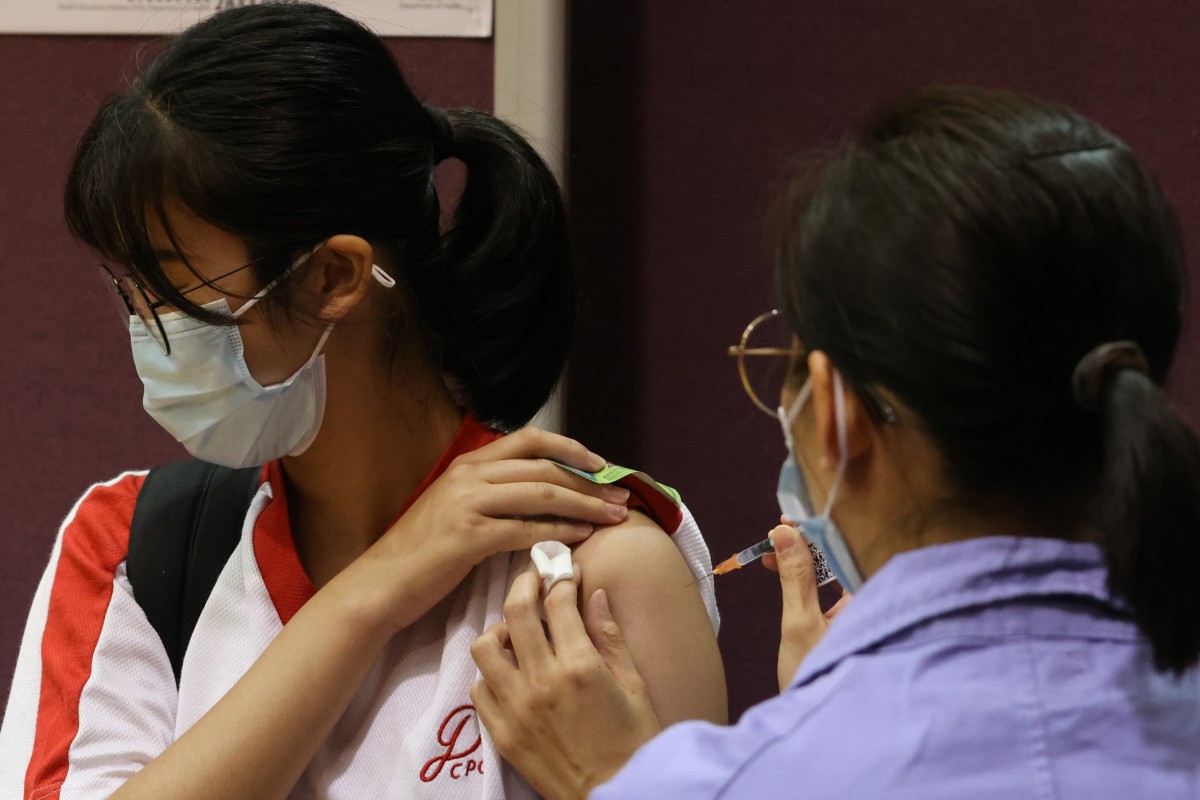 Hongkongers who have recovered from Covid-19 should still get three doses of vaccine, says expert. Photo: May Tse
People who caught Covid-19 in Hong Kong's fifth wave of cases had less antibody protection after three months, a top hospital pharmacist has warned, urging recovered patients to get their next dose of vaccine to prevent reinfection associated with a higher risk of death.
William Chui Chun-ming, president of the Society of Hospital Pharmacists, said in an interview on Monday that neutralising antibodies produced by Covid-19 infection could not replace the ones from vaccines, and were not enough to tackle Omicron variants BA4 and BA5.
He said studies had shown that reinfection in recovered patients might increase the risk of death, admission to hospital, and complications in different organs.
What is 'hybrid immunity' and how might Hong Kong benefit from it?
"People think that being infected is some sort of 'windfall' because they don't need to get vaccinated temporarily and have exemption from mandatory testing," Chui said, stressing Omicron strains were able to evade immunity, resulting in potential reinfection.
According to the city's vaccination guidelines, adults aged 18 to 59 with higher risk or personal need and who have received two doses of vaccine before catching the virus, may choose to receive their third shot six months after infection. He said the window could be shortened to enhance immunity.
"The neutralising antibody level from infection will go down after three months, while the antibody level by vaccination can last for six months, the recovered individuals should take the required dose without waiting [for a second-generation vaccine]."
William Chui, president of the Society of Hospital Pharmacists. Photo: Oscar Liu
Chui said some fifth-wave patients were reinfected, without revealing any numbers, warning severe outcomes might be more common with Omicron variants.
He cited a study from the United States that used the health records of more than 5.64 million people provided by the US Department of Veterans Affairs. The study population was broken down into about 250,000 participants with at least one documented Covid-19 infection.
Among those who had experienced reinfection, about 36,000 people had two infections and 2,200 people had three, while 246 patients had four or more. The median time between the first and second infection was 79 days, and 65 days between the second and third.
Hong Kong could have own Covid-19 policies without copying mainland, quarantine-free travel by November, new health minister says
The study also found that those with two or more documented infections had more than double the risk of dying and three times the risk of being admitted to hospital within six months of their last infection. They also had higher risks of lung and heart problems.
The Post has contacted the Department of Health for the latest reinfection numbers for fifth-wave patients. The Centre of Health Protection said the numbers were very low last month, according to respiratory medicine expert Dr Leung Chi-chiu.
Health officials on Monday reported 4,254 new Covid-19 cases, 235 of which were imported, and six virus-related deaths. A 22-month-old infected girl died after falling into critical condition last week, while a 35-month-old boy tested positive.
Chui expressed concerns for children aged three to 11 and the elderly aged 80 or above, with 25 per cent and 30 per cent respectively currently unvaccinated.
He welcomed the government advisers lowering the vaccine age to six months, because they were also a high risk group.
"By doing so, the herd immunity can be significantly improved," Chui said.
Sign up for the YP Teachers Newsletter
Get updates for teachers sent directly to your inbox
Sign up for YP Weekly
Get updates sent directly to your inbox