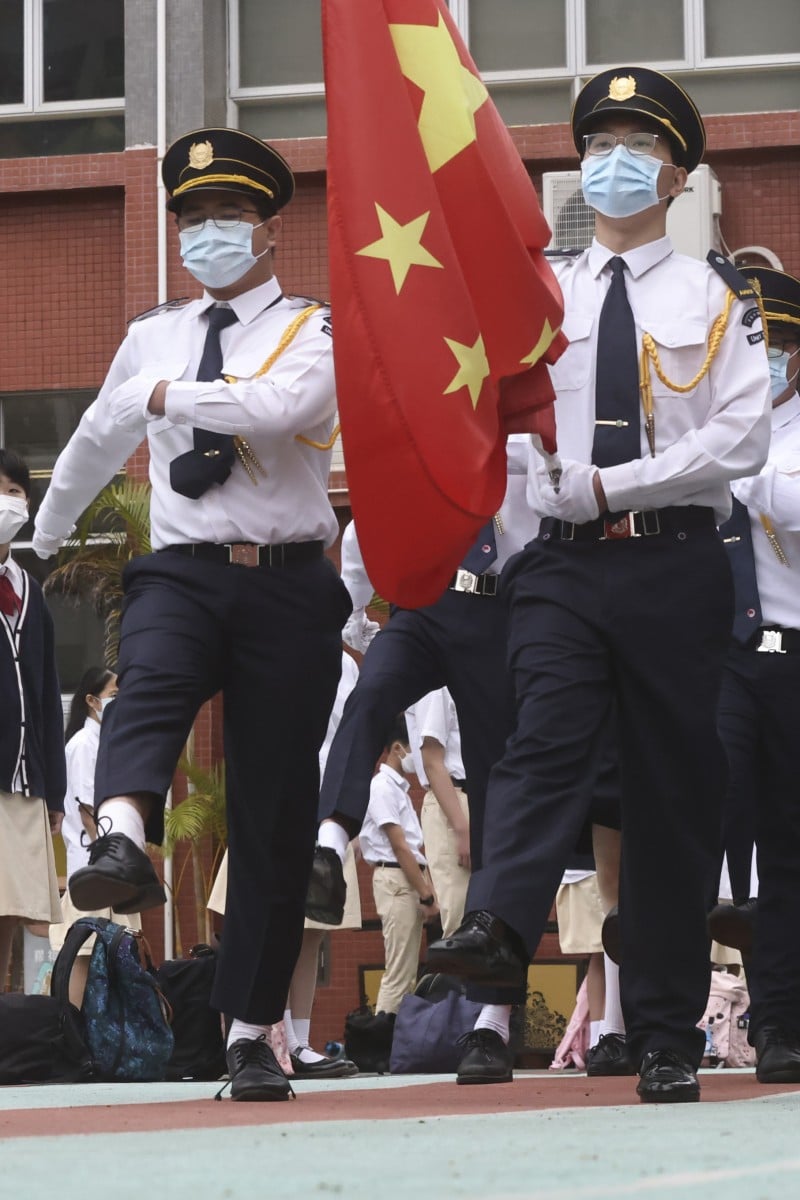 Five more 'key dates', including Martyrs Day, July 7 Incident Memorial Day and Chinese People's Liberation Army Day added on top of original 13 on national education calendar

Move sparks concern from sector over teachers' workload and possibility of alienating students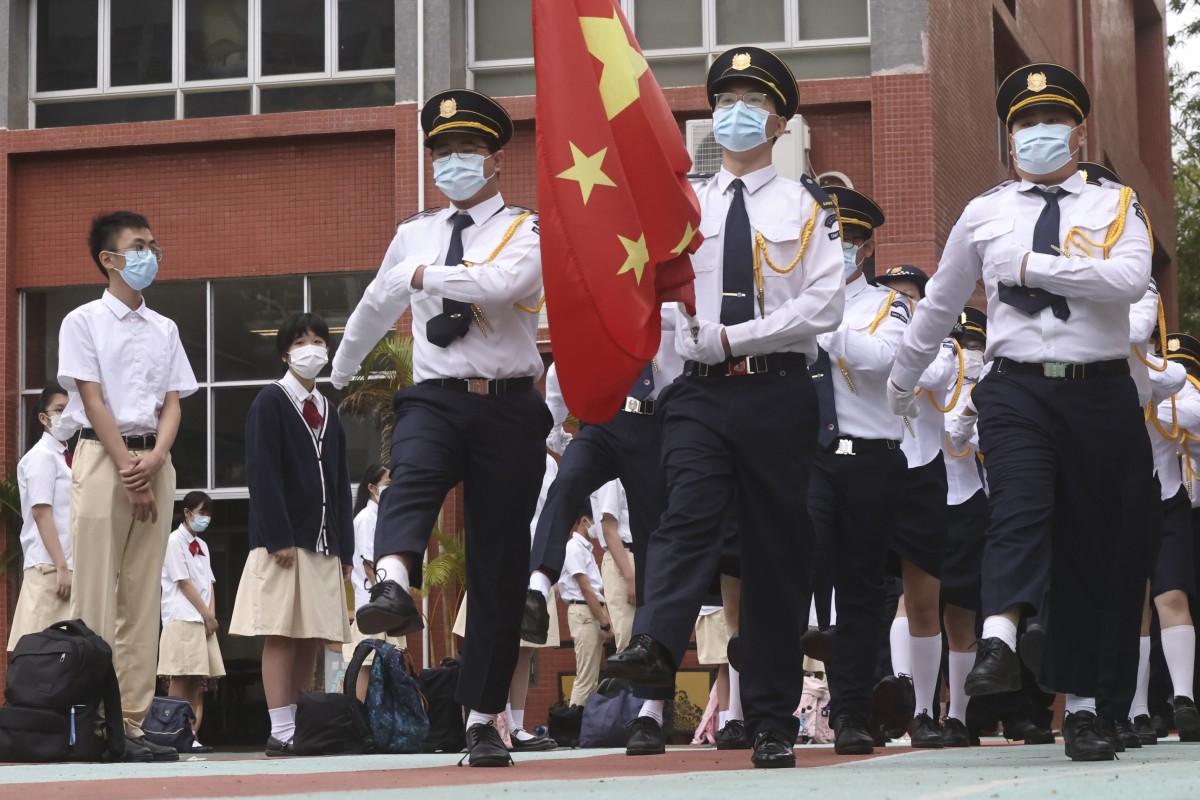 The Education Bureau has announced a slew of guidelines to foster national education in Hong Kong schools, including mandatory national flag-raising ceremonies which came into effect early this year. Photo: K. Y. Cheng
Hong Kong schools have been strongly advised to plan more national education activities to foster better understanding of Chinese history among students under the latest government guidelines, sparking concerns that teachers will be overloaded.
In a circular released on Tuesday by the Education Bureau, primary and secondary schools were told to make arrangements in the new academic year for campus-based learning activities on a total of 18 key dates on the "National Education – Event Planning Calendar", a guide first released in 2021.
"Schools have the responsibility to cultivate a sense of belonging towards the country, a sense of national identity and a sense of national pride in our students at an early age. It is critical to … cultivate students' love for the motherland … to become a new generation who love their country and the city," the circular read.
Hong Kong lawmakers accuse education authorities of failure to boost patriotism in schools through more recognition of war memorial days
Compared with last year's version, five more "key dates" were added on top of the original 13. The original events included the school opening ceremony, National Day, Constitution Day, as well as other memorial days and anniversaries such as the establishment of the Hong Kong Special Administrative Region on July 1.
The five newly added dates are Martyrs Day on September 30, which commemorates those who fell defending the country, Labour Day on May 1, the 102nd anniversary of the founding of the Chinese Communist Party on July 1, the July 7 Incident Memorial Day, which commemorates the Marco Polo Bridge incident that sparked the second Sino-Japanese war, as well as the Chinese People's Liberation Army Day on August 1.
The bureau suggested schools organise thematic book exhibitions in libraries, engage students in doing a review on patriotic films and discuss the development of the Communist Party in Chinese History and History classes.
A boy visits China's Anti-Japanese War museum at the Marco Polo bridge, or Lugouqiao, in west Beijing on July 7, 2014, on the 77th anniversary of the Marco Polo Bridge incident – a skirmish between Chinese and Japanese troops that triggered the Sino-Japanese war. Photo: AFP
The circular did not mention what consequences schools would face if they did not hold relevant activities on the key dates.
"Schools are strongly advised to refer to the annex "National Education – Event Planning Calendar" for planning appropriate school-based national education activities … to deepen students' understanding of the major historical events of our country," it stated.
Chan Chi-wa, a retired vice-principal of a secondary school who taught Chinese history for more than three decades, expressed worry that the workload from the national education initiatives would add more stress on teachers and annoy students.
"The number of normal schools is at most 200. The bureau now requires schools to hold activities for nearly 20 key dates. It means schools should hold one national education activity every 11 to 12 days. I really doubt its effectiveness," Chan said.
Learn Chinese history to cultivate national identity and avoid being divided by foreign forces, Hong Kong security chief tells youth
He added that students enjoyed post-exam activities in July and their summer holiday in August while schools might find it quite difficult to get their attention in learning about the Communist Party and the Chinese People's Liberation Army.
Chu Kwok-keung, a primary school principal and lawmaker in the education functional constituency, said while it was appropriate for students to learn about national education, including the Chinese ruling party's history and its army, he urged the government "not to ask for so much".
"The bureau cannot expect schools to hold large-scale activities for all key dates and I think all should be done in a gradual manner … maybe showing some slides to students is sufficient," Chu said.
Hong Kong's Education Bureau releases itineraries for mandatory Citizenship and Social Development trip to mainland China
Veteran China-watcher Johnny Lau Yui-siu said the five more key dates added reflected authorities' desire to strengthen education on the party's history and values to safeguard political and ideological stability after the social unrest in 2019.
A spokeswoman for the Education Bureau said the calendar could let schools comprehensively and systematically plan appropriate campus-based activities on important national historical events and key dates for national security.
"It could also give students the opportunity to accurately understand national history and national affairs from different dimensions on more key dates, enhance students' patriotism, enhance their national identity and create a patriotic atmosphere in the school," she said.
Sign up for the YP Teachers Newsletter
Get updates for teachers sent directly to your inbox
Sign up for YP Weekly
Get updates sent directly to your inbox