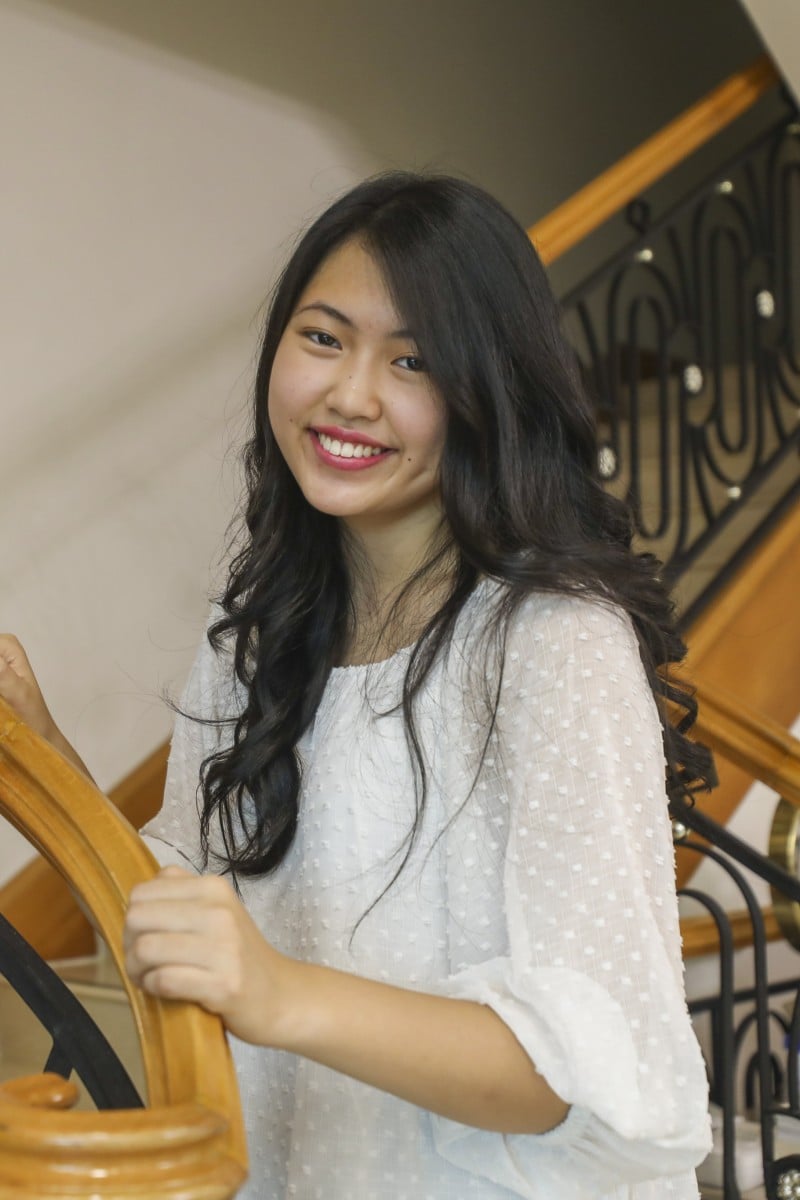 Student of the Year (SOTY) Awards finalist, Annalise Mak, came up with her idea for Readathon after realising city's low-income families were hit hardest by the pandemic

Second runner-up for the Grand Prize category helped raise money for two charities – Feeding Hong Kong and Food Angel
Annalise Mak is a student at Hong Kong International School. Photo: Xiaomei Chen
Student of the Year (SOTY) Awards finalist, Annalise Mak, helped low-income families secure enough food during the pandemic.
Annalise, of Hong Kong International School, was the second runner-up in this year's SOTY Grand Prize category.
During the Covid-19 pandemic, Annalise realised that poor communities were hit the hardest and that they could not even afford their basic necessities. She was determined to help them.
With a strong belief that young people have the ability to create a better world, Annalise started a fundraising event, Readathon, among primary pupils in her school.
Hong Kong teen shares how she opened her own used book store
She encouraged students to read books and asked people to sponsor them depending on the number of books they read.
"Even though the students are young, about eight to 10 years old, they can still make a difference in Hong Kong society," she said.
Annalise and the primary students helped raise more than HK$140,000 for two charities – Feeding Hong Kong and Food Angel – which used the money to provide around 28,000 meals for people in need.
She also took part in several charity concerts, showcasing her talents as a pianist and harpist. Annalise said the healing power of music helped her during the dark days of the pandemic, and that she wanted to share her experiences with others.
The Hong Kong Jockey Club Executive Director of Charities and Community Dr Gabriel Leung (from left) with Grand Prize first runner-up Jason Chan Chun-sing, second runner-up Annalise Mak, and South China Morning Post CEO Catherine So. Photo: SCMP
"Wherever you are, it does not matter how old you are or how many people you know, you can make a really huge difference," she said.
Annalise's passion for community service helped her start a student-led initiative called "Love Hong Kong Feed Hong Kong" that aims to raise awareness and funds to tackle the issues of food waste and food insecurity in Hong Kong.
Running such a programme is not easy, especially during the pandemic, but Annalise overcame the challenges posed by Covid-19, such as social-distancing restrictions that made it impossible to have face-to-face meetings.
"I tried to get as many youngsters involved in the initiative as possible because I knew we could go a long way by using their problem-solving ideas," she said.
Leave Your Worries: teen's podcast offers support, company for tough times
The Student of the Year award means a lot to Annalise, who said it was more than just a milestone for her.
"SOTY awards allowed me to meet schools, non-governmental organisations and companies which took me [and my project] seriously," she added.
Through the Awards, Annalise said she was able to meet amazing students who would be the future leaders of Hong Kong.
This year's SOTY Awards were organised by the South China Morning Post and sponsored by The Hong Kong Jockey Club.
Sign up for the YP Teachers Newsletter
Get updates for teachers sent directly to your inbox
Sign up for YP Weekly
Get updates sent directly to your inbox