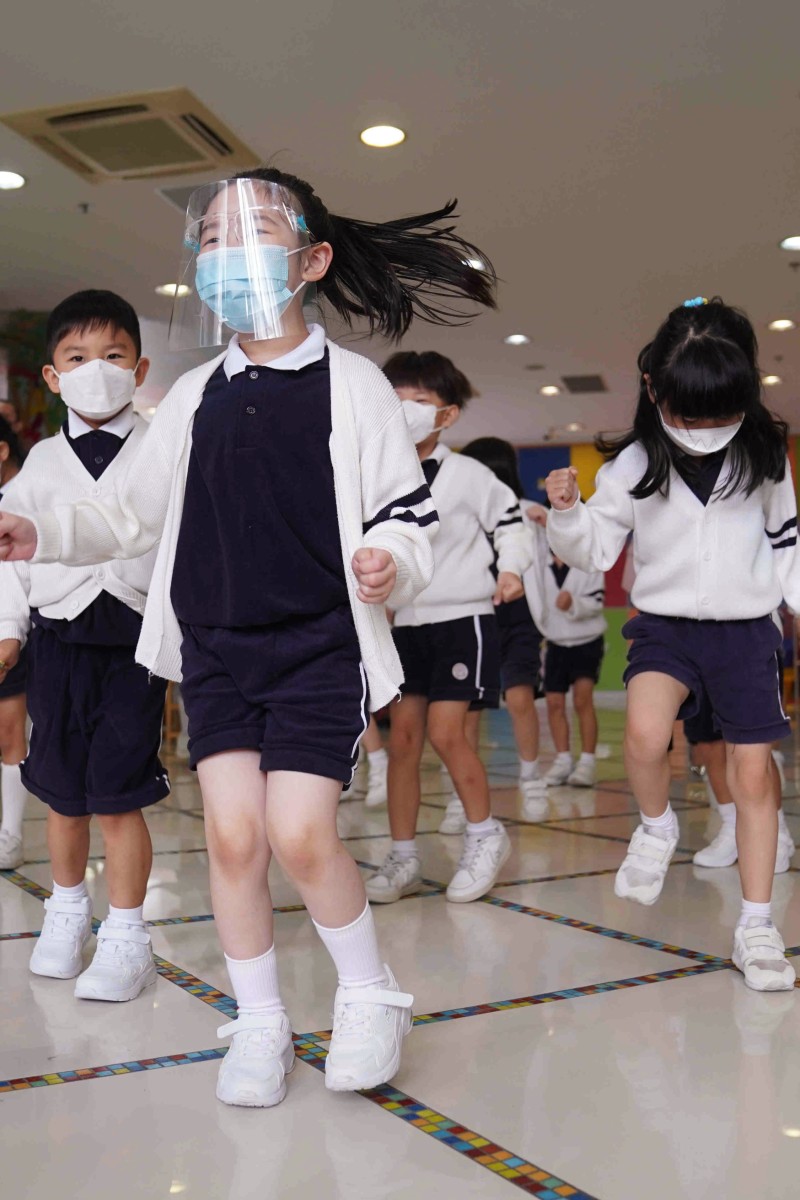 HKU chair professor of paediatrics says student mental health is important and remote learning has proven ineffective

Education lawmaker says if the government stopped in-person classes again after asking students to get vaccinated, it would be an attack on its own policy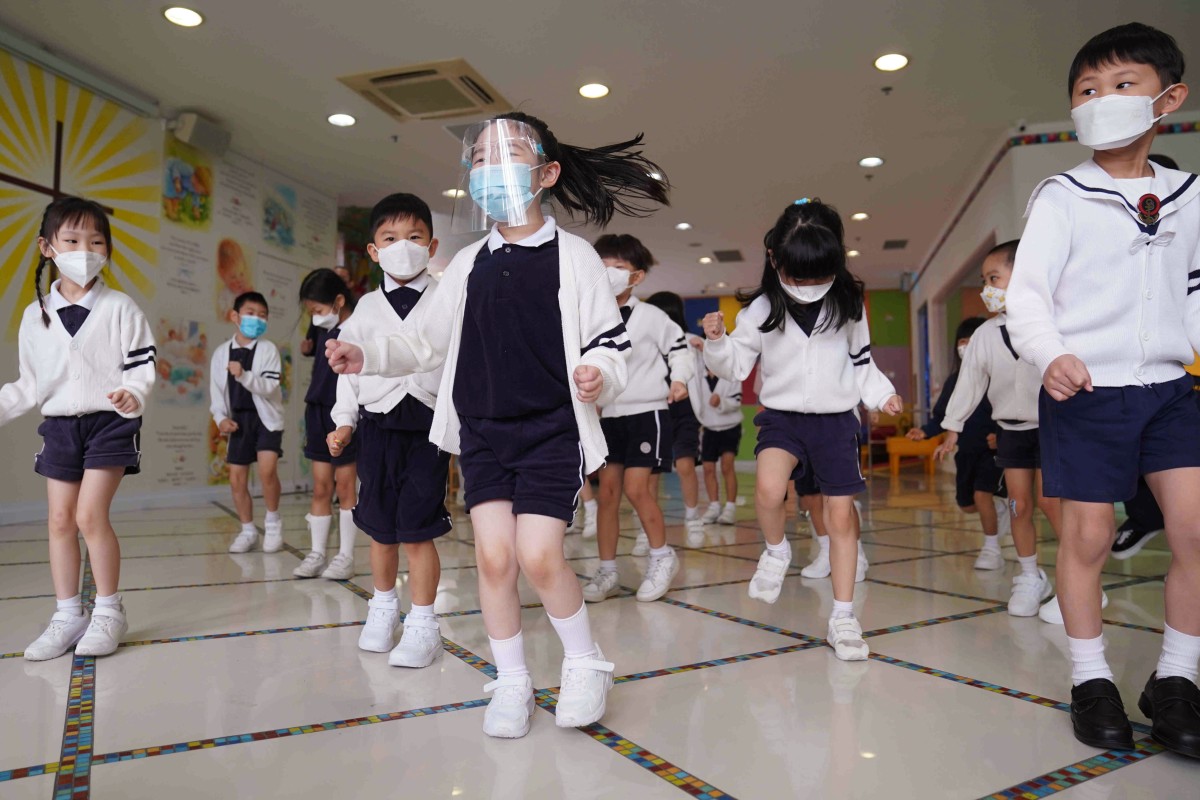 Pupils at a kindergarten in May, when the city resumed classes. Health and education authorities have warned the government against a return to online learning, even amongst soaring coronavirus case numbers. Photo: Sam Tsang
Hong Kong's daily number of coronavirus cases could peak at 20,000 next month, a government pandemic adviser has warned, as the city's education chief advised against suspending face-to-face classes again.
Lau Yu-lung, chair professor of paediatrics at the University of Hong Kong (HKU), also warned authorities on Monday against "going backwards" in tightening rules, especially with the eased "3+4" scheme already launched, requiring overseas arrivals to isolate three days in a hotel – down from a week – and four days at home.
Lau was making a forecast based on recent outbreak patterns in Singapore and elsewhere that showed caseloads peaked with the Omicron subvariants BA.4 or BA.5 accounting for 80 or 90 per cent of the tally.
Should students be allowed to participate in mask-off activities?
"[The peak] could be 13,000 or 14,000, with the upper end at about 20,000," Lau told a radio programme, adding that the lower end of his expectation was between 11,000 and 12,000.
"I think we have to be on high alert and prepare for the whole of September, and we can't let up."
Hong Kong reported 9,708 coronavirus infections on Sunday, the highest since March 26, as officials warned the daily tally could top 10,000 "in coming days". The resurgent wave has been fuelled by the more transmissible BA.4 and BA.5 subvariants, which authorities said made up 50.5 per cent of Thursday's cases.
Parents bring their child for the Sinovac jab at Kwun Chung Municipal Services Building. Photo: Edmond So
Singapore's daily local coronavirus tally peaked at more than 15,900 infections on July 13, after reporting over 10,000 cases for about two weeks. The city state recorded 1,361 local infections on Sunday.
On Sunday, Secretary for Education Christine Choi Yuk-lin warned that the government might suspend full-day, in-person classes if daily caseloads exceeded 10,000.
But Lau took a different view. "As paediatricians, we have to take care of people's lives and health, including their mental health, and going to school is a key part of that," he argued.
Should children under the age of 3 get the Covid-19 vaccine?
On border policies, Lau said the government should keep its current system and continue to work on reducing quarantine.
"Hong Kong's economy is languishing at the moment for people in all walks of life, and it is tough on many. So I think entry and departure policies should not be tightened lightly," he said. "The imported case figures have not increased a lot, and are still staying very much the same."
Education sector lawmaker Chu Kwok-keung echoed Lau's comments. "The entire sector is against remote learning, as it has proven really ineffective for teaching and learning," he said on the same show.
Converting full-day classes to half-day was also not a good idea, as many students would simply use the extra free time to hang out with friends or do part-time work, he said.
"The authorities have repeatedly urged students to get three vaccine jabs to resume full-day, in-person classes," Chu said, adding to reverse that call would amount to an attack on their own policies.
Chu said if it was really necessary to lower risks, officials could consider limiting mask-off activities such as basketball and swimming classes, while keeping others, like choir practice with masks on.
Sign up for the YP Teachers Newsletter
Get updates for teachers sent directly to your inbox
Sign up for YP Weekly
Get updates sent directly to your inbox