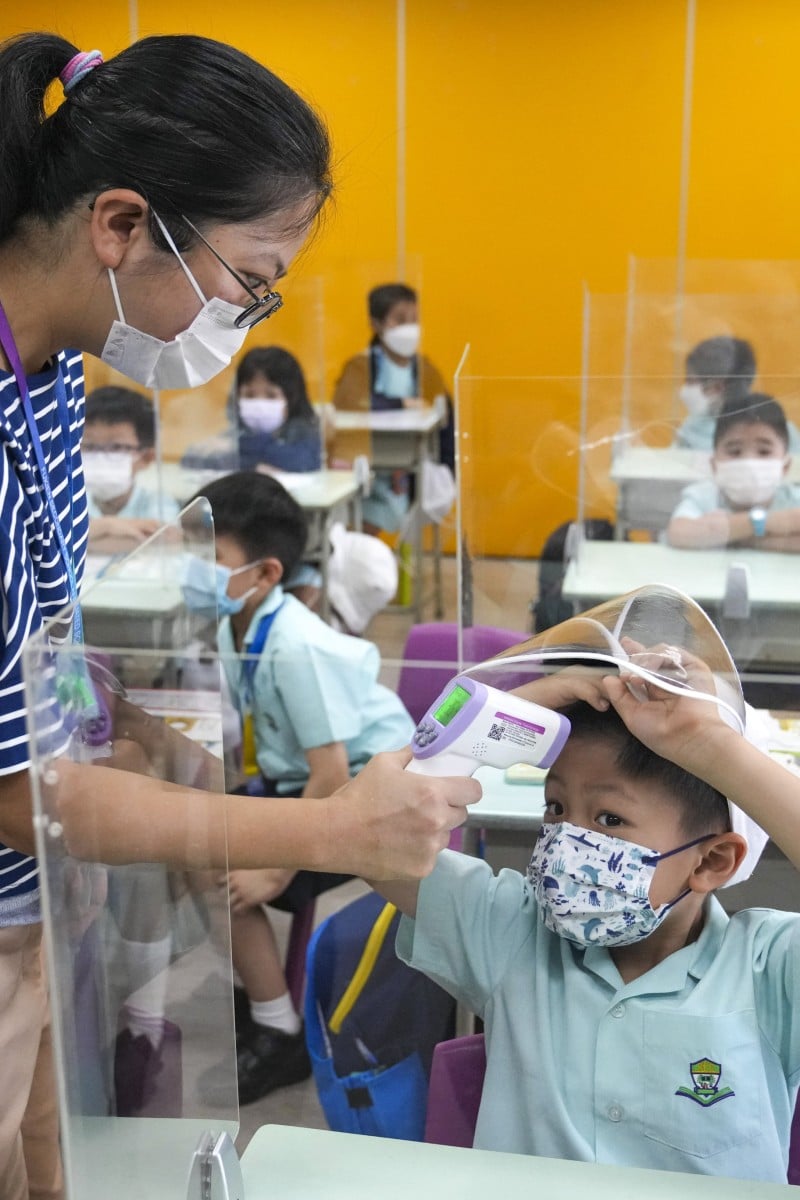 Parents, teachers and schools hope for a more relaxed academic term, after last year's early summer break and bouncing between full-day, half-day and online lessons

Beginning from November, 90 per cent of secondary students must be triple vaccinated against coronavirus to hold full-day lessons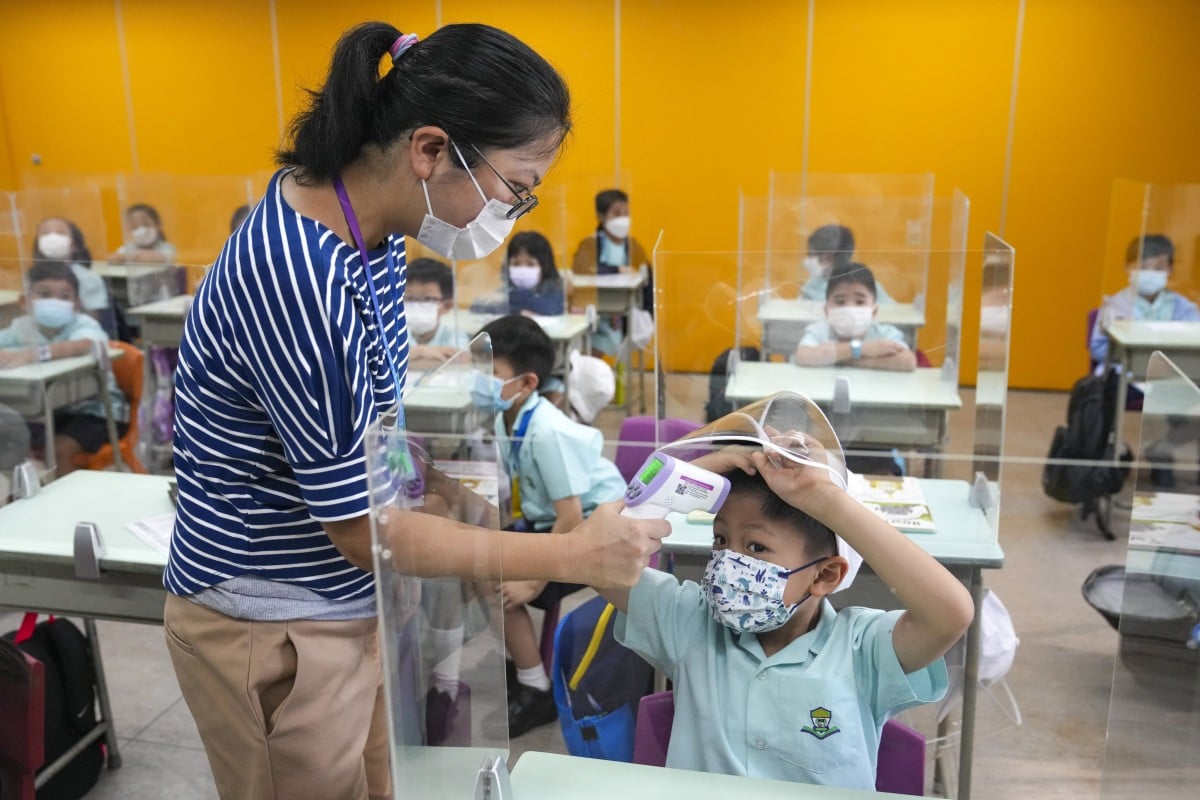 Students head back to school for the new school term at Fukien Secondary School Affiliated School in Yau Tong. Daily temperature checks are just one Covid-19 prevention procedure they need to follow. Photo: Sam Tsang
Tens of thousands of Hong Kong students returned to school for the start of the new academic year on Thursday amid a government decision to tighten the vaccine thresholds for full-day in-person classes to combat a surge in Covid-19 cases.
The return to classrooms follows a turbulent year, with students from many schools forced to take their summer break in March, face-to-face lessons restricted to half days and coronavirus tests required on a daily basis.
In addition to taking a daily rapid antigen test (RAT) before turning up at school on Thursday, students and teachers were told to provide results for Tuesday and Wednesday.
Hong Kong school heads voice concern over fulfilling 3-jab student requirement for full-day classes
Earlier this week, the government announced it would require 90 per cent of students to be triple-vaccinated against Covid-19 from November if secondary schools wanted to hold full-day, in-person classes.
The same policy will be applied in October to determine whether primary and secondary schools can hold mask-off extracurricular activities.
Schools will also be required to report their monthly inoculation figures from this month, with those that obtain an overall rate of 70 per cent and above to be recognised on the Education Bureau's website.
Students need to take a rapid test at home every morning before coming to school. Photo: Felix Wong
In Yau Tong, primary students at Fukien Secondary School Affiliated School returned to half-day classes under strict coronavirus prevention measures.
All students must wear a mask and face shield and have their temperature taken in the classroom, as well as upload Covid-19 test results every morning.
Parents said they were glad to see their children returning to school, even though citywide daily Covid-19 cases passed the 9,000 mark this week.
The mother of a nine-year-old boy said she was thrilled he was back at school but would have preferred full-day classes.
Should students be allowed to participate in mask-off activities?
Now in Primary Four, he has had three years in a row of half-day schooling.
"He hasn't really had a chance to enjoy a normal primary school life," said his mother, surnamed Yu, adding that her child had received two jabs and would get the third soon.
"I am not worried about safety and health issues, as the pandemic has been around for a long time and has already become the new normal. And the school has done well in its pandemic prevention measures," she said.
A stay-at-home mother surnamed Hui, who also has a child in Primary Four at the school, said she believed half-day classes were "appropriate" and "reasonable".
Hong Kong's daily caseload could peak at 20,000 in September but city should not 'go backwards' and suspend classes, expert warns
"I think it's acceptable for secondary school kids to have whole-day classes, as they can manage their studies and lives," she said.
"But for primary kids, I think a happy school life is more important than academic results."
She said other mothers were also happy with half-day schooling, as it gave students more time for extracurricular activities.
The school's principal, Eva Charisa Hsu, said the recent surge of daily cases, which might trigger class suspensions, was slightly "worrying". She added that a few students and staff could not go back to school, as they had tested positive.
Some parents say they are happy their primary students will only have a half-day of school, saying it gives them more time for extracurricular activities. Photo: Sam Tsang
As of Tuesday, about 80 per cent of her students had received two jabs. "I believe those who have received two jabs will be willing to get their third. I've also noticed there are some unvaccinated children whose parents are worried about the side effects of vaccines and their children's health," Hsu said.
Although she was confident about reaching the triple jab vaccination target, she was not in favour of mask-off activities, given the safety concerns. "For some activities like sports and music, masks have to be taken off. But even if we are allowed to have mask-off activities, we will still let parents decide," Hsu said.
After reopening in April, only secondary schools were allowed to hold full-day classes on campus, provided 90 per cent of their students had received two doses of the vaccine.
But the bureau said only 163, or 32 per cent, of secondary schools fulfilled the requirement during the previous academic year, while 79 had applied to hold the classes on a selective basis.
6 in 10 Hong Kong secondary pupils fear meeting without masks, survey finds
Primary schools and kindergartens have operated under half-day teaching arrangements since January, with the policy set to continue into the coming academic year until further notice.
Form Six student Wesley Lo had no particular feelings about the first day back at school.
"After experiencing so much from the pandemic, there is nothing that I am not used to now," the 17-year-old said.
However, he said he was worried full-day face-to-face classes would be suspended if the vaccination requirement was not met, affecting his preparations for the Diploma of Secondary Education (DSE), the city's university entrance exam.
"A half-day of face-to-face classes means there is less time for us to prepare, so it means we will have to rush to make progress," Lo said.
Fellow Form Six student Oscar Chan, 17, did not share his concerns about the new vaccination requirements.
"I don't want full-day face-to-face classes actually … it will give me more time to complete practice papers at home," he said, adding that he had spent most of the summer holiday preparing for the DSE.
Sign up for the YP Teachers Newsletter
Get updates for teachers sent directly to your inbox
Sign up for YP Weekly
Get updates sent directly to your inbox