At the end of the month, if kids in this age bracket have received their first vaccine dose more than 3 months ago, they will need to get a second one

By November 30, this group must have 2 jabs to eat in restaurants and visit other businesses in the city, health authorities said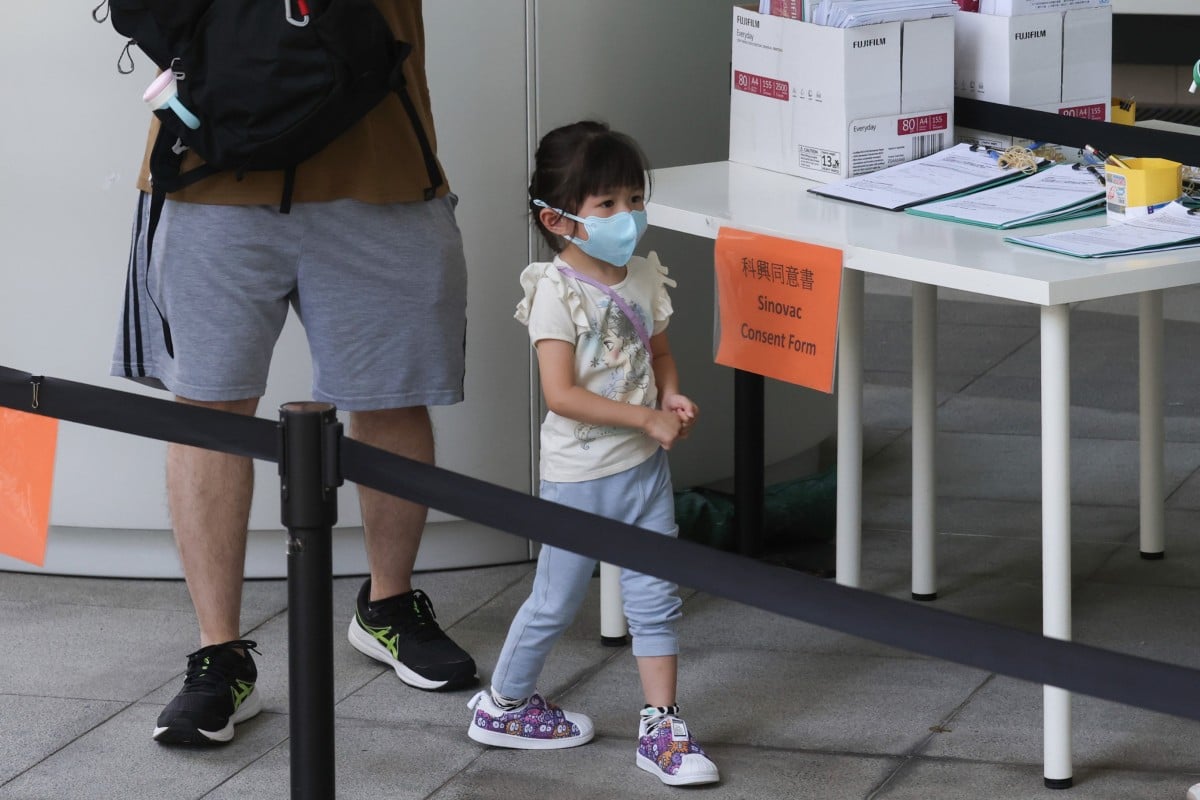 The government will allow parents to present the child's vaccination QR code on paper or as a photo saved on a mobile phone. Photo: Jonathan Wong
Children aged five to 11 will have to be inoculated with at least one jab against Covid-19 by September 30 to dine out in restaurants and enter most other business establishments in Hong Kong under an expansion of the vaccine pass arrangement, the government has announced.
But by November 30, children in that age bracket must have received two vaccine doses, health authorities on Thursday said, as they confirmed more than 11,000 new infections, the most in a single day since March 24.
Announcing details of the vaccine pass expansion, Undersecretary for Health Dr Libby Lee Ha-yun urged parents not to delay in inoculating their children against the coronavirus.
"At the moment actually, the rate of children aged five to 11 having taken one shot has reached 83 per cent and 70 per cent for two shots," she said. "In other words, only 68,000 children have never taken one jab. So I urge parents to get your children vaccinated as soon as possible."
Lee also defended the move against recent criticism from some quarters of society, such as the NGO Hong Kong Committee on Children's Rights which earlier said the policy change raised "serious concerns" for the rights of minors.
"We absolutely respect children's rights, especially their right to grow and live healthily. That's why we urge parents to get their children vaccinated so they can resume their normal lives and get protected even when going to crowded places," she said.
"When it comes to child death [related to Covid-19], one case is too many. And when a child has died, that will be a devastating blow to the family, and those wounds, including the feeling of guilt of having transmitted the virus to them, would be hard to heal."
Health authorities on Thursday confirmed 11,091 new infections, including 181 imported ones, and 12 related deaths. The city's coronavirus tally stood at 1,623,078 cases, with 9,769 fatalities.
Hong Kong students head back to school as Covid-19 cases surge
Currently, those aged 12 or above are required to be triple-vaccinated to enter most premises citywide. Under the vaccine pass expansion that takes effect at the end of the month, children aged five to 11 will need one jab to enter premises, but if that inoculation was received more than three months ago, they will need to get a second one.
Children in the age bracket who have not received any vaccine before a Covid-19 infection must take the first dose no sooner than six months after recovery. Those whose recovery has been within the past half-year and who received the first dose within that time frame are still required to take a second shot.
For children who received the second dose before infection or were within six months of recovery, their vaccine passes would remain valid.
The second dose requirement does not apply to recovered people aged five to 17 who have received one dose of the German-made BioNTech vaccine, one of two brands being offered in the city. The other, the Chinese-manufactured Sinovac, is the only one available to children aged as young as six months.
Libby Lee has urged parents to get their children vaccinated so they can be protected against the coronavirus. Photo: Sam Tsang
For those aged 12 and above, the interval between the second and third jab has been shortened from six months to five, a move that Lee said was designed to boost the take-up rate for the age group.
Under the second expansion that takes effect on November 30, all residents aged 12 and above will need three jabs, while children aged five to 11 will need two.
To make fulfilling the requirements easier for parents, the government will allow them to present the child's vaccination QR code on paper or as a photo saved on a mobile phone. A new function will also be added to the "Leave Home Safe" app to allow parents to save their own vaccine pass together with their children's.
Premises covered by the vaccine pass include restaurants, cinemas, karaoke lounges and bars, as well as libraries, but schools remained outside the scheme.
Face Off: Will a vaccine pass be effective in containing Covid-19?
Chief Executive John Lee Ka-chiu on Thursday said the plan aimed to protect children from more serious symptoms of Covid-19 that could lead to deaths.
"All data and expert opinion have fully affirmed that vaccination has a positive effect on children's health protection," he said, adding that the scheme was precisely to ensure the safety and health of younger residents.
A Hospital Authority chief manager, Larry Lee Lap-yip, said its facilities were treating 103 patients with Covid-19 aged 11 or below, with paediatric isolation units 60 per cent full.
While one child was critical and another two were serious, five minors altogether had been listed in either one of those conditions since the pandemic began, two of whom died, including a 22-month-old girl in August, the chief manager noted.
Kids getting vaccinated at the Hong Kong Children's Hospital in Ngau Tau Kok. Photo: Jonathan Wong
The vaccine pass expansion has been targeted by children's rights groups, which argue it will be detrimental to youngsters' development.
"We have received messages from more than 2,000 concerned parents since last week, many of them crying, including fathers, telling us they don't know what to do," said Billy Wong Wai-yuk, executive secretary of the Hong Kong Committee on Children's Rights.
Wong said some parents had seen their children suffer serious adverse reactions to the jabs and they would be torn about whether to allow them to get a second one. She also accused the government of rushing through the policy change with no consultation.
"We are most worried about parents who will withdraw their children from social and learning opportunities, which will cause irreparable and untold harm to the life chances of children," she said.
According to government data, as of Friday, 67.34 per cent of the city's 502,600 residents aged between three and 11 years had received two doses of a coronavirus vaccine, while 81.44 per cent had taken their first jab.
Sign up for the YP Teachers Newsletter
Get updates for teachers sent directly to your inbox
Sign up for YP Weekly
Get updates sent directly to your inbox