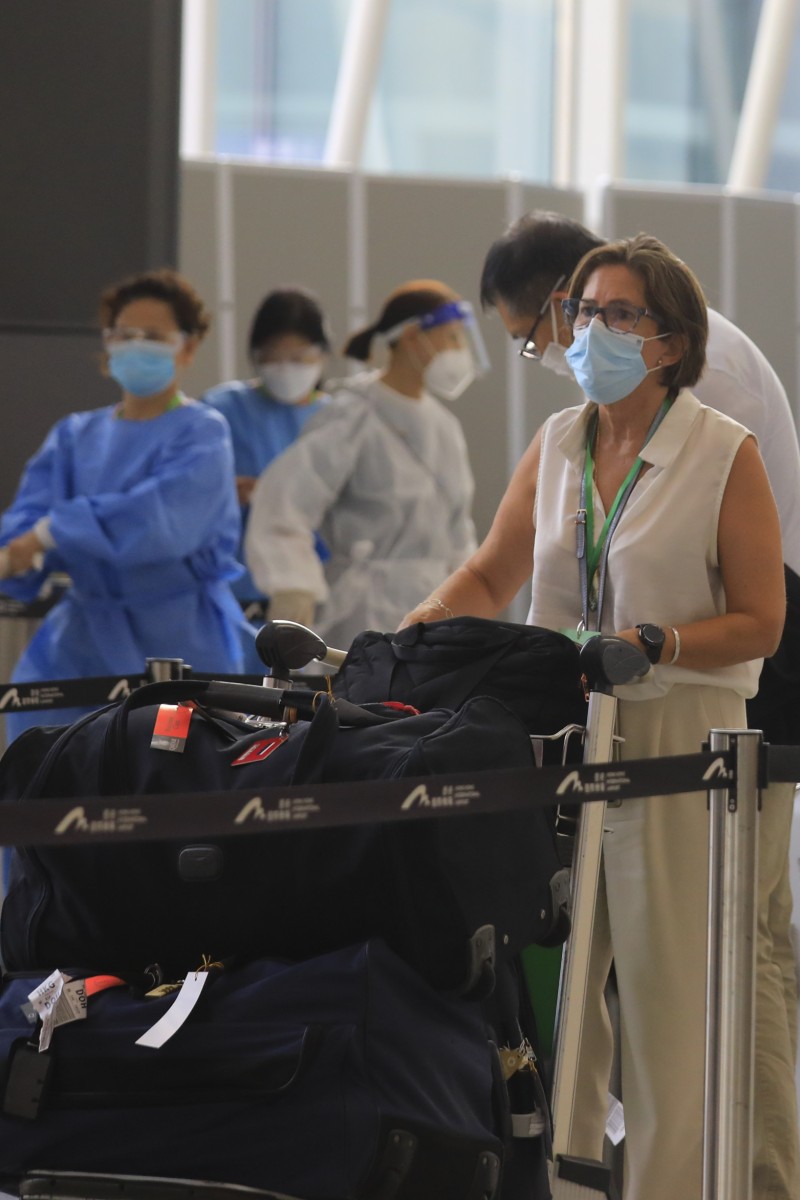 Authorities could relax measures and instead require people to self-monitor for Covid-19 at home for 7 days; may also get rid of PCR tests before boarding

The business sector has doubled down on its calls for the city to open as rivals such as Singapore have introduced quarantine-free travel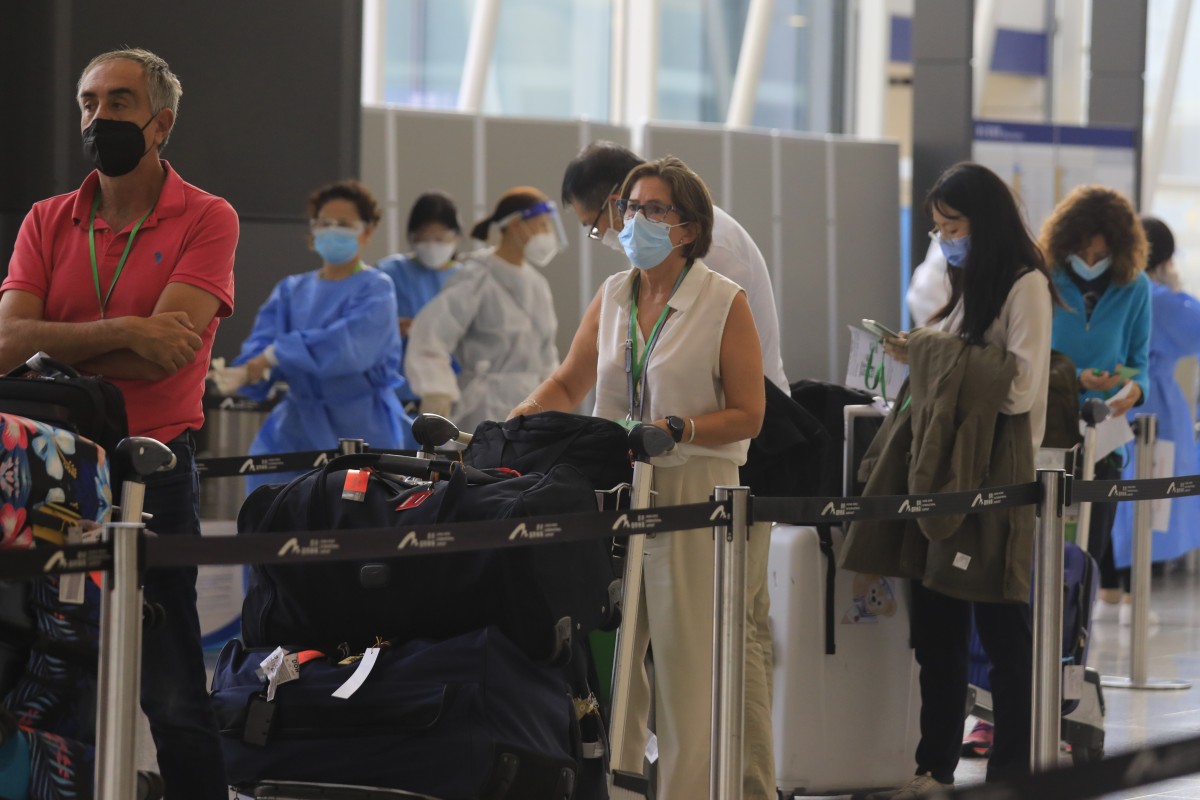 Under the city's current "3+4" scheme, travellers are required to undergo hotel quarantine for three days and spend four days under home medical surveillance. Photo: Xiaomei Chen
Hong Kong may announce that it will scrap hotel quarantine for overseas arrivals this month, the SCMP has learned, a step long sought by the business community and backed by a number of health experts.
A source familiar with official discussions on Sunday said authorities could reveal the relaxation soon provided talks among different government bureaus "went smoothly", while another insider said an announcement that arrivals might simply be required to monitor their own health for a possible Covid-19 infection at home for seven days could be made this month.
As part of the city's efforts to control infections, inbound travellers are also required to obtain a negative result on a polymerase chain reaction (PCR) test 48 hours before boarding, but even this rule should be reviewed as they are screened upon arrival anyway, according to Professor David Hui Shu-cheong, who advises the government on its pandemic response.
End of coronavirus pandemic is in sight, WHO chief says
"If the Covid-19 figures in the coming one to two weeks continue to decrease and our medical sector can bear with it, I believe the government should actively consider loosening [quarantine measures]," Hui told a TV programme, adding it was better to lift restrictions earlier rather than later.
Dr Albert Au Ka-wing, of the Centre for Health Protection, said local infections had stabilised even after the Mid-Autumn Festival, adding the government would continue to monitor the situation in the coming days to determine whether cases had plateaued or were even consistently decreasing. The daily tally has hovered around the 8,000 mark in the recent week.
Au said authorities were evaluating the quarantine policy, but did not directly respond to a question about whether an announcement on ending the hotel rule would be made this week.
Arrivals at a designated quarantine hotel in Tsim Sha Tsui. Photo: Sam Tsang
Secretary for Health Lo Chung-mau on Saturday said the government was considering scrapping hotel quarantine for overseas arrivals as infection figures and sewage samples had shown encouraging signs. Hong Kong is preparing to host an international banking summit and the Rugby Sevens in November.
Under the current "3+4" arrangement, travellers are required to undergo quarantine in a designated hotel for three days and spend four more under home medical surveillance, with their movement around the city limited.
Hui said the government should introduce a "0+7" scheme in a cautious manner and further reduce the days of surveillance if there was no rebound of infections in the community.
Hong Kong reinfections 'a small proportion' of total and mostly milder
Electronic tracking wristbands could be used to deter people from breaking anti-epidemic rules and arrivals posed a low risk to the city anyway as most infections were local, he argued.
But the inoculation rate for elderly residents and children remained far from ideal, Hui said, adding the government should provide incentives such as consumption vouchers and consider further shortening the grace period between receiving the third and second doses to three months under the vaccine pass scheme.
About 341,000 residents aged 60 or above have not been vaccinated, according to authorities. Nearly 78 per cent of those aged 60 to 69 have had three shots, with the figure dropping to 71.8 per cent for people in their 70s, and 52.7 per cent for those aged 80 or more.
Au said he expected the number of imported cases would increase if the government scrapped the PCR test requirement for arrivals before boarding, while also noting positive cases among all arrivals were currently less than 3 per cent of the total.
Imported cases only accounted for 1.5 per cent of the total number of daily infections in the city, he said, adding that 40 per cent of the infected visitors tested positive at the airport and 35 per cent during the first three days. Less than 5 per cent tested positive eight days after arrival.
"We need to conduct a risk assessment to evaluate whether our capacity at the airport and isolation facilities could bear it," he said.
Children aged 5 to 11 need 1 jab by September 30 to enter places under vaccine pass in Hong Kong
Dr Sara Ho Yuen-ha, a chief manager of the Hospital Authority, said authorities would maintain flexibility in bed and manpower supply to cope with any changes, adding public hospitals entered a phase-three plan in late August where 2,500 to 5,000 beds were reserved for Covid-19 patients.
Kelvin To Kai-wang, chairman of the University of Hong Kong's department of microbiology, said the government should consider lifting the hotel quarantine arrangement before November if the city's Covid-19 death rate continued to fall.
"There is a higher chance of having severe infection cases in the winter," To said. "It is better to let more people come to Hong Kong in autumn. At least it could lower the burden on the medical sector in the winter."
6 in 10 Hong Kong secondary pupils fear meeting without masks
The business sector has recently doubled down on its calls for the city to open up as rivals such as Singapore have already introduced quarantine-free travel.
Business sector lawmaker Jeffrey Lam Kin-fung, a member of the Executive Council, a key decision-making body, also urged the government to drop quarantine measures for arrivals as soon as possible, pointing to the cancellation of the city's marathon and the 2023 World Dragon Boat Racing Championships, which was moved to Thailand.
"It will be late if measures are only loosened by the end of this year or the beginning of next year," Lam said.
Starry Lee Wai-king, chairwoman of the city's biggest pro-establishment party, the Democratic Alliance for the Betterment and Progress of Hong Kong, also made similar remarks after the group concluded a visit to five Asean countries to promote the city.
"The '0+7' arrangement could definitely help Hong Kong serve its 'super-connector' role in Asean countries and return to normalcy," she said. "But of course, we understand that the government needs to consider the capacity of our healthcare system and the health of residents."
Sign up for the YP Teachers Newsletter
Get updates for teachers sent directly to your inbox
Sign up for YP Weekly
Get updates sent directly to your inbox