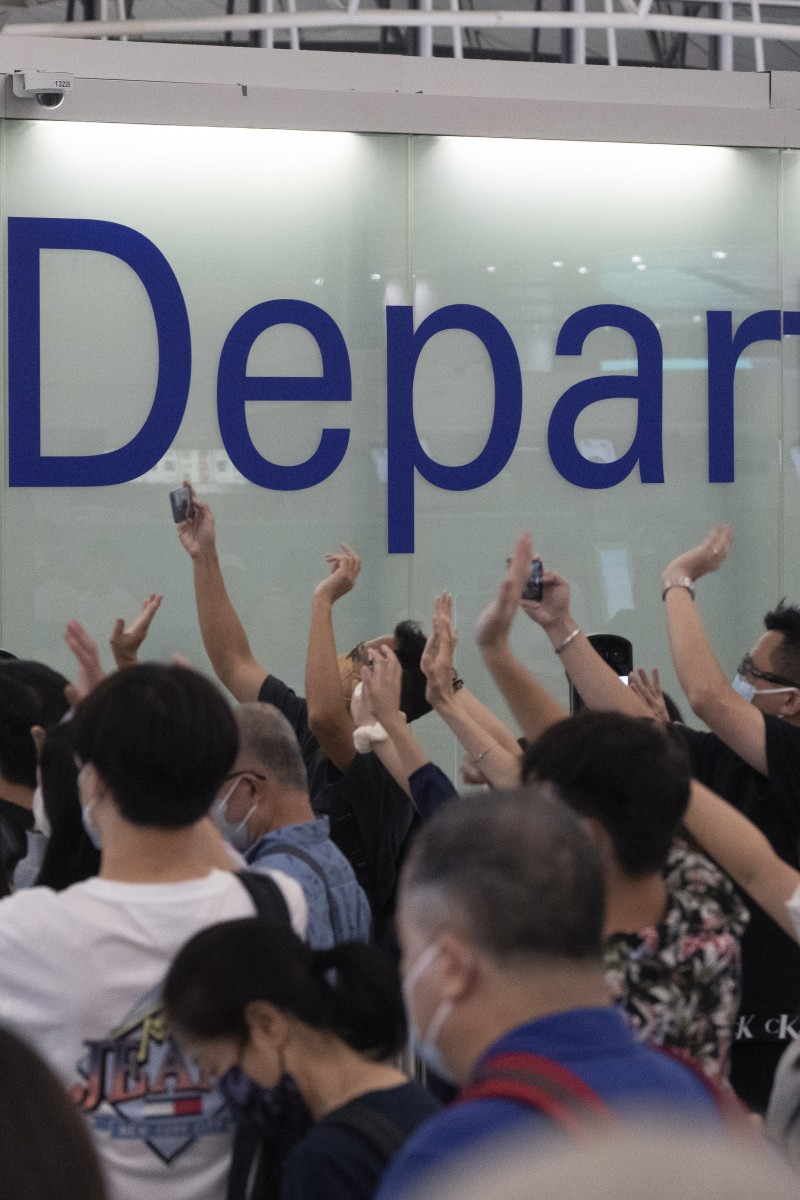 Deputy director of office in charge of the city's affairs also hit back at 'biased' claims that national security law has 'mainlandised' city

'Hong Kong's population drop is caused by various factors and there is no way to suggest that it is a result of an emigration wave,' official says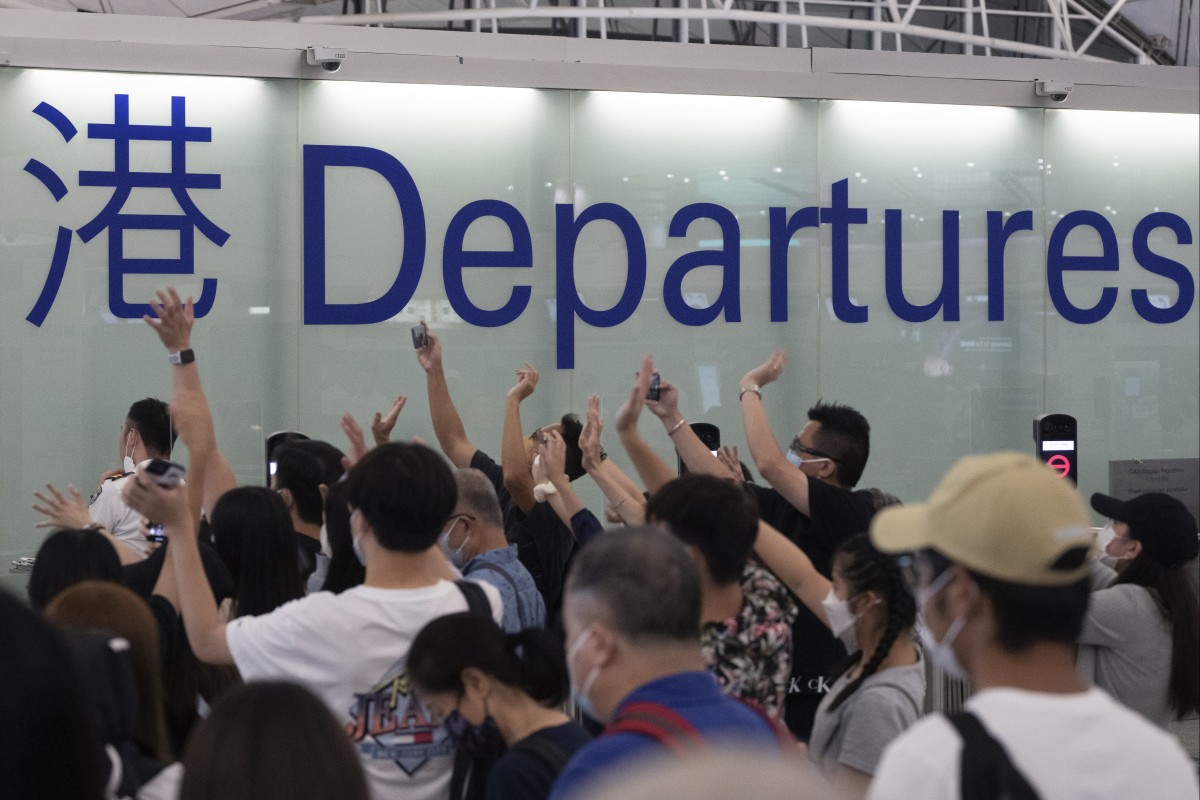 A senior Beijing official in charge of Hong Kong affairs has said that it is "inappropriate" to blame emigration for Hong Kong's population decline, stating that a number of factors have contributed to a drop in residents. Photo: Robert Ng
A senior Beijing official in charge of Hong Kong affairs said on Tuesday that it is "inappropriate" to blame emigration for Hong Kong's population decline, stating that a number of factors have contributed to a drop in residents.
Huang Liuquan, deputy director of the Hong Kong and Macau Affairs Office, also hit back at what he called "biased" claims that the Beijing-imposed national security law had "mainlandised" Hong Kong.
"Hong Kong's population drop is caused by various factors and there is no way to suggest that it is a result of an emigration wave," he said, citing figures from the Census and Statistics Department on the number of births and deaths, arrivals and departures.
Graduates of Hong Kong's top two universities eligible to work in Britain through new visa scheme
According to official data, a total of 113,000 people had left the city over the past year. Some residents who left have pointed to frustration over the tough Covid-19 restrictions, while others have complained of changes to the political environment following the introduction of the national security law in June 2020.
Britain, Canada and Australia have all launched bespoke citizenship programmes for Hongkongers, attracting more than 130,000 people since the security law came into effect.
But Huang noted the city government did not have statistics for the number of residents moving abroad. He also quoted a spokesman for the local administration who said that, as Hong Kong was an international city, the population was highly mobile.
Huang Liuquan is the deputy director of the Hong Kong and Macau Affairs Office. Photo: Winson Wong
Net population outflows had been recorded in most years over the past decade, while new immigrants from mainland China were excluded from the calculation of the figure, he said.
Under the city's "one-way" permit scheme, 18,300 migrants from the mainland have entered the city for work purposes over the past year, roughly half the number before the Covid-19 pandemic struck.
"From the population data announced by the city government and its spokesman's explanation, it is inappropriate to describe it as a wave of emigration that has emerged in Hong Kong," Huang said.
Emigration's drain on Hong Kong's schools
The city's population was 7.29 million as of the end of June, down 1.6 per cent from a year earlier. The drop was the steepest annual decline since records began in 1961.
The labour force also decreased to 3.75 million in June, the lowest figure in nearly a decade, and a 3.49 per cent decline from the same period last year.
Anthony Cheung Bing-leung, a political scientist at the Education University and a former minister, called on Lee's administration to carry out a comprehensive study on what had contributed to the record population drop.
"There are never official statistics on who departed the city – their occupations, ages, as well as the push and pull factors of emigration," he said.
Friends and family wave goodbye at the departures area at Hong Kong International Airport. Photo: Robert Ng
"The Hong Kong government should square up to this common phenomenon discussed by many in society."
Danvis Lau, the founder of headhunting agency Fillture Group, said he believed an exodus was happening and a loss of talent was hindering various industries.
A number of potential clients holding senior positions in information technology, accounting and banking companies in Hong Kong had also expressed interest in Singapore's new five-year visa scheme, he said.
The immigration scheme, which was announced last month, aims to attract high-earning foreign professionals to the city state.
Migration from Hong Kong to Canada soars to levels unseen since 1998
"Hong Kong is in danger of losing more high-calibre professionals if no new talent attraction and retention programmes are rolled out," he said.
Huang also said he had noticed the administration under Chief Executive John Lee Ka-chiu was actively seeking to attract talent to Hong Kong. The deputy director argued the city's free, open and well-regulated business environment, geographical advantages, and common law and low taxation systems would be conducive to the search for overseas professionals.
Lee had earlier promised to announce measures to "fight for" global talent as part of his maiden policy address on October 19, while observers had warned of a worsening brain drain across various sectors, aggravated by coronavirus travel restrictions.
Chief Executive John Lee Ka-chiu briefs the press at the Central Government Offices in Admiralty. Photo: Jonathan Wong
Meanwhile, Huang defended the national security law imposed on Hong Kong by Beijing, saying it was "no different from those in other places".
The law outlaws acts of secession, subversion, terrorism and collusion with foreign forces. As of last month, more than 200 had been arrested on suspicion of endangering national security.
Hong Kong teens discuss the responsibility and nerves of moving to Britain – and the joys of less homework
"While some people said the law has made Hong Kong more mainlandised, those were just frightening words and politically biased," he said.
Citing a survey conducted in June last year by pro-Beijing think tank the Bauhinia Institute, Huang said 71.9 per cent of respondents agreed the law had boosted their confidence in the implementation of the "one country, two systems" governing principle.
Sign up for the YP Teachers Newsletter
Get updates for teachers sent directly to your inbox
Sign up for YP Weekly
Get updates sent directly to your inbox