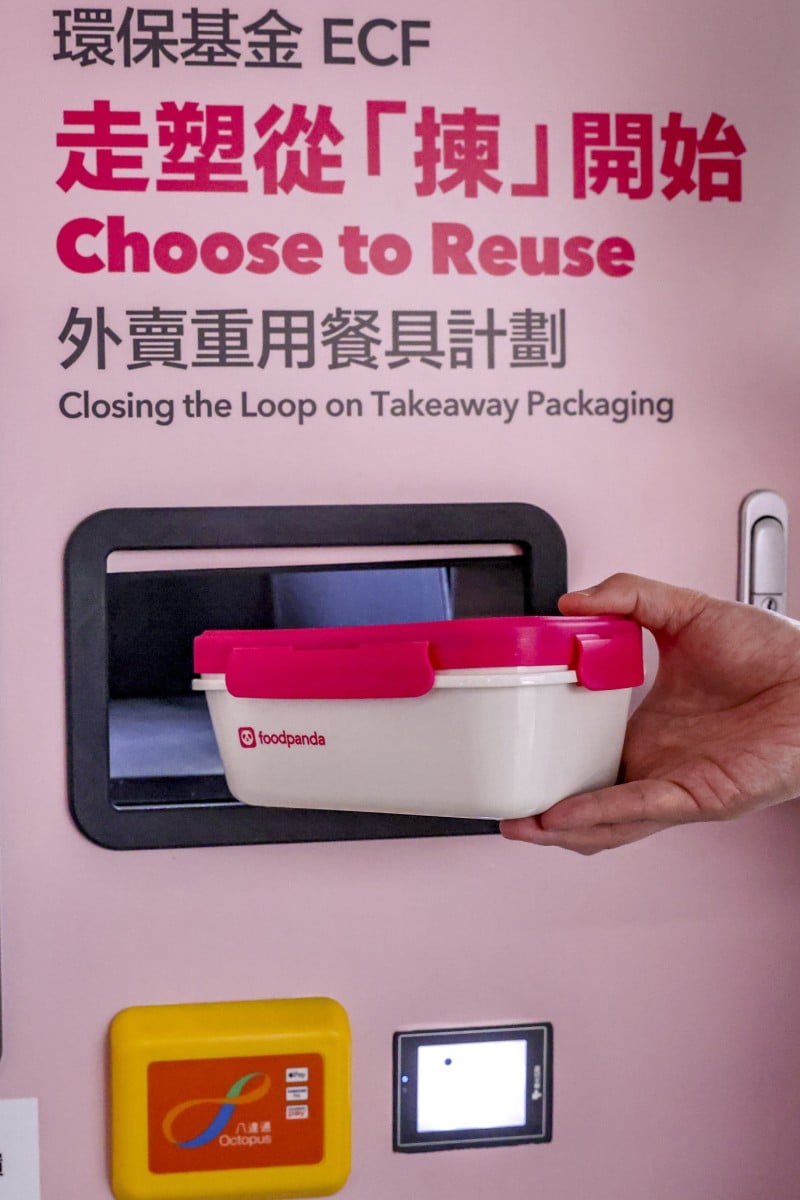 Customers don't have to clean food containers before returning them to collection points; testing is limited to certain parts of the island

Food delivery company's 11-month trial will test customers' response to 8,000 reusable meal boxes
Starting from Monday, Foodpanda will offer customers the option of having their meals delivered in reusable containers, which they can return at certain collection points. Photo: KY Cheng
Starting from Monday, Foodpanda will offer customers the choice of having their meals delivered in reusable containers, although the option will only be available in a few parts of Hong Kong Island during the initial phase.
Customers must pay a HK$10 deposit for the plastic boxes, which they will have to return to collection points in office buildings and malls in Central, Admiralty, Wan Chai and Causeway Bay. There are seven collection points for a start, with two more to be added.
They will be rewarded with a HK$10 coupon for each container they return and this can be used for their next purchase at 40 restaurants involved in the trial. But if they do not return the container, their deposit will be forfeited. They can redeem up to HK$200 worth of coupons each time.
Hongkongers are mailing eco-friendly postcards in support of the city's only drinks carton recycling plant
Foodpanda is working with World Wide Fund For Nature Hong Kong to offer up to 8,000 reusable boxes to participating restaurants in an 11-month trial aimed at reducing the use of plastic containers that add to the city's garbage.
It conceded that the number was only a small fraction of daily orders, but it hoped to gauge public acceptance before expanding the scheme.
Foodpanda managing director Ryan Lai told the SCMP that ordering food online had become the norm in Hong Kong in recent years, and the company was responding to its customers by trying to do more for the environment.
Foodpanda's Senior Sustainability Manager Woody Chan (left), and Managing Director Ryan Lai demonstrate the company's reusable packaging machine in Central Market. Photo: KY Cheng
"We have seen that awareness about environmental protection and sustainability among our users has grown stronger recently," he said. "We also conducted an internal study, and most respondents said they would consume more if restaurants provided reusable containers."
Foodpanda has been providing reusable containers in Singapore and Taiwan since 2020 by outsourcing the supply, but it will carry out the effort itself in Hong Kong.
The boxes come in four shapes and sizes, and the company hoped they could be reused up to 100,000 times collectively during the trial. Customers do not have to wash the containers before returning them.
Hong Kong social enterprise shows how to reduce ocean pollution by recycling plastic
Sabrina Tong, 30, a financial analyst working in Causeway Bay, said she would likely join the scheme.
"It sounds eco-friendly, and the location is quite close to my workplace. The HK$10 coupon also works as a pull factor," she said.
But public relations strategist Stephanie Ma, 24, who works in Central, said the incentive was not strong enough for customers to take the trouble to return the food containers to the collection points.
Scientists find a way to say goodbye to PFAS, toxic 'forever chemicals'
"We get so tired after work that we wouldn't care less about returning the boxes. Most of the time, we just want to get a cab and go home as quickly as possible," she said.
The popularity of online food delivery applications exploded during the Covid-19 pandemic, when Hongkongers had to stay home and there were strict restrictions on dining-in at restaurants.
According to Foodpanda, the number of orders in August this year was more than five times that in August 2019, before the pandemic began. It was the city's most used food ordering platform last year, according to an industry survey.
Takeaway and delivery became a popular choice amid the fifth wave of the coronavirus outbreak. Photo: Nora Tam
At the same time, however, the city's cleaners and green groups reported a huge increase in single-use plastic food containers and utensils turning up in garbage.
There have also been concerns about food wastage, and the carbon footprint from having large numbers of food delivery riders on motorcycles heading out day and night.
Deliveroo, the second-largest food delivery platform in Hong Kong, said it had worked with recycling start-up company The Loops to provide customers with door-to-door recycling services for more than 30 recyclables including plastics or polyfoam packaging.
Both companies made cutlery optional in 2018, with Foodpanda saying that helped to save about 65 million sets of single-use utensils.
Hong Kong disposes of about 2,300 tonnes of plastic in landfills daily, according to the Environmental Protection Department. The authorities have indicated they aim to regulate the use of disposable plastic tableware in phases from 2025.
Edmond Lau Shiu-long, senior project officer of environmental group Green Earth, welcomed Foodpanda's trial, noting that it would be no simple task to collect, clean and reuse the containers.
For the idea to succeed, he felt it would be critical to retain the restaurants' participation, although he wondered what would happen if users kept the boxes.
The Hong Kong community-run group that collects surplus baked goods and distributes them to those in need
Lau said a similar project in New York last year connected customers with a network of restaurants on a monthly subscription basis.
"This project is significant in Hong Kong because it targets a broader spectrum of customers," he said. "A reuse model is more economical than recycling and using biodegradable plastics, but there hasn't been a successful case in Hong Kong."
He hoped Foodpanda would share the outcome of its experiment at the end of the trial, so that others could learn from it.
"I want to see what those 8,000 containers will look like after being reused 100,000 times," he added.
Sign up for the YP Teachers Newsletter
Get updates for teachers sent directly to your inbox
Sign up for YP Weekly
Get updates sent directly to your inbox