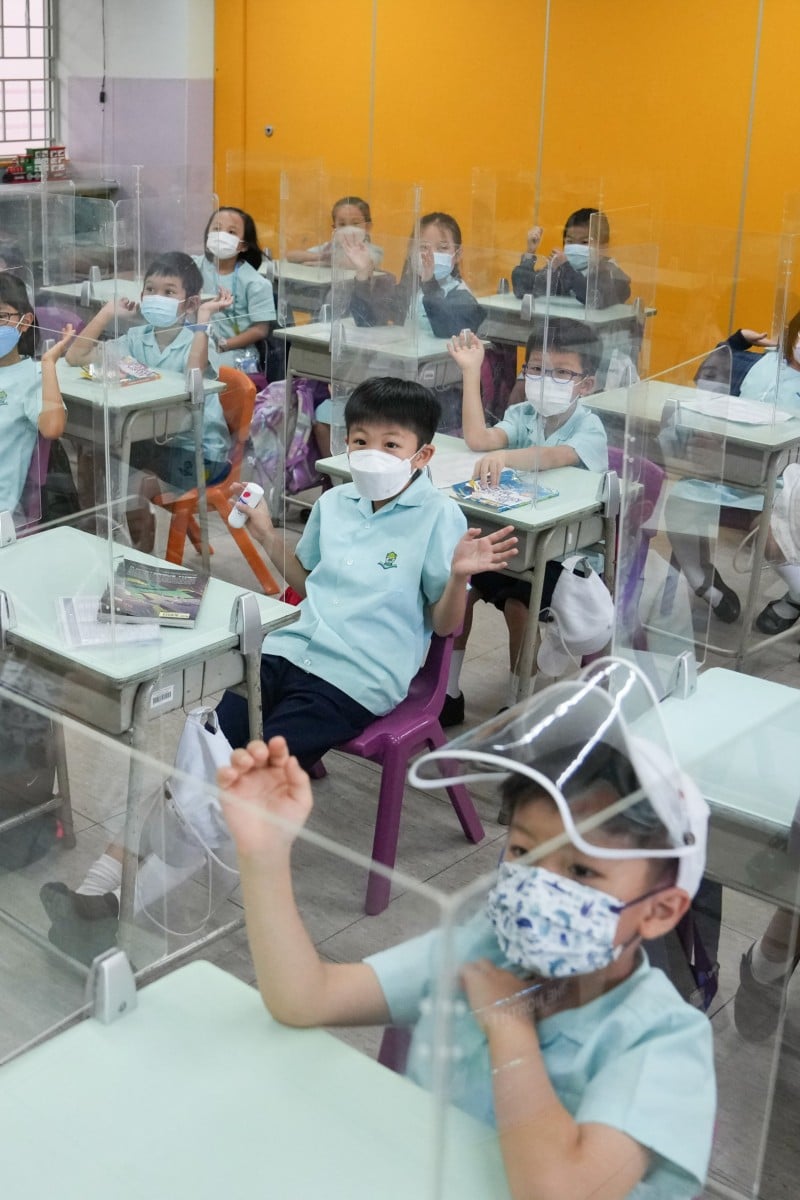 Parents and child development expert say children should be allowed to mingle at break times in line with restaurant Covid-19 rules relaxation

Child behaviour expert warns children may lose out on social skills if not allowed to mix with others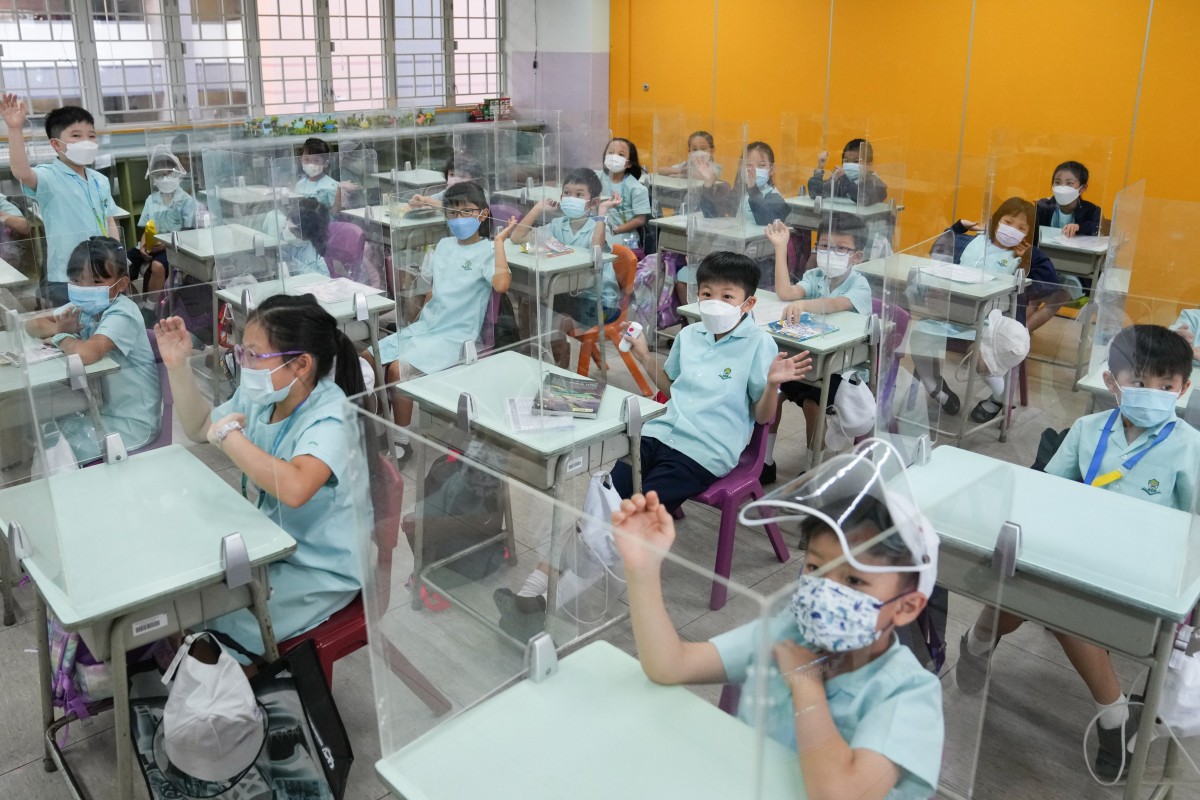 Parents have called for break time restrictions in schools to be brought into line with relaxed rules for restaurants. Photo: Sam Tsang
Social-distancing rules for mealtimes in Hong Kong schools should be eased to allow pupils to mingle with each other, parents and a child development specialist have said as they highlighted inconsistencies in Covid-19 prevention policies.
They were speaking on Tuesday after the government earlier announced that a maximum of 12 customers would be allowed at each table in restaurants, up from eight, from Thursday.
Clubs and pubs would also benefit from the relaxation as they were allowed to have six people to a table instead of four.
Face off: Has wearing masks in school had a negative effect on students' social skills?
But some children still have to spend their meal times behind partitions and are not allowed to talk when their masks are removed under tough guidelines drawn up by the Education Bureau.
The bureau told the Post that schools were still required to take precautionary measures and that officials would continue to monitor the pandemic situation and update the rules if appropriate.
A mother, 35, who identified herself only as Ho, said her seven-year-old son and 10-year-old daughter were only allowed to only drink and remain in their seats with partitions at break times.
"Sometimes they question what they are doing at school," she said. "They said they are lonely sometimes. I do not understand why 12 people are allowed to dine together, while children cannot at school. This is all very contradictory."
Diners enjoy a meal after the government relaxed Covid-19 restrictions for restaurants, clubs and bars. Photo: Dickson Lee
She said she hoped that social-distancing rules at recess could be relaxed so her children could have more time with their friends.
The bureau's list of restrictions say schools should install partitions between pupils at mealtimes, and that they should be seated to avoid eating face to face. Pupils should also be told to avoid talking when masks were removed and banned from sharing food and drinks.
Primary schools and kindergartens can only provide half-day face-to-face classes without lunch at present, but secondary schools can resume full-day lessons if at least 90 per cent of the pupils are double-vaccinated. The requirement for secondary schools will be increased to three doses from the start of next month.
Ida Leung Po-lam, chairwoman of the Federation of Parent Teacher Associations of Hong Kong Eastern District, whose son is 16, said secondary school pupils should also be allowed to enjoy their meals together and mingle without partitions.
She said she had heard from parents that some children were forced to have lunch at the stairway as the schools wanted to minimise the number of pupils who ate lunch in the covered playground.
Leung added some higher-form pupils were not allowed to have lunch in their classrooms as there was no monitoring by teachers, who spent their lunch break in lower-form classrooms.
"They have received three doses of vaccine if they are allowed to attend full-day school. Most of their symptoms will probably be mild if they catch the virus," Leung said.
What Hong Kong children think of city's vaccine pass expansion requiring at least 1 Covid jab for those aged 5 to 11
Dr Fanny Lam Wai-fan, a specialist in developmental and behavioural paediatrics, said if children were less likely to socialise during breaks, they could develop problems with social skills and emotional regulation.
"Most of the time, we gain language development through chatting with our classmates during recess. We learn how to converse and use the appropriate etiquette," she explained.
"Sometimes there will be some arguments and children will learn about social problem-solving and regulating their emotions."
She said, in the long term, with less time to talk about their feelings to others, children might become self-centred and find it difficult to show empathy.
Coronavirus: 10.5 million children orphaned or lost a primary carer due to Covid, study finds
Lam agreed the government should relax measures in schools to align with the social-distancing rules in similar situations.
"If they are vaccinated, they should be allowed to have lunch together. I cannot see there will be higher risks of transmission if adults are also allowed to have meals in a group," she said.
Hung Wai-shing, principal of SKH Ling Oi Primary School in Yuen Long, said arrangements for breaks could be eased before lunch was allowed to return to normal in primary schools.
He said pupils at his school were told to only drink at break times, but would be allowed to eat if necessary. "If there are 70 per cent of pupils who have received three doses, we may be more confident that they will be safe having lunch at school. We can probably try it out in a few grades first," he said.
China approves world's first inhalable Covid-19 vaccine
Nancy Lam Chui-ling, principal of Tsuen Wan Trade Association Chu Cheong Kindergarten and vice-chairwoman of the Hong Kong Federation of Education Workers, said children in her kindergarten were also asked to stay silent at snack times.
She admitted it was difficult for the youngsters to stick to the rules at the start of the pandemic, but that they had become used to restrictions.
But Lam said it might not be a suitable time to relax the guidelines as the vaccination coverage among kindergarten pupils was not yet high enough.
Sign up for the YP Teachers Newsletter
Get updates for teachers sent directly to your inbox
Sign up for YP Weekly
Get updates sent directly to your inbox