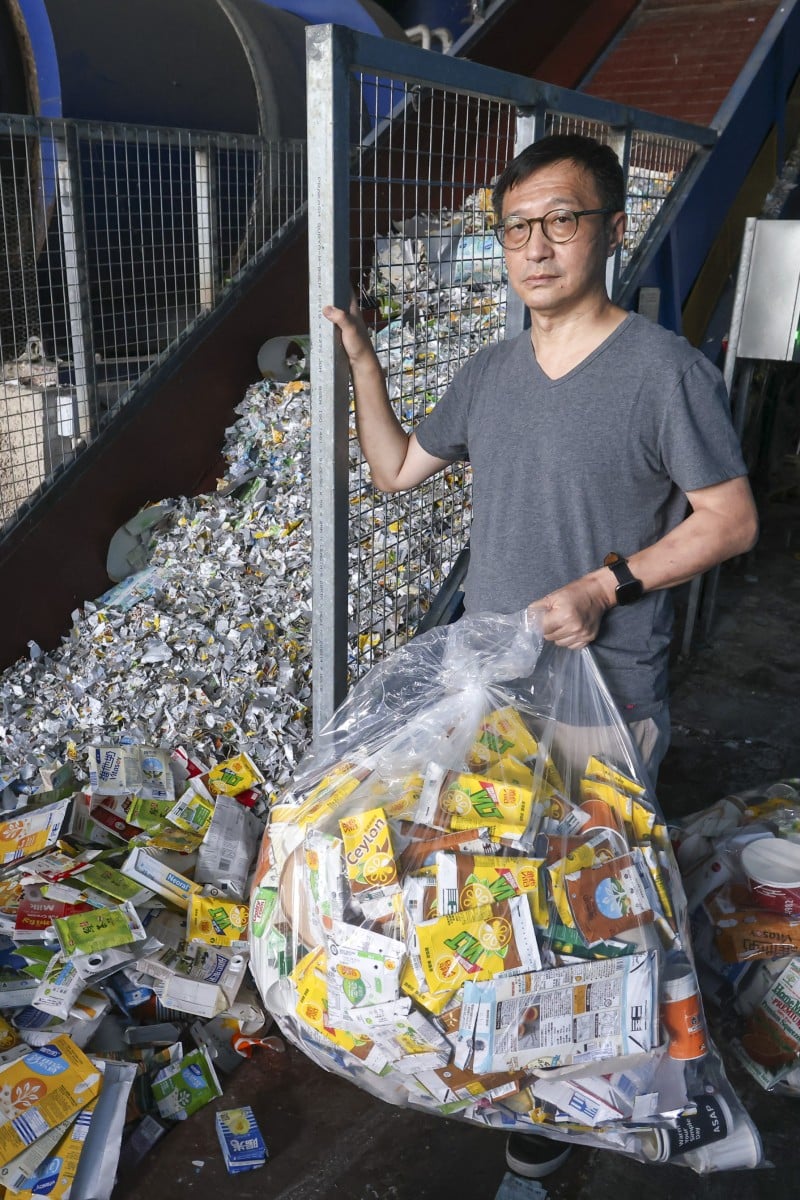 If Mil Mill shuts, Hong Kong loses not only its sole drinks carton recycler but also leader in green innovation, education
Co-founder of the recycling plant, Harold Yip Man-ki, explains how tough it is to recycle beverage cartons and why education, transparency and technology are key for sustainability

Last month, government-backed landlord Hong Kong Science and Technology Parks Corporation said it would not renew the company's lease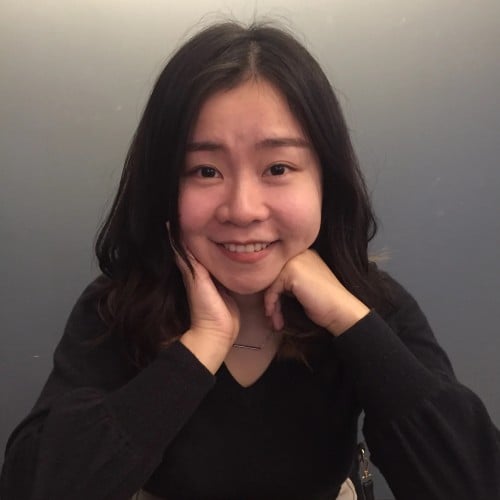 Kelly is a journalist from Hong Kong. She joined the Post in 2018, where she writes about Hong Kong's arts and culture, social welfare and the environment. She has a master's degree in Journalism from the University of Hong Kong.
Pursuing their mission of sustainability has been an uphill battle for Harold Yip and his Mil Mill co-founders. Photo: Jonathan Wong
Harold Yip Man-ki, 58, took a handful of grey fibres from a large container and rubbed them in his hand to show how soft they were after impurities were removed.
Without Yip's work, these fibres, extracted from waste drinks cartons, would have been part of the 2,700 tonnes of paper waste that ends up in Hong Kong's landfills every day. Ever since Yip co-founded Mil Mill, the city's first and only facility for recycling beverage cartons, this waste can be made into paper, stationery and even furniture.
"Waste beverage cartons are sent to the landfills if there isn't a local facility to handle them," Yip said. "[A pulp mill] can also set a key example for others to understand what recycling is and be incentivised to recycle."
Hong Kong youth delegates to COP27 believe climate justice starts at home
The 20,000-sq-ft plant in Yuen Long Industrial Estate can convert about three tonnes of drinks cartons and 10 tonnes of waste paper into 25 tonnes of paper pulp daily.
Setting up the pulp mill cost about HK$10 million (US$1.27 million), most of which was invested by its co-founders. But last month, the government-backed landlord Hong Kong Science and Technology Parks Corporation told the operator it would not renew the company's lease.
"We don't know how they will use this site [after Mil Mill is gone], or whether it will just be another piece of empty land facing the sun," said Yip.
Co-founders of Mil Mill Harold Yip (left) and Nigel Lo at the recycling factory in Yuen Long. Photo: K. Y. Cheng
Even before launching Mil Mill, Yip knew starting a pulp mill for drinks cartons was needed to build a sustainable future for Hong Kong. Now, after only a three-year run, the plant must vacate the premises by the end of June 2023.
"We are very powerless," Yip said. "But we can only look ahead, and now, we're looking for new venues and seeing if we can rebuild our recycling plant."
The government plans to build a large-scale pulping facility in Tuen Mun's EcoPark by 2025. If Mil Mill shuts, Yip is doubtful other contractors can take up waste beverage carton recycling before the new facility is completed.
According to Yip, the profit margin for recycling drinks cartons is slim. Paper recycling factories cannot process this waste, which has layers of aluminium and plastic.
Hongkongers get rid of 400 million coffee cups every year
"Our pulpers are specially designed to tackle these small beverage cartons," Yip said, adding that engineers had spent nine months welding the equipment together. "We have a camera lens operated by AI [artificial intelligence] to monitor the trash in the conveyor belt."
Agreeing with Yip's assessment of the challenges of recycling drinks cartons, Hector Tsang, chairman of environmental group Green Hope Hong Kong, said the move to shun Yip's facility was part of a larger trend of "bulldozing the roots" of small-scale industries.
"It's hard for companies [like Mil Mill] to break even in their third year. [We] should not give up easily on an existing industry ... especially the recycling industry," said the 31-year-old organiser, adding that it took time to develop advances in recycling, which relies on changing people's waste-disposal habits.
Since drinks cartons' materials include paper, aluminium and plastic, they require special machinery to recycle. Photo: K.Y. Cheng
Judy Cheung Nga-ching, one of three youth delegates representing Hong Kong at the UN Climate Change Conference next month, said Mil Mill's situation could "undermine the confidence of the city's green industry".
"The government should take on the role to protect these recycling companies that struggle to survive," stressed the 29-year-old, who works in one of the world's leading sustainability consulting firms.
She added that the government should offer more subsidies or incentives to the recycling industry, such as for facility upgrades, and it should help local recyclers secure long-term leases to ensure stable operations.
Losing more than just a plant
In a gesture of support, many Hongkongers have written to the government on postcards made with drinks cartons to ask for a better arrangement for Mil Mill.
"This is unfair to all Hongkongers, not just to me," Yip said.
To these citizens, the plant's potential closure is about more than just losing a recycling facility – Hong Kong would also be losing a vital environmental educator.
Hongkongers mail eco-friendly postcards in support of city's only drinks carton recycling plant
When Young Post's reporter visited Mil Mill's education centre on October 8, Green Hope Hong Kong organised a workshop for 30 participants to experience the process of transforming waste into new products.
Leung Pak-hei, a Primary Five student, said this first-hand exposure to the facility's work left a lasting impression. He and other participants said they would start recycling beverage cartons after the workshop.
"My school has taught us about recycling before, but not as extensively as this," the pupil said.
Mil Mill's hands-on workshop has left a lasting impression on Primary Five student Leung Pak-hei. Photo: Kelly Fung
It has always been part of Mil Mill's vision to educate the city's youth, and Yip was delighted to notice an increase in recycling rates after school visits.
"If recycling could be done more transparently, more citizens would be willing to support it," he said. But if citizens are kept in the dark about where their recyclables go, they lose trust in the cause.
Yip said the government had overlooked the innovative potential of local green companies, adding that compared to other recycling businesses in the city, Mil Mill had documented the most data on waste.
How a South Korean city is leading the way in climate change education
If he can find a new spot for the recycling plant, Yip has big plans: implementing a robot arm to more efficiently filter through recyclables, and using AI to adjust the pulping process according to the proportion of different paper recyclables in each batch.
"Look at what we are actually doing, and decide for yourself if you want to support it. All we hope for is to be transparent," he said.
"Although I have no expectations of the government, I have faith in Hong Kong people. I hope citizens can continue to support recycling. Do not give up."
How to recycle drink cartons
Remove the plastic straws or caps

Cut the corners and flatten the cartons

Rinse and dry

Drop them at designated collection points
Get the word out
Pulp 紙漿
Mixture of used paper blended with water until they form a soft wet mass
Vacate 空出
to empty the space
Conveyor belt 運輸帶
a continuous moving strip used for transporting objects from one place to another
Shun 拒絕接受
to avoid or refuse to accept something
Bulldozing 鏟平
to use force insensitively when dealing with someone or something
Incentives 誘因
something that encourages a person to do something
Sign up for the YP Teachers Newsletter
Get updates for teachers sent directly to your inbox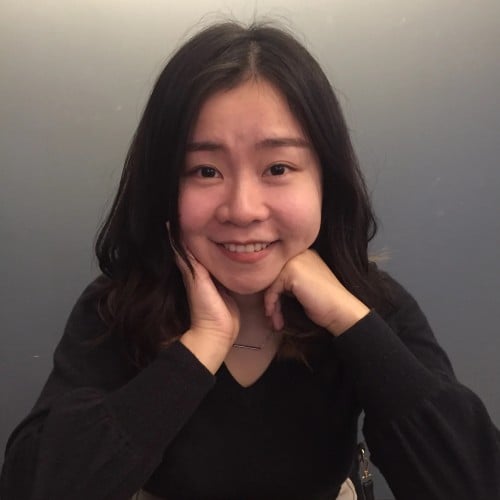 Kelly is a journalist from Hong Kong. She joined the Post in 2018, where she writes about Hong Kong's arts and culture, social welfare and the environment. She has a master's degree in Journalism from the University of Hong Kong.
Sign up for YP Weekly
Get updates sent directly to your inbox