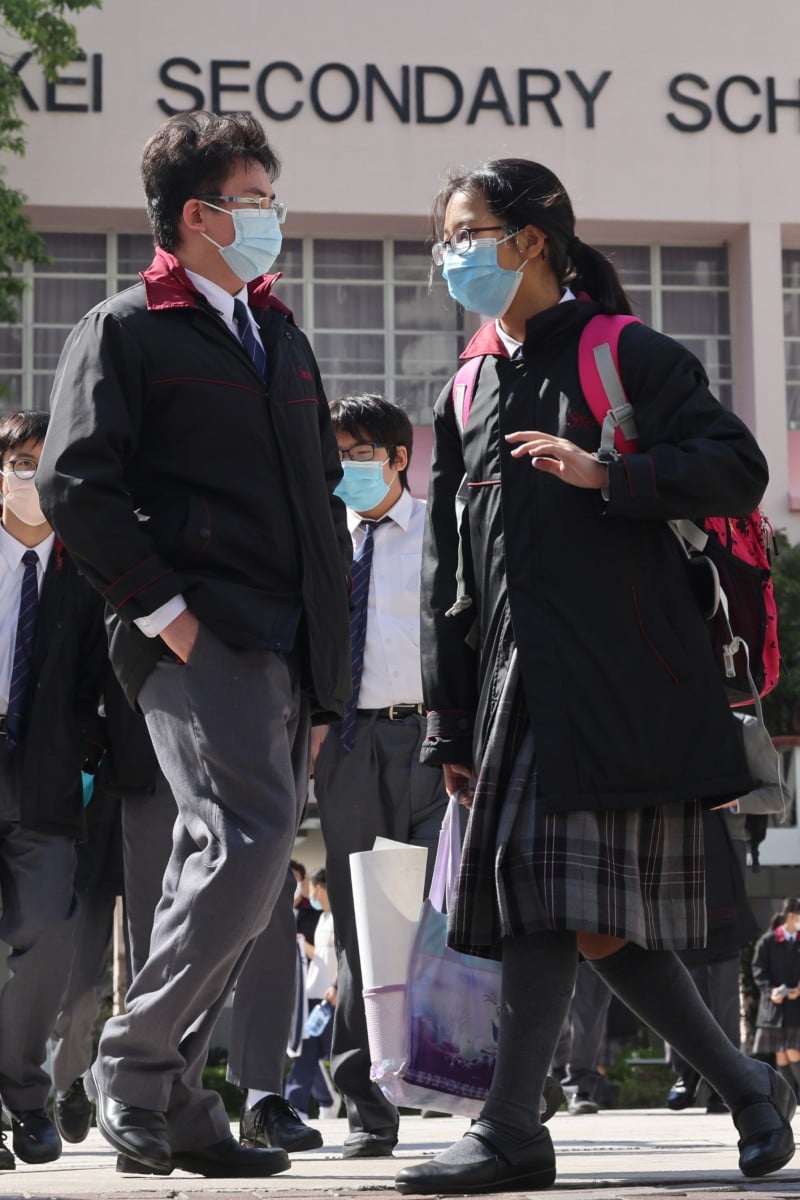 Relaxed measures will take effect starting next month, according to Education Bureau

Less than 28 per cent of about 502,600 children aged three to 11 have received three jabs, while 74 per cent are double-vaccinated
Secondary schools will be allowed to hold full-day classes from November 1 under eased criteria. Photo: May Tse
Hong Kong's primary schools can resume full-day classes if at least 70 per cent of students are double-vaccinated against Covid-19, while a 90 per cent, triple-jab requirement for similar secondary sessions has been eased to two doses.
Education authorities on Tuesday announced the relaxed measures would take effect for secondary schools on November 1 and December 1 for primary ones. Students at both levels will need to have taken their second jab more than two weeks before the respective rules come into force.
Long Covid's impact on youth: Hong Kong students face challenges returning to school, experts say more support needed
While many older students have already returned to their regular learning schedule, the majority of younger ones continue to attend half-day classes. An Education Bureau spokesman said the government hoped the change would allow primary school students to return to normal activities and "meet their learning, social, physical and mental needs".
But the government had no plans at the moment to allow kindergartens to resume full-day teaching, due to the children's young age, their limited ability to care for themselves and the relatively low vaccination rate in the age group.
Full-day in-person classes at both levels were suspended in August 2020, but the strict rules drew outcries from parents and lawmakers alike, who feared students' development would be harmed. Earlier this month, authorities rejected calls to resume the regular schedule at primary schools, saying the vaccination rate among pupils was too low.
People participate in a Covid-19 vaccination event at Hung Hom Community Hall in Kowloon City. Photo: Jelly Tse
A source said the bureau came under "pressure" after pro-establishment lawmakers criticised the government during a legislative panel meeting earlier this month for failing to provide a clear time table for primary schools to return to a normal schedule when much of the rest of the city was doing so.
According to government figures, only 27.6 per cent of 502,600 children aged three to 11 have received three jabs, while 74 per cent in the age group are double-vaccinated, meaning most primary schools should be able to meet the eased requirement. About 300 secondary schools have already returned to their normal teaching schedule as the vaccination requirements have been met.
The government in August announced secondary schools would only be allowed to hold full-day classes on campus by November if 90 per cent of students had received three shots.
Hong Kong parents, child development expert call for social-distancing rules in school to be consistent with restaurants
Secondary and primary school students would also have to fulfil the same requirement from October 1 if they hoped to participate in after-school extracurricular activities, such as music or sports.
According to the bureau spokesman, the three-jab plan for full-day secondary school classes will be applied in February, as authorities wanted to give students more time to schedule their shots.
Starting from Tuesday, primary schools can arrange extracurricular activities for pupils double-jabbed for more than two weeks after classes or during the other half of a school day. They could also take part in some mask-off activities on campus, such as music classes and sports. But secondary school students would continue to need three shots to take part in extracurricular activities.
A 90 per cent, triple-jab requirement for secondary students has been eased to two doses. Photo: Jelly Tse
Students with a doctor's certificate stating they are unsuitable for vaccination or those who had recently been infected are exempted from the rules.
The existing requirement for students to take daily rapid antigen tests and record their temperature before going to school will remain in place.
Polly Chan Shuk-yee, principal of the Yaumati Catholic Primary School (Hoi Wang Road), said her school had been preparing for the switch from half-day sessions to full ones. The school, where just over 70 per cent of pupils had received two doses, still needed to work out anti-pandemic measures for lunch hours when masks were taken off.
Has wearing masks in school had a negative effect on students' social skills?
"As for parents, they really want to have full-day classes sooner," Chan said.
Lawmaker and secondary school principal Tang Fei said he welcomed the new arrangement, as he had been urging authorities to review the conditions for resuming full-day classes.
"At the same time, I call on the Education Bureau to discuss with the mainland authorities as soon as possible after the pandemic is further stabilised to arrange cross-border students to come to Hong Kong for classes in an orderly manner," he said.
Hong Kong students' happiness drops for first time in 4 years
The Hong Kong Federation of Education Workers also hailed the relaxed rules, saying it would enable students to return to normal campus life and help maintain their physical and mental development.
"The pandemic has lasted for nearly three years, and schools have not been able to fully resume full-time face-to-face classes, which seriously affected students' learning and social abilities," it said.
The organisation urged authorities to introduce additional measures to encourage parents of younger pupils to schedule inoculations so kindergartens could resume full-day in-person learning, and primary and secondary schools could further relax social-distancing curbs.
It also called on the government to work with the mainland Chinese authorities to allow cross-border students to return to the city for classes, and provide subsidies to support their studies in the meantime.
Sign up for the YP Teachers Newsletter
Get updates for teachers sent directly to your inbox
Sign up for YP Weekly
Get updates sent directly to your inbox