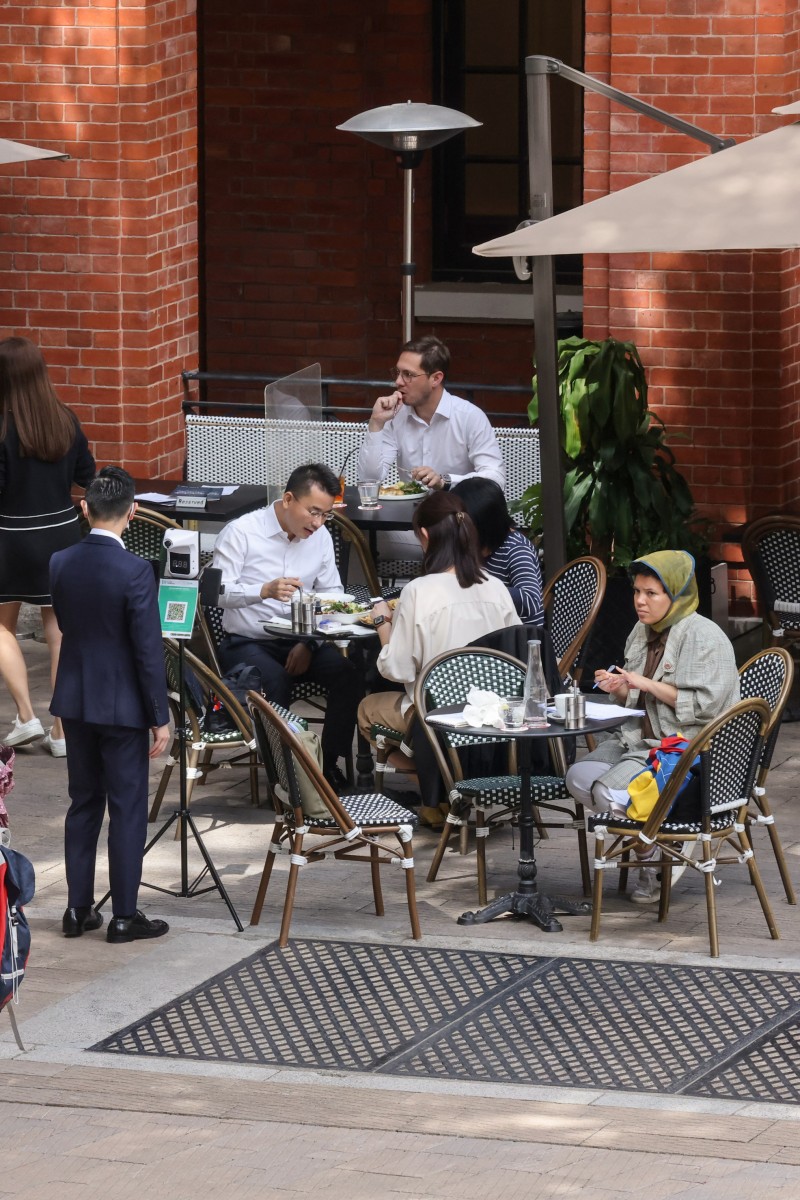 From November 3, guests will also be allowed to remove masks while taking photos at event, catering and sports premises, as well as entertainment and religious venues

Authorities will also consider axing more curbs if population's immunity barrier is strengthened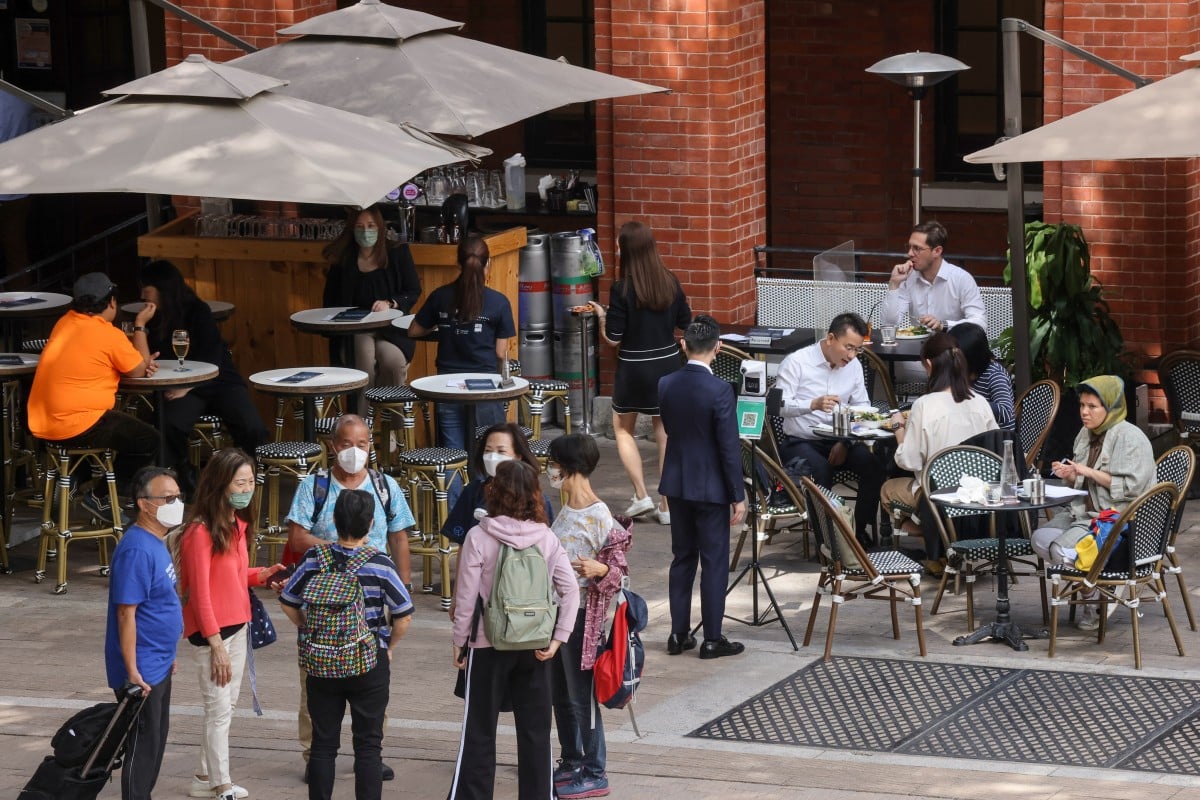 Currently, restaurants are allowed to open only until midnight with a maximum of 12 diners at a table. Photo: Jonathan Wong
Hong Kong will lift its restrictions on the opening hours of restaurants, pubs and various other premises from next Thursday while barbecue sites under government management will also resume operations as the authorities further ease Covid-19 social-distancing measures.
The announcement came as the city on Thursday logged 6,062 new coronavirus infections, the highest since September 19, while the number of serious cases and deaths remained stable.
"In the past four weeks, after the '0+3' scheme was implemented, the number of imported cases has increased from around 300 to 400," Undersecretary for Health Libby Lee Ha-yun said, referring to the arrangement where arrivals undergo three days of medical surveillance but do not require hotel quarantine.
Ongoing study finds more than 2 million Hongkongers may have suffered from long Covid
"The daily number of new cases also recorded a 5.4 per cent increase. The number of deaths and serious cases is relatively stable and it seems that services at public hospitals are able to bear the current pressure … We hope that we can grasp the chance and relax social-distancing rules so that our lives can lighten up."
Among Thursday's figures, 375 were imported, while eight more deaths were reported. The city's coronavirus tally now stands at 1,897,693 cases and 10,358 fatalities.
From November 3, guests will also be allowed to remove their masks while taking photos on the stage at event, catering and sports premises, as well as entertainment and religious venues.
Bars will no longer be required to close at 2am when the government relaxes social-distancing curbs next Thursday. Photo: Jonathan Wong
Under the current social-distancing rules, restaurants can only operate until midnight with a maximum of 12 diners per table, while a total of 240 guests are allowed at banquets.
On October 20, the number of people allowed in public gatherings was also expanded from four to 12. Live performances and dancing are now permitted at premises such as bars, clubs, hotels and restaurants.
Ben Leung Lap-yan, charter president of the Licensed Bar and Club Association, said he welcomed the decision to lift restrictions on opening hours, adding that he expected business to grow by 20 per cent for his sector.
How long Covid has impacted Hong Kong's youth
With the city's night spots currently required to close at 2am, a number of customers who were already dining in restaurants might be opting to avoid bars, Leung said, with the change giving such venues a chance to win back patrons.
Meanwhile, health authorities said the number of hospitalised Covid-19 patients had risen to about 1,800 to 1,950, with 230 new admissions per day. They added that the figure for critical and serious cases remained steady, totalling around 60 to 70 each day.
Stressing that the government's position on containing the coronavirus remained unchanged, Lee said authorities were focusing on lifting measures less likely to trigger a rebound in cases and had a significant impact on the local economy.
"If the imported cases can only lead to a small effect on the pandemic and will not be able to hit the nerves of our public healthcare system, we will meet more conditions for relaxation," Lee said when asked when the city would fully reopen to the world.
Authorities would also consider axing more curbs if Hong Kong's immunity barrier was strengthened, she added, urging all residents to get vaccinated, especially children and the elderly.
Health officials also said a 21-month-old girl, who had received two vaccine doses, was moved to an intensive care unit on Wednesday after exhibiting symptoms of croup. The ailment is characterised by an obstruction of the airway caused by viral infection.
The officials said they had discovered the girl had contracted both Covid-19 and rhinovirus, which is linked to the common cold, but added that her condition was stable.
High hopes for nasal Covid vaccines despite 'disappointing' trial
Meanwhile, Dr Chuang Shuk-kwan, of the Centre for Health Protection, said the first local cases of the Omicron subvariant XBB were likely to appear soon, with 182 imported infections of the strain being recorded as of Thursday.
Dr Leung Chi-chiu, a respiratory medicine expert, said the latest round of relaxed measures was unlikely to produce major or sustained changes to Hong Kong's epidemic situation, despite the emergence of new variants.
"We had a bigger BA.2 wave in Hong Kong than in Singapore. We could have better herd immunity against XBB, a recombinant of two BA.2 sublineages," he said, referring to a recent surge in cases in the city state driven by the Omicron strain.
Even if the XBB subvariant became dominant in the city, like in Singapore, it would cause a much smaller impact than recorded during Hong Kong's previous Omicron outbreaks, Leung explained.
The government also announced that the price for its Covid-19 testing services would be reduced to HK$150 (US$19) as of Friday, down from the current charge of HK$240, with results to be delivered within 24 hours.
A self-paid express service would be introduced as well, with results to be ready no more than 12 hours after testing and prices capped at HK$240. Both options will be available at all 85 government-run testing centres and stations.
Residents eligible for free testing services, such as those subject to a compulsory notice and anyone aged 60 and above, will be able to sign up for them from November 8 using a QR code generated via the "Leave Home Safe" risk-exposure app.
Sign up for the YP Teachers Newsletter
Get updates for teachers sent directly to your inbox
Sign up for YP Weekly
Get updates sent directly to your inbox