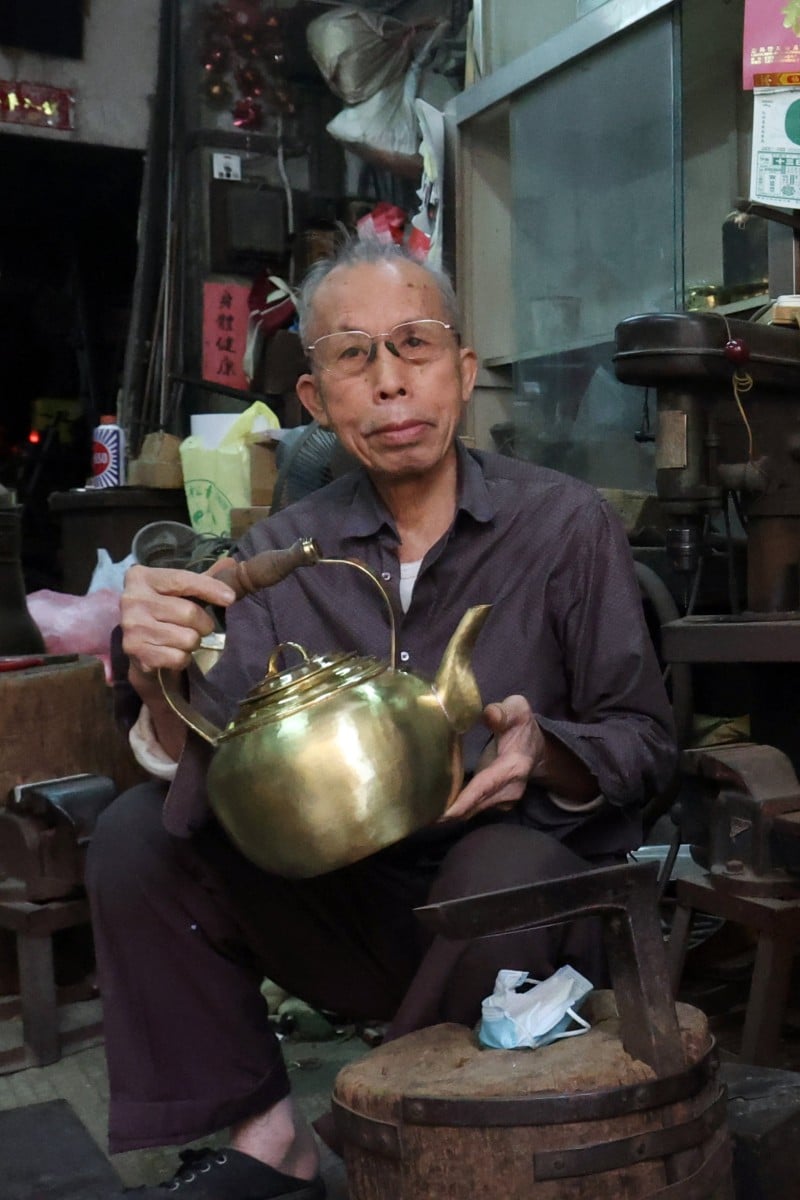 Craft's end at hand: owners of Hong Kong's last handmade copperware shop on why it's impossible to pass on their legacy
The veteran coppersmiths of Ping Kee Copperware, Luk Shu-choi, 86, and Luk Keung-choi, 80, have said they are 'thinking of retiring in February or March'

Most Hong Kong restaurants use stainless steel cookware and machine-made pots, but Mui Kee Congee says its dishes' unique taste relies on Ping Kee's pots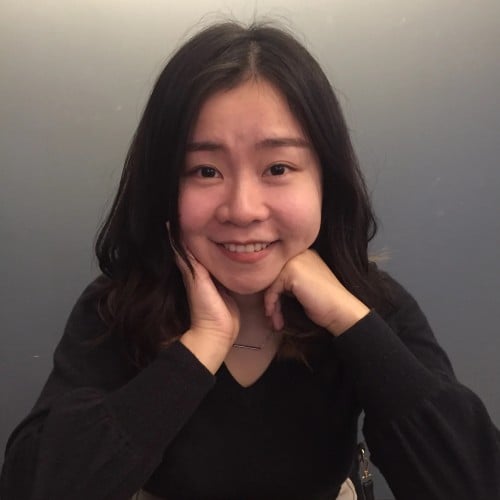 Kelly is a journalist from Hong Kong. She joined the Post in 2018, where she writes about Hong Kong's arts and culture, social welfare and the environment. She has a master's degree in Journalism from the University of Hong Kong.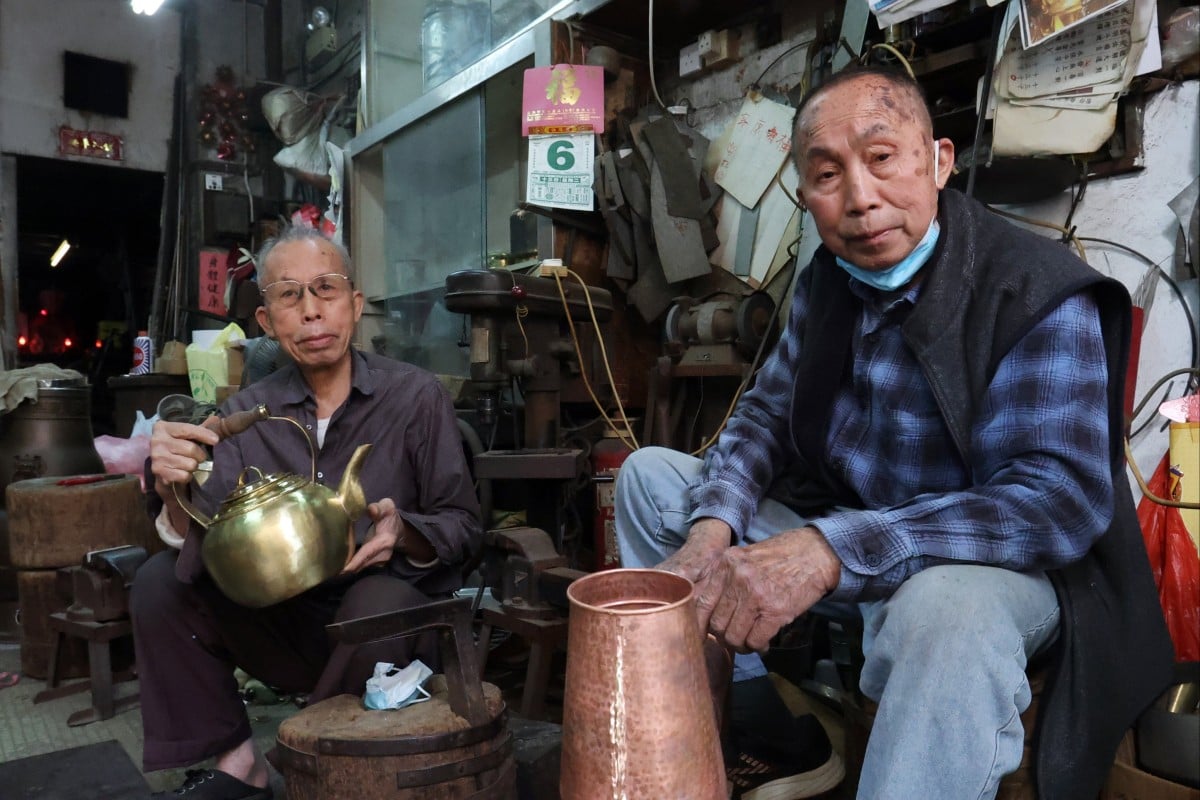 The owners of Ping Kee Copperware – two brothers, Luk Keung-choi (left) and Luk Shu-choi – have been hammering copper cookware for decades. Photo: Edmond So
Luk Shu-choi, 86, skilfully hammered a copper disk, pounding out a smooth edge for the bottom of a pot. At Ping Kee Copperware, the city's last store for handcrafted copper goods, each dent in their products is a testament to the artisans' resounding passion to work day after day.
Established in the 1940s, the shop was passed to Shu-choi and his younger brother Luk Keung-choi from their late father, Luk Ping. For decades, the veteran coppersmiths' hammers have not ceased their songs.
"We are thinking of retiring in February or March. After all, this work requires strength," said Keung-choi, 80, who spoke on behalf of his hearing-impaired elder brother.
"At that time, if you want to buy anything from Ping Kee, you won't find any ... No more handcrafted ones in Hong Kong," he continued.
Hong Kong mahjong carver among the last of his kind
From annealing and planishing the copper until it is malleable to polishing the final product, a congee pot takes one day to make, while a coffee pot requires two to three days. Sold at a "kai fong price", or local price, in Keung-choi's words, a handmade congee pot is priced at HK$800 to HK$1,000 – though the time and labour required for each item make for low profit margins.
Nevertheless, the brothers see beauty in their efforts.
"When it is made by hand, it has the human spirit in it. The object serves as a record, just like a cultural artefact," Keung-choi said. "Every product is different."
Ping Kee Copperware has been a fixture in Yau Ma Tei for more than 80 years. Photo: Edmond So
Witnesses to a corroding copper landscape
Between the 1950s to 1970s, Hong Kong had more than 100 local coppersmiths. As the city's last remaining artisans, the Luk brothers have witnessed the rise and fall of its handcrafted copperware industry.
Hong Kong-made copperware was once everywhere in the city. Many dai pai dong used to order cookware from the Luks who could easily make a living from the ladles and pots they sold to eateries.
"At that time, products from mainland China were not popular because the quality wasn't good enough. So locals preferred using ours," Keung-choi said. "My father also made pots used for hotpot. It was very popular."
But gradually, Hongkongers started turning to longer-lasting stainless steel cookware and less expensive products made in mainland China to cut costs.
Handcrafted copper cookware used to be common in kitchens across Hong Kong. Photo: Edmond So
Now, bulk orders are rare at Ping Kee – their bestselling items are tea and coffee pots for individual customers.
"[Copperware] is not on trend any more. The market in Hong Kong is small, and our production is slow. Some people are doing copperware, but they use machines," the coppersmith explained.
Many former restaurant clients have switched to cookware made in the mainland, but one remains loyal.
Even as most congee shops in the city shifted to stainless steel pots, Keung-choi revealed, "Only Mui Kee Congee is our long-running customer now."
The art of preserving old Hong Kong: one artist's quest to honour sunset trades
Ever since 1979, three generations of Mui Kee Congee's owners have insisted on using Ping Kee's handcrafted copper pots to create the signature taste for their dishes.
At the hawker stall in Mong Kok's Fa Yuen Street Market, Pierre Choi Gok-tung, 39, cooks the shop's signature fish belly congee. In a glimmering copper pot, he sautés fish with rice wine before mixing it into a silky-smooth congee base. Each spoonful holds a smoky aroma.
"When cooked in copperware, the congee has a unique taste. Take the fish belly congee as an example – it will have a distinctive aroma compared to ones cooked in a stainless steel pot," the cook said, explaining that copper heats quickly, which allows him to control the temperature easily while keeping the ingredients fresh.
Pierre Choi is the third generation of Mui Kee Congee's shop owners using Ping Kee's handmade copper pots. Photo: Edmond So
The third-generation food stall owner lamented Ping Kee's imminent closure as a loss for the city. "These are all art pieces," said the chef.
"[Ping Kee's copper pots] were what my grandma used in the past. In Hong Kong, you will not find another store like Ping Kee that crafts such high-quality copperware."
To prepare more than 100 bowls of congee every day for four decades, Choi said Mui Kee had used at least 1,000 pots from the Luks over the years. Knowing Ping Kee could be closing soon, the cook recently placed an order for 100 pots – later adding another 20.
"I take great care of the pots since they are expensive and handmade, so I only have to change one every year or two," he said, adding that in the future he would find a way to source copperware of similar quality.
Hong Kong artist's ink-wash painting tells stories of Yau Ma Tei's shops
No support for conservation
Among Ping Kee's customers hoping to support the historied business before it closes is Steven Wong, 65, who ordered a customised tea tray from the Luks.
"Traditional crafts shouldn't disappear ... it is a shame that soon you cannot get any handcrafted copperware in Hong Kong," he said.
But without wider support, Keung-choi stressed that it was impossible to preserve the craft: "In this industry, you are left on your own to fend for yourself. There is no such thing as conservation."
Though the Luk brothers learned the craft from their father as soon as they finished primary school, their children have no intention to inherit the business. "My son earns more than me and so does my daughter," Keung-choi said, adding that the brothers never had apprentices.
Luk Shu-choi and his brother have been making copperware since they were teenagers. Photo: Edmond So
"No one has ever learned it from us. To be frank, it is not something you can make a living," he shared, explaining that if the shop was not on family property, Ping Kee would have ceased operations long ago.
"Even if it was just HK$30,000 to HK$40,000 for rent, we would not be able to afford it ... No young people would ever work in this industry."
Still, the artisan believes in the value of handmade goods. "Like artefacts, some may not necessarily look aesthetic, but it is the work that represents the past – people in the future will wonder how they were made."
"Everything is difficult. It's all about putting your heart into something and your patience when doing it," he said.
Sign up for the YP Teachers Newsletter
Get updates for teachers sent directly to your inbox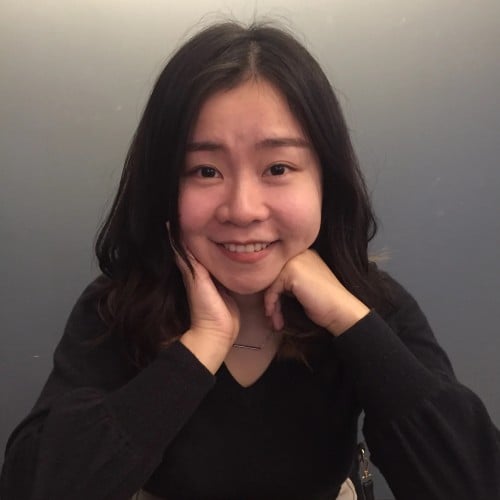 Kelly is a journalist from Hong Kong. She joined the Post in 2018, where she writes about Hong Kong's arts and culture, social welfare and the environment. She has a master's degree in Journalism from the University of Hong Kong.
Sign up for YP Weekly
Get updates sent directly to your inbox