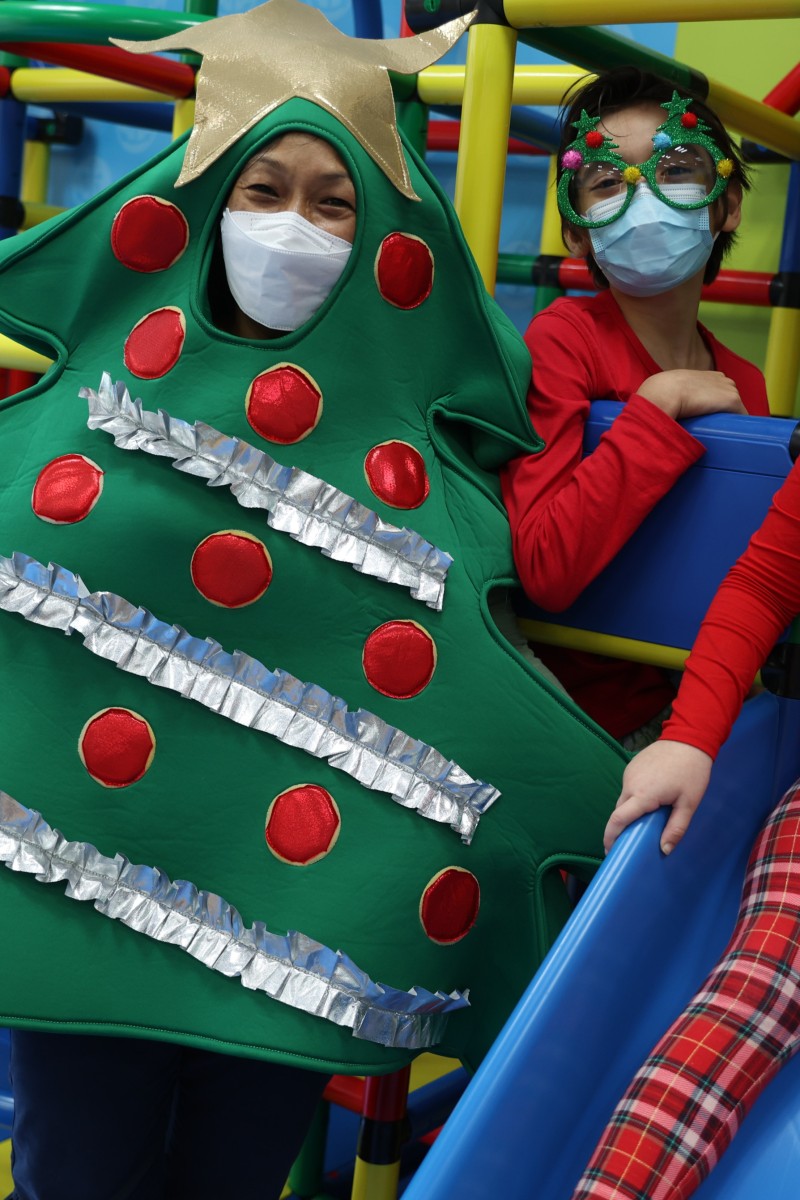 Operation Santa Claus: Teaching Hong Kong children how to give back to those in need
Students, parents and staff at Discovery Mind raised money for the underprivileged with a dress up and 'crazy hair day'

The educational organisation's 17th OSC event raised HK$35,000; group has raised more than HK$1.8 million since 2006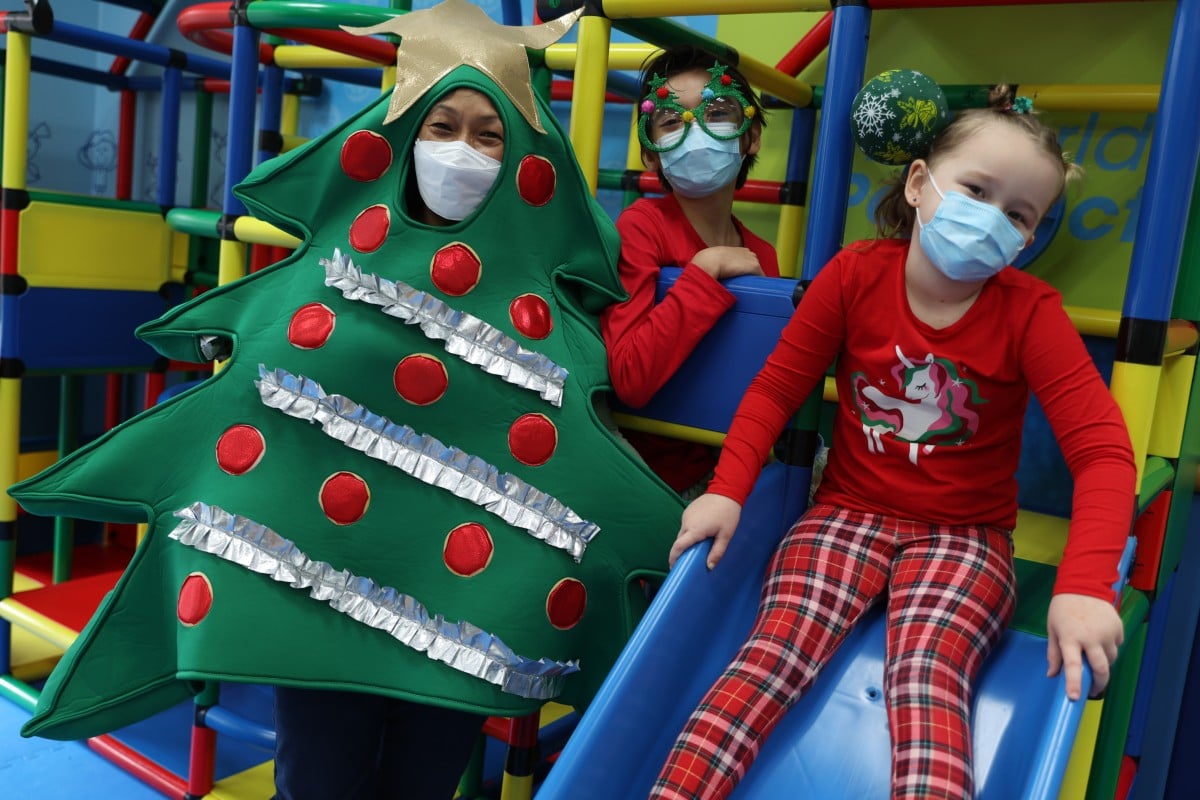 (L-R) Kabeeta Gurung, head of Discovery Mind Kindergarten, poses with students Liam Cheng and Alyssa Gallagher at Discovery Mind Kindergarten in Tung Chung. Photo: Yik Yeung-man
Some 330 students were sharing festive cheer as they came to school in eye-catching Christmas-themed fancy dress featuring reindeer horns, Santa Claus and more – all for a heart-warming cause ahead of the winter.
Students, their parents and staff at Discovery Mind Educational Organisation's Kindergartens, Play Centres and Primary School in Tung Chung and Discovery Bay turned up for "Dress in Red & Green with Crazy Hair Day" on November 18 to raise funds for Operation Santa Claus (OSC).
OSC is an annual fundraising campaign organised by the South China Morning Post and public broadcaster RTHK. Marking its 35th anniversary this year, OSC has raised HK$353 million to support the Hong Kong community through 323 charitable projects since its launch in 1988. A total of 15 projects are being funded this year.
Not just for Christmas: 7 local brands to check out for presents
"I feel great, because we are here to donate to Operation Santa Claus, and then they will give the donations to charities which help those in need. I feel very happy to contribute and to make them feel happy too," said Liam Cheng, a 10-year-old Year-Six student at Discovery Mind Primary School.
"From this event, I've learnt that sharing is a good opportunity to make yourself and others happy," said the Hong Kong-born Chinese-French boy, sporting quirky decorative spectacles with a Christmas tree design.
His sentiment was echoed by Alyssa Gallagher, a five-year-old Kindergarten Three (K3) student from Discovery Mind Kindergarten, wearing a pair of bauble-inspired hair adornments.
"I feel happy," said the Australian-New Zealander, also born in Hong Kong.
Liam and Alyssa said raising money for Operation Santa Claus taught them about the importance of helping others. Photo: Yik Yeung-man
Discovery Mind Educational Organisation's 17th OSC event raised HK$35,000. The organisation has raised more than HK$1.8 million for OSC since 2006.
"We have been named OSC's Top School Fundraiser 13 times, something we are hugely proud of," said Kabeeta Gurung, Discovery Mind's head of kindergarten, dressed in a fun costume resembling a Christmas tree.
"OSC provides a wonderful platform for us as educators to instil in our students the importance of giving," she added.
A guide to a clutter-free holiday season
Gurung said the spirit of giving highlighted by OSC was associated with other important values for children, such as kindness, empathy and generosity.
"Children go through many important developmental milestones and an integral part of our curriculum, starting from our youngest students in our Pre-Nursery class, right through to our Primary Six students, is to nurture kindness, empathy and generosity, which are all woven into our daily lessons.
"These important values are instilled in our students not only during the holiday season but throughout the year," she said.
Why the greatest gift of all is helping others and paying it forward
Discovery Mind used to hold annual charity walks to raise money for OSC, with hundreds of children dressed in red T-shirts walking through Tung Chung and Discovery Bay, creating a spectacular scene. However, in view of the pandemic, it has been holding an on-campus dress-up and crazy hair event instead since 2020.
"It's smaller in scale, yet it's more personal and we get to interact with our DM [Discovery Mind] community during the event," Gurung said.
Many parents accompanied their festively dressed little ones to school to show support and take photographs.
For more information on this year's beneficiaries, please click here.
Sign up for the YP Teachers Newsletter
Get updates for teachers sent directly to your inbox
Sign up for YP Weekly
Get updates sent directly to your inbox