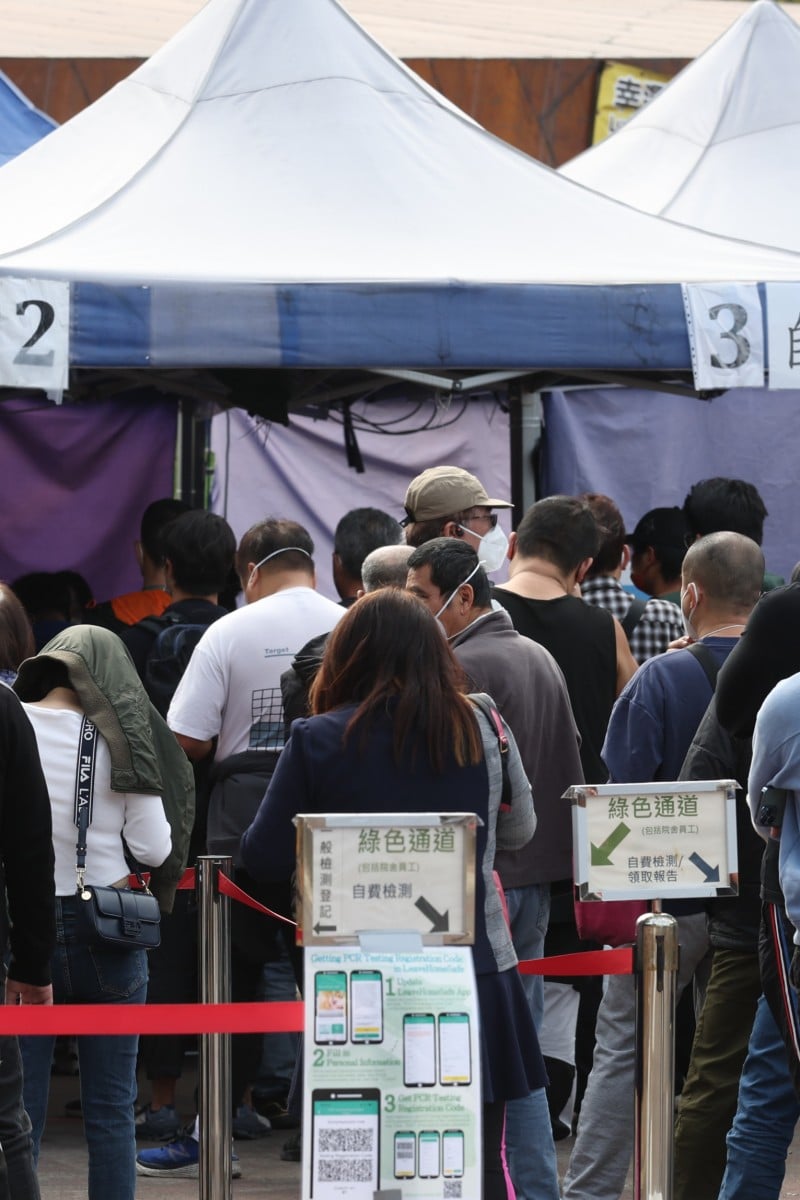 Students were still advised to stay home until testing negative to protect other youngsters, health officials said on Thursday

City's reporting mechanism will be revamped to only focus on polymerase chain reaction (PCR) test results and virus-related deaths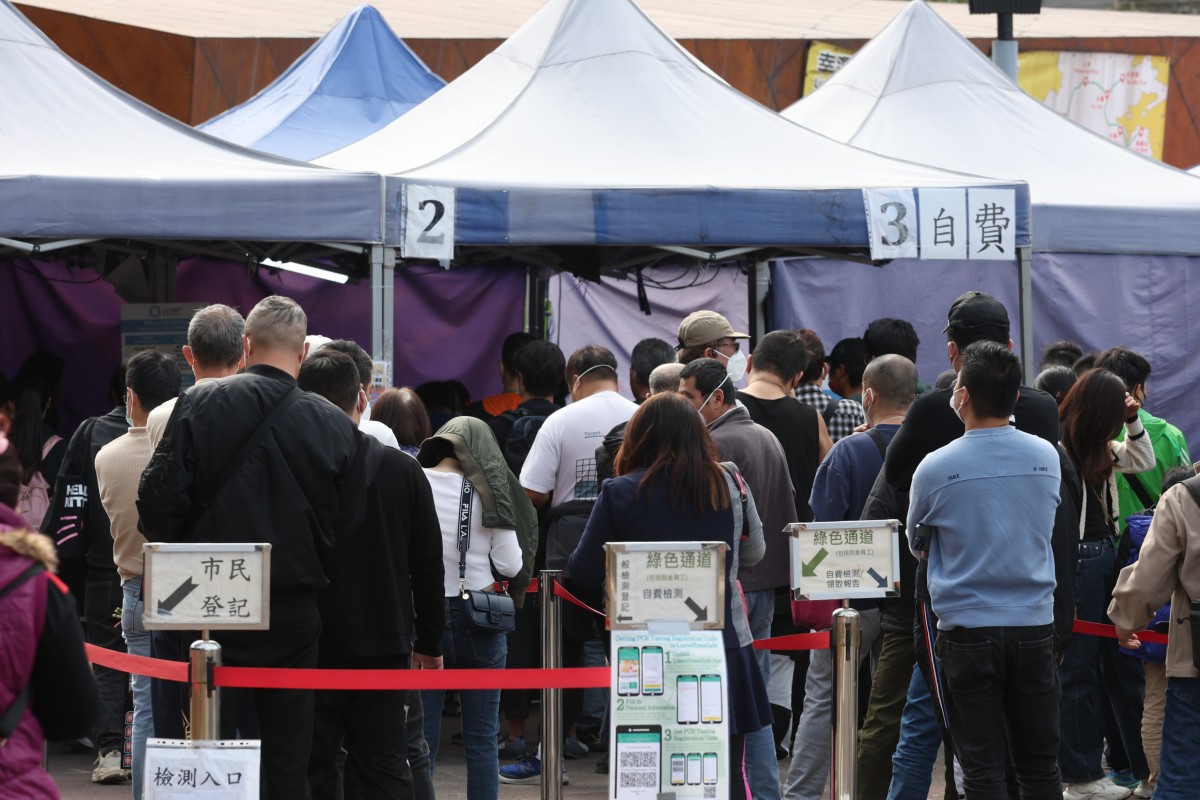 Residents queue up to receive polymerase chain reaction (PCR) tests in Hong Kong. Photo: Yik Yeung-man
Those who test positive for Covid-19 in Hong Kong will no longer be required to undergo five days of isolation from January 30 after the Lunar New Year holiday. Health officials have said asymptomatic patients could return to work the very same day.
But students were still advised to stay home until they tested negative to protect other youngsters, health authorities told a press conference on Thursday afternoon.
They added that the city's reporting mechanism would be revamped to only focus on polymerase chain reaction (PCR) test results and virus-related deaths.
"The threat remains and Covid-19 is still treated using an emergency response level," Secretary for Health Lo Chung-mau said.
"We will still monitor the situation as suggested by the World Health Organization … Those measures in schools and elderly homes will remain to better protect certain groups in the population."
Most long Covid symptoms clear up in a year for mild cases, study finds
Chief Executive John Lee Ka-chiu in the morning told lawmakers the quarantine mandate for hospitals, government facilities and patients' homes would be lifted. This mandate has been in force for nearly three years.
"The government should shift from clear-cut management to one that allows citizens to make decisions and take responsibility for themselves," he said. "This important step is based on science and risk assessment. This is a necessary stage for all countries in their paths to normality."
Lee said the decision was made to formally revoke the isolation order issued to infected people under the Prevention and Control of Disease Ordinance as Hong Kong now had a high vaccination and infection rate, and the city's pandemic situation had not worsened after the border with mainland China reopened nearly two weeks ago.
He said the city should treat Covid-19 as any other upper respiratory disease under the new normal.
Chief Executive John Lee has said the coronavirus should be treated similarly to any other upper respiratory disease. Photo: Elson Li
In Hong Kong, more than 93 per cent of the population has received two doses of a Covid-19 vaccine and 84 per cent of residents had taken a booster shot.
"The protection barrier elicited by hybrid immunity against Covid-19 has already been very secure in society," Lee said at a question and answer session in the legislature, adding that vaccinated residents were only mildly infected with the Omicron variant.
He said the burden on the public healthcare system because of the virus had "eased significantly", after its capability was enhanced and effective Covid-19 drugs became available.
In the space of three weeks, the daily tally had dropped to fewer than 4,000 infections from a peak of almost 20,000 at the start of the month.
Face Off: Should Hong Kong scrap the mask mandate once and for all?
Asked by a lawmaker if he was worried about a resurgence of cases after the complete removal of isolation requirements, Lee said the government would make assessments closely and was prepared to handle problems that arose.
The isolation regulation is one of the few remaining major Covid-19 restrictions in the city, along with the mask mandate and PCR test requirements for people crossing the border.
Lee said he had been working with the central government and Guangdong officials towards the same goal of scrapping the test mandate, without giving a time frame, as any discussions with the north required the consensus of three parties and he could not decide alone.
"Give us some time. I remain positive," he said. "To residents, only the cancellation of all [Covid-19] restrictions will prove that we have returned to normality."
For now, Lee said, he would first allow cross-border students to take daily rapid antigen tests (RATs) instead of PCR ones when they could return to schools in Hong Kong as early as next month.
Chief Executive John Lee has said he would allow cross-border students to take daily rapid antigen tests (RATs) instead of PCR ones when returning to schools in Hong Kong as early as next month. Photo: K.Y. Cheng
Separately, the city's No 2 official, Chief Secretary Eric Chan Kwok-ki, said that as the number of travellers grew over time, the capacity of PCR screening facilities would come under pressure, and authorities were hoping to switch to RATs and then ultimately scrap all Covid tests.
"We hope this can be achieved as early as possible. But we can't promise whether it will be implemented before or after Lunar New Year," he said in an interview, adding that once the government got the green light from Beijing, it could make the change whenever it wanted.
The lifting of restrictions follows the mainland, which announced the downgrading of Covid-19 to a Class B infectious disease earlier in the month under which isolation for patients is no longer necessary.
Sign up for the YP Teachers Newsletter
Get updates for teachers sent directly to your inbox
Sign up for YP Weekly
Get updates sent directly to your inbox