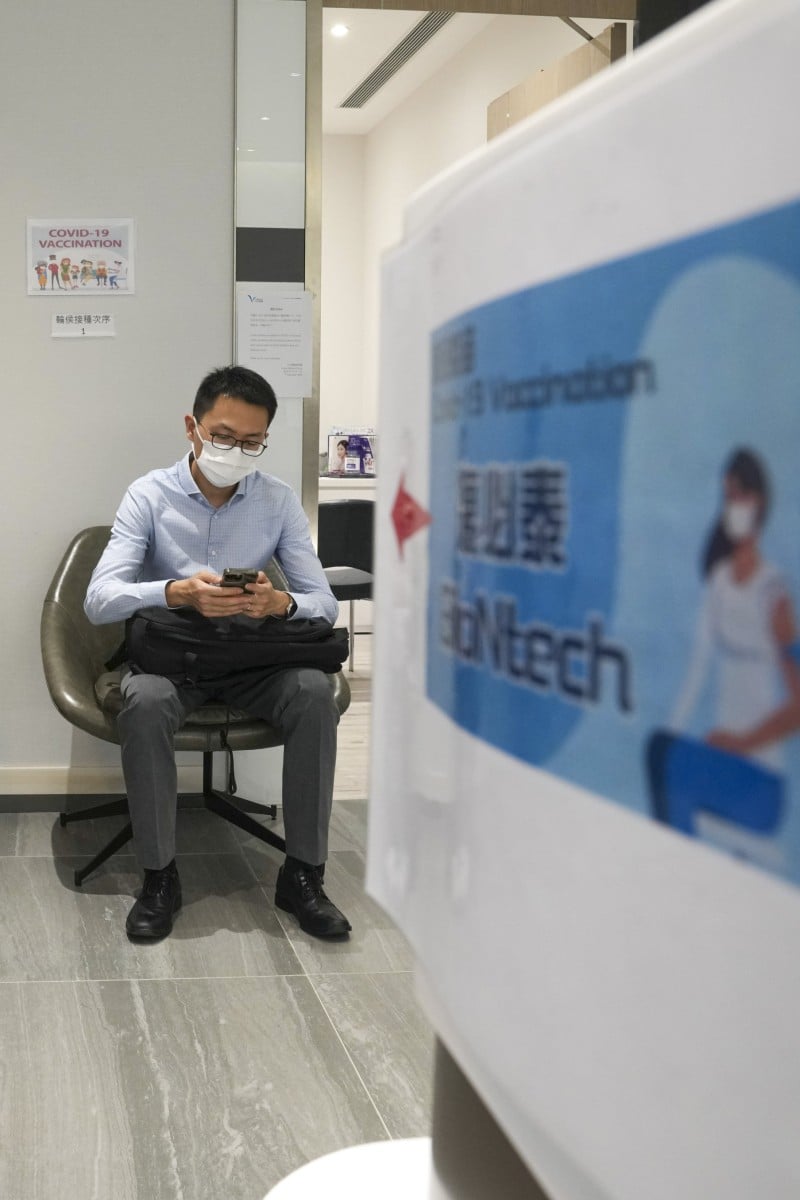 City experienced a rush for vaccinations in late December and early January

One expert attributes decline to easing of pandemic control measures by the government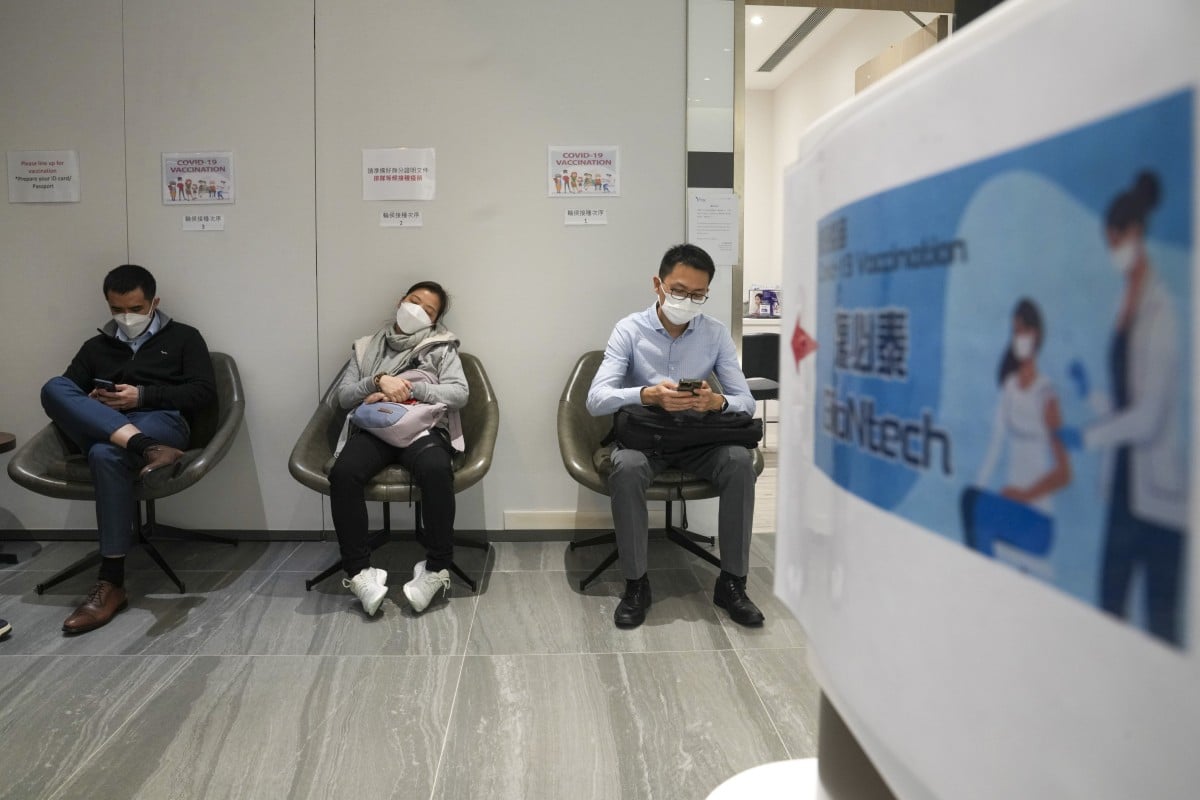 People wait to receive the Covid-19 vaccine at a medical clinic in Tsim Sha Tsui. Photo: Sam Tsang
The uptake of coronavirus vaccines among Hongkongers has slowed since early January, with health experts attributing the trend to the shift in the city's pandemic policy, an easing winter outbreak and what one called an "overcautious" risk alert by US authorities on BioNTech's bivalent shot.
The city experienced a surge in vaccinations in late December and early January, pushing the seven-day average above 15,000 shots a day compared with about 10,000 in early December when the Omicron-specific bivalent vaccine became available.
December 30 was the busiest day of the government's vaccination programme since October – in all, 21,217 residents received a Covid-19 jab, including 14,880 who took the bivalent shot.
Asymptomatic Covid-19 patients in Hong Kong no longer need to isolate from January 30
But the daily uptake began to slide from early January. On January 20, two days ahead of Lunar New Year, a total of 4,589 Covid-19 shots were administered, including 3,819 of the bivalent vaccine. The daily seven-day average for all types of vaccines stood at 6,508 as of January 20, approaching the level seen in November before the bivalent shot was offered.
Dr Edmund Lam Wing-wo, a member of the government's Scientific Committee on Vaccine Preventable Diseases, on Tuesday attributed the decline to the easing of pandemic control measures by the administration.
He said last Thursday's announcement to end isolation orders for Covid patients from January 30, in addition to the scrapping of vaccine pass requirements in December, had shifted the public's attitude towards the disease and thus on the need for vaccination.
People queue for Covid-19 vaccines at Java Road Playground. Photo: Xiaomei Chen
"The overall vaccination tally has dipped because people think the pandemic seems to be gone. It's also because many people have recently been infected and can't get vaccinated any time soon," he said.
Lam added that the recent slower vaccine uptake might also be because a feared Covid-19 case rebound in Hong Kong following the resumption of quarantine-free travel with mainland China did not materialise.
The decline in new cases continued on Tuesday with 1,987 reported – the lowest daily tally since July – including 37 imported infections. Another 36 Covid-related deaths were recorded.
Should Hong Kong scrap the mask mandate once and for all?
Respiratory medicine specialist Dr Leung Chi-chiu was more concerned about the potential impact of recent media coverage on a risk alert published by the US Centres for Disease Control and Prevention (CDC).
The CDC and the US Food and Drug Administration on January 13 reported that a safety monitoring system had detected a "preliminary signal" that people aged 65 and above might be more likely to have an ischemic stroke 21 days after receiving the BioNTech bivalent shot, compared with days 22 to 44.
A spokesman for Hong Kong's Department of Health said on Tuesday that it had received "no more than" five reports of health adverse events in relation to the bivalent vaccine as of January 14, none of which involved stroke.
BioNTech's bivalent vaccine. Photo: Sam Tsang
The spokesman added that the department had also been running a safety monitoring system in conjunction with the University of Hong Kong, in which adverse events reported through it were not necessarily caused by the vaccine.
Leung said that as of Tuesday, he had seen no other monitoring system or study that substantiated a link between elderly people receiving the bivalent vaccine and having a stroke. He said the observation recorded might be a pure chance occurrence.
He questioned the need for US authorities to release a preliminary observation that inevitably invited unflattering press coverage on the bivalent vaccine. It might also have contributed to a lower desire among Hongkongers in getting jabbed in the week before Lunar New Year, he said.
Most long Covid symptoms clear up in a year for mild cases, study finds
"Regulators tend to disclose such signals out of relative or even excessive caution to protect themselves. But as they released the report, the media coverage became somewhat superficial and painted it as if it were a real risk," he said.
But Lam said while some of his patients had asked about the stroke risk report, "not that many people have been bothered by it".
The family doctor said the overall decline in vaccine uptake should not be a cause for alarm – with 93 per cent of the population double-jabbed and 84 per cent having received a booster, as well as millions of people having an infection history, the community's immunity against Covid-19 was high.
People with face masks wait for trams in Central. Chief Executive John Lee Ka-chiu said he aims to remove the mask mandate and all remaining Covid restrictions this year, after already scrapping most pandemic rules last December. Photo: Sam Tsang
Lam said while there was room to improve vaccination rates among the youngest and the oldest Hongkongers, there was little the authorities could do with those who had resisted the inoculation drive for two years.
Only about a quarter of Hong Kong children under three years have had jabs, while 21 per cent of those aged 70 or over remain unvaccinated.
Families in China reunite after 3-year Covid separation, just in time for Lunar New Year
A spokesman of the Civil Service Bureau, which runs the government vaccination programme, said authorities would continue to encourage residents to get their jabs, especially young children and the elderly.
Bivalent Covid-19 vaccines contain components of the original strain as well as Omicron, granting better protection against infections caused by the prevalent variant. BioNTech's bivalent vaccine, the only one available in Hong Kong, targets the subvariants BA.4 and BA.5.
Sign up for the YP Teachers Newsletter
Get updates for teachers sent directly to your inbox
Sign up for YP Weekly
Get updates sent directly to your inbox