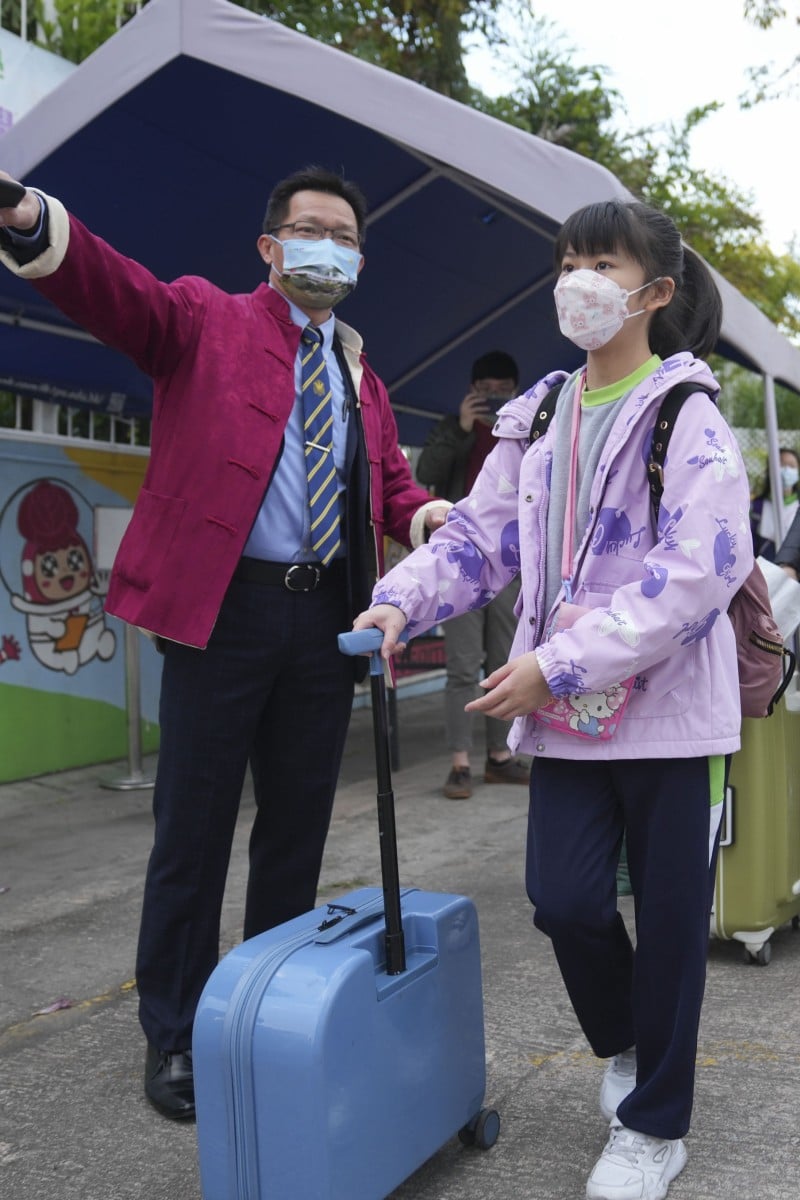 Some students chose to begin class ahead of government's schedule, which would exempt them from travel quotas, opting instead to return on first day of term

PCR tests every 48 hours remain headache for families who hope authorities will soon announce exemptions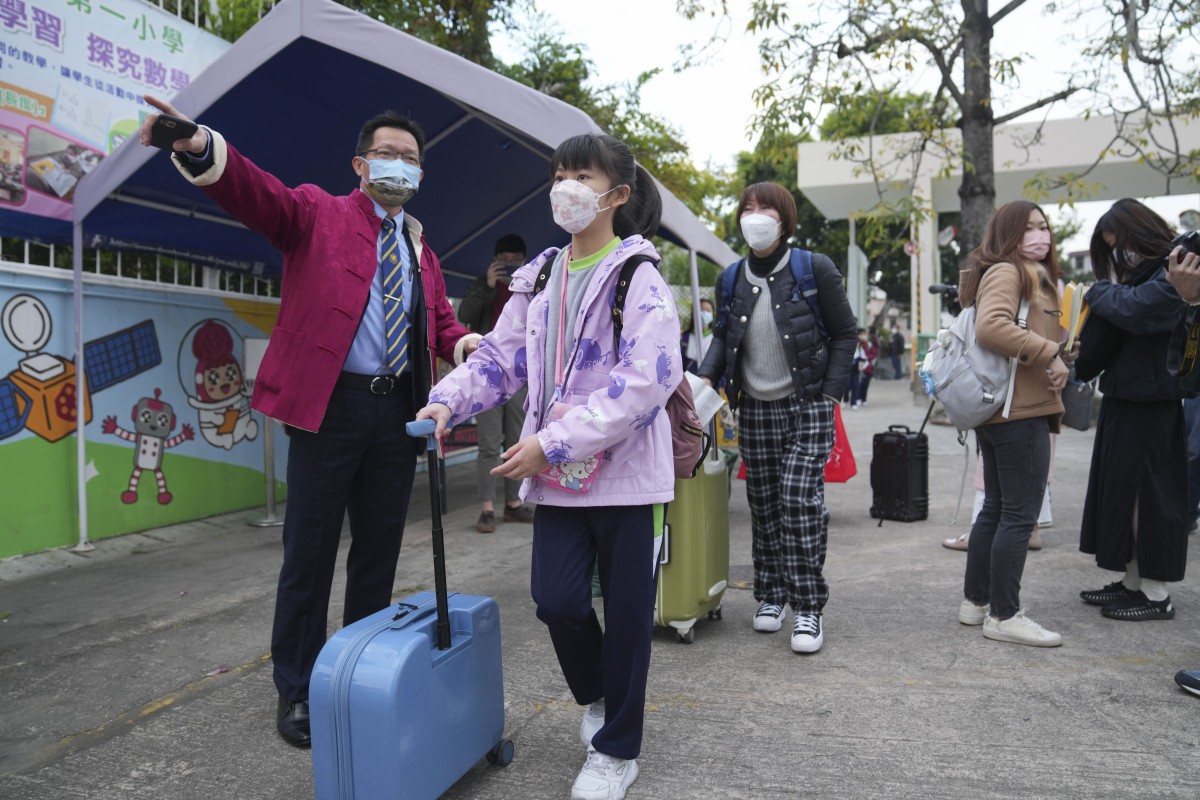 Some cross-border pupils are returning to in-person classes after nearly three years of online learning. Photo: Sam Tsang
Hong Kong students living in mainland China returned to in-person classes in the city on Wednesday for the first time in nearly three years, with some hoping authorities would soon grant them exemptions from regular polymerase chain reaction (PCR) tests.
About 30 of the 200 cross-border students at Fung Kai No 1 Primary School in Sheung Shui reunited with teachers and peers as the second term commenced, with some travelling alongside parents while others made the trip on their own.
"Let us all welcome our cross-border students as they have not been here for three years. We finally see the light at the end of the tunnel. I would hug you all if there were no pandemic," said Chu Wai-lam, the school's principal, at the morning assembly attended by all students.
Parents and teachers fear back-to-school culture shock for mainland students resuming face-to-face classes in Hong Kong after 3 years
The first batch of cross-border students has returned to the city just weeks after the reopening of the border with the mainland in January.
The Education Bureau last Friday pushed back the scheduled return date by two weeks, announcing that cross-border students from secondary schools could resume face-to-face learning from mid-February, while those at primary school and kindergartens could return by the end of the month. These students would be exempt from current travel quotas.
But some parents preferred not to wait for the official return dates, deciding instead to secure slots under the quota system which allows 50,000 people to travel from the mainland to Hong Kong after obtaining negative PCR test results.
Cross-border students at the Lok Ma Chau Spur Line checkpoint. Photo: K.Y. Cheng
Carrying two pieces of luggage while on her way to stay temporarily at a relative's home in Hong Kong, Chen Xiaoping, the mother of a Primary Five pupil living in Luohu, said she woke up at 6am to head to the school with her daughter via the Man Kam To checkpoint.
"I hope she can go back to school as it is the first day of the second term … she looks forward to going to school and even dreamed about it. When I woke her up this morning, she was so happy and woke up at once," she said.
But she lamented that it was hard to find a place to undergo PCR tests on the mainland as the nearest hospital offering the service was 15 to 20 minutes away. She said she found it more frustrating that authorities only accepted negative results valid for 48 hours.
Why fewer Hongkongers are receiving Covid shots after recent vaccination surge
She has decided to live at her sister's home in Hong Kong until the PCR test requirement is scrapped.
Having given up her full-time sales job to accompany her daughter for online classes at home during the pandemic, Chen said it was not ideal for children to sit in front of screens for a long time as their attention spans were short.
Chen also signed up her daughter for an in-person tutorial class on the mainland to catch up with her studies as she found her academic performance was lagging behind after years of online teaching.
Asymptomatic Covid-19 patients in Hong Kong no longer need to isolate
Lo Huien, 12, a Primary Six student at the Sheung Shui school, woke up at 6am and travelled to Hong Kong on her own via the Lok Ma Chau Spur Line checkpoint. She said she would continue securing the travel quota slot and undergo PCR tests before any possible relaxation.
Before the pandemic, she would travel to school on a bus accompanied by a nanny and said she looked forward to the service resuming this month.
"I found one of my teacher's hair had turned silver after not seeing him for three years and I found the school's campus also changed, including a new courtyard," she said.
"I really look forward to playing with my classmates – it has been three years since we have been together."
Cross-border students have reunited with their peers after years of online learning. Photo: Sam Tsang
But she said she felt sorry that her short-lived time at primary school would end soon as she would move on to secondary school in September.
Lo said she sometimes found it hard to concentrate when attending online classes compared with those held in person, but she had been keen to maintain self-discipline and stay focused, managing to receive the highest academic ranking in her class.
She also signed up for some tutorial classes on the mainland to catch up on her studies in mathematics.
Principal Chu said the rest of the cross-border students would return to in-person classes within the month. The school would continue offering online classes in that period until all students had returned.
Should Hong Kong scrap the mask mandate once and for all?
He said his school would offer cross-border students different support measures such as supplementary classes, as well as psychological and emotional help.
Chu added that the school had extended recess times from 15 to 25 minutes to let students – particularly the cross-border ones – have more time to interact with others and boost social skills which might have diminished.
A government spokesman on Wednesday night said authorities were hopeful details on the full resumption of cross-border travel could be announced soon, including the reopening of more checkpoints and the scrapping of PCR testing and the quota system.
Some cross-border pupils are returning to in-person classes after nearly three years of online learning. Photo: Sam Tsang; Cross-border students at the Lok Ma Chau Spur Line checkpoint. Photo: K.Y. Cheng; Pupils have reunited with their peers after years of online learning. Photo: Sam Tsang
Sign up for the YP Teachers Newsletter
Get updates for teachers sent directly to your inbox
Sign up for YP Weekly
Get updates sent directly to your inbox