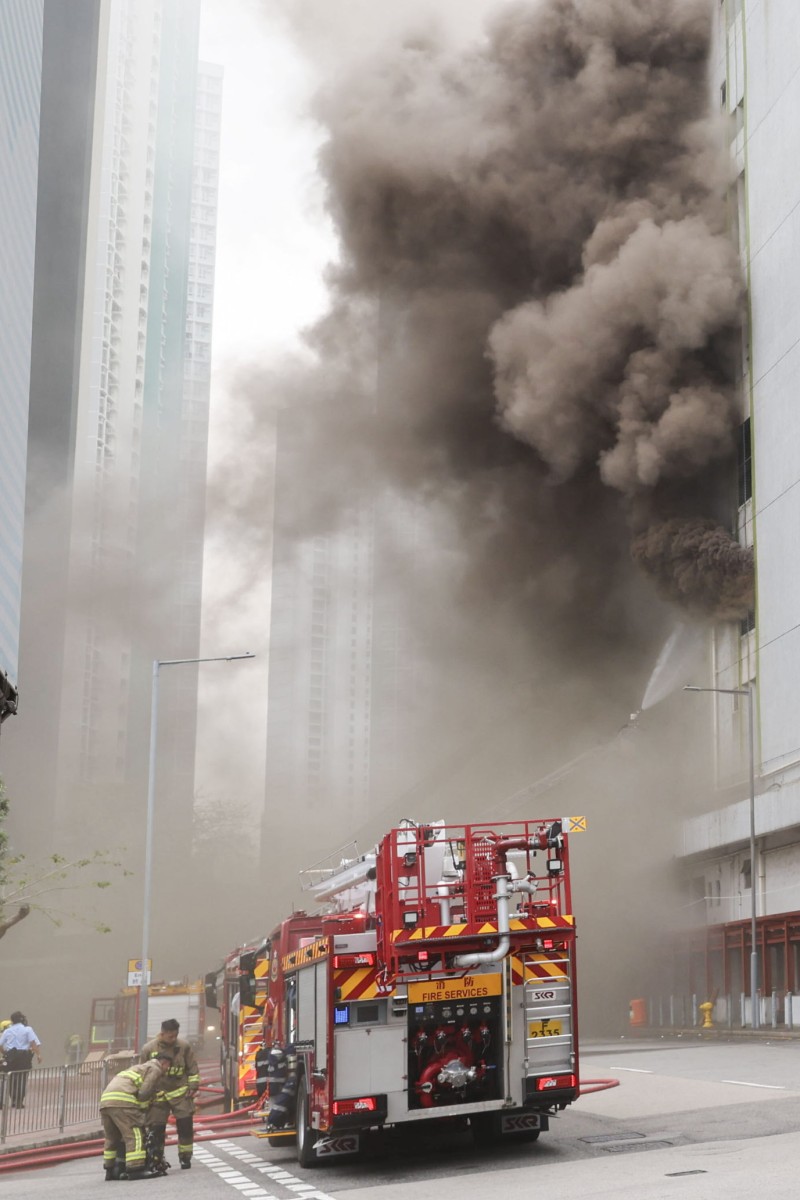 Six people, including two firefighters, injured after fire breaks out in Cheung Sha Wan building

Thick smoke seen pouring out from second and third floors of eight-storey building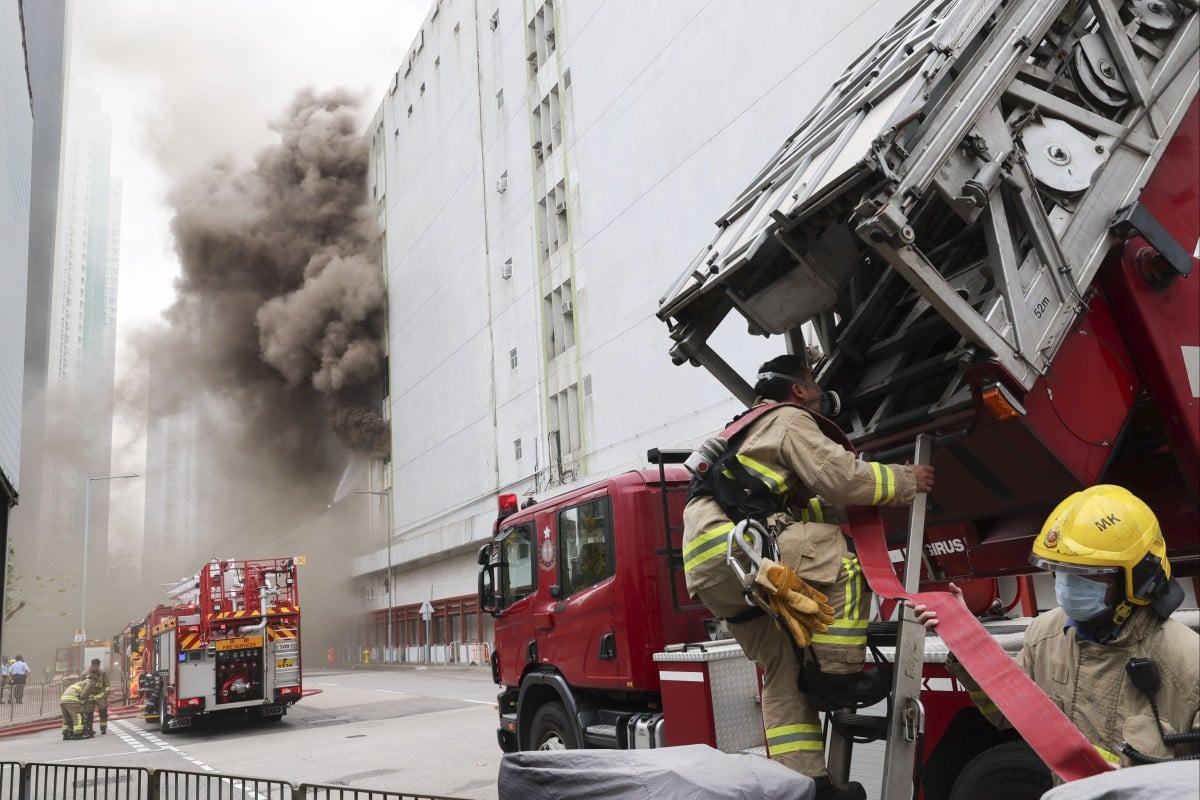 Hong Kong firefighters are battling a No 3 alarm blaze at a warehouse in Cheung Sha Wan which has left six people injured. Photo: Yik Yeung-man
Hong Kong firefighters are battling a No 3 alarm blaze at a warehouse in Cheung Sha Wan which has left six people injured and forced the evacuation of more than 3,000 students and residents from nearby schools and homes.
Ten workers were rescued after the fire broke out on the second floor of the building on Friday, according to the Fire Services Department. Two of them suffered minor injuries and did not need hospital treatment.
Emergency personnel were called to the scene at the Yuen Fat Wharf & Godown building on Fat Cheung Street in Cheung Sha Wan at 1.49pm.
87 injured in 5-vehicle pile-up near Hong Kong's Tseung Kwan O Tunnel
A source familiar with the case said the building had been emptied and 10 workers were carrying out demolition work on the second floor when the fire broke out.
Thick smoke was seen pouring out from the second and third floors of the eight-storey building.
The incident was upgraded to a No 3 alarm blaze at 2.10pm. Fires in the city are rated on a scale of one to five according to their seriousness.
More than 220 firefighters and paramedics were deployed to the scene. Two teams equipped with breathing apparatus battled the blaze using two water jets. A drone was also used to survey the area.
Firefighters battle the blaze in Cheung Sha Wan. Photo: Yik Yeung-man
A spokesman for the Fire Services Department said two firefighters felt unwell and the pair were taken to Princess Margaret Hospital in Kwai Chung.
According to police, a staff member of a nearby park and a school student felt unwell after inhaling smoke and they were taken to Caritas Medical Centre.
Police said about 3,400 people were evacuated from homes and four nearby schools, including Ying Wa College, Tsung Tsin Christian Academy, Tack Ching Girls' Secondary School and St Margaret's Co-educational English Secondary and Primary School.
A government spokeswoman said an evacuation of the warehouse was not needed.
18 students with special educational needs sent to hospitals after school bus hits car near mainland border
The building, completed in 1987 and owned by China Resources Group, was set to be redeveloped into a residential site.
Ying Wa College principal Dion Chan said the school had decided to evacuate students at 2.30pm, adding he understood other campuses in the area had done the same.
At the nearby Ying Wa Primary School, students had already finished class before the fire broke out.
A teacher at Tack Ching Girls' Secondary School, who asked not to be named, said staff there had noticed a huge cloud of brownish smoke at around 2pm and told students to leave the campus. The pupils had already wrapped up classes at 1.10pm.
Firefighters at the scene of the warehouse fire in Cheung Sha Wan. Photo: Yik Yeung-man
"The smell is so pungent that it causes headaches and coughing," she said.
The teacher added she had not observed any trucks coming and going from the warehouse in the past months, despite seeing such traffic in the past.
Nancy Lee Lan-yuen, principal of St Margaret's school, said the campus had sent its students home at around 2pm after they noticed a strong smell.
"We happened to be holding an activity attended by more than 100 parents of our primary school students," she said. "The evacuation has been very smooth and efficient."
Students at nearby schools and residents living near the fire were quickly evacuated from the area. Photo: Handout
At around 3.30pm, the vicinity of the warehouse was cordoned off by police and people were only allowed to leave the area.
Residents of modular housing units operated by an NGO near the burning building were evacuated at about 3pm.
Halima Sadia, a 30-year-old housewife, was waiting on the pavement with her husband and two sons, aged two and three.
Kowloon Tong private school to close, becoming first in Hong Kong to cite emigration wave for demise
She said police officers had knocked on her door before evacuating her from her home.
"We first planned to stay, but the officers said the odour was bad for our health, so we took our two children outside," she said.
Another resident of the NGO-run housing, Jason Wong, initially wore a gas mask for protection but decided to take it off while leaving the building.
Primary schools opt for shorter classes to give students more time to pursue interests
"I'm in the renovation business so I don't find the odour very strong," the 25-year-old said.
Those living in Hoi Tak Court, a nearby residential building, have also been evacuated.
A government spokesman said the Sham Shui Po district Office had set up a makeshift shelter at the Sham Shui Po Sports Centre for residents, adding it would monitor the situation and communicate with other government departments to provide assistance.
Sign up for the YP Teachers Newsletter
Get updates for teachers sent directly to your inbox
Sign up for YP Weekly
Get updates sent directly to your inbox