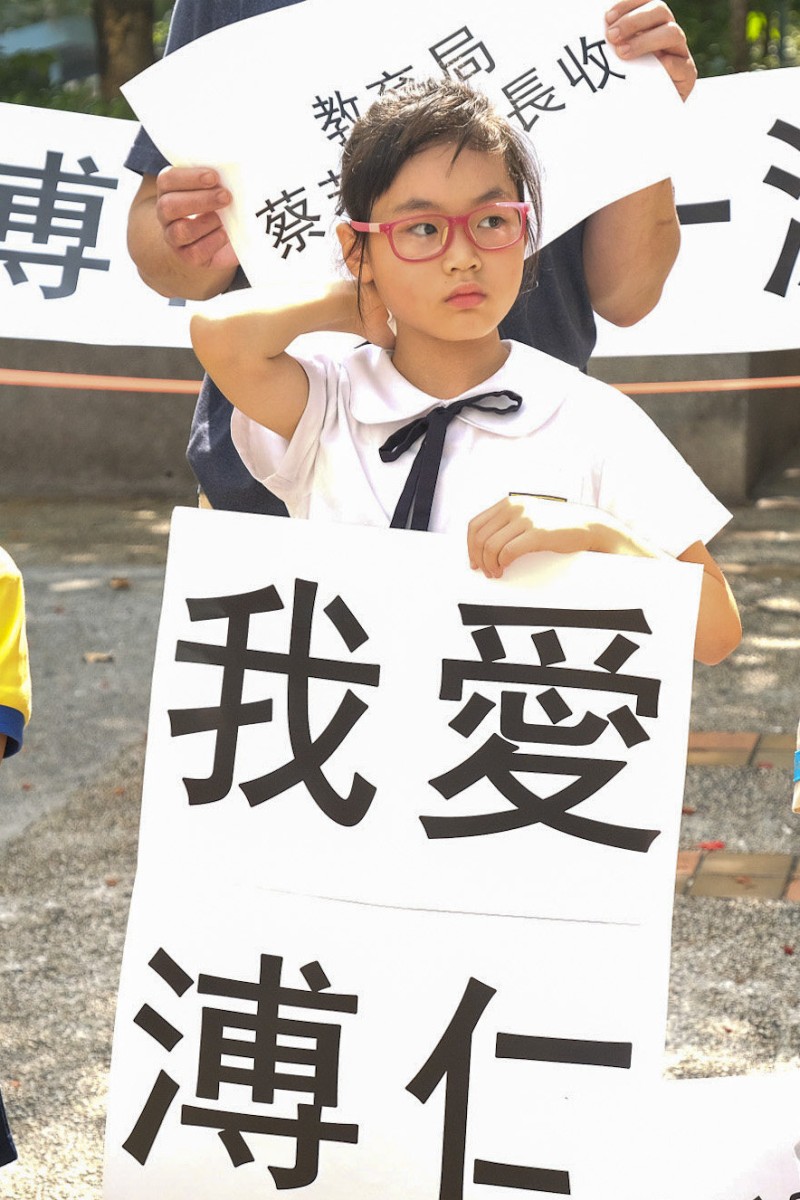 Former pupils of Po Yan Oblate Primary School, known for its support for SEN students, say they are poised to start raising cash, but plan blocked by education chiefs

News comes after parents and children petitioned education chief Christine Choi for face-to-face meeting, but their appeal rejected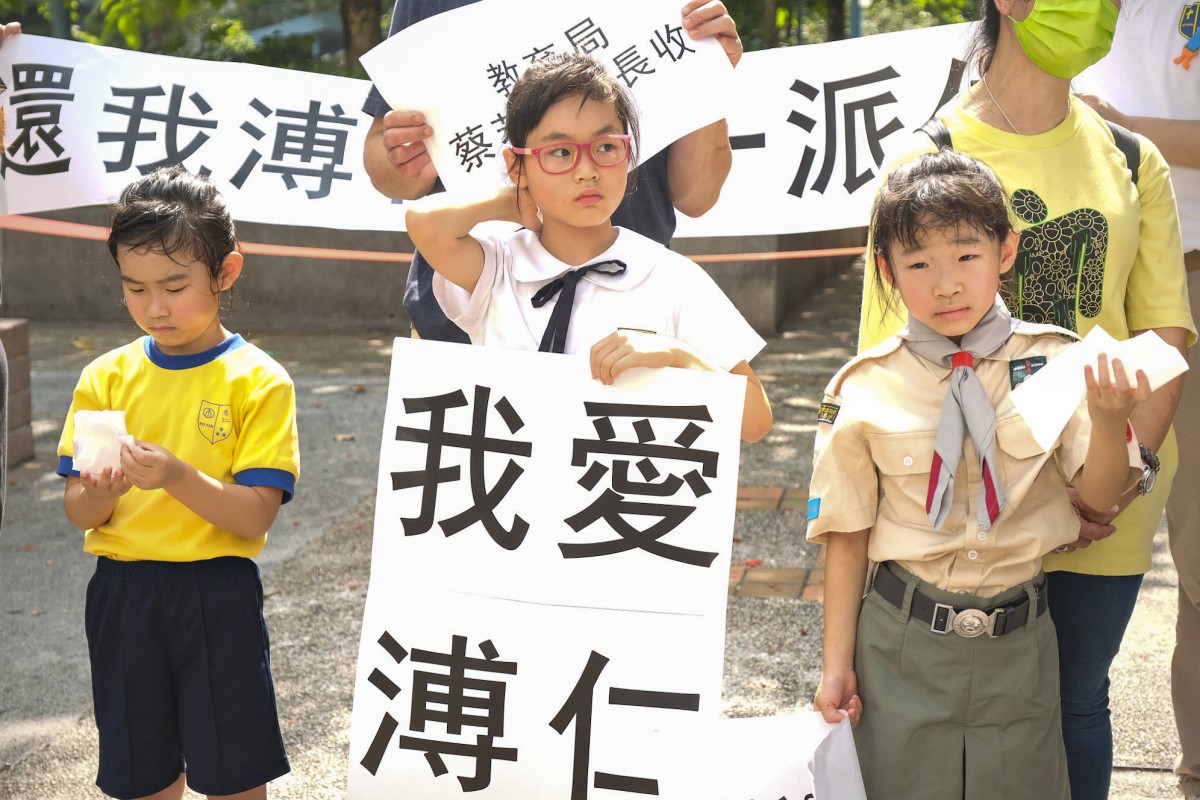 A group of parents and children petition education secretary Christine Choi in a bid to save their primary school. Photo: Handout
Education chiefs in Hong Kong have ruled out private classes as an alternative survival plan for a primary school which had its request for a review of its operations rejected.
The Education Bureau's reply came hours after the school's alumni association vowed to raise HK$3 million to run private Primary One classes to save it from the axe.
The Po Yan Oblate Primary School is among five schools that will not get government grants to operate Primary One classes from the next academic year after they enrolled only 15 children for the entry level class, one short of the minimum number.
2 Hong Kong schools escape Education Bureau axe after getting permission to run private Primary One class next year
The school may face complete closure in September 2026.
Pang Siu-fong, the chairwoman of the Wong Tai Sin school's alumni association, revealed to the SCMP that her association wanted to raise the cash to pay for private classes, but the school had not made a final decision.
Pang said it was unfair that another school located near the border, Sha Tau Kok Central Primary School, retained its government support despite a failure to enrol sufficient pupils.
"It is a kind of injustice … our school serves students with special education needs wholeheartedly," the former pupil of the school said.
Po Yan Oblate Primary School in Kowloon City. Photo: Wikimedia
The school was the only one among the five threatened schools that applied for a review by Education Bureau officials.
It would have needed to have scored a "good" rating in all performance indicators to pass muster.
But sources said the request was turned down because the school failed to secure the "good" or above rating in its self-evaluation exercise, a requirement for an external review.
The bureau said on Monday night that it had met school representatives and people from its sponsoring body last Monday to explain why they were rejected for a school review.
Hong Kong education chiefs set to cut 1,000 discretionary places at preferred primary schools
It added the school could submit a response to the bureau's decision inside a specified time.
"The bureau also made it clear in the meeting that because the school had opted to apply for a special review and it was rejected, it cannot choose another option.
That is, it will not be able to participate in the Primary One admission system again, nor can they apply to operate Primary One classes privately in the 2023/24 school year," the bureau said.
It added it had contacted the school management after it learned about the fundraising plan and expressed regret that the school had failed to make the necessary inquiries about eligibility for other routes.
Po Yan Oblate Primary School may face complete closure in September 2026. Photo: May Tse
Some parents and pupils on Saturday petitioned Secretary for Education Christine Choi Yuk-lin to talk to them after she attended an event at an institution in Lok Fu in the morning.
But the meeting did not take place after the bureau rejected the group's request to allow the media to attend.
The bureau later said it was also "not ideal for schoolchildren to be exposed to hot weather for an extended period of time".
A parent, who identified herself as Mrs Chu, whose child is in Primary One and has special education needs (SEN), said on a radio programme on Monday that she at first expected Choi would come out to reassure them and suggest meeting at another time.
Are Hong Kong schools sensitive enough to students with special needs?
"She [Christine Choi] did not even pretend she cares … she should come over and receive our letter and arrange a time slot to meet us, but she chose to leave," she said.
Chu added the school group wanted the media present to make sure the discussions were transparent.
The parent said her child enjoyed learning at Po Yan Oblate very much as its teachers were experienced in special education needs tuition.
Christine Choi Yuk-lin, Secretary for Education. Photo: Edmond So
"When choosing schools for my kids to be promoted to Primary One, I called around a dozen schools," Chu said.
"Only this school could give me an impression on how they could integrate SEN with the whole school and let them lead a normal campus life and not segregate them.
"If such a good school needed to be axed, it would be a loss to students, not just students with SEN, but also those whose academic performance is not so good."
Primary school facing closure hits back at education authorities over focus on enrolment numbers
A spokeswoman for the bureau said earlier considerations for the operation of Primary One classes included whether the school was in a remote location and whether there were other institutions nearby.
The school declined to comment on the former pupils' proposal.
Another four schools facing the axe have managed to survive, Two were allowed to run private Primary One classes and one is discussing a merger with another school.
The fourth one, located in areas where all the other schools have not implemented small-class teaching, will be allowed to join the admission system for primary one in 2024-25.
Sign up for the YP Teachers Newsletter
Get updates for teachers sent directly to your inbox
Sign up for YP Weekly
Get updates sent directly to your inbox