The former WIS student is the first Hong Kong-based player to get a scholarship to the top-ranked American university for football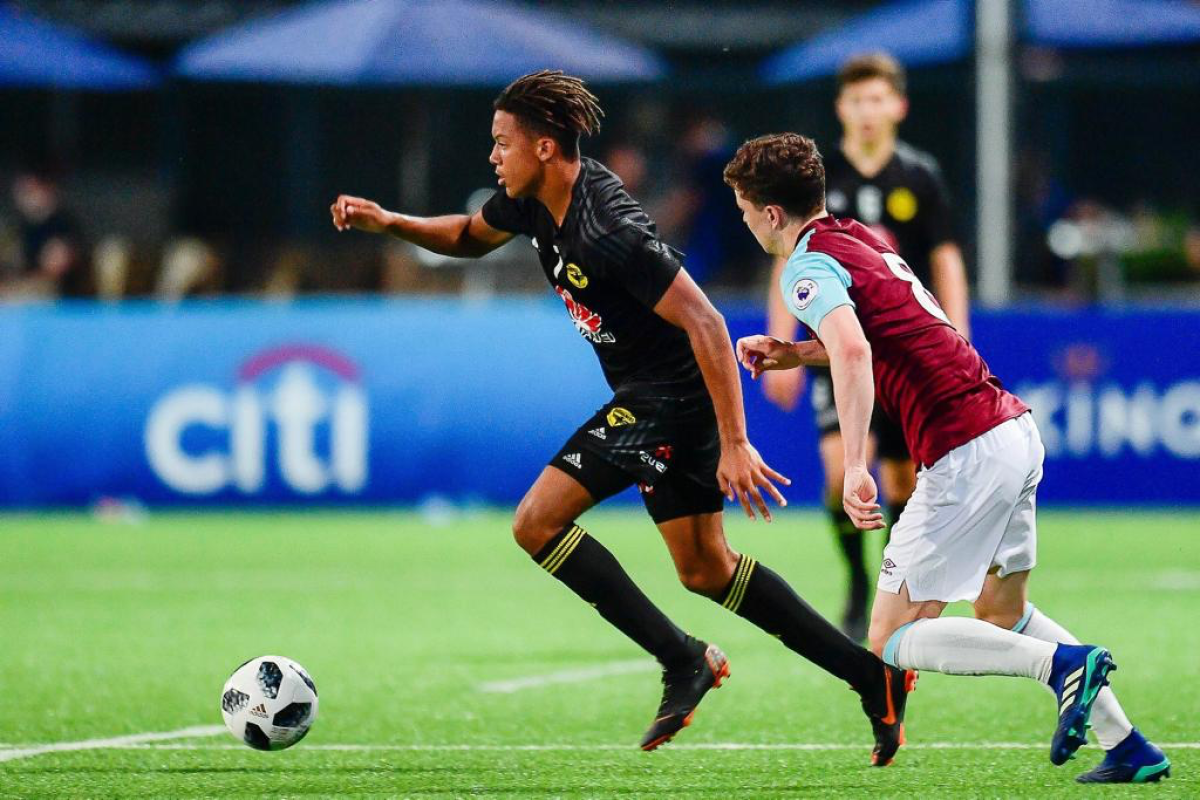 Calvin earned a scholarship to a football academy in New Zealand at 14.
Calvin Harris set a new standard for young local footballers by becoming the first Hong Kong-based player to get a scholarship to the top-ranked American university for football – Wake Forest – earlier this year.
"My dream is to become a professional footballer. That's all I want," said the former West Island School student. "I have chosen a path that's a bit different that allows me to develop as a footballer whilst also achieving my studies. That's why I'm so excited to be going to a top school like Wake Forest."
Calvin, 18, who was born in Britain, first started playing football when he was five years old, but started taking the sport more seriously when he moved to Hong Kong at the age of 10. "It was at that age I really fell in love with the game and dreamed of doing it for a living in the future," he said.
HKIS football prodigy Gil Yehudayan plays like Neymar; just without the theatrical diving
He quickly became a standout player for the Hong Kong Football Club, and was scouted at an Asia-Pacific Football Academy match at age 14. This earned him a scholarship to the Wellington Phoenix Football Academy in New Zealand, where he has been training ever since. This meant he has had to spend time away from his parents – who live in Hong Kong – to pursue his dreams.
"Being away from my family and friends has been a very difficult challenge to overcome," said Calvin. "Another huge challenge was not being able to play in competitive leagues in New Zealand. I'm not from New Zealand and Fifa doesn't allow international players under the age of 18 to play in competitive leagues."
However, training at a football academy does mean Calvin both trains and studies at a high standard. And he is confident that he will be able to get a professional contract – be it in the US, New Zealand, or elsewhere – following his stint at Wake Forest.
Creative Secondary School's star footballer Morgan Powell on the youth leagues, coaches, and how he stays at the top of his game
Although he played left wing in New Zealand's capital Wellington, Calvin is comfortable playing pretty much any position, he says. As a fast and aggressive player, he said he likes to "take players on", and create chances to score for his team.
Calvin has footy in his blood: his father is a former footballer who Calvin calls his role model both in and outside the sport.
"He taught me so much about the game and the sacrifices you have to make in order to achieve success," he said.
"He definitely motivates me to be better every day."
Brown University and other top American schools are scouting young HK footballers: turning pro is no longer just a dream
Calvin said moving to Wellington helped him focus on his training and take his game to new heights. He knows first-hand how difficult it can be to stay focused in a city like Hong Kong which is both exciting, and extremely academics-focused .
"I would advise young athletes in Hong Kong to make sure they don't get distracted, and are always focused on their end goal," he said.
"There are plenty of distractions being a teenager in Hong Kong, but you have to make sacrifices sometimes in order to achieve success in the end."
Bench notes
What do you like to eat before a match?
It depends on the time of the game, but at the moment I have been having scrambled eggs on toast with baked beans, and a smoothie.
Favourite song/artist to listen to before a match?
Sicko Mode by Travis Scott and Drake. It's just too good!
Edited by Nicole Moraleda
Sign up the YP Teachers Newsletter
Get updates for teachers direct to your inbox
Subscribe to YP Weekly
Get updates direct to your inbox