Schoolmates and competitive swimmers Valerie Yue and Katii Tang have really been putting themselves out there by trying new things, while supporting each other along the way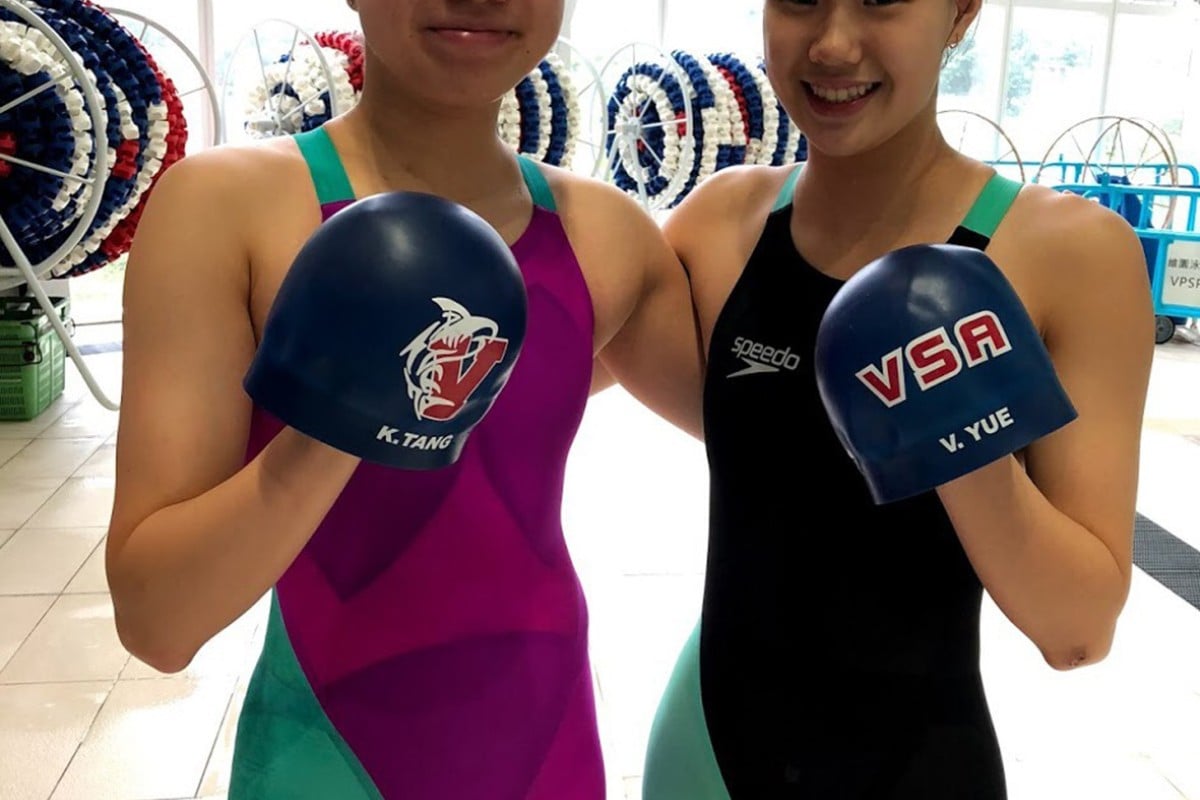 Katii (left) and Valerie (right) often meet up during lunch at school to complete their assignments or revise for tests together.
Swimmers Katii Tang Tsoi-lam and Valerie Yue Wai-lui were not about to let anything stop them from racing in open water for the first time at the New World Harbour Race 2018 – not even blurry vision, exhaustion, or the fear of choking on water.
The annual race, which this year was held on October 21, involves swimming across Victoria Harbour from Tsim Sha Tsui Public Pier to Wan Chai Golden Bauhinia Square Public Pier. The Victoria Shanghai Academy students, both 17, ended up winning the School Girls Team category.
Valerie has been swimming for nearly nine years, and said she knows all the regular competitors quite well. They are so familiar, in fact, she can predict their finishing times – and she uses that to gauge how fast she should be swimming.
This Victoria Shanghai Academy swimmer is training hard for the Tokyo 2020 Olympic qualifiers at just 15 years old
With the Harbour Race, however, she and Katii didn't know who they would be racing against. This actually worked to their advantage as they didn't feel any pressure to outswim their competitors – their only focus was to swim as fast as they were able to.
"It was a whole new environment at the Harbour Race, so the mindset [we had] was to give it our all," said Valerie.
This year has been all about trying new things for Katii. Not only did she take on her first open water race, she made her debut at the Asian Games in Jakarta, Indonesia, and was part of the team that won bronze in the women's 4x200m freestyle relay. She said it was a humbling experience to take part in Asia's top-level sports event.
A chat with record-breaking stars of DBS and DGS after their Grand Slam win at the Inter-School Swimming Competition
"I became aware, when comparing my form to that of some of the swimmers that are my age from China and Japan, of how many things I need to improve on."
Katii said seeing the successes and failures of swimmers at the Games made her realise that, at the end of the day, it's only a race. She said she would try to be more relaxed and put less pressure on herself to do well.
Young Post spoke to Katii last year after she was named the first runner-up in the SCMP's Student of the Year (Sportsperson) category. Her goal then was to qualify for the 2020 Tokyo Olympic Games, and it is still something she is focusing on.
Record-setting swimmer Cheuk Ming-ho on learning from his idol at the Asian Games, and the one thing training athletes often neglect
"I'm preparing for the qualifying times, but it is still a long way away. I trust my coach, though, and I'll just go with the flow."
Valerie, on the other hand, is making a comeback in the sport after being plagued by injuries and illnesses in the past year. She was hit with a serious bout of flu and missed this year's Asian Games, failing to meet the qualifying time by 0.2 seconds. It had been a devastating blow to the athlete, but she said she is not quite ready to give up the sport.
"I was crushed, of course, but from that experience I learned that athletes can never prepare for injuries or illnesses. This has made me a stronger person, one who can persevere through tough training," she said.
Any student athlete knows that juggling training and studying is tough work. This is especially true for Katii and Valerie, who are going to take the university entrance examination next year. The pair said that they don't just support one another in swimming, they help each other in their studies, too.
"We meet up to finish our assignments or to revise together. Valerie and I share the same struggles of being a student athlete," Katii said. She also said she has made a verbal commitment to the University of Michigan in the US, home to some of the best swimmers in the world, including Michael Phelps – the most decorated Olympian of all time – and some Hong Kong stars.
"I've lived my whole life in Hong Kong. It's time to try something new. Many swimmers from this city, like Stephanie Au Hoi-shun and Siobhan Haughey, have trained there."
Perhaps one day future swimmers will be adding Katii and Valerie's name to that list!
Edited by Nicole Moraleda
Sign up the YP Teachers Newsletter
Get updates for teachers direct to your inbox
Subscribe to YP Weekly
Get updates direct to your inbox