We talk to 14-year-old Brazilian jiu-jitsu athlete Brindy Mason about how she got into the combat sport, and her hopes for a Hong Kong team in the future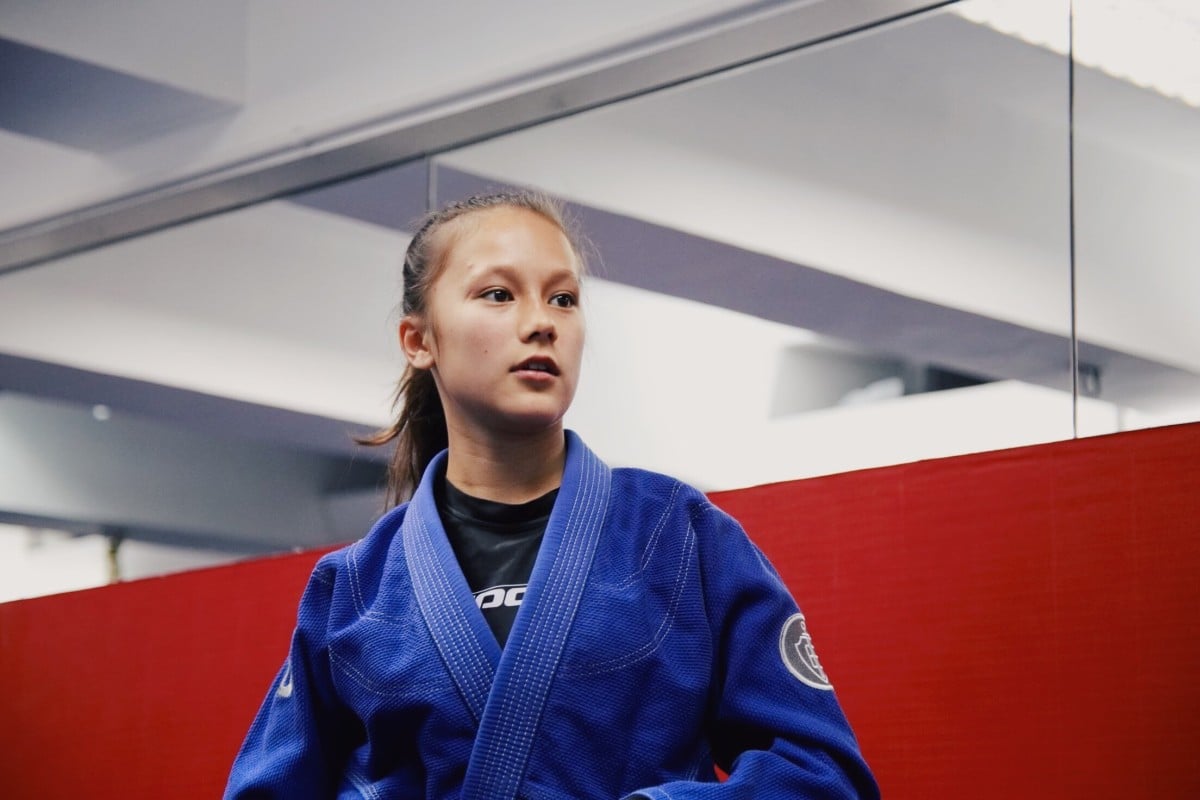 Brindy represented New Zealand at the SJJIF World Jiu-Jitsu Championship in October.
On her 11th birthday, Brindy Mason received a gift from her father that changed her life: a membership to a local Brazilian jiu-jitsu (BJJ) gym. Three years later, she is one of the most promising teen BJJ athletes in the city.
Last Sunday, the 14-year-old won gold in her division (juvenile female, white belt featherweight) at the ASJJF Dumau Manila International No-Gi Championship 2018 in the Philippines. Unlike the under-16 events Brindy usually takes part in, this category was for those aged 18 or under – and the opponent she beat was three years her senior.
In a No-Gi competition, BJJ athletes ditch the traditional uniform – "gi" (the uniform's white cotton trousers and jacket) and compete in regular sportswear, usually shorts and a rash guard. The other form of BJJ is Gi, in which athletes grapple by grabbing each other's clothing.
Brazilian jiu-jitsu star Eric Chan Kwan-lok is grappling his way to the top
Brindy's victory came shortly after she clinched a silver medal in the Female Yellow belt Kid 6 Feather event at the SJJIF World Jiu-jitsu Championship in Long Beach, in the US state of California in October. It was the first time she had taken part in such a notable international event.
"I was the most nervous and excited I have ever been in my life at the world championship. The experience was just incredible."
Interestingly, Brindy represented New Zealand instead of Hong Kong at the world championship, because the city does not have a national BJJ team at the moment.
"I wanted to play for Hong Kong, so that I could set a good example for other teenagers who are struggling with their love for a sport."
The yellow-black belt said she had loved wrestling with boys since she was a young child, but didn't realise this pastime was a hint of her yet-to-be-discovered talent for BJJ.
But it hasn't been an easy path. The Grade Eight student from Hong Kong Baptist University Affiliated School Wong Kam Fai Secondary and Primary School said there is a lack of support for teenage girls who want to take up physical combat sports like BJJ in Hong Kong, because it does not match society's ideals of how girls should behave.
Heidi Yeung learns that trying a new form of exercise improves all aspects of life
"People in Hong Kong don't like to see girls participate in extreme sports, but it has always been my thing."
She's struggled to find support closer to home, too, with even her closest friends refusing to support her. It led her to the brink of walking out of the sport in February this year and she stopped going to training for two months.
But remembering how the sport has enriched her life, Brindy decided to press on regardless of what others had to say.
"I was very discouraged, but I picked myself up after realising I truly wanted to pursue this passion. I should not be affected by people who were not supportive of what I love."
While many people may not approve of her athletic choice, Brindy's father remains her greatest source of strength. A former BJJ athlete himself, he not only shares his love of the martial art with his daughter, he also made sure she gets the best training, by setting up a well-equipped mini gym at home.
Brindy remains hopeful that a Hong Kong national BJJ team will one day be established, but she is not sure how to make it happen.
How to balance exercise and nutrition to improve your fitness, health, and lifestyle
"I want to reach out to Copa de Hong Kong, who organised the local championships; I really hope the city can have its own BJJ team," she said
Brindy so far has half of the 12 junior belts available to athletes under 16, and said she looks forward to her growing in the sport. BJJ is not yet an Olympic sport, but when the day comes, the rising star hopes to compete in world's most prestigious sporting event.
Edited by Nicole Moraleda