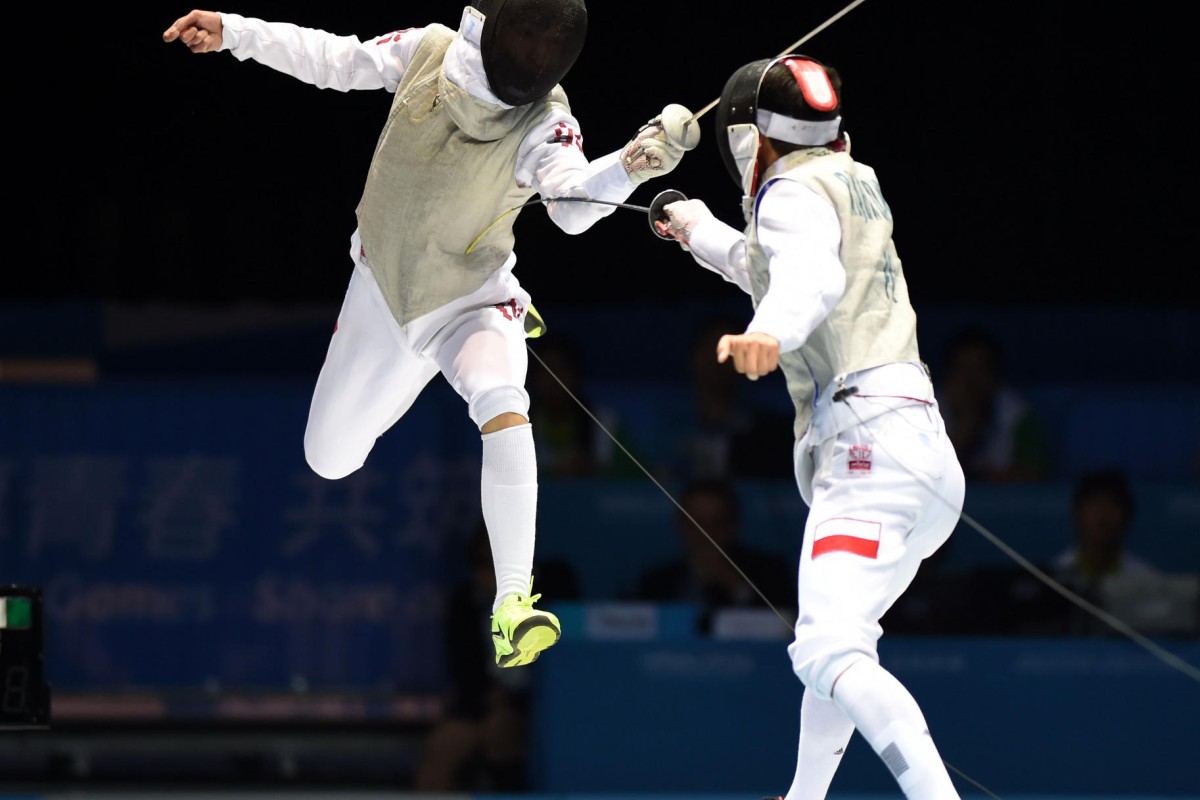 Ryan Choi (left) springs into action at the 2014 Youth Olympic Games in Nanjing, where he won the silver medal.
Since it was established in the 1950s, the La Salle College fencing team has had its share of ups and downs. But it has kept going, thanks to a team spirit spanning several decades.
Hong Kong's Financial Secretary, John Tsang Chun-wah, is one of the enthusiastic alumni who have stuck around to help guide the newest generation of fencers.
"Fencing is a kind of combat where both skills and mentality are important. There is always a cycle for every fencer: sometimes you play well, sometimes you don't. The consistency required is what I want the boys to learn, no matter in sport or in life," says Tsang, who has coached the team together with other "old boys" for more than 30 years.
"I always tell the boys: if your opponent beats you nine matches out of 10, just focus on how you can win the remaining one; treat every match as this is the one."
Tsang first learned to fence at La Salle College, where he studied for around two years. When his family moved to the US, he continued with the sport, winning many awards through high school and college. In fact, his signature moustache is a tribute to his coach at the Massachusetts Institute of Technology.
Whenever he is in Hong Kong, Tsang spends his Saturdays training the team at his alma mater. Once he started coaching, he gave up competing.
"Being a coach, you want to wholeheartedly see students learning something from you; this gives you a lot of satisfaction. But if you still compete and are very competitive inside, you would not look at the students the same way," he explains.
"I returned to Hong Kong in the early 80s and I was disappointed that La Salle's fencing was in decline. I felt that the problem was the lack of discipline, so I tried to bring in some systematic training, which puts a lot of emphasis on stamina and footwork.
"Very often we still haven't picked up swords even after an hour or so of training. I think basic skills are the most important."
Tsang's return gave new life to the team, and inspired many students, including 17-year-old Ryan Choi Chun-yin. "Mr Tsang said I have the fire in my heart. He spotted my potential when I was younger and asked other old boys to supervise me closely," says the left-handed swordsman.
Besides his passion, Ryan's height of 1.82m is also an advantage. "I wasn't particularly tall compared to my peers until Form Three or Four. At first, I wasn't used to it, but gradually, I learned to use my height and control the distance between myself and my opponent," he says. This newfound skill helped Ryan win a mixed continental team gold medal and an individual silver medal at the Nanjing Youth Olympic Games in August.
"The medals boosted my confidence. Now I have the courage to plan further and set the goal of taking part in the 2018 Asian Games, as well as joining both individual and team events in the 2020 Olympic Games," he says.
Ryan will soon reduce the intensity of his training to prepare for the DSE, but not before the Inter-School Competition wraps up. On Sunday, the Form Six student claimed an A Grade individual gold medal. He says: "It's definitely good to win but I think it's even more satisfying seeing the younger teammates - who I taught - winning."
This Sunday he'll join his teammates for Round Two of the competition, where La Salle College, who were co-champions with Diocesan Boys' School last year, will strive to win again.
Sign up for the YP Teachers Newsletter
Get updates for teachers sent directly to your inbox
Sign up for YP Weekly
Get updates sent directly to your inbox