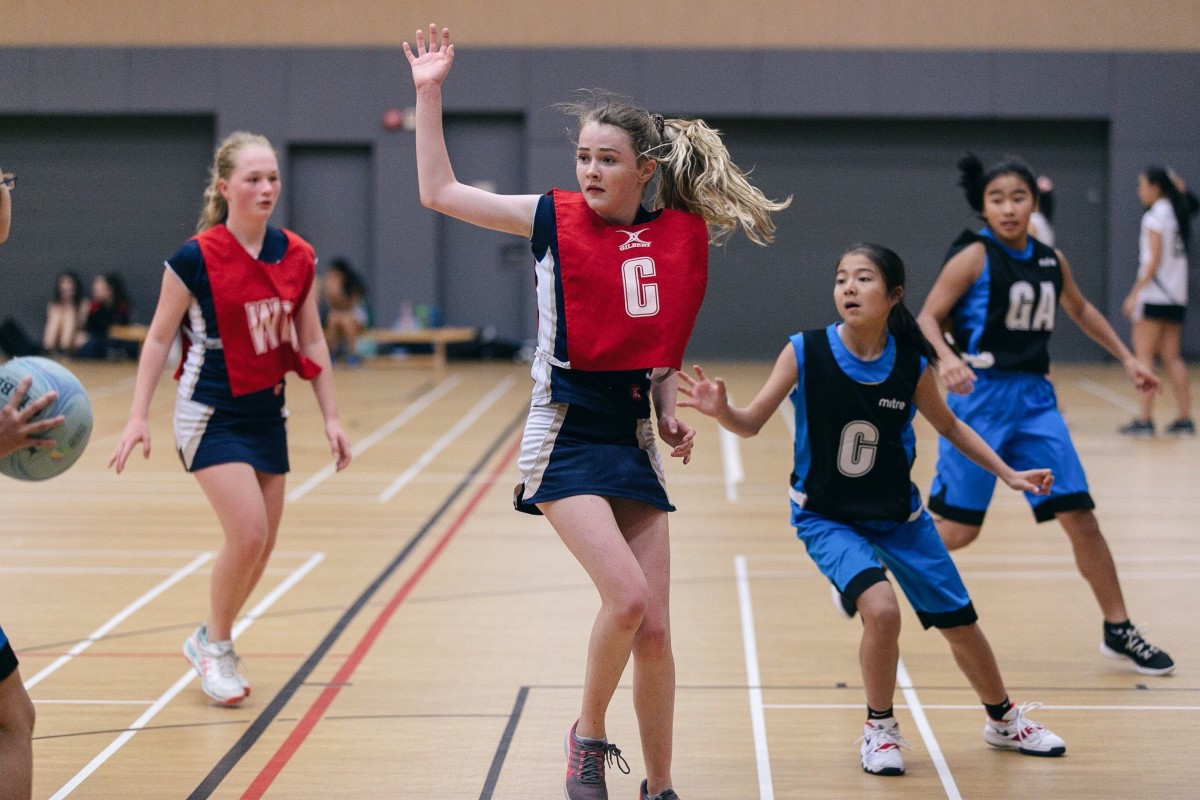 West Island School (in red) defeated Heep Yunn School in the B-Grade Finals this week.
Shouts of euphoria filled the sports hall as the final seconds ticked over and the final score confirmed what the teams had known all game-long. They had done it – West Island School's (WIS) netball team had thrashed former rivals, Heep Yunn School, at the B-Grade finals of the All HK Inter-school Netball Competition.
WIS' win at Kellett School in Kowloon Bay on Wednesday went some way to erase the memory of their loss against Heep Yunn last year, when they lost by a single point in the semi-finals of the same event. The narrow defeat had devastated the team, but they rallied and have come back this season stronger, with more grit, and a plan to win – which they did 34 to 11. Heep Yunn also lost the A-Grade honours this year 40-22, to Australian International School Hong Kong.
"We know Heep Yunn's attack and defence act well," said Nastassia Choi, 15, who plays goal defence for WIS. "We also know their players come from a basketball background, so we worked around that."
Two West Island School students on competing in the Asia Rugby Under-18 Girls Sevens and giving back in India
Nastassia's teammate Sula Hedley, goalkeeper, 15, said that the team played with only one goal in mind – not to have a good time, but to win. It was this drive that allowed the team to dominate the game right from the very beginning.
Getting to take home the championship trophy meant a great deal to the netball team, as it ended this year's inter-school league on a high note. It was needed, given the rough start to the season they had.
"One [teammate] broke an arm and a leg, and others had different commitments," Nastassia said of the rocky beginning. "Once, we were left with seven people [exactly the number of people needed for a team], which meant no substitutions, and that was quite exhausting."
Campus Life: WIS cricketers on learning from cricket legend Mike Gatting, and how the game strengthens their friendship
The team were able to overcome these initial hurdles, though, and have learned to trust that they would watch out for one another as a result.
The team's wing defence, 15-year-old Charlotte Adams, agreed, and said that what helped motivate them through the tough times was their love for the game and each other.
One of the most appealing aspects of netball, as far as Charlotte is concerned, is the teamwork. Players are given specific roles that limit their movement to a fixed area of the netball court. Players can only keep the ball for a maximum of three seconds, before they have to pass it on, or attempt to score. Given these restrictions, it truly takes a team – not just a singular star player – to win.
"We often carry out [game plays] in pairs or units, because it is a lot more effective than when working as an individual," said Nastassia.
Now that the championships are over, the WIS players are planning to take a brief break from the sport as they had been training every Monday for the past few months.
Some of this year's team will be moving onto the school's A-Grade team next year. Those who remain said that they are looking forward to defending their title, but also that they can't wait to face off against new schools.
Running is speedy stress relief for 15-year-old West Island School athlete Evie Ng
More than two thirds of the 20 participating schools in this year's league were teams from international schools. The WIS team said that they want to see more students, especially from local schools, pick up the sport, to learn more from a variety of opponents and to trade tactics off the court.
Nastassia said facing different opponents helps to keep things interesting. "You can't get bored of netball because you learn something new every time you play," she said.
Edited by Nicole Moraleda
Sign up the YP Teachers Newsletter
Get updates for teachers direct to your inbox
Subscribe to YP Weekly
Get updates direct to your inbox