Diocesan Boys' School Form Six student is about to wrap up his school football career. But first, he has a tournament to win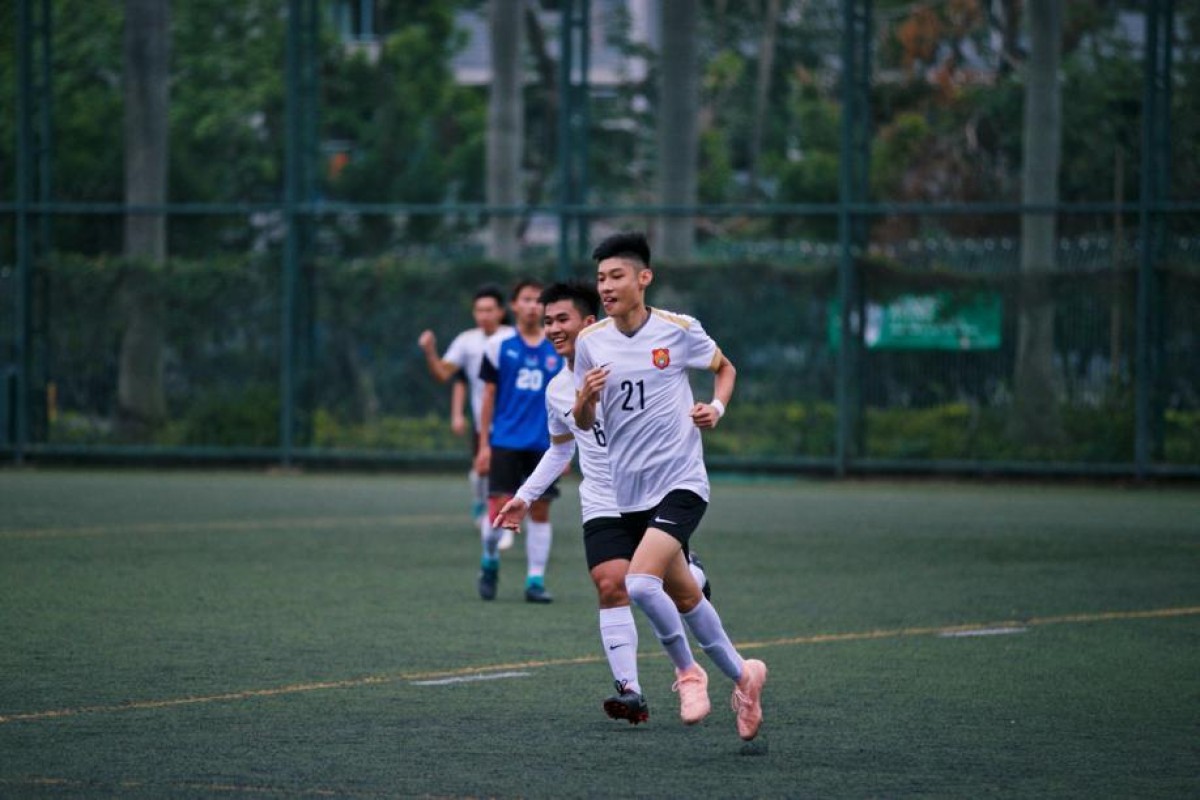 Walking off with the champion trophy from his final Inter-school Football A Grade Finals is the perfect way to wrap up Matthew's secondary school football experience.
Diocesan Boys' School clinched the title at this year's Inter-school Football A Grade Finals for the third straight year, but had been no easy victory.
Their match against Wah Yan College Hong Kong (WYHK) in the finals, held on November 26, was fast approaching the halfway mark, and neither team had managed to score a goal.
Just as the DBS coach began panicking about a deadlock, a loud cheer rang out from the spectator stands. One of DBS' midfielders, Matthew Yip Cheuk-man, had sent a header into the net.
West Island School takes first place over Heep Yunn at All HK Inter-school Netball Competition B-Grade finals
Matthew leapt into the air, celebrating his team's first goal of the match. It might also have been his last for DBS, as the Form Six student will graduate next year.
A few minutes into the second half, and fellow DBS player Wong Ching-tak extended his team's lead to 2-0. They held onto the lead, ultimately winning the match.
After the game, Matthew spoke to Young Post about how it felt to have helped lead his team to victory.
This yellow-black belt jiu-jitsu champ wants more HK teens to discover the Brazilian martial art of grappling
"I was excited to score in the first half, because the team really needed a boost of confidence," he said.
Matthew said the team had expected to win, but they knew it wasn't going to be easy, because WYHK had been hailed as the dark horses of this year's tournament. The Wah Yan team was nicknamed the "inter-school Leicester City F.C." by local media this year, thanks to their sudden, unexpected rise. Having never made it to the top four in the annual school championships, WYHK managed to beat long-time A-list team La Salle College in this year's semi-finals.
Many believed WYHK were capable of taking on defending champions DBS to win their first-ever champion title – much in the same way English football team Leicester City F.C. won the Premier League title in 2016. Ultimately, however, DBS prevailed.
Victoria Shanghai Academy swimmers tell us why you need to take on new challenges, and also not be so hard on yourself
Matthew, 17, started playing football when he was nine, but only began to realise his full athletic potential when he met his mentor, Fung Sir, at DBS six years ago. The school helped Matthew brush up on his football skills; it's also where he found a group of close-knit teammates.
"We are like brothers. We always work as a team, whether during training or studying. I am really grateful that I met them in DBS."
This sportsmanship is what first drew Matthew to football, but he admitted that being part of a team wasn't always easy. "It is so hard to play well in football because we have to rely on everyone's efforts. Look at Lionel Messi; even a legendary player like him could not carry the Argentina team [in this year's football World Cup]."
As one of the few A Grade players remaining – others have already left the team to focus on their exams – Matthew promised to stay until February to help lead the younger members in the Jing Ying Tournament, where he has set his sights on reclaiming the title his school lost last year.
He had this message for his up-and-coming teammates: "I know you will continue to excel in inter-school competitions. And I hope you will treasure your time in DBS, because it goes by so fast."
Sign up the YP Teachers Newsletter
Get updates for teachers direct to your inbox
Subscribe to YP Weekly
Get updates direct to your inbox