As she returns to the court after recovering from an injury, the 17-year-old full-time Hong Kong Sports Institute athlete is ready to prove she's a winner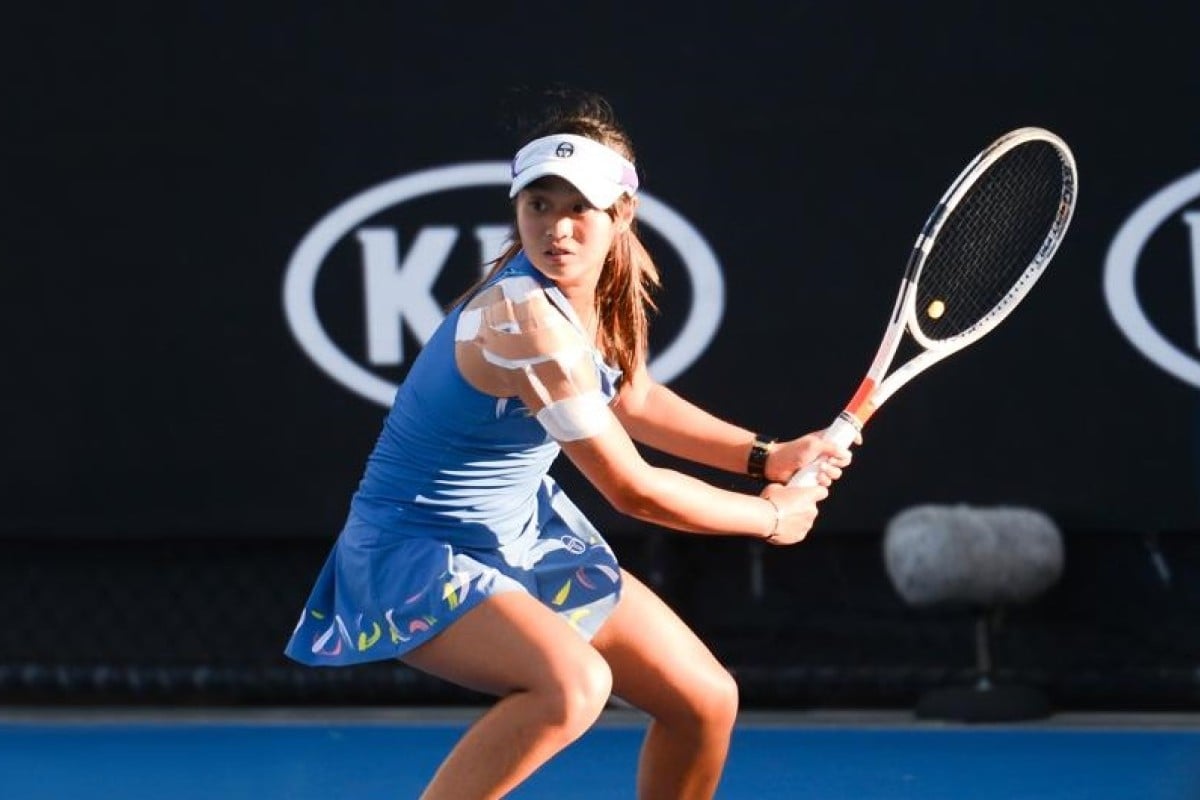 Hong Kong teen tennis player Cody Wong has her sights set on a top 100 WTA ranking.
When Hong Kong tennis player Cody Wong Hong-yi finished in the top 16 at the 2018 Australian Open Junior Championships, she set a bar for herself that she was determined to raise even higher. 
She returned to the event in January with a preliminary ranking of no 10, and everyone, including Cody herself, expected to see the 17-year-old in the quarter-finals, if not the semi-finals. 
To their disappointment, she was knocked out in the first round of the main draw. No one was more upset than Cody herself, who felt she had been hindered by her injuries. 
"This year's result was so different from what I expected. I thought I could at least get into the quarter-finals," she told Young Post. "Before the tournament, I'd been suffering from constant shoulder pain, and there was no sign of improvement when I got there."
Cody was diagnosed with bursitis, which is when the fluid-filled sacs that help to cushion our joints become swollen.
In addition to the pain in her shoulder, Cody had been struggling mentally, too. The success she achieved last year had raised her expectations, and she felt increasingly under pressure to perform well. 
It also didn't help that Cody's older brother, Jack Wong Hong-kit, is the current No 1 men's singles player in Hong Kong, and ever since she decided to follow in his footsteps, joining the national team when she was just 12, all eyes have been on her. 
"I put more pressure on myself this year," she admitted. "It wasn't like the previous one, when I didn't think much about winning." 
Cody's top-16 finish in the 2018 competition had been the proof she'd needed that her decision to leave Diocesan Girls' School the year before to focus on sports had been the right one. She now trains full-time at the Hong Kong Sports Institute, while studying part-time at Lam Tai Fai College.
For a while, Cody was unstoppable. She earned her first International Tennis Federation (ITF) title last August at the China Junior 14. She then won a match at the 2018 JFC Asia Oceania Final Qualifying event in Malaysia, which secured the Hong Kong team a place at the 2018 Junior Davis and Fed Cup Finals in Hungary last September. In January, her ITF ranking soared to no 23 in the world – a career high. 
Despite all this success, there were times when Cody felt like a failure. Some of her lowest moments came while she was competing in Europe last summer. "During the three months I spent in Europe alone with my coach, I don't think I won one single match," she recalled. "It was really tough for me. It wasn't until I reached out to my friends that I finally felt better." 
As the summer approaches again, Cody's ITF ranking has fallen to no 42. It isn't where the Form Five student expected to be, but she recognises that it will take a while for her  to bounce back from her injury. 
"Injury is really an athlete's worst enemy. My doctor said it will take at least three months for me to fully recover. But I don't really have the time to take such a long rest," she said.
Cody had to withdraw from a few competitions in February and March. But she decided to return to the court for the KL ITF International Junior Championship 2019 in Kuala Lumpur, Malaysia, which starts today. 
She said she also plans to compete in more senior tournaments, explaining that it's the first step toward her five-year goal of making it into the top 100 on the Women's Tennis Association (WTA) rankings.
"All I want for now is not to get injured any more, then I can work really, really hard  to become one of the top 100 WTA players," she said. 
Edited by Charlotte Ames-Ettridge
Ukrainian tennis prodigy Dasha Lopatetskaya on not being intimidated by others' success, and having a healthy relationship with food
HK tennis star Tim Gauntlett models his aggressive style after his idol Roger Federer
Junior Wimbledon champion Claire Liu on her dream of playing Serena Williams, and her practical approach to a tennis career
Sign up the YP Teachers Newsletter
Get updates for teachers direct to your inbox
Subscribe to YP Weekly
Get updates direct to your inbox